Homemade Pumpkin Pie Spice is an earthy spice blend of cinnamon, nutmeg, ginger, allspice, and cloves. Add it to bread, pies, and muffins for an instant flavor of autumn.
Homemade pumpkin pie spice is a spice that we keep in the pantry year round. Pumpkin spice a primary ingredient in homemade pumpkin pie, but it's also great in pumpkin muffins, pumpkin spice lattes, and even pumpkin cake.
Not only do we keep pumpkin pie spice in the cabinet all year, we also keep extra cans of pumpkin. You never know when you might get the craving for a pumpkin roll, pumpkin donuts, or pumpkin bread in the middle of July!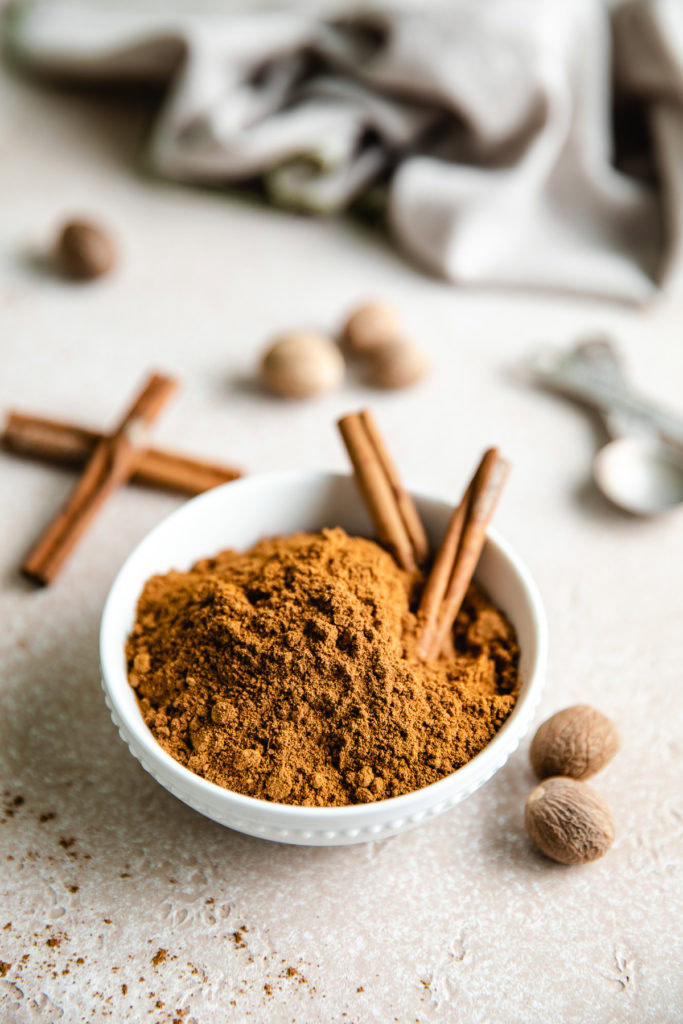 What is Pumpkin Pie Spice?
Pumpkin pie spice, or pumpkin spice as it's commonly known, is a blend of spices used to add warming flavor to baked goods, coffee, fudge, and other foods. It's very popular in the United States, especially during the cooler months.
What's in Pumpkin Pie Spice?
Several store bought versions, such as Badia, Great Value, and Good and Gather, contain a mixture of cinnamon, ginger, nutmeg, allspice and cloves. McCormick brand lists cinnamon, nutmeg and allspice but omits cloves from its recipe.
Our spice blend only takes about 5 minutes to whip up, and includes cinnamon, ginger, nutmeg, and allspice with ground cloves as an optional ingredient. Keep a jar in the spice cupboard to use as a substitute to the store bought version all year round.
How to Make Homemade Pumpkin Spice:
Place the ground cinnamon, nutmeg, ginger, allspice, and ground cloves into a small bowl or jar with a lid.
Whisk or shake to combine the spices.
Use some of the pumpkin pie spice immediately in your favorite fall recipe or store in the pantry for a later use.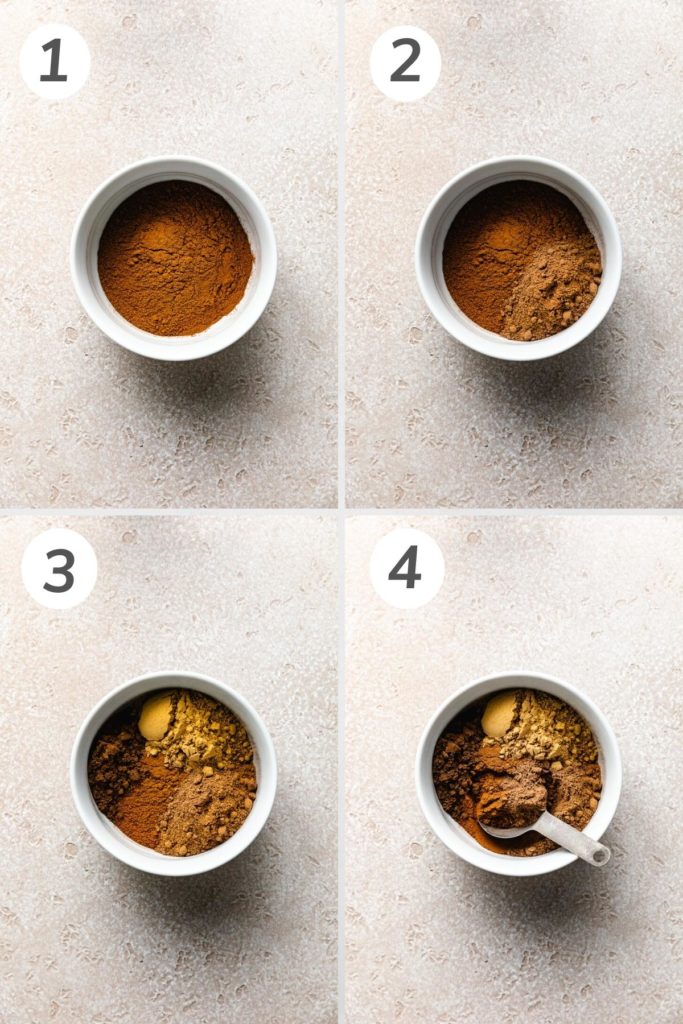 Tips and Variations:
Adjust the spices as needed. If you love cinnamon, add a little more. Want less nutmeg in your mini pumpkin spice bundt cakes, reduce the nutmeg a touch.
Ground cinnamon makes up the bulk of this spice blend, so it would be difficult to replace altogether. However, the allspice or ground cloves would be easy to omit if necessary.
Homemade pumpkin pie spice is only as fresh and vibrant as the original spices used to make it. Use fresh, non-stale spices for the best flavor.
Swap out the ground cinnamon or apple pie spice in your favorite recipes with this pumpkin spice to add tons of warming flavor.
Allspice is its own spice. It's not "all spices" or a combination of spices. Allspice is the berry of a tropical plant and has a flavor similar to cinnamon, nutmeg, and cloves with peppery notes. It's located in the spice aisle at most supermarkets.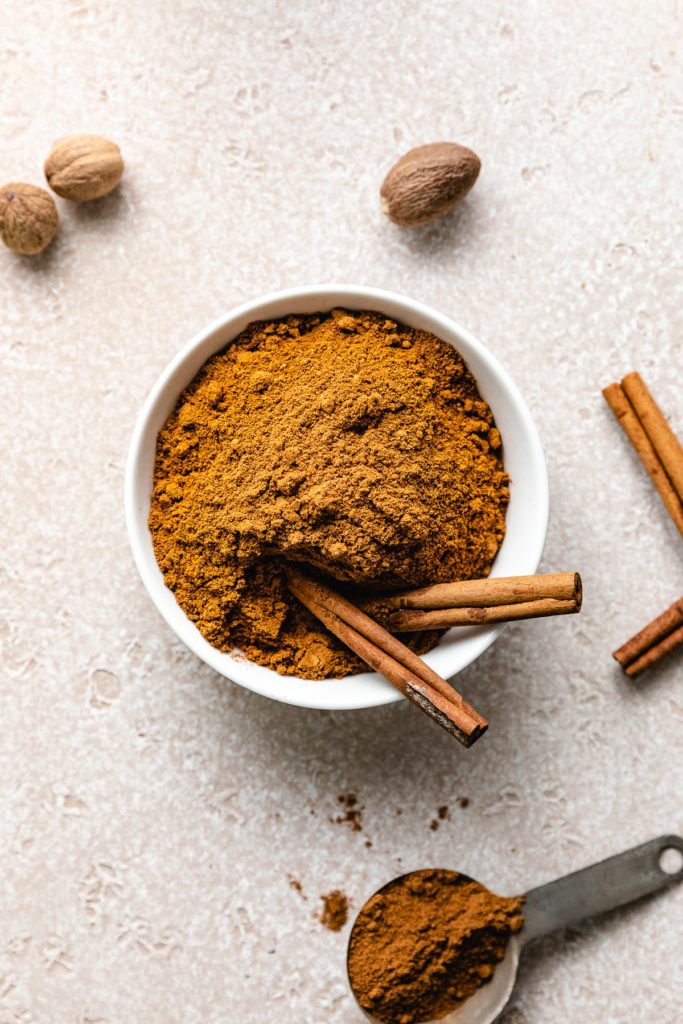 Storage:
Room Temperature: Store homemade pumpkin pie spice in an airtight container in your spice cabinet for up to 6 months.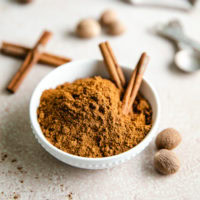 Pumpkin Pie Spice
Print
Save
Saved!
Pin
I earn a commission from Amazon and Instacart from qualifying purchases.
Ingredients
6

tablespoons

ground cinnamon

4

teaspoons

ground ginger

4

teaspoons

ground nutmeg

2

teaspoons

allspice

2

teaspoons

ground cloves

optional
Instructions
Place spices in a small bowl, and stir to combine.

6 tablespoons ground cinnamon

4 teaspoons ground ginger

4 teaspoons ground nutmeg

2 teaspoons allspice

2 teaspoons ground cloves

Transfer the pumpkin pie spice to a glass jar or container with a lid.

Store in a cool dry panty. See post for tips and storage options.
Notes
*The calories listed are an approximation based on the ingredients in the recipe card and a serving size of 1 tablespoon of pumpkin pie spice. Actual calories will vary.
*Doubling or tripling this recipe has not been tested. Therefore, we can not guarantee the outcome of adjusting the ingredients.
*For more information, tips, and answers to frequently asked questions, please refer to the post.
Nutrition
Serving:
1
tablespoon
|
Calories:
21
kcal
|
Carbohydrates:
5
g
|
Protein:
0.4
g
|
Fat:
0.5
g
|
Saturated Fat:
0.3
g
|
Polyunsaturated Fat:
0.1
g
|
Monounsaturated Fat:
0.1
g
|
Trans Fat:
0.001
g
|
Sodium:
2
mg
|
Potassium:
42
mg
|
Fiber:
3
g
|
Sugar:
0.4
g
|
Vitamin A:
18
IU
|
Vitamin C:
0.4
mg
|
Calcium:
56
mg
|
Iron:
1
mg