Our pumpkin spice muffins feature all the flavors of Fall and are topped with a streusel crumble and a sweet glaze. Pumpkin season has finally arrived!
I know, I know, it's not technically pumpkin season. But, hey, if the coffee companies can start marketing pumpkin flavored items, so can we.
As a matter of fact, this isn't a new recipe. It was originally published in September of 2016. However, Kim decided she wanted to update it and share it again.
I wonder if I should redo my pumpkin spice cream puffs? Something to think about, I suppose. Well, in meantime, how about we make some muffins?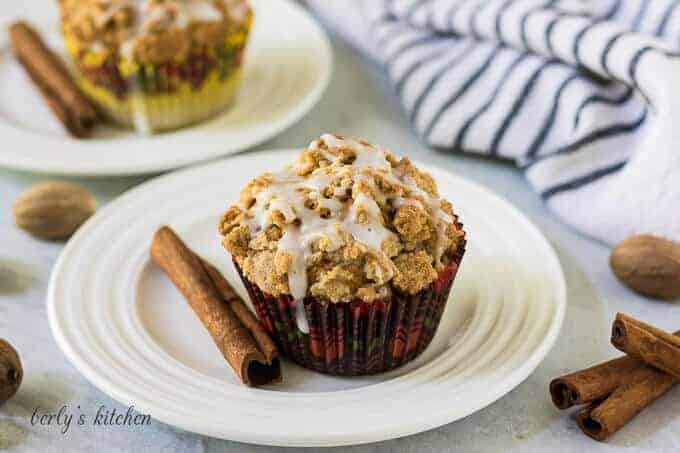 How to make pumpkin spice muffins:
To begin, preheat your oven to 350 degrees F. and line a muffin tin with twelve (12) muffin liners. We're going to start by making the cinnamon streusel.
How to make a streusel topping for muffins:
Grab a small mixing bowl and combine melted butter with flour, granulated sugar, brown sugar, cinnamon, and salt.
It should create a dough that you can break apart and sprinkle over the raw muffin batter.
Muffin Batter:
First, use a hand or stand mixer to combine the softened butter and sugar. Whip the mixture until it's fluffy and light in color.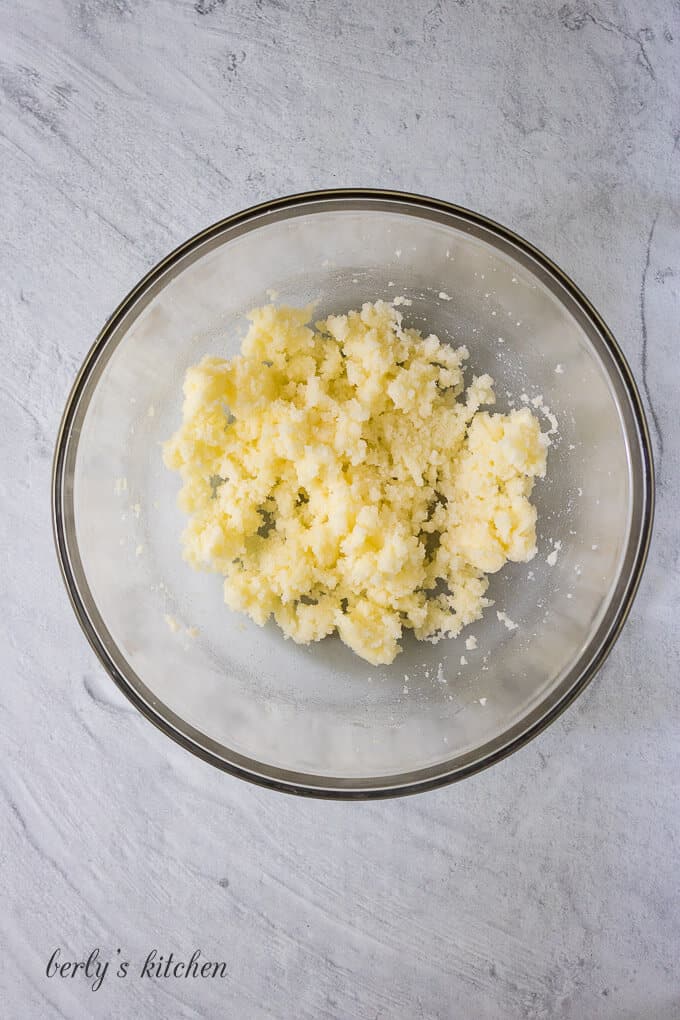 Next, add the eggs, vanilla, and pumpkin puree. Blend everything together, on low speed. Now, add the flour, salt, baking soda, baking powder, and pumpkin pie spice.
Continue to mix everything on low speed just long enough to blend the ingredients. Take a look at the photo below as a reference.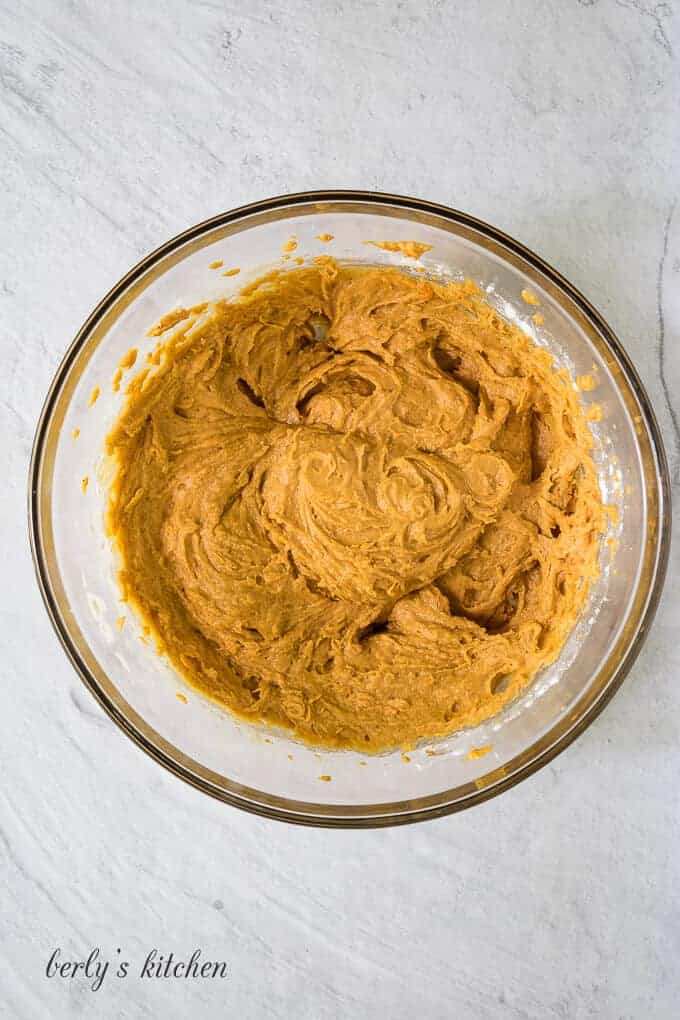 At this point, you can start filling the liners. I would only recommend filling the liners half-full. Otherwise, they will overflow when the pumpkin muffins bake.
Last, top them with the cinnamon streusel and place them in the oven to bake for twenty (20) to twenty-five (25) minutes or until they're done using the toothpick method.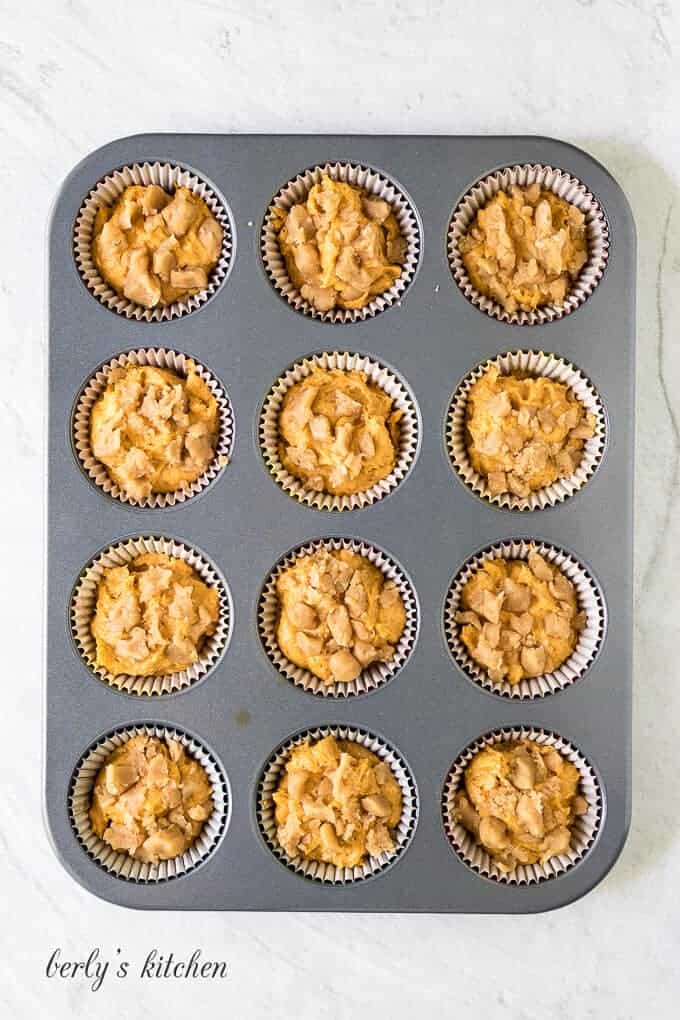 Remove them from the oven and let them cool. As they reach room temperature, you can start making the glaze.
How to make a sugar glaze:
In another small mixing bowl, combine the powdered sugar and milk. Use a fork or a whisk to blend the mixture.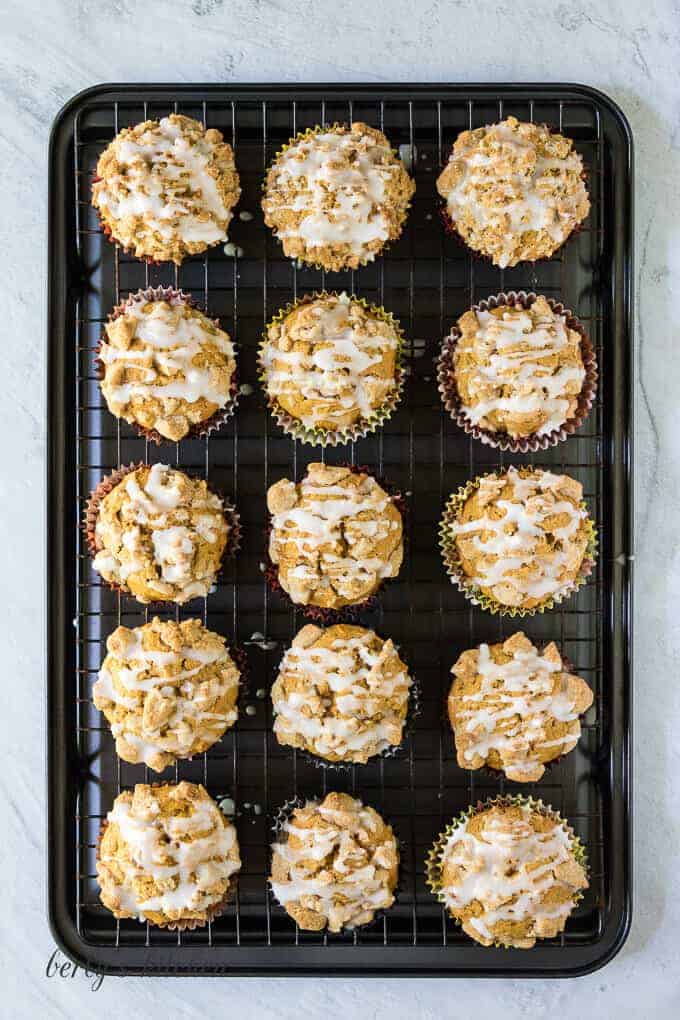 If the glaze is too thin for you, add extra powdered sugar. On the other hand, if it's too thick, add a little more milk. Pretty simple, huh?
Once the pumpkin spice muffins have cooled, drizzle the glaze over them and serve. You're recipe is done, Kim and I hope you enjoy them and wish you all the best 🙂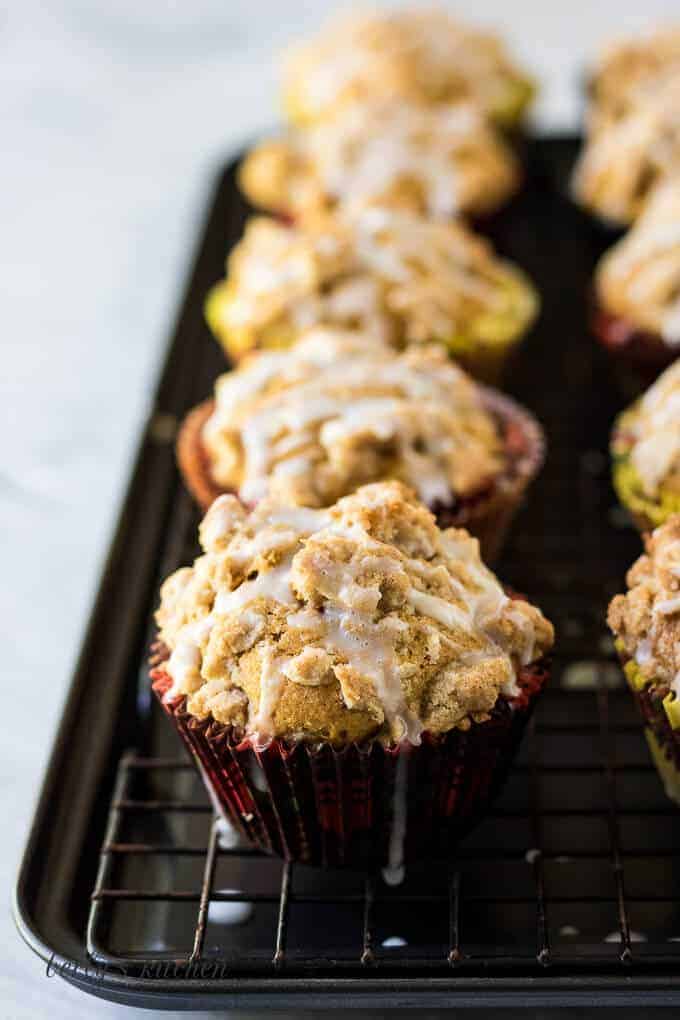 What's the difference between a muffin and a cupcake?
Generally speaking, a muffin is not as sweet as a cupcake. Furthermore, muffins tend to be more dense than cupcakes.
Another major difference is that cupcakes usually are topped with a butter or other fat based frosting.
Why are my pumpkin muffins gummy?
Typically, when this happens it's because you've use too much pumpkin puree. Pumpkins are gourds and have a unique texture.
When too much puree is used, it will result in a chewy, gummy, and slightly wet texture.
Why do my muffin tops get sticky when stored?
This can happen when muffins are stored in a sealed container but they haven't completely cooled.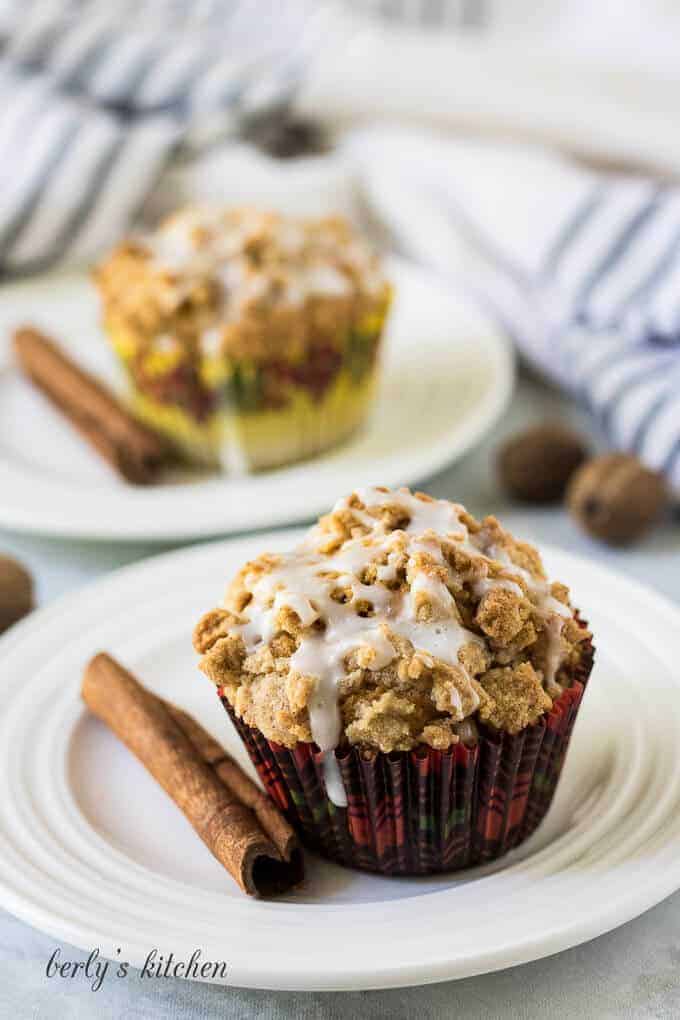 If you like this recipe, please leave us a comment and rate the recipe card. You can also find us on Facebook, Pinterest, Twitter and Instagram searching for Berly's Kitchen!
Yield: 12 Muffins
Pumpkin Spice Muffins Recipe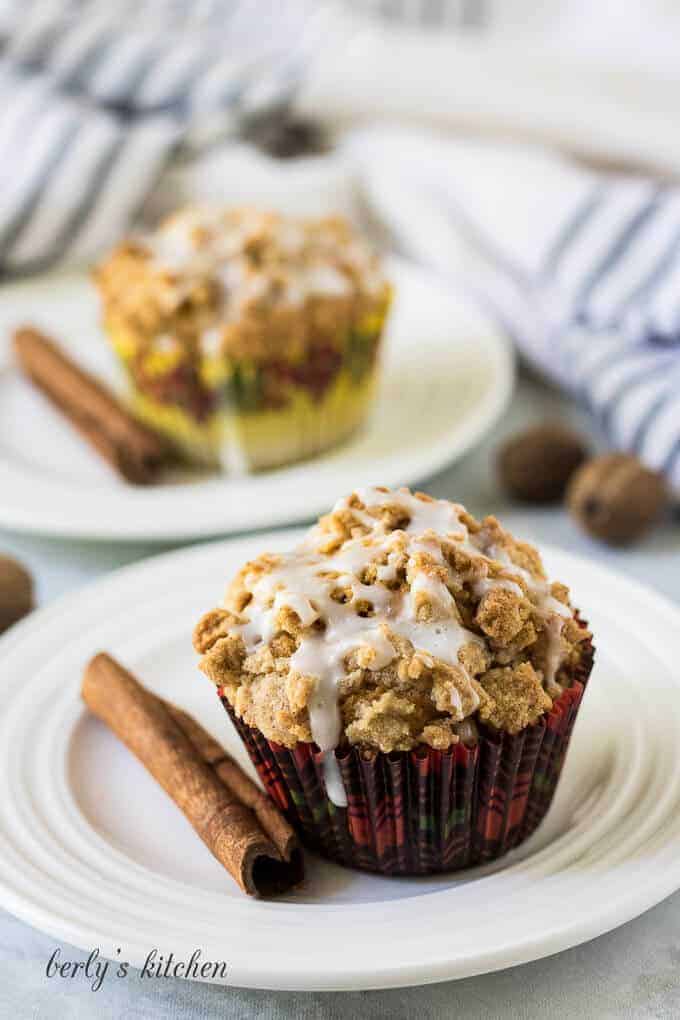 Our pumpkin spice muffins feature all the flavors of Fall and are topped with a streusel crumble and a sweet glaze. Pumpkin season has finally arrived!
Total Time
1 hour
5 minutes
Ingredients
Cinnamon Streusel
1/2 Cup All-Purpose Flour
4 Tablespoons Unsalted Butter,, (melted)
2 Tablespoons Granulated Sugar
1/4 Cup Brown Sugar
1/2 Teaspoon Ground Cinnamon
1/8 Teaspoon Salt, (pinch)
Muffin Batter
1/2 Cup Unsalted Butter,, (softened)
1 Cup Granulated Sugar
1 Teaspoon Vanilla Extract
2 Large Eggs
1 1/4 Cups Pumpkin Puree
2 Cups All-Purpose Flour
1 Tablespoon Pumpkin Pie Spice
1 Teaspoon Baking Soda
1/2 Teaspoon Baking Powder
1/2 Teaspoon Salt
Drizzle
6 Tablespoons Powdered Sugar, (adjust as needed for desired thickness)
1 Tablespoon Milk, (adjust as needed for desired thickness)
Instructions
Preheat oven to 350 degrees, and line a 12 cup muffin pan with cupcake liners.
Cinnamon Streusel
In a small bowl, combine the flour, melted butter, granulated sugar, brown sugar, cinnamon, and salt.
The mixture will be thick. To make the streusel, pinch off some pieces of dough to place on the unbaked muffins.
Muffin Batter
Using a stand mixer or hand mixer, beat the softened butter and granulated sugar on medium speed for 3-5 minutes until fluffy. Next, add the eggs, vanilla extract, and pumpkin puree. Mix on low speed until combined.
Then, add the flour, salt, baking powder, baking soda, pumpkin pie spice. Continue to mix until just combined but not over mixed.
Use a scoop or measuring cup to portion the batter into the lined muffin pan (about ½ to ⅔ full).
Top with the cinnamon streusel and gently press into the batter.
Place the pan into the preheated oven and bake for 20-25 minutes or until a toothpick inserted in the center comes out clean.
Remove from the oven and allow to cool completely before topping with glaze.
Drizzle
In a small bowl, combine the powdered sugar and milk. Add additional milk to reach desired consistency.
Drizzle over baked and cooled muffins.
Notes
The recipe makes between twelve (12) and fourteen (14) muffins depending upon size. The calories listed are an approximation based on the ingredients, twelve (12) muffins, and a serving size of one (1) pumpkin spice muffin. Additionally, the calorie count does not include the extra cinnamon sticks seen in the photo. Actual calories will vary. The muffins can be stored in a container on your counter for up to three (3) days.
Recommended Products
As an Amazon Associate and member of other affiliate programs, I earn from qualifying purchases.
Nutrition Information:
Yield:
12
Serving Size:
1 Muffin
Amount Per Serving:
Calories:

322
Total Fat:

13g
Saturated Fat:

8g
Trans Fat:

0g
Unsaturated Fat:

4g
Cholesterol:

62mg
Sodium:

252mg
Carbohydrates:

49g
Fiber:

2g
Sugar:

27g
Protein:

4g
*The calories are an estimate and are based on the ingredients and serving size listed. The calories can vary depending on the brand of product purchased.
Want more pumpkin spice recipes?
Our pumpkin spice creamer has all the seasonal flavors you've grown to love! Best of all, you can make it at home with a few simple ingredients.
A delicious pumpkin spice granola loaded with oats, nuts, maple syrup and cranberries and then lightly toasted in the oven.