A tempting combination of silky caramel and tart apples all rolled up in a flaky and delicate cinnamon roll guaranteed to make any breakfast amazing.
For today's post, we're revisiting an old favorite; our caramel apple cinnamon rolls.
It's been almost three (3) years since we published this recipe, so it was due for an update, including process photos.
Kim took new pictures and modified the dish slightly to make it more approachable for new cooks. So, shall we get started?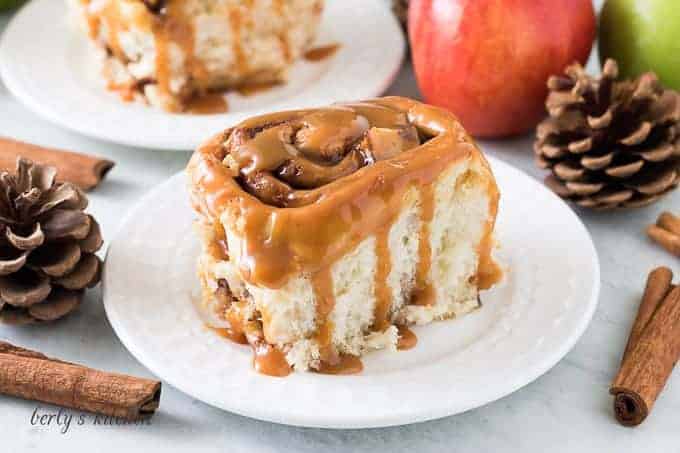 How to Make Caramel Apple Cinnamon Rolls?
Caramel apple cinnamon rolls can be a tricky breakfast to make if you are new to cooking. So, we've provided detailed instructions and photos showing some of the process.
Cinnamon Roll Dough:
The first thing you will want to start is the dough. In a large mixing bowl combine two and half (2.5) cups of flour, with the sugar, salt, and yeast. Whisk the ingredients together.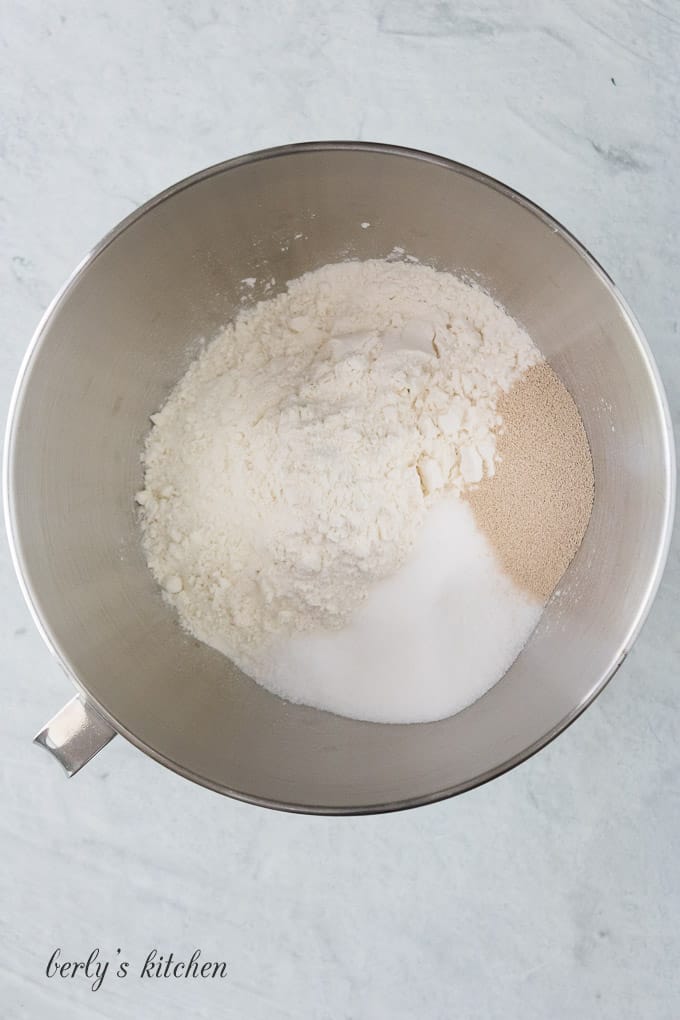 Afterward, in a small pan, heat the water, milk, and butter to around 115°F. Then, add the warm mixture to the dry ingredients.
At this point you can add the egg.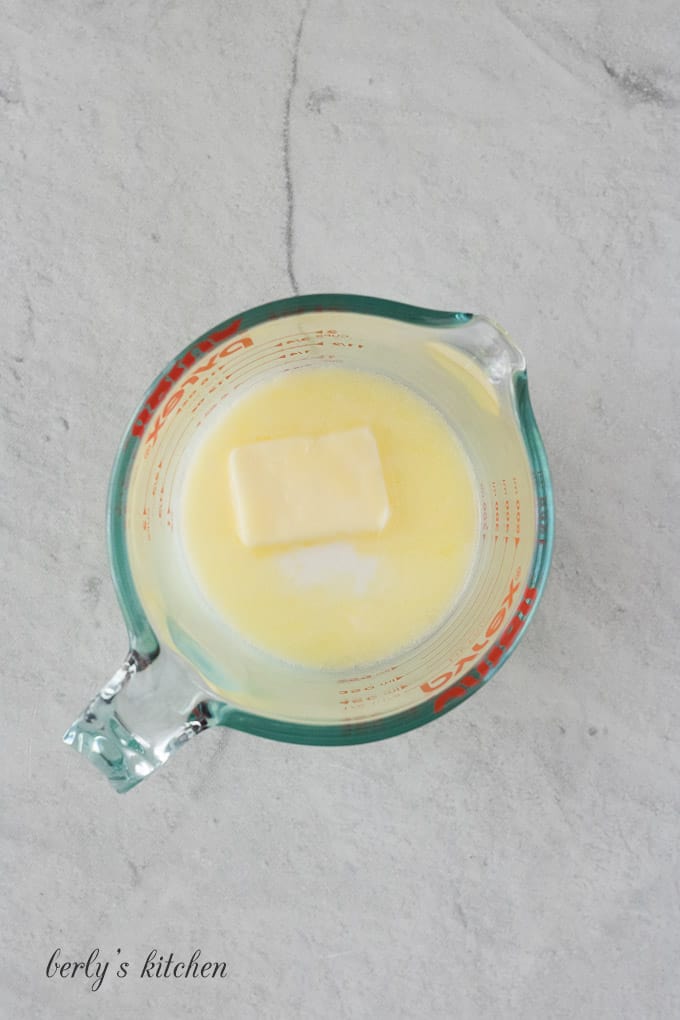 Transfer the sticky dough to a stand mixer. Use a dough hook, on the lowest setting, and mix everything.
Add the rest of the flour a tablespoon at a time.
Once all of the flour has been added, continue to mix the dough for another five (5) to seven (7) minutes. Now, lay the dough out on a floured surface.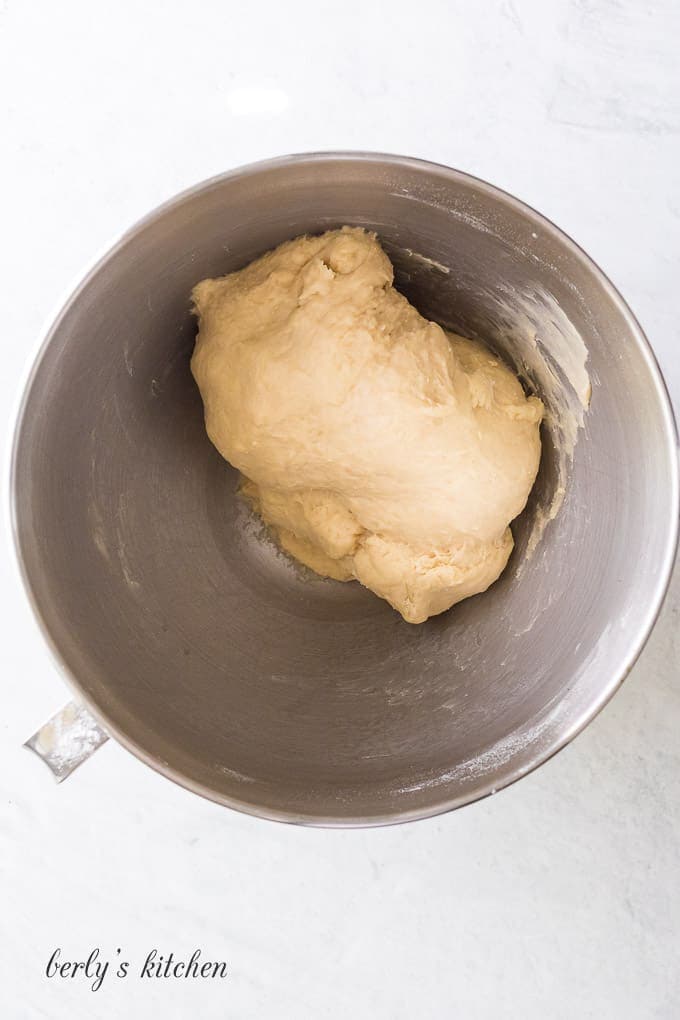 Afterward, take the dough and use a rolling pin to flatten it out into a rectangle.
It's time to make the filling and create your cinnamon rolls.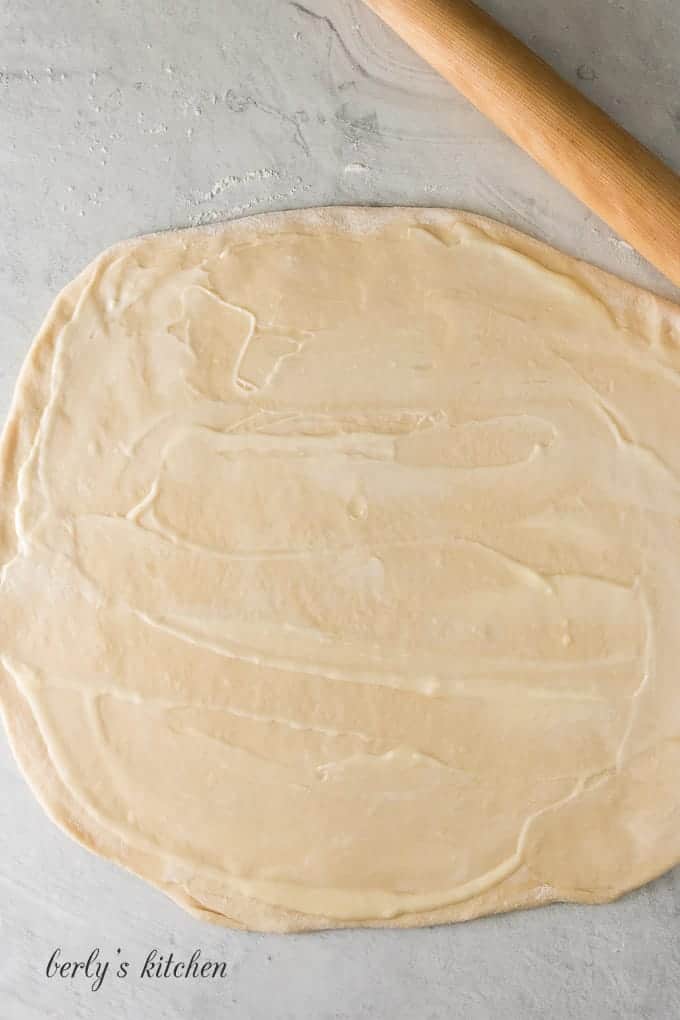 Apple Filling, Assembly and Baking:
To make the filling, all you need to do is combine the apples, both sugars, cinnamon, and nutmeg in small mixing bowl.
After that, spread the softened butter onto the dough. Then sprinkle the filling over the butter.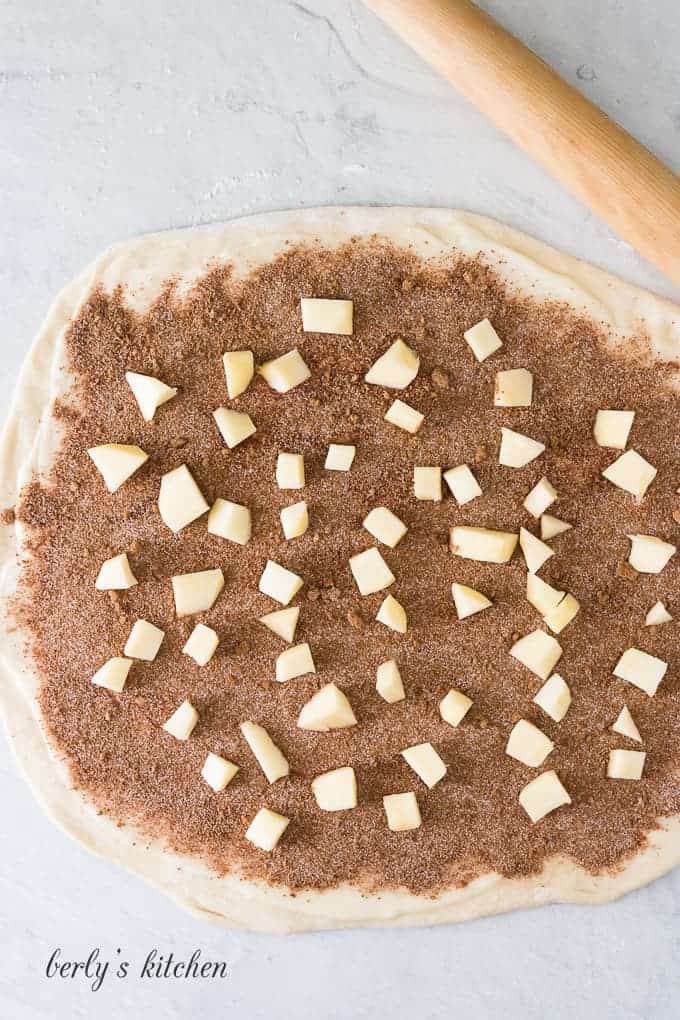 When you've finished adding the filling, roll the dough into a log and cut it into ten (10) to twelve (12) rolls.
Place the apple cinnamon rolls into a greased nine (9) by thirteen (13) inch pan. Go ahead and preheat your oven to 350 degrees F.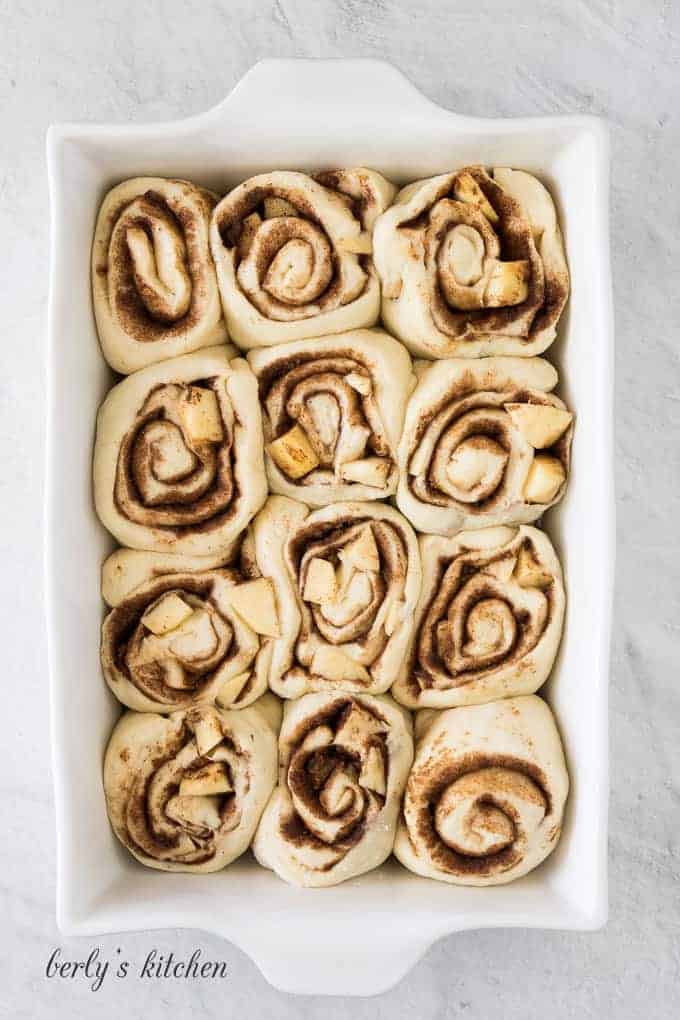 Cover the pan with foil or a kitchen towel and put it in a warm place for the dough to rise until the cinnamon rolls have doubled in size.
Once the rolls have doubled, bake them in the preheated oven for about twenty-five (25) minutes. While the pastries bake, the caramel sauce can be prepared.
Caramel Sauce:
In a small saucepan heat the heavy cream over low heat and add the caramel. Do not let the cream boil or it may break.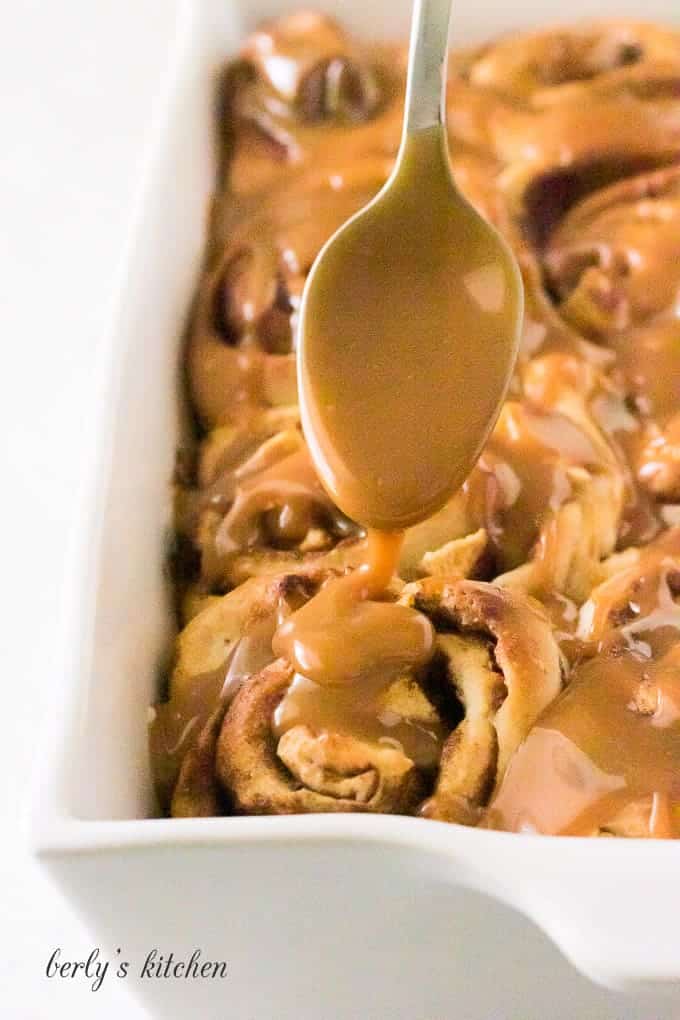 Slowly whisk the mixture until it smooth and creamy. Finally, pour the sauce over the apple cinnamon roll and dig in!
Can you freeze cinnamon rolls?
Actually, yes, you can freeze this recipe. With that being said, you'll want to prep the rolls completely before freezing.
In other words, prepare the dough, cut the rolls, and place them into an aluminum pan. Let them rise, as directed, then cover them with plastic wrap and foil.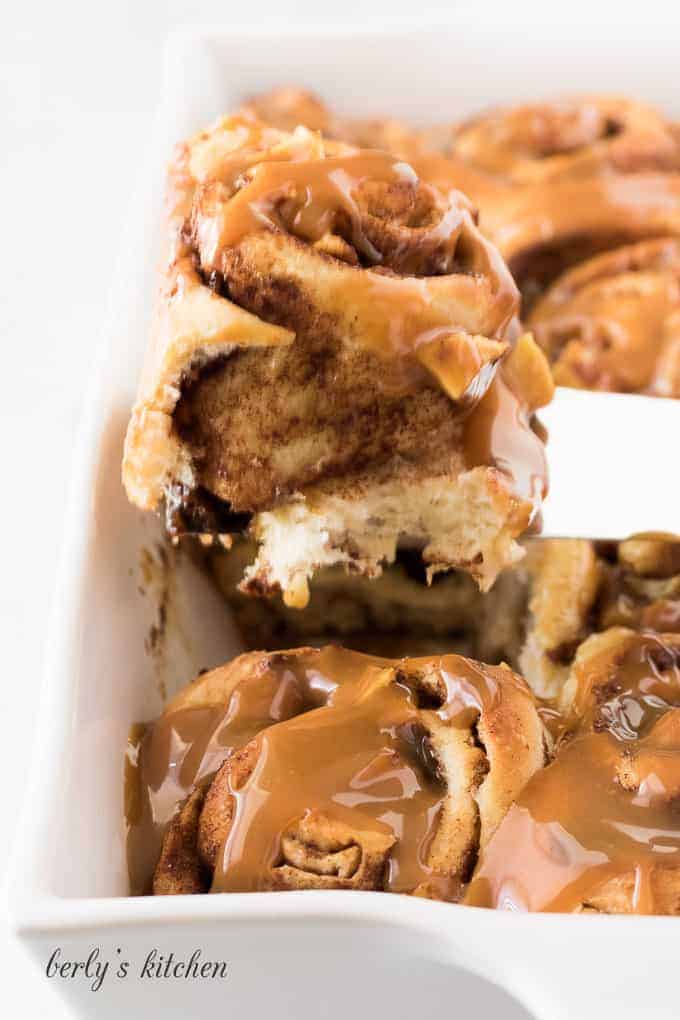 Now, they're ready to freeze. The caramel apple cinnamon rolls will hold in your freezer for about two (2) weeks.
When you're ready to cook them, pop the rolls into a preheated oven (350 degrees F.) for twenty-five (25) to thirty-five (35) minutes, or until they're golden brown.
Why didn't my cinnamon rolls rise?
Cinnamon rolls can fail to rise for a number of reasons. The yeast might have expired, the "warm spot," wasn't warm enough, the liquid you added to the yeast might have been too hot and killed it.
See what I mean? They're can be numerous reasons why your dough didn't rise. I recommend ruling them out one by one until you get it right.
Cooking, like any other skill, takes persistence and practice. Giving up and blaming the recipe, the cooking show host, etc. will not fix the dish.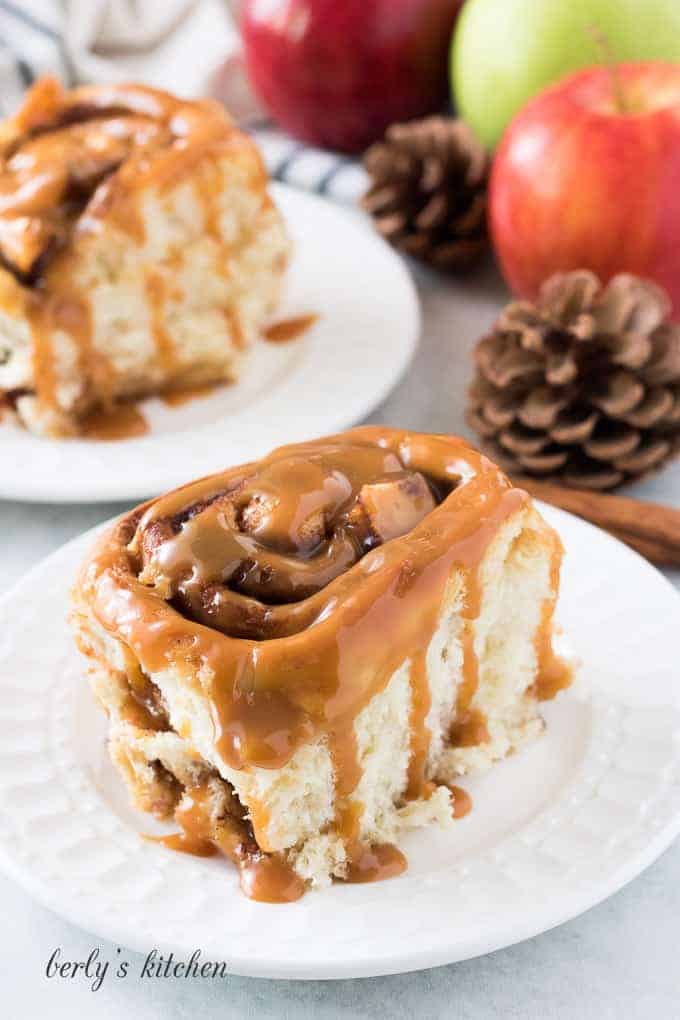 Still have leftover apples? Then try making a fresh apple cake!
If you like our caramel apple cinnamon rolls recipe, please leave us a comment and rate the recipe card. You can also find us on Facebook, Pinterest, Twitter and Instagram searching for Berly's Kitchen!
Yield: 12 Servings
Caramel Apple Cinnamon Rolls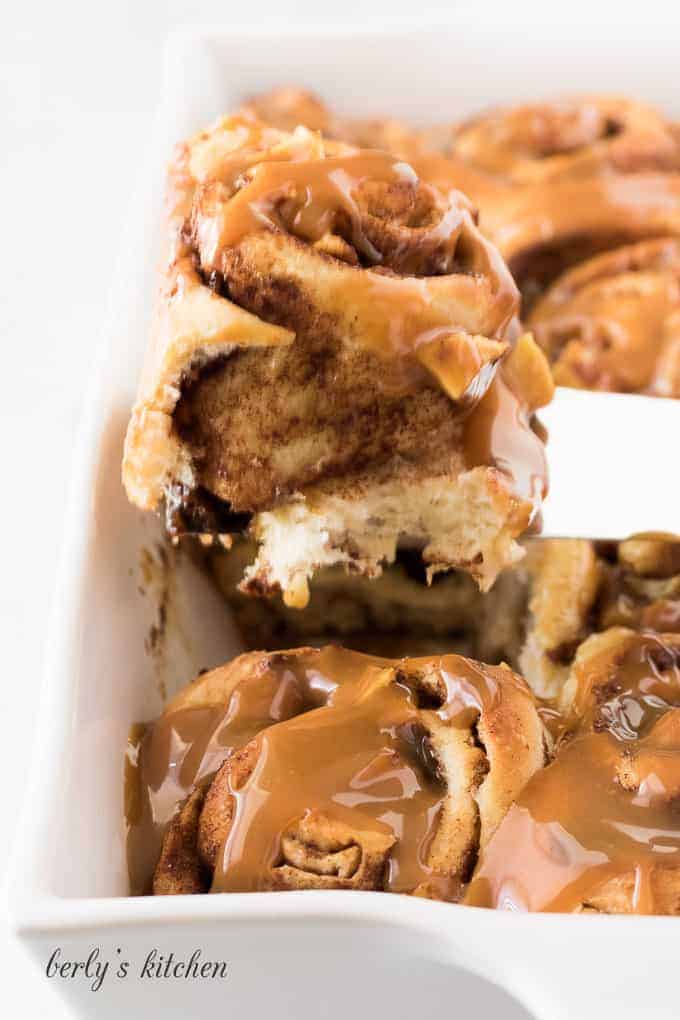 A tempting combination of silky caramel and tart apples, all rolled up in a flaky and delicate cinnamon roll guaranteed to make any breakfast amazing.
Prep Time
1 hour
30 minutes
Total Time
1 hour
55 minutes
Ingredients
Dough
2 1/2 - 3 Cups All-Purpose Flour
3 Tablespoons Granulated Sugar
1 Teaspoon Salt
2 1/4 Teaspoons Instant Yeast, (equivalent to 1 packet)
1/2 cup Water
1/4 cup Milk
3 Tablespoons Unsalted Butter, (softened)
1 Egg, (lightly beaten)
Filling
4 Tablespoons Unsalted Butter, (softened)
2-3 Tablespoons Cinnamon, (or to taste)
1/4 Cup Granulated Sugar
1/4 Cup Brown Sugar
1/2 Teaspoon Nutmeg
1 Large Apple, (peeled, cored, and diced)
Caramel Sauce
11 Ounces Caramel Squares
½ Cup Heavy Cream
Instructions
Dough
Mix 2 1/2 cups of flour, sugar, salt, and yeast until well combined. Set aside.
Heat water, milk, and butter to about 115 degrees. Then add the mixture to the dry ingredients, and add an egg.
Using a dough hook on a stand mixer, mix on a low setting. Add remaining flour a Tablespoon at a time to form a smooth dough. Continue to mix for 5-6 minutes.
The dough will become smooth and elastic while completely pulling away from the sides of the bowl. Transfer the dough to a lightly floured surface, and use a rolling pin to roll into a rectangular shape.
Filling
In a small bowl, combine the granulated sugar, brown sugar, cinnamon, and nutmeg. Set aside.
Spread the softened butter on the rectangle of dough. Then, sprinkle evenly with cinnamon, nutmeg, and sugar mixture. Add the apples next.
Beginning with the long side of the rectangle, tightly roll the dough, so the cinnamon and sugar are on the inside. Cut the rolled dough into 10-12 even pieces.
Place the cut dough into a greased 9 x 13-inch rectangle pan, and cover with a clean kitchen towle. Place rolls in a warm, draft-free place and allow to rise until doubled in size. Preheat the oven to 350 degrees.
After the rolls have doubled in size, bake for 25 minutes until golden brown.
Remove from oven and cool completely before adding the caramel sauce.
Caramel Sauce
In medium sauce pan on low heat melt caramel and heavy cream together until smooth and fully incorporated. (Make sure the pan you use has tall sides. The caramel expands and can boil over.) Pour the caramel sauce over cooled cinnamon rolls.
Finally, store cinnamon rolls in the refrigerator for 3-4 days.
Notes
The calorie count listed is an approximation based on the ingredients and a serving size of one (1) caramel apple cinnamon roll drizzled with around two (2) tablespoons of caramel sauce. Actual calories will vary.
Recommended Products
As an Amazon Associate and member of other affiliate programs, I earn from qualifying purchases.
Nutrition Information:
Yield:
12
Serving Size:
1 Roll
Amount Per Serving:
Calories:

473
Total Fat:

14g
Saturated Fat:

7g
Unsaturated Fat:

0g
Cholesterol:

47mg
Sodium:

331mg
Carbohydrates:

80g
Fiber:

3g
Sugar:

31g
Protein:

9g