These Homemade Cinnamon Rolls are the best sweet treat. They're baked to soft, fluffy, golden-brown perfection, layered with brown sugar and cinnamon, then drizzled with a sweet vanilla glaze.
Serve these rolls for breakfast, with a steaming hot bowl of your favorite chili, or as dessert!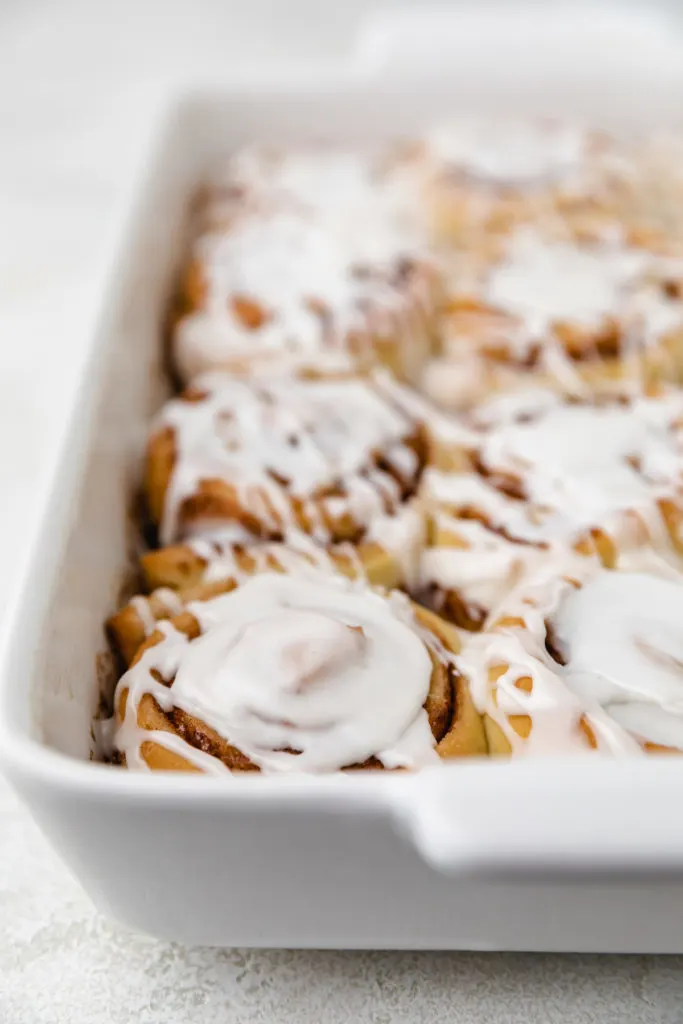 Easy Cinnamon Roll Recipe
Who doesn't love biting into a soft, warm, gooey, sweet, pillowy cinnamon roll? I know I do. And these easy homemade cinnamon rolls are probably my favorite recipe.
These easy cinnamon rolls are simple to prep and come out perfectly every time. They're soft and pillowy with the best golden-brown finish, layered with the perfect amount of cinnamon and brown sugar, and topped with a simple and sweet icing.
How to Make Cinnamon Rolls
This cinnamon roll recipe looks more complicated than it actually is. Just follow the instructions carefully and you'll be just fine! Here's a quick breakdown of the recipe:
Make the Dough
In a bowl, mix together flour, sugar, salt, and yeast. Set aside. In a separate bowl, combine water, milk, and butter. Heat to about 110°F to 115ºF.
In your stand mixer, combine the wet ingredients, dry ingredients, and egg. Use a dough hook to mix until the dough comes together. Add flour as needed until a soft, elastic dough forms.
Let the dough rest for a few minutes, then turn it out onto a floured surface. Use a rolling pin to roll it out into a rectangle about ¼ inch to ½ inch thick.
Roll and Rise
Spread softened butter over the rolled out dough, then sprinkle evenly with brown sugar and cinnamon.
Starting with the short side of the rectangle, roll the dough up tightly. Use a sharp knife, dough scraper, or floss to cut into 10 to 12 even pieces.
Place into a greased baking dish, cover with a clean towel, then place it in a warm, dry place and let it rise until doubled in size.
Bake
Preheat the oven to 350ºF, then bake the rolls until golden-brown. Cool until just slightly warm.
Add the Icing
In a bowl, mix together vanilla, powdered sugar, and milk. Drizzle over the cinnamon rolls.
How Do I Adjust Baking for High Altitude?
These cinnamon rolls are simple, but cinnamon rolls in general can be a little bit finicky. So, if you live at a different altitude, in a different climate, or you're even experiencing different weather, the recipe can change slightly.
Here are a few potential adjustments you may need to make:
Flour: I've used anywhere from 2½ cups of flour to over 4½ in different places. My best tip is to start with less, then add more as needed. You can always add more, but you can't take any out!
Bake time and temp: If you live in the mountains, you will likely need to adjust both the oven temperature and the baking time. Check out this article on high altitude baking for more tips.
Tips and Notes
Here are a few of my best tips for making these easy cinnamon rolls even easier:
Use room temperature ingredients. Bringing both the butter and eggs to room temperature first helps them incorporate more easily into the dough.
Check your yeast. Make sure the yeast you use isn't expired. Don't grab the yeast you've had in the back of your pantry for years. If it's expired, the dough won't rise!
Check the temp of the liquids. A thermometer is necessary. The liquid mixture needs to be between 110ºF and 115ºF. If it's too cool, the yeast won't activate. If it's too hot, it will kill the yeast. For more details, check out this post on how to activate yeast.
Add flour as needed. If the dough is too wet and sticky, add ¼ cup flour at a time until you get a smooth, soft, elastic texture.
Roll the dough to ¼ inch to ½ inch thickness. Thinner dough will result in more rolls, but less "bread-y" rolls. Thicker dough will give you fewer rolls, but they will have a fluffier texture.
Roll tightly…but not too tight. We want the dough to be rolled up tightly enough that it holds together, but not so tight that there's no space for the rolls to expand.
Cut into even slices. Whatever the thickness of your dough, make sure you slice it into even pieces so they all bake at the same rate.
To let the dough rise, we like to preheat the oven first, then set the baking dish on top of the stove. It typically takes somewhere between 30 minutes and 1 hour depending on the temperature of the kitchen.
If you like a lot of icing, double the batch!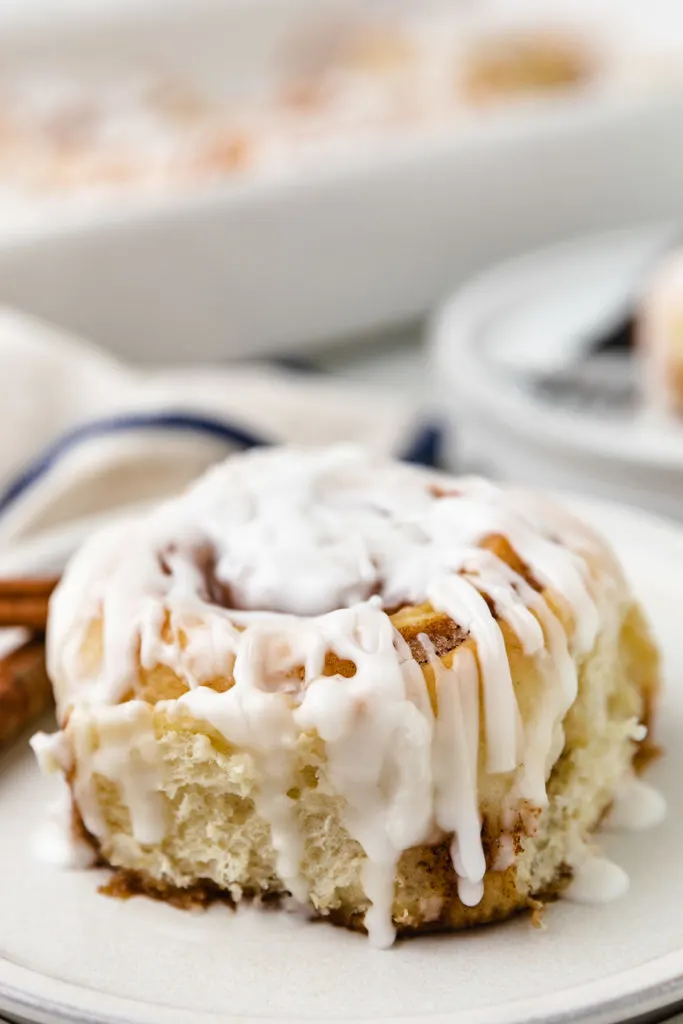 Can You Make Cinnamon Rolls Ahead of Time?
Totally! This cinnamon roll recipe makes an excellent make-ahead breakfast option.
To prep them ahead of time, assemble as directed, then bake at 325ºF for just 15 minutes. Cool the rolls completely, then place the whole pan into a freezer-safe bag and store in the freezer for up to 2 months.
When you're ready to serve, thaw the rolls completely, then bake until golden-brown.
For more detailed instructions on par-baking and freezing, check out this post on how to freeze cinnamon buns.
Storage and Reheating
Storage: Finished cinnamon rolls will last in an airtight container in the fridge for 3-4 days. You can also leave them unfrosted and store them at room temperature for 2-3 days.
Freezing: Cinnamon rolls can be frozen, but I recommend doing so without the icing. To freeze the rolls, let them cool completely, wrap them tightly in a couple layers of plastic wrap followed by a layer of aluminum foil, then store them for up to 1 month.
Reheating: To warm your cinnamon rolls, let them thaw fully in the fridge if frozen, then warm either in the microwave or oven and add the icing if needed!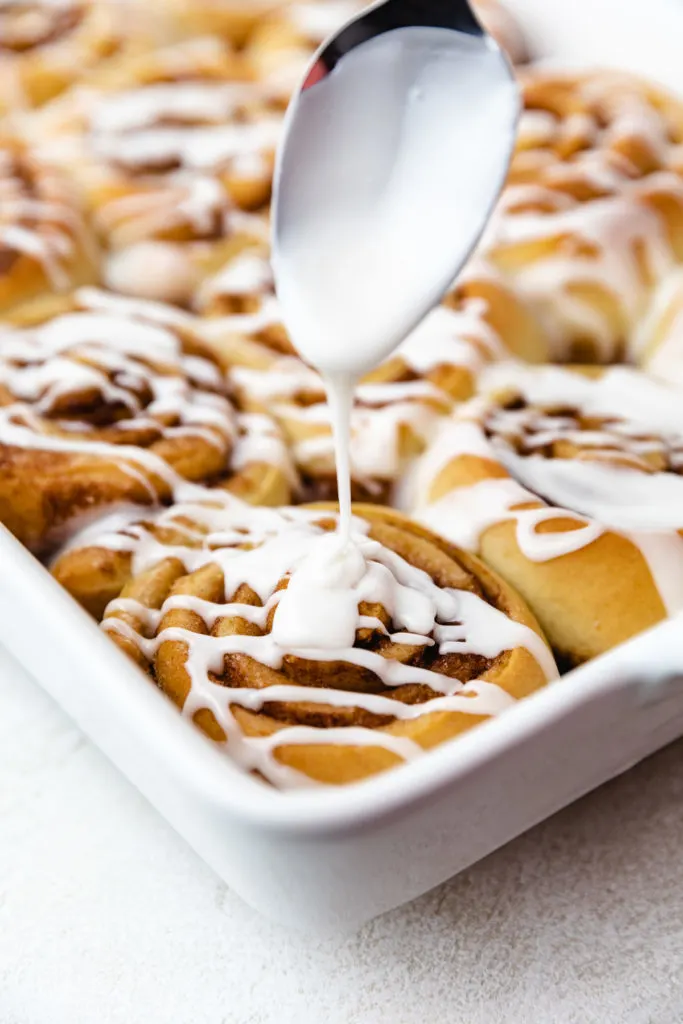 How Do You Keep Homemade Cinnamon Rolls Soft?
Cinnamon rolls should always be soft and fluffy. Never tough and chewy! Here are a few tips to keep the rolls nice and soft…even the leftovers!
Activate the yeast properly. I've already mentioned this, but it really is so important. Make sure you use fresh yeast, then make sure your liquids are between 110ºF and 115ºF in order to activate it. The yeast is what makes the dough rise.
Don't over-measure your flour. Start with less, then add more only as you need. Too much flour will dry out the dough.
Don't over-mix the dough. Once the dough is the right texture, leave it alone. The more you mix, the tougher it will get.
Watch the bake time. Baking time can vary, so take my 25 minutes as an estimate. Make sure you keep an eye on the rolls so as not to over-bake them. As soon as they are that perfect golden-brown color, remove them from the oven.
Store in an airtight container. The more air can reach the rolls, the more quickly they'll dry out.
More Cinnamon Roll Recipes to Try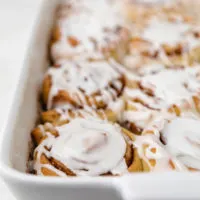 Easy Cinnamon Rolls
Print
Pin
I earn a commission from Amazon and Instacart from qualifying purchases.
Ingredients
For the Cinnamon Roll Dough:
2 ½ to 3 ½

cups

all-purpose flour

3

tablespoons

granulated sugar

2 ¼

teaspoons

instant yeast

,

1 standard packet

1

teaspoon

kosher salt

½

cup

water

¼

cup

whole milk

3

tablespoons

unsalted butter

,

softened

1

large egg

,

lightly beaten (at room temperature)
For the Filling:
½

cup

unsalted butter

,

softened

½

cup

light brown sugar

,

packed (or more to taste)

1

tablespoon

ground cinnamon

,

or more to taste
For the Glaze:
1

cup

powdered sugar

2 to 3

tablespoons

whole milk

,

adjusted to desired consistency

1

teaspoon

pure vanilla extract
Instructions
To Make the Dough:
Lightly grease a 9×13-inch baking dish and set aside.

To the bowl of a stand mixer, add 2 ½ cups of the flour, sugar, yeast, and salt. Whisk to combine.

3 tablespoons granulated sugar

1 teaspoon kosher salt

2 ¼ teaspoons instant yeast

In a microwave safe bowl or over the stovetop, heat the water, milk, and butter to about 110°F to 115°F. Pour the mixture into the bowl of the stand mixer along with the dry ingredients along with the softened butter and egg.

½ cup water

¼ cup whole milk

3 tablespoons unsalted butter

1 large egg

Using a dough hook, mix on a low setting until the dough comes together. If the dough is too wet, add remaining flour ¼ cup at a time to form a soft, smooth, elastic dough. Then continue to mix at low-medium speed for an additional 5 to 6 minutes. Next, allow the dough to rest in the bowl for 3 to 5 minutes.

After the dough rests, turn it out onto a lightly floured surface. Use a rolling pin to roll into a rectangular shape about ¼-inch to ½-inch thick.
To Make the Filling:
Use a spatula to spread the softened butter on the rectangle of dough. Sprinkle the brown sugar and cinnamon evenly over the softened butter.

½ cup unsalted butter

½ cup light brown sugar

1 tablespoon ground cinnamon

Beginning with the short side of the rectangle, tightly roll the dough so the cinnamon and sugar are on the inside. Use a sharp knife, dough scraper, or dental floss to cut the rolled dough into 12 even pieces.

Place the cut dough into the prepared baking dish and cover with a clean towel. Transfer the dough to a warm, draft-free place and allow it to rise until doubled in size. Meanwhile, preheat the oven to 350°F.

Once the cinnamon rolls have doubled in size, bake for 20 to 30 minutes or until golden brown.

Remove from the oven and allow the rolls to cool until just slightly warm before adding the icing.
For the Icing:
In a small bowl, whisk together powdered sugar, 1 to 2 tablespoons of milk, and vanilla. Add more milk until the desired consistency is reached.

1 cup powdered sugar

2 to 3 tablespoons whole milk

1 teaspoon pure vanilla extract

Use a spatula to smooth over slightly warm cinnamon rolls. Enjoy!

See post for tips, FAQs, and storage options.
Notes
*Environmental factors cause the amount of flour required to vary slightly by region. We've linked to a great resource in the tips section of the post.
*We have not tried to substitute ingredients such as gluten-free flour, bread flour, almond milk, soy milk, etc. and cannot provide recommendations on the use of alternate ingredients.
*The calories listed are an approximation based on the ingredients in the recipe card and a serving size of 1 cinnamon roll. Actual calories will vary.
*Doubling or tripling this recipe has not been tested. Therefore, we can not guarantee the outcome of adjusting the ingredients.
Nutrition
Serving:
1
cinnamon roll
|
Calories:
293
kcal
|
Carbohydrates:
44
g
|
Protein:
4
g
|
Fat:
12
g
|
Saturated Fat:
7
g
|
Polyunsaturated Fat:
1
g
|
Monounsaturated Fat:
3
g
|
Trans Fat:
0.4
g
|
Cholesterol:
42
mg
|
Sodium:
290
mg
|
Potassium:
85
mg
|
Fiber:
2
g
|
Sugar:
22
g
|
Vitamin A:
358
IU
|
Vitamin C:
0.03
mg
|
Calcium:
34
mg
|
Iron:
1
mg
Don't Lose This Recipe!
Save it on Pinterest! Follow us at @berlyskitchen!