These Buttermilk Pancakes are the best homemade pancakes you'll ever make. They're fluffy and melt-in-your-mouth tender with deliciously crispy, golden edges. These perfect pancakes are a breakfast you'll be making as much as possible!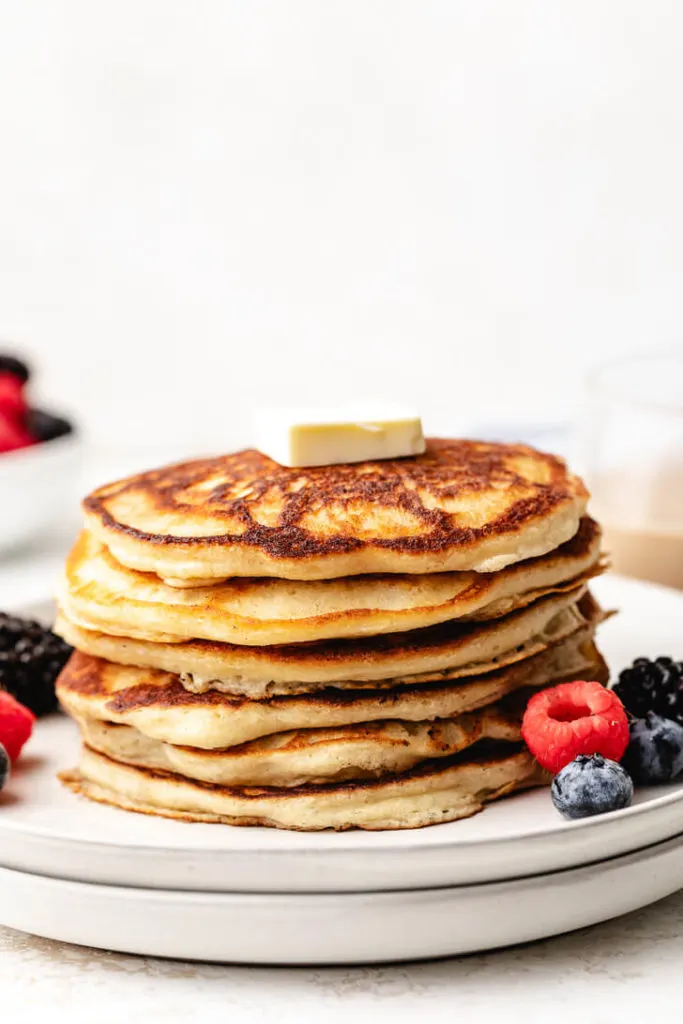 Easy Homemade Buttermilk Pancakes
I grew up on pancakes. My grandmother used to make them for me all of the time when I was a kid. As an adult, I found out that she was using boxed Hungry Jack store-bought mix.
So, I decided to come up with a homemade recipe for classic buttermilk pancakes that emulated the boxed stuff—in the best way!
These really are the best buttermilk pancakes. They're an easy recipe that's made with simple ingredients and yields the perfect texture!
One specific trick my grandma used to make extra crispy and light pancakes was cooking the batter in Oleo (margarine). She'd pour any excess melted Oleo into the pancake batter to create the most buttery and delicious flavor.
I like to do the same with this recipe! And boy is it amazing!
This recipe is perfect for weekend mornings, for weekday meal prep, for holidays, or for literally any time you're craving a big stack of pancake perfection. Skip the box mix—these are the best pancakes ever!
How to Make Buttermilk Pancakes
This buttermilk pancake recipe really couldn't be simpler!
Here's a quick summary of the recipe. Scroll to the recipe card below for the full list of ingredients and instructions.
Use an electric mixer or bowl and whisk to combine all of the ingredients. The batter should be thick, but not too thick. Be sure that no streaks of flour remain, but don't overmix.
Preheat a large skillet on low-medium heat, then add pat of butter into the hot skillet. Let the butter melt. Lift the pan and move it around to spread the melted butter around the surface of the pan.
Portion ¼ cup of batter into the skillet and cook until bubbles begin to form. Once air bubbles form and the edges start to crisp, flip the pancake to cook the other side. Repeat with the remaining batter, then serve immediately.
Tips and Notes
Check your leavening agents. Make sure both the baking soda and baking powder are fresh. If they're expired, they won't serve their intended purpose of making the pancakes light and fluffy.
Use a cast-iron pan. If you have one available to you, I recommend using cast iron to cook the pancakes. It cooks more evenly and creates crispier edges.
Mix well, but don't over-mix. You want to make sure there are few to no lumps while also avoiding over-mixing. Mixing too much can cause the pancakes to be dense and tough.
Preheat the skillet. It should be nice and hot before you add any batter onto it. This helps the pancakes get that delicious crispy texture and golden brown color.
Use ¼ cup measuring cup. This is the size that I use, so that's what I recommend. If you want to make bigger pancakes, feel free to use a larger measuring cup. Keep in mind that this will reduce the number of pancakes you can make.
If the batter is too thick, try adding a little bit more milk—buttermilk, regular milk, or any other type will work.
Serve right away. These fluffy buttermilk pancakes can be stored as leftovers, but are best served right away!
Make a double batch. These pancakes store perfectly, so I recommend making a ton so you have breakfasts ready-to-go.
Add mix-ins. Try adding some extra texture and flavor with blueberries or chocolate chips.
Serving Suggestions
These melt-in-your-mouth buttermilk pancakes are pretty delectable as-is. But, of course, you can't go wrong with an extra pat of butter and a drizzle of real maple syrup or honey!
Alternatively, feel free to get creative and serve your pancakes topped with peanut butter or your favorite fruit sauce! Try slathering them with strawberry jam, blueberry simple syrup, raspberry simple syrup, or even lemon curd for an extra fruity twist.
I also love to make them into a super hearty breakfast by using them as breakfast wraps loaded up with bacon, eggs, and sausage.
The possibilities for this easy pancake recipe are endless!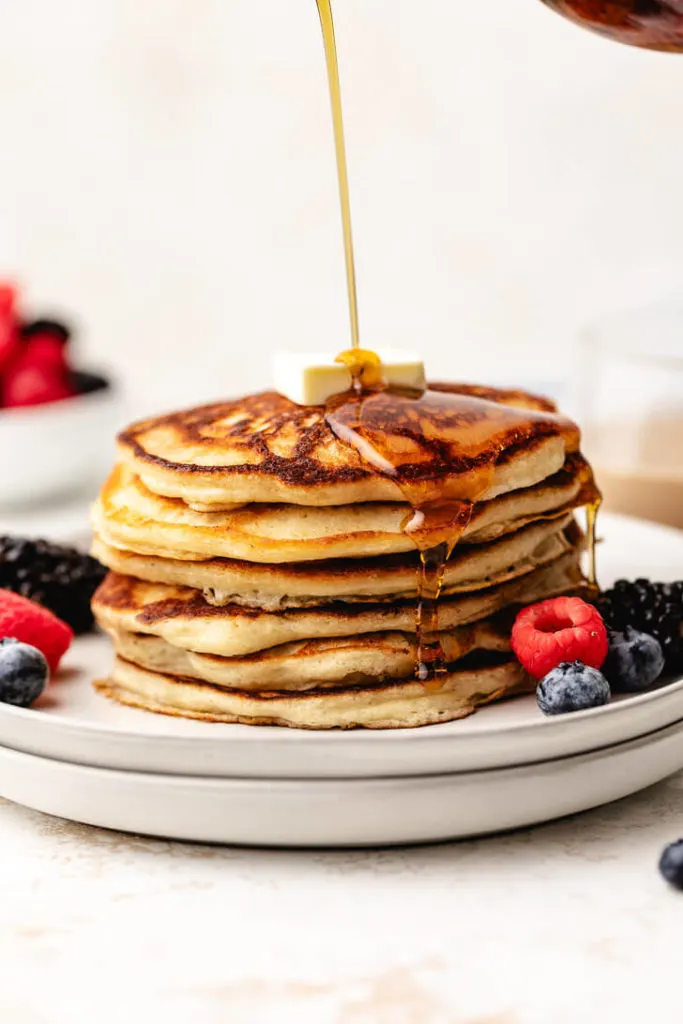 Storage
Leftover pancakes refrigerate and freeze beautifully!
To store in the refrigerator, place the pancakes in an airtight container and store in the refrigerator for 4-5 days.
To store in the freezer, place the pancakes in a freezer-safe bag and store for up to 3 months. When you're ready to serve the frozen pancakes, let them thaw in the fridge or heat them from frozen in the oven.
How Do You Make Pancakes with Crispy Edges?
To make pancakes with crispy edges you'll need a hot pan and plenty of butter. Melt a little butter on pan just before adding the batter.
The heat from the pan combined with butter makes a beautiful, golden-brown crust on the outside of the pancake. The edges get nice and crispy with a warm, buttery flavor.
Make sure the pan is hot; low-medium or medium heat works well on most stovetops. Also remember to wipe the pan clean between every 2-3 pancakes to keep the residual butter from burning.
Why Are Buttermilk Pancakes Better?
Buttermilk pancakes have an amazing reputation because they really do just have a better texture than "regular" pancakes. Why? Because buttermilk creates the fluffiest pancakes!
The acidity in the buttermilk reacts with the baking soda to give the pancake batter that extra lift. It also provides the batter with extra moisture to keep it from drying out. The result is the lightest, fluffiest pancake!
How Long Do You Let Buttermilk Pancake Batter Sit?
Some buttermilk pancake recipes have you let the batter rest for a little bit of time before you actually make the pancakes. The intended purpose is to allow the ingredients time to react to one another for that perfect pancake texture.
Since the baking soda and buttermilk begin to react with each immediately, the batter needs to be used as soon as it's mixed. Otherwise, the pancakes lose some of their fluffiness and texture.
More Classic Breakfast Recipes You'll Love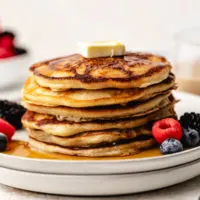 Buttermilk Pancakes
Print
Pin
I earn a commission from Amazon and Instacart from qualifying purchases.
Ingredients
1 ½

cups

(188 g) all-purpose flour

1 ½

cups

(360 ml) buttermilk

¼

cup

(56 g) unsalted butter

,

melted and cooled (plus 2-3 extra tablespoons for cooking)

1

large egg

1

tablespoon

granulated sugar

2

teaspoons

pure vanilla extract

2

teaspoons

baking powder

½

teaspoon

baking soda

¼

teaspoon

salt
Instructions
Using an electric mixer or bowl and whisk, combine all the ingredients. The batter should be smooth and not too thick. Make sure not to overmix!

1 ½ cups (188 g) all-purpose flour

1 ½ cups (360 ml) buttermilk

¼ cup (56 g) unsalted butter

1 large egg

1 tablespoon granulated sugar

2 teaspoons pure vanilla extract

2 teaspoons baking powder

½ teaspoon baking soda

¼ teaspoon salt

Preheat a skillet over low-medium heat.

Melt a little butter in the skillet. Place ¼ cup of batter in skillet, and smooth into a circle.

After bubbles form across the top of the pancake and edges begin to crisp, flip the pancake to cook the other side.

Cook opposite side until golden brown then remove from pan. Repeat until all the batter is used.

Serve immediately with maple syrup and fresh fruit.

Scroll up and see the post for tips, FAQs, and storage recommendations.
Notes
The calories listed are an approximation based on the ingredients and do not include the additional butter and syrup. Actual calories may vary.
Makes 5 servings of 2 pancakes per serving. Pancakes are approximately 5 – 6 inches in diameter.
For more information, tips, and answers to frequently asked questions, please refer to the post.
Wipe the skillet clean after every 2-3 pancakes to keep the melted butter from burning.
Nutrition
Serving:
2
pancakes
|
Calories:
291
kcal
|
Carbohydrates:
36
g
|
Protein:
7
g
|
Fat:
13
g
|
Saturated Fat:
8
g
|
Polyunsaturated Fat:
1
g
|
Monounsaturated Fat:
3
g
|
Trans Fat:
0.4
g
|
Cholesterol:
65
mg
|
Sodium:
317
mg
|
Potassium:
316
mg
|
Fiber:
1
g
|
Sugar:
6
g
|
Vitamin A:
451
IU
|
Calcium:
166
mg
|
Iron:
2
mg
Don't Lose This Recipe!
Save it on Pinterest! Follow us at @berlyskitchen!