This recipe for Dutch Apple Pie takes fresh fall apple flavor and makes a delicious comforting pie. Apples, brown, sugar, and cinnamon are mixed together and baked in a homemade pie crust with an easy apple crumble topping that everyone will enjoy.
While there are many ways to make apple pie, we enjoy a Dutch apple pie the best. Dutch apple pie is made just like a regular apple pie, except it doesn't have that second pie crust on top.
Instead, this apple pie is topped with a buttery crumble that's made with flour, brown sugar, and butter. Once baked, it gets a nice crunch that pairs perfectly with the flavor of apples.
To make this pie, you'll need some fresh apples along with a pie crust. You can choose to make your own or buy a premade one to save time. The filling is made by tossing apples with lemon juice, flour, and seasonings. It's then added to the pie crust and topped with crumble for a beautiful fall dessert that tastes great topped with whipped topping or caramel sauce.
Make this apple pie to enjoy during the week or serve it as a decadent dessert alongside an oven-roasted turkey for the holiday season!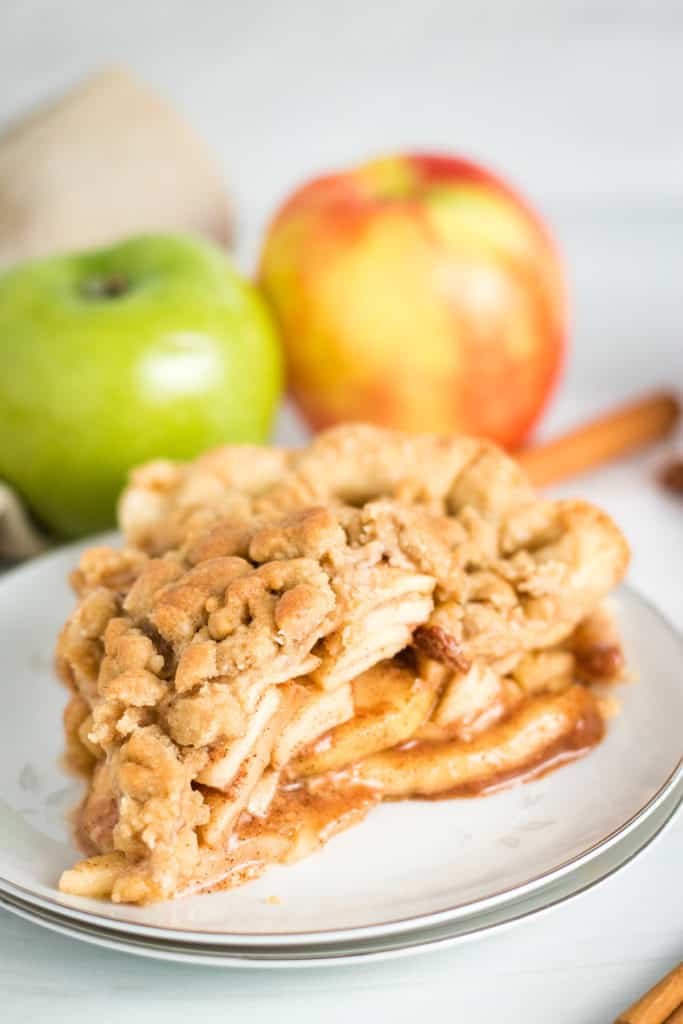 Recipe Tips
Because the apple crumble has sugar, it may burn easily. If the top gets too brown and there is cooking time left, add a layer of foil to the top of the pie.
Make sure your apples are sliced evenly. This will help make sure that they all cook and break down at the same time.
The apple pie filling should be made last to help prevent the apples from browning.
If you don't have time to make the filling, you can take a shortcut and use canned apple pie filling.
The best apples for baking are ones that are strong and sturdy such as gala, fuji, or granny smith apples. Each of them has different levels of sweet flavor, so be sure to taste test to add more sugar if needed.
Layer your baking sheet with aluminum foil as the filling may bubble over and can be difficult to clean.
Don't worry if the pie shell seems overfull when you add the filling. The apples will reduce in size as they bake, and the dome shape of the pie will sink some. I jokingly call it my "imperfect Dutch Apple Pie," because one side sinks slightly lower than the other.
Dutch apple pie is easiest to slice and serve when it's cold right out of the refrigerator. It can be enjoyed, slightly warmed, or at room temperature.
Apple Pie Variations and Substitutions
Don't like apples? You can use the same instructions but replace the apples with your favorite fruit such as berries or peaches.
A gluten-free dutch apple pie can be made by using a gluten-free pie crust.
You can also make this pie vegan by using a vegan butter substitute in the crust and crumb topping.
Try using Homemade Pumpkin Pie Spice or Homemade Apple Pie Spice as the seasoning for even more fall flavor.
Storing and Freezing
Storing: Baked and cooled Dutch apple pie can be stored outside of the fridge covered for 24 hours. It will keep fresh in the fridge covered for up to 5 days.
Freezing: To freeze cooked and cooled dutch apple pie, wrap it tightly with plastic wrap, then a thin layer of foil to prevent freezer burn for up to 3 months. Thaw overnight in the fridge before reheating and serving.