Our peanut butter lovers no bake peanut butter pie filling is delicious, decadent, and overloaded with peanut butter and topped off with drizzled chocolate.
No Bake Peanut Butter Pie is one of Kim's specialties. She first started making it about a decade ago, and it has been a dessert we tend to enjoy sparingly.
Similar to our no bake chocolate peanut butter bars, this dessert is delicious but decadent.
As you can probably tell, it's not exactly light on the calories. With that being said, we wanted to share this delicious pie recipe with everyone so they too could enjoy it in moderation.
Since No Bake Peanut Butter Pie is no-bake, the hardest part of preparing the dish is waiting for it cool in the fridge.
You can keep the no-bake theme going by purchasing a graham cracker crust from your local grocery store.
As for the chocolate and peanut butter drizzles, you will have to spend a few minutes working the microwave and stove. However, the sauces are not labor intensive.
On the other hand, you could also purchase premade sauces from a retailer and use your microwave to heat them for the topping. It's up to you how much time you want to spend on the pie.
Now, since we do have some followers that prefer the completely homemade method, Kim has provided the recipes for every aspect of the dish. I can tell you; it is worth the effort.
No Bake Peanut Butter Pie is very rich and dense on the palate. Fortunately, in this case, those are good traits to have if you love peanut butter. T
he nutty sweetness of the filling overwhelms your taste buds. You can smell the chocolate and peanuts long before the fork hits your lips.
If you look at the photos, you can see Kim also sprinkles the pie with chocolate and peanut butter chips, adding another layer of decadence to the dessert.
The sauces, when cooled, become crunchy and provide various textures to each bite. The graham cracker crust Kim uses is buttery and holds together well under the pie's weight.
When looking at the picture above, you can see how much we like this dessert. We couldn't even wait to cut it properly and had to dig in for a bite…or three.
Over the years, Kim has only gotten better with her cooking and watching her improve this pie has been a rewarding culinary adventure. Now that she has perfected her version of the dish, we are ready to share it with you.
It is our hope you get the opportunity to make it, and you share it with someone you love, just as we have always done. In closing, allow me to wish everyone a long life, love everlasting, and a full tummy.
Instructions:
I will only be providing the instructions for the pie filling below. However, the instructions for the crust and sauces will be on the recipe card.
Start by using a stand or hand mixer and beat the cream cheese on medium speed for about one minute.
Afterward, add the peanut butter and vanilla extract. Then continue to mix everything for an additional two to three minutes.
Keep mixing until the filling is light and fluffy. In a separate, medium bowl, combine the heavy cream and powdered sugar.
Then, use the stand or hand mixer to beat the mixture on medium speed until stiff peaks form. Afterward, carefully fold the whipped cream concoction into the peanut butter and cream cheese mixture until everything is well blended.
Lastly, pour the filling into a prepared graham cracker crust and place the pie in the refrigerator to chill for about three hours. See the recipe card below for the crust and chocolate and peanut butter sauces.
If you are not making it from scratch, then once the pie cools, add your toppings. Then refrigerate the dessert for an additional hour, before cutting.
If you like this recipe, please leave us a comment and rate the recipe card. You can also find us on Facebook, Pinterest, Twitter and Instagram searching for Berly's Kitchen!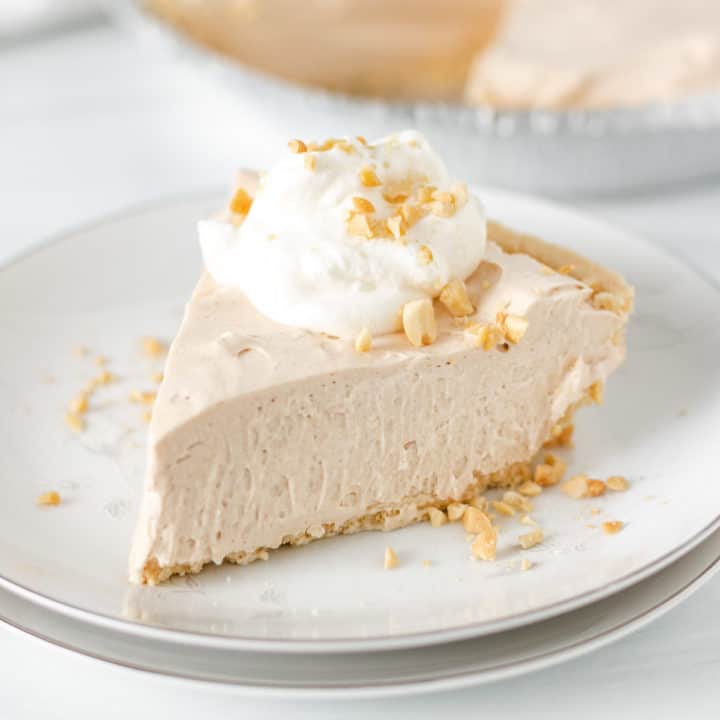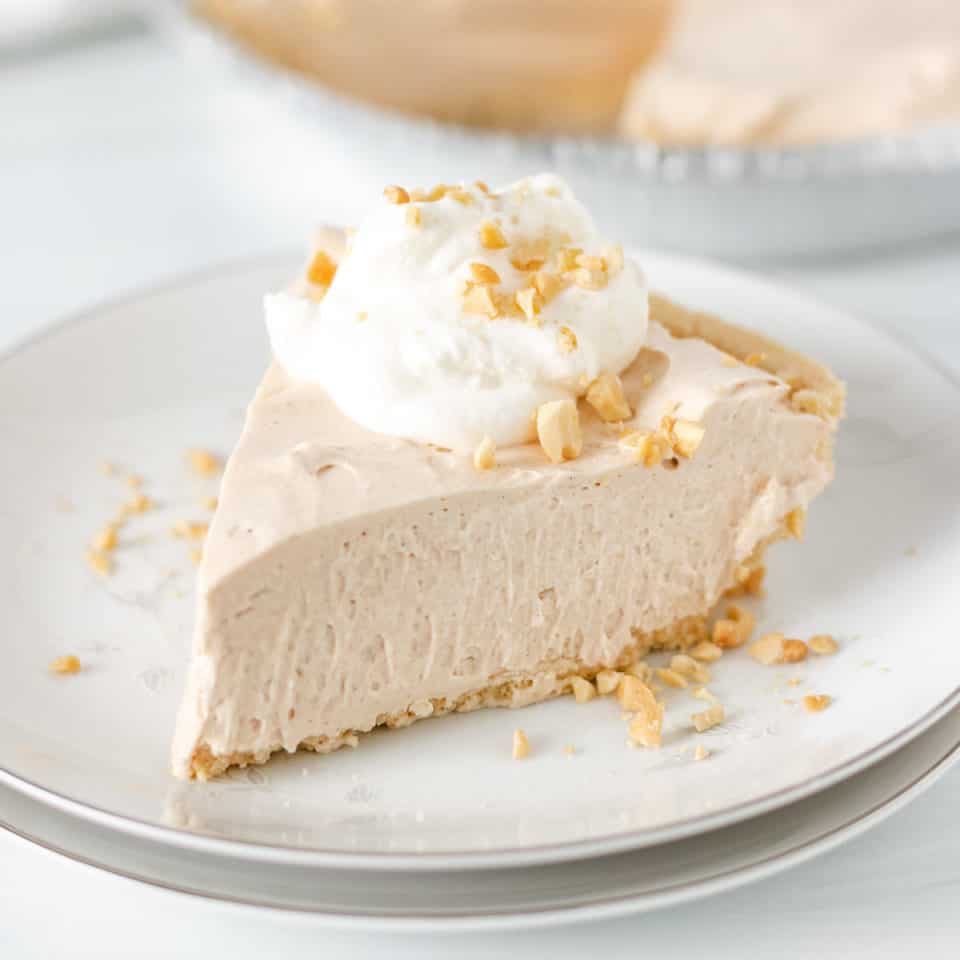 Peanut Butter Pie
Total Time:
6 hours
10 minutes
Our peanut butter lovers no bake peanut butter pie filling is delicious, decadent, and overloaded with peanut butter and topped off with drizzled chocolate.
Ingredients
1 (9-inch) graham cracker crust
4 ounces brick-style cream cheese, softened
½ cup powdered sugar
⅔ cup smooth peanut butter
¼ cup milk
1 (8 ounce) carton whipped topping
Instructions
In a large bowl, use a hand mixer to combine the cream cheese, powdered sugar, and peanut butter until smooth and creamy.
Slowly drizzle in the milk, then fold in the whipped topping.
Transfer the filling to the graham cracker crust.
Freeze for 3 to 4 hours or until completely set. When ready to serve, allow the pie to thaw at room temperature for 10 minutes before slicing.
Notes
*The calories listed are an approximation based on the ingredients in the recipe card and a serving size of 1 slice (⅛ of the pie). Actual calories will vary.
*For more information, tips, and answers to frequently asked questions, please refer to the post.
Recommended Products
As an Amazon Associate and member of other affiliate programs, I earn from qualifying purchases.
Nutrition Information:
Yield:

8
Serving Size:

1 slice
Amount Per Serving:
Calories:

412
Total Fat:

29g
Saturated Fat:

12g
Trans Fat:

0g
Unsaturated Fat:

13g
Cholesterol:

15mg
Sodium:

266mg
Carbohydrates:

34g
Fiber:

2g
Sugar:

19g
Protein:

7g
*The calories are an estimate and are based on the ingredients and serving size listed. The calories can vary depending on the brand of product purchased.