It only takes six ingredients, three steps, and one skillet to create a delicious cinnamon apples recipe. From pan to table in less than half an hour!
As apple season continues, Kim and I wanted to bring you another apple themed dish.
For today's post we're sharing Kim's easy cinnamon apples recipe. The name says it all.
Warm, tender apples, spiced with cinnamon and sweetened with brown sugar. It doesn't get much better than that!
So, shall we get down to business?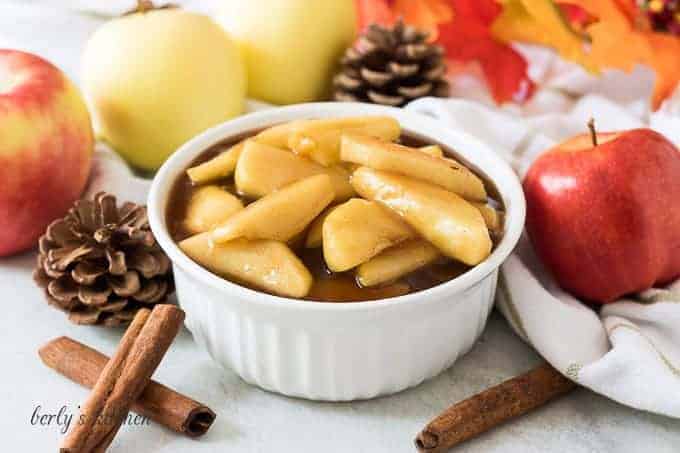 How to make cinnamon apples?
First things first, if you didn't buy prepared apples, then you'll need to wash, core, peel, and slice the fresh apples.
Now, with practice, that only takes about ten (10) minutes. However, if you're new to the kitchen, then it may take a little longer.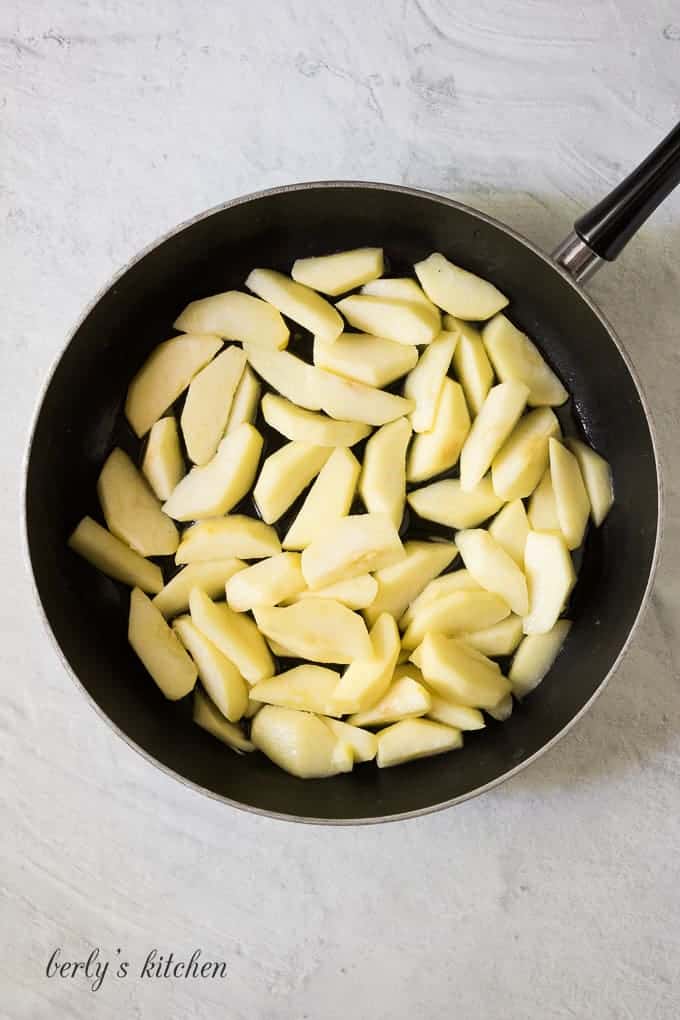 Next, once the apples are prepped, grab a skillet and place it over medium heat. After that, toss in the butter and let it melt.
Then, when the butter has melted, add the apple slices. Let them cook for about five (5) minutes or until they're tender.
While the apples cook, go ahead combine the corn starch and water to create a slurry. This will act as the thickener for your cinnamon apples.
Once the fruit has cooked, add the corn starch slurry, cinnamon, and brown sugar.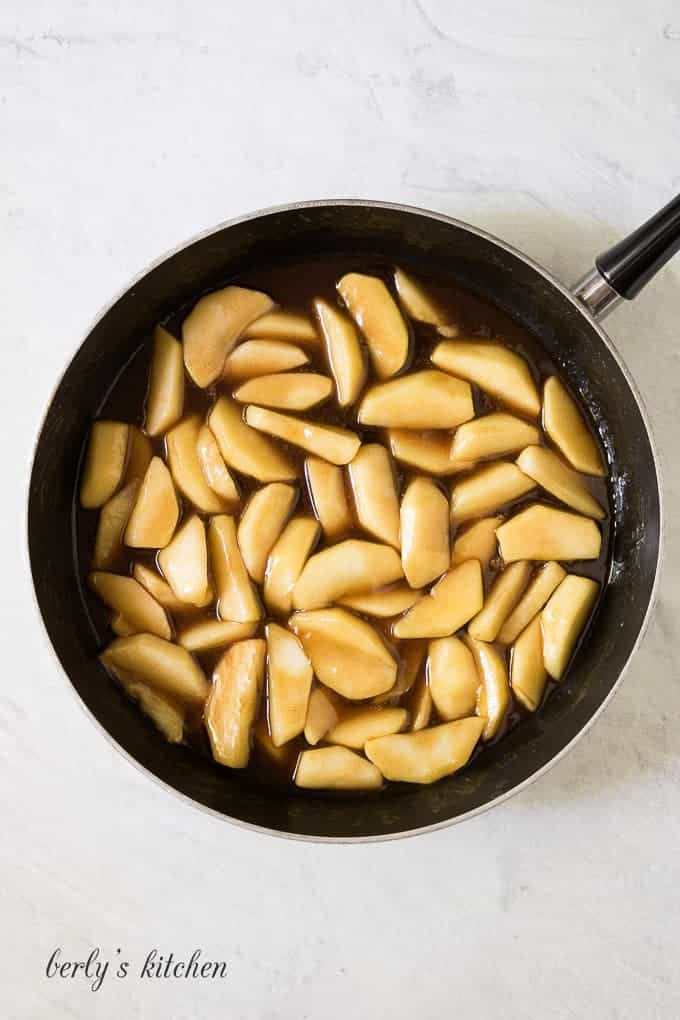 Afterward, bring the cinnamon apples to boil and let them simmer for about two (2) minutes.
That should be plenty of time for the, "sauce," to thicken. Last, remove them from the heat and let them cool for minute or two (2) before serving.
That's it, you're easy cinnamon apples recipe is done! Kim and I hope you enjoy this Fall themed side dish and we wish you all the best 🙂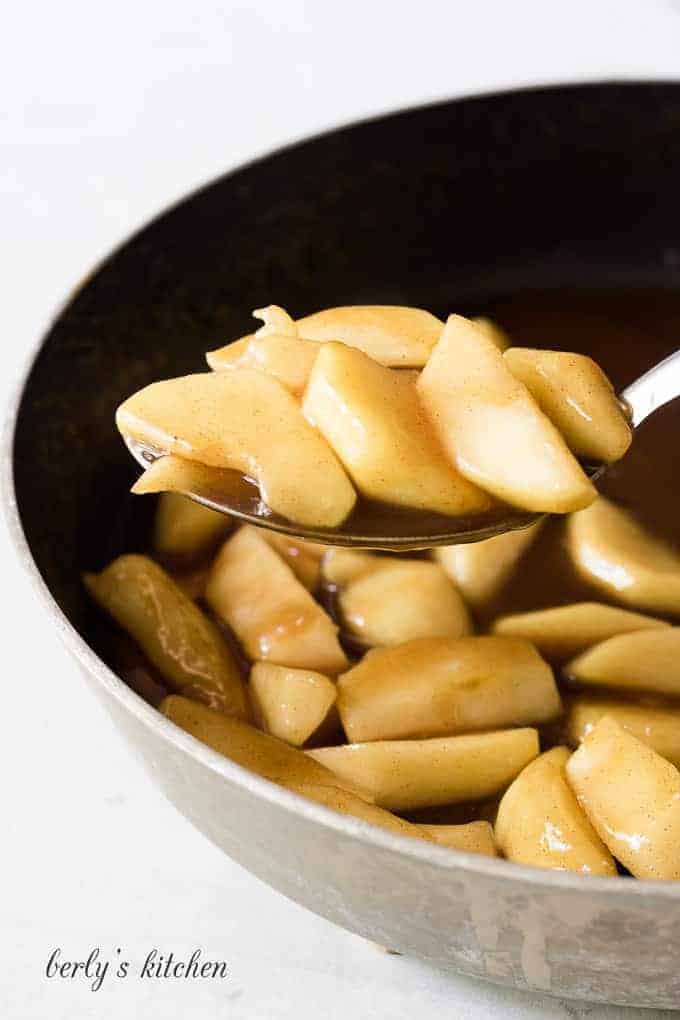 What can I do with lots of apples?
Oh man, the possibilities are endless. You can make this recipe, or apple pie, fresh apple cake, apple butter, apple preserves, the list goes on and on.
Simply go to Google and type apple recipes into the search engine and there will be an endless supply of ideas.
How do you boil apples?
I recommend washing, peeling, and coring the apples first. Then cut them into equal sized slices.
Place the apples into a pot, add about 1/4 to 1/2 a cup of water (depending on the amount of apples) to the pot. Bring the mixture to boil and let everything cook until it reaches your desired consistency (doneness).
To season the apples, consider using Fall spices like cinnamon, nutmeg, ginger, cloves, allspice, sugar, maple syrup, etc.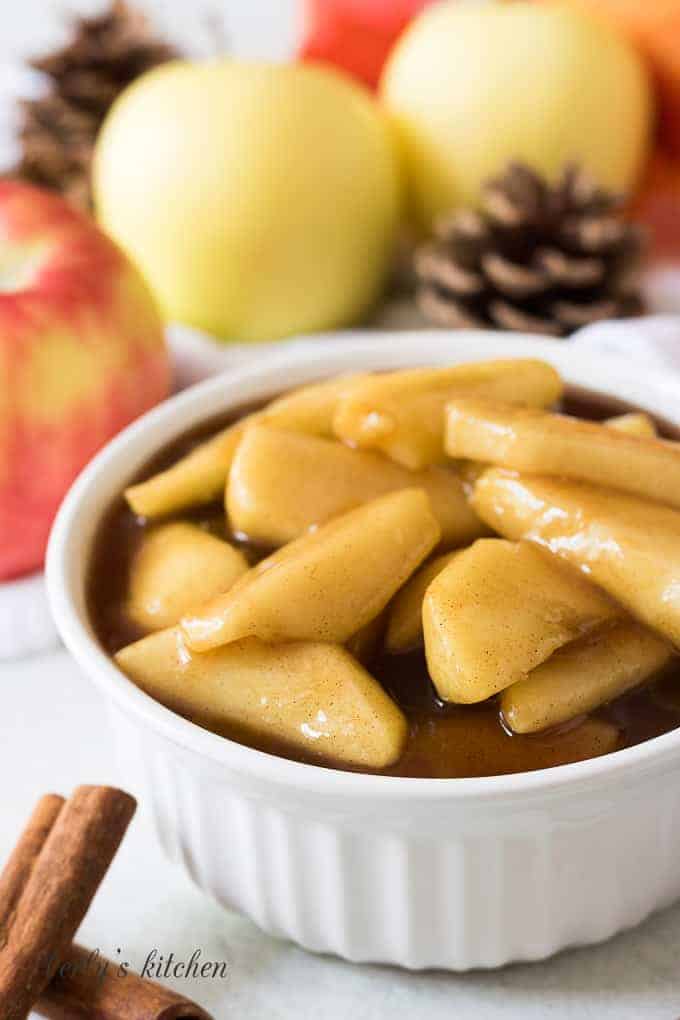 If you like our easy cinnamon apples recipe, please leave us a comment and rate the recipe card. You can also find us on Facebook, Pinterest, Twitter and Instagram searching for Berly's Kitchen!
Yield: 8 Servings
Easy Cinnamon Apples Recipe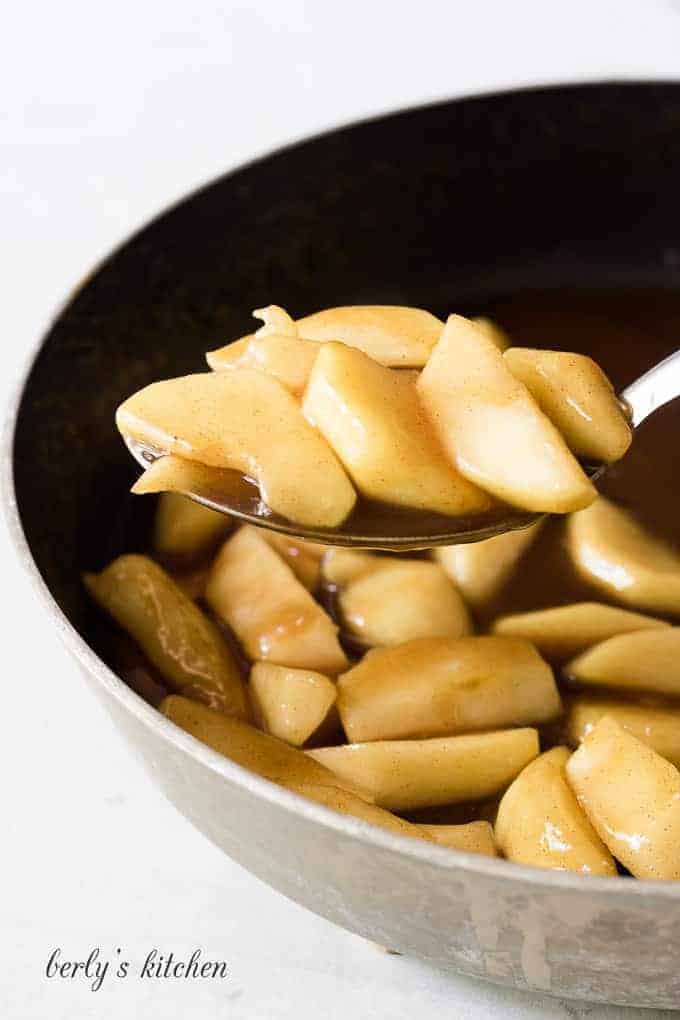 It only takes six ingredients, three steps, and one skillet to create a delicious cinnamon apples recipe. From pan to table in less than half an hour!
Ingredients
6 Tablespoons Unsalted Butter
2 Lbs. Apples, (cored, peel, and cut into 1/4 inch slices)
3/4 Cup Water, (cold)
1 Tablespoon Corn Starch
1 Cup Brown Sugar
1 Teaspoon Ground Cinnamon
Instructions
In a large skillet, melt the butter over medium heat. Add the apple slices, and cook until the apples become tender (about 5-6 minutes). Meanwhile, in a small bowl, mix the cornstarch and cold water.
After the apples have started to soften, add the cornstarch mixture to the skillet. Add the brown sugar and cinnamon, then bring to a boil for 2 minutes to thicken.
Remove from heat and serve warm. Finished apples can be stored in a container, in your fridge for up to 3 days.
Notes
The calories listed are an approximation based on the ingredients and a serving size of half (1/2) a cup of the cinnamon apples. Actual calories will vary.
Recommended Products
As an Amazon Associate and member of other affiliate programs, I earn from qualifying purchases.
Nutrition Information:
Yield:
8
Serving Size:
0.5 Cup
Amount Per Serving:
Calories:

243
Total Fat:

9g
Saturated Fat:

5g
Unsaturated Fat:

0g
Cholesterol:

23mg
Sodium:

85mg
Carbohydrates:

44g
Fiber:

3g
Sugar:

38g
Protein:

1g