*This post may contain affiliate links. As Amazon Associates we earn from qualifying purchases.
Our easy baked apples recipe is a simple dessert inspired by Fall flavors. Honeycrisp apples seasoned with cinnamon and topped with brown sugar and walnuts.
It's apple season and I couldn't be happier! From ciders to sangria's, this fruit goes great with just about anything.
For today's recipe we decided to create a dish that's sure to please any apple lover.
Also, this one is perfect for getting kiddos into the kitchen because it doesn't require any fancy equipment; besides an apple corer.
If you get the chance, grab the whole family and get them involved because it's time to get started!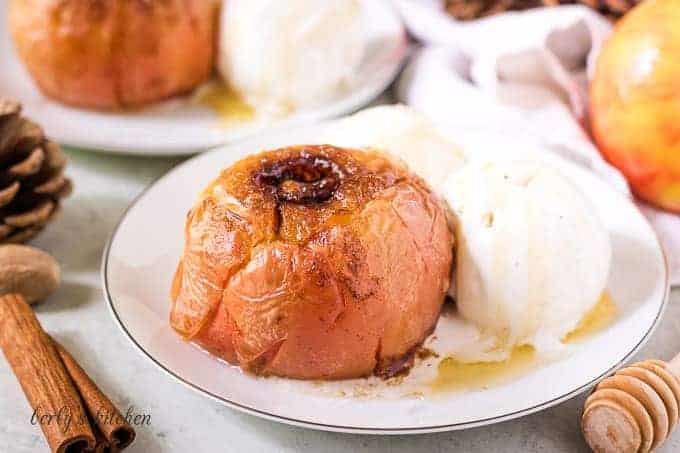 How to make baked apples?
As is the case with most of our recipes, it's pretty simple. First, start by preheating your oven to 375° F.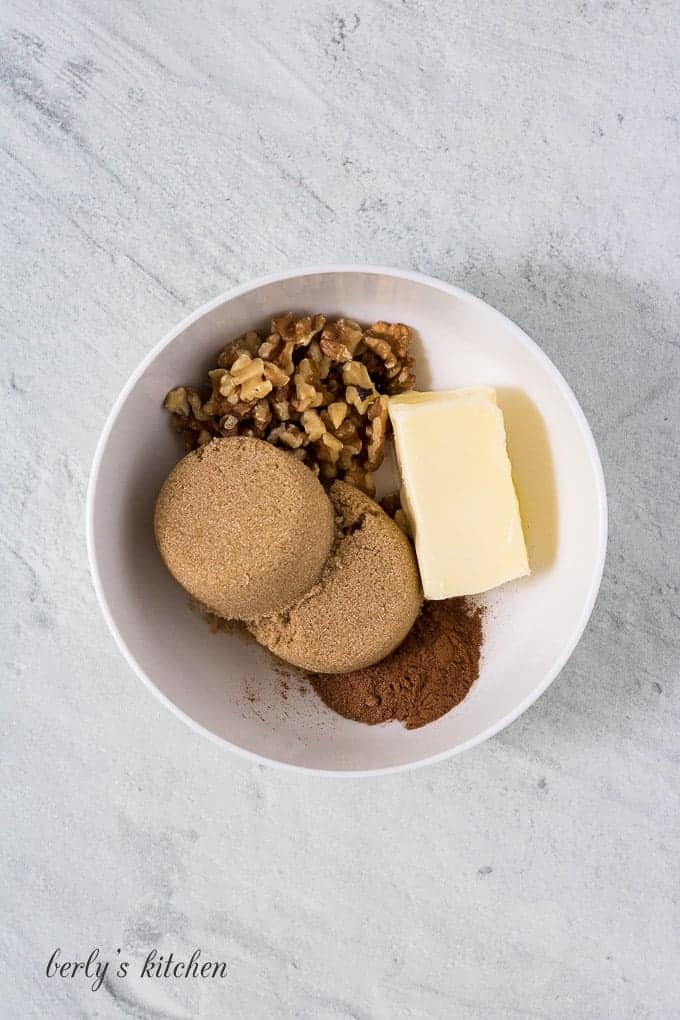 Next, grab a mixing bowl and combine the softened butter, brown sugar, cinnamon, nutmeg, and walnuts (or pecans).
Mix the ingredients until your get a nice, sweet paste. That will be the stuffing for your baked apples.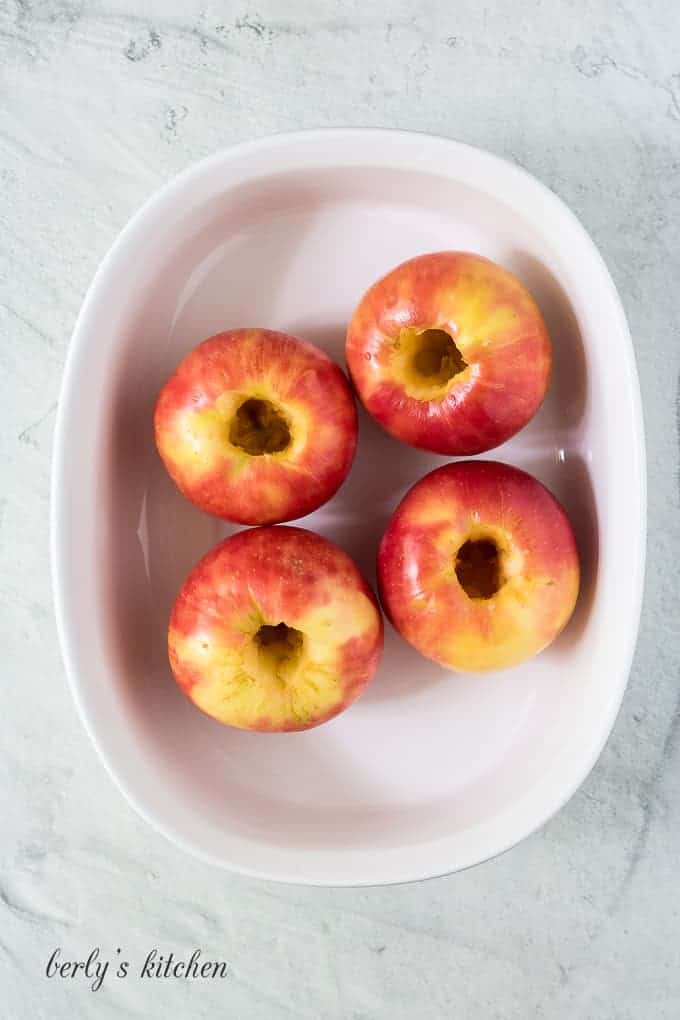 After that, wash and core four (4) large apples. However, don't let the corer puncture the bottom of the apple or the butter mixture will leak out.
Don't forget to use our step by step photos if you get confused.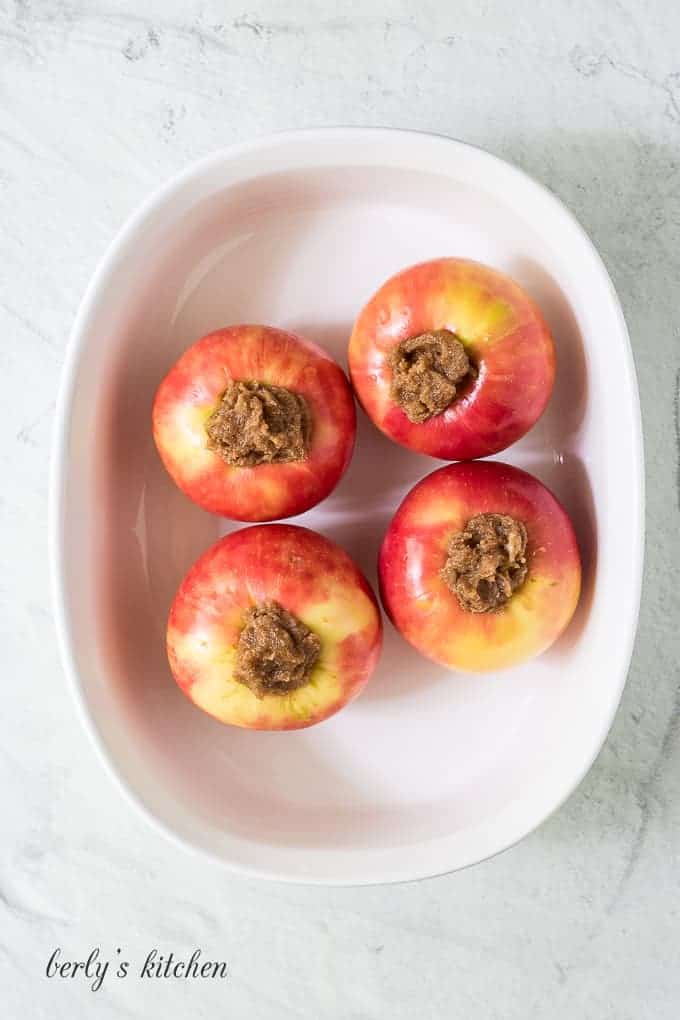 Then, stuff the apples with the brown sugar and butter filling. It's okay to use it all, so go crazy!
Once the apples are stuffed, pour the water into the baking dish and place the the fruit into the oven to bake for sixty (60) minutes.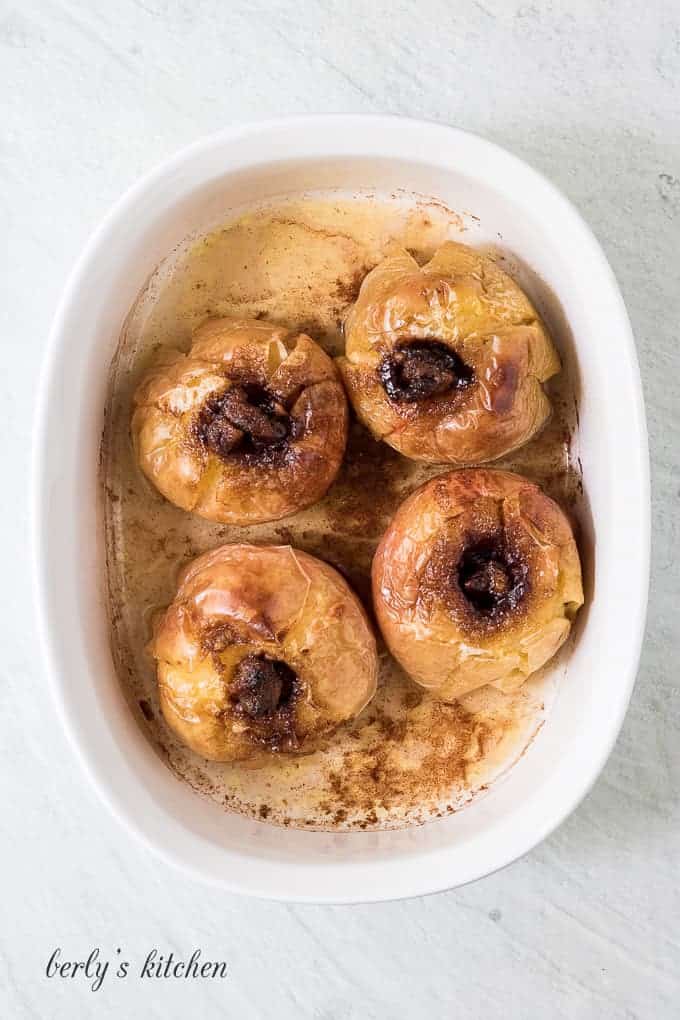 When the timer goes off, your baked apples recipe is done! Simply let the fruit cool for few minutes before serving.
You can serve them as-is or with a scoop of vanilla ice cream. The choice is up to you.
Kim and I hope you enjoy the recipe and wish you all the best 🙂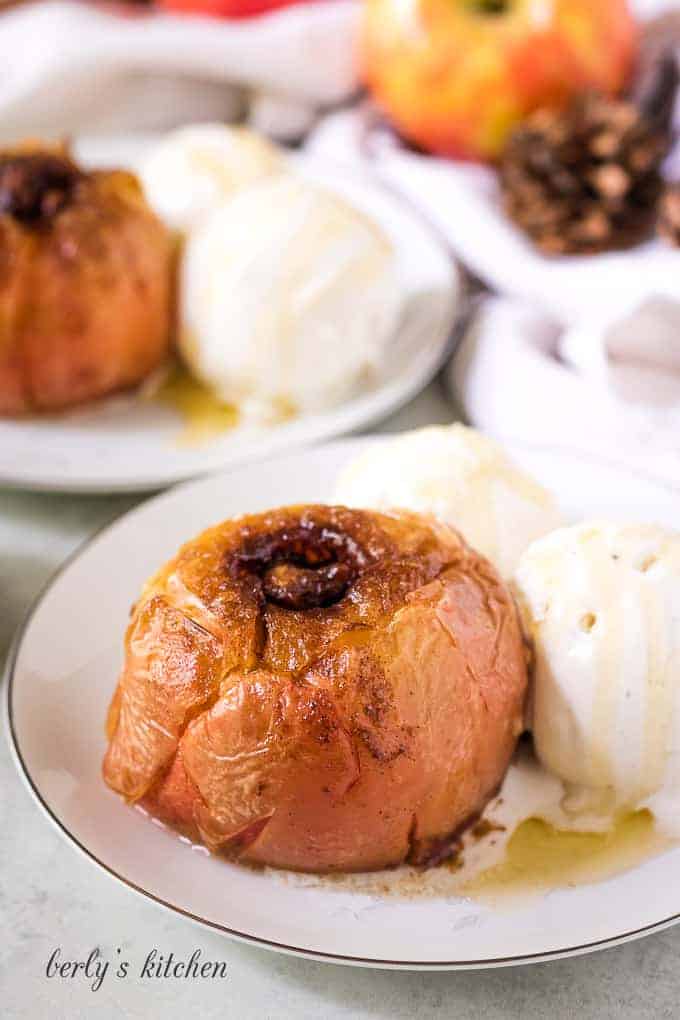 Can you freeze baked apples?
Of course, but keep in mind you are freezing fruit and it will change the texture of the dish.
Also, you probably want to thaw them in your fridge before reheating the apples in the oven.
What are the best apples for baked apples?
That depends on your personal preferences. While I like Honeycrisp apples, I feel the tartness of Granny Smith's would've worked better for the recipe.
So, decide which variety of apple you like the best and then use it in place of the Honeycrisp.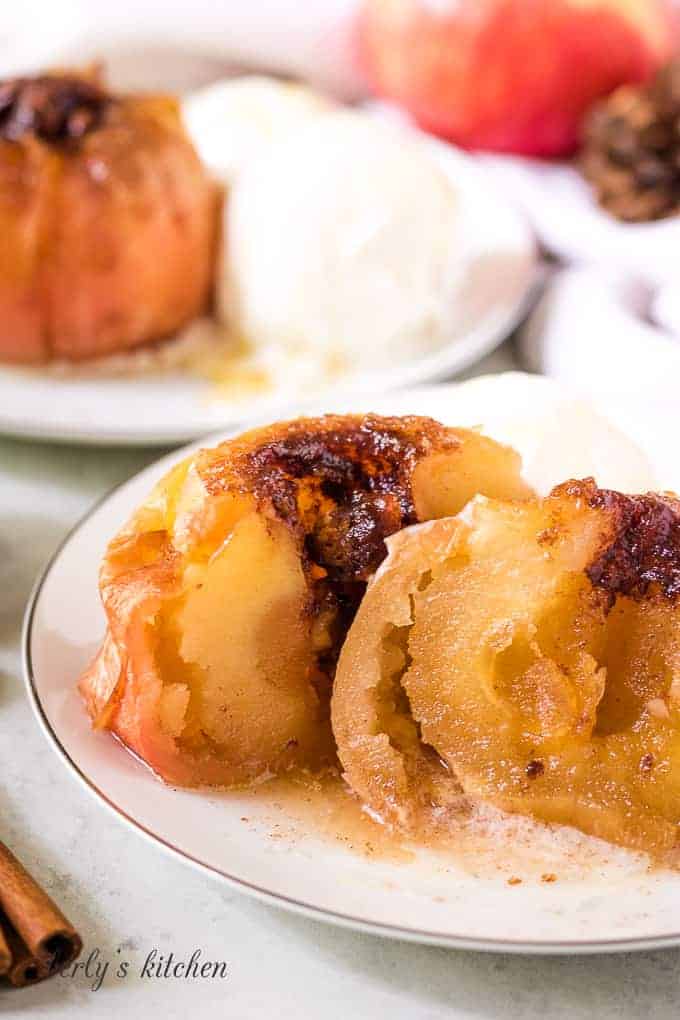 If you like our baked apples recipe, please leave us a comment and rate the recipe card. You can also find us on Facebook, Pinterest, Twitter and Instagram searching for Berly's Kitchen!
Join our Facebook group for more recipes from Berly's Kitchen, our new site More Than Meat and Potatoes, and some of our blogger friends!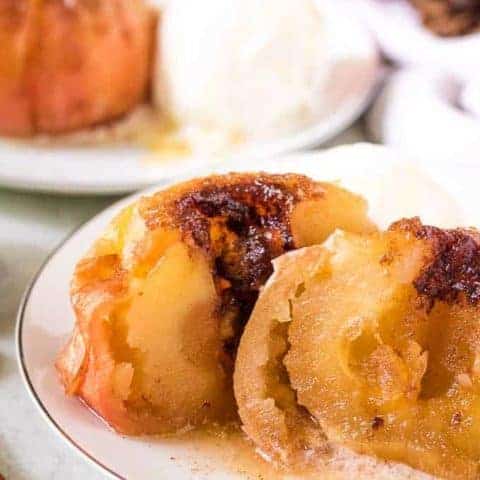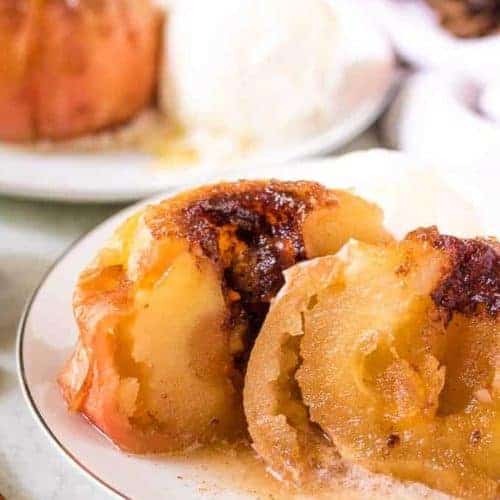 Easy Baked Apples Recipe
Total Time:
1 hour
10 minutes
Our easy baked apples recipe is a simple dessert inspired by Fall flavors. Honey crisp apples seasoned with cinnamon and topped with brown sugar and walnuts.
Ingredients
4 Large Apples, (we used Honeycrisp)
1/2 Cup Brown Sugar
1/4 Cup Unsalted Butter, (softened)
1 Teaspoon Ground Cinnamon
1/4 Teaspoon Ground Nutmeg
1/4 Cup Walnuts, (or pecans, chopped)
1 Cup Water, (for baking dish)
Instructions
Preheat the oven to 375 degrees.
In a small bowl, combine the brown sugar, butter, cinnamon, nutmeg, and nuts if using. Set aside.
Wash and core the apples, leaving enough of the core to hold the filling so it doesn't run out the bottom.
Divide the filling into four equal portions and use a small spoon to press the filling into the center of the apples. Pack it in tightly, since it will melt down when the apples bake
Place the apples into a 2 quart baking dish, and pour the water around the apples.
Bake for 1 hour or until the apples are soft.
Remove from the oven and serve warm with your favorite ice cream, if desired.
Notes
The calories listed are an approximation based on the ingredients and a serving size of one (1) baked apple. Additionally, the calorie count does NOT include the vanilla ice cream seen in the photos. Actual calories will vary. The baked apples can be stored in a sealed container, in your fridge, for up to three (3) days.
Recommended Products
As an Amazon Associate and member of other affiliate programs, I earn from qualifying purchases.
Nutrition Information:
Yield:

4
Serving Size:

1 apple
Amount Per Serving:
Calories:

372
Total Fat:

17g
Saturated Fat:

8g
Unsaturated Fat:

0g
Cholesterol:

31mg
Sodium:

115mg
Carbohydrates:

59g
Fiber:

6g
Sugar:

50g
Protein:

2g
Need more Fall dessert recipes?