Instant Pot Baked Potatoes come out perfectly soft and fluffy every time without having to turn on the oven. Add your favorite toppings, and make these the ultimate side dish!
Now, I know potatoes in an Instant Pot aren't technically baked. Because, a pressure cooker uses high pressure heat to cook.
Whereas, baking uses dry direct/indirect heat to cook. So, two completely different cooking process.
However, for the purposes of simplicity, we're calling them Instant Pot "baked potatoes." It's the same concept we use for our Crock Pot Baked Potatoes.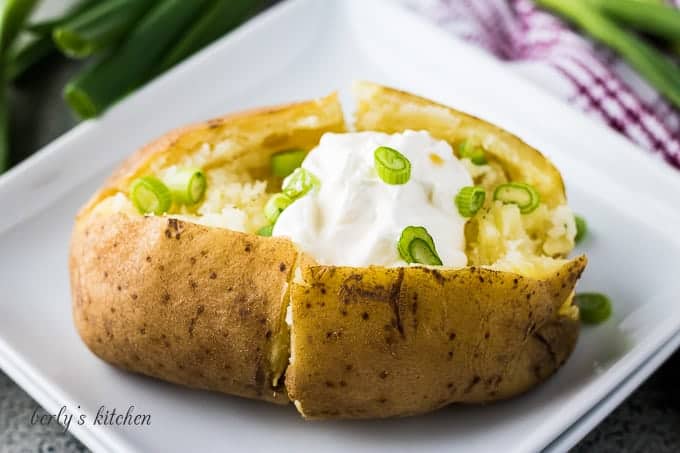 How to cook whole potatoes in a pressure cooker?
First, start by washing and drying the potatoes. You want to remove all that dirt and crud.
Next, place the stainless steel liner into the pot, along with the trivet. Then pour in the water.
After that, lay the potatoes into the pot and place the lid on the machine. Make sure the rubber seal is properly seated before you put the lid on.
Then, once the lid is on, seal the valve and set the machine to cook on high pressure for 30 minutes.
Last, when the timer goes off, allow for a 10 minute natural release. Carefully open the valve, take off the lid, and serve the pressure cooker potatoes.
That's it, the recipe is done! Kim and I hope you enjoy these potatoes in a Instant Pot and wish you all the best 🙂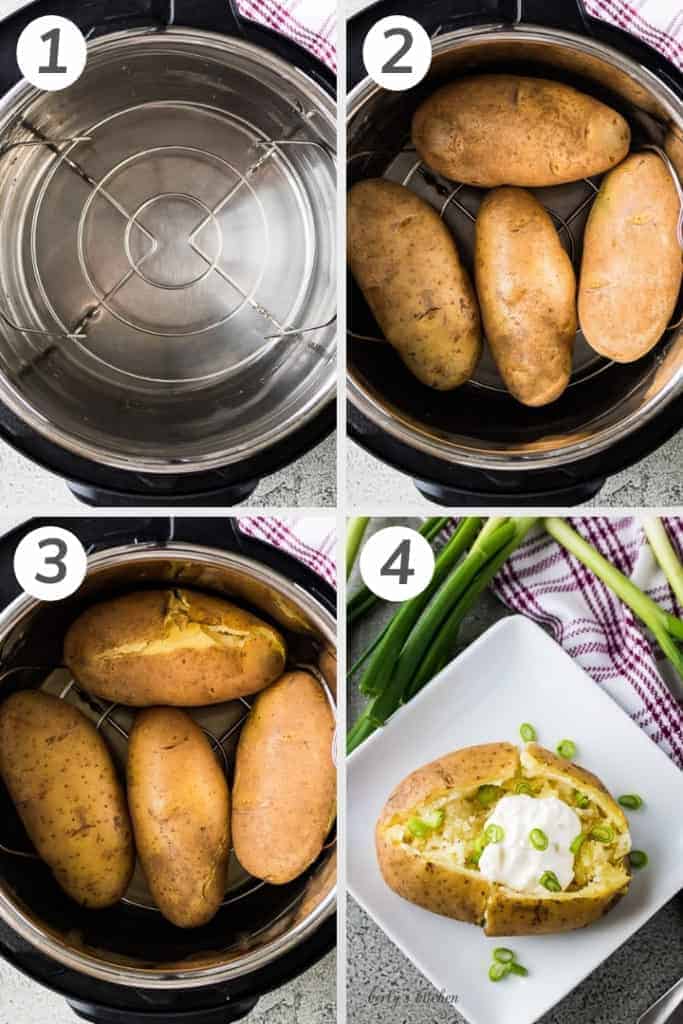 Why cook potatoes in an Instant Pot?
Well, the answer is quite simple. It's faster and consistently creates a perfectly cooked potato.
Also consider that some people may not own an oven or a microwave. Several people mention that they take their Instant Pot camping, too, so this is a great recipe to have on hand.
Our oven has been out of commission for a while now, and we're waiting for a part to be delivered. We prefer Instant Pot baked potatoes to microwave potatoes.
If you prefer sweet potatoes, or would like to learn how to make them in a pressure cooker. Then check out our
Instant Pot sweet potatoes recipe
by clicking the link.
Why does it take these potatoes so long to cook?
For this particular recipe, we used large potatoes. They aren't jumbo sized, but they aren't small either. For this reason, it takes them about 30 minutes give or take.

Kim and I tried a lot of Instant Pot baked potatoes recipes. But, they never came out properly cooked. They were always under cooked and still raw in places.

After testing numerous cook times, the thirty minute mark, with a ten minute natural release created potatoes that were done all the way through.
Do the potatoes need to be wrapped in foil?
When you're cooking potatoes in the Instant Pot, they don't need to be wrapped in foil. Make sure to wash them well. I like to sure a
vegetable scrubber
, then pat them dry. Place then on the trivet and cook! No foil needed.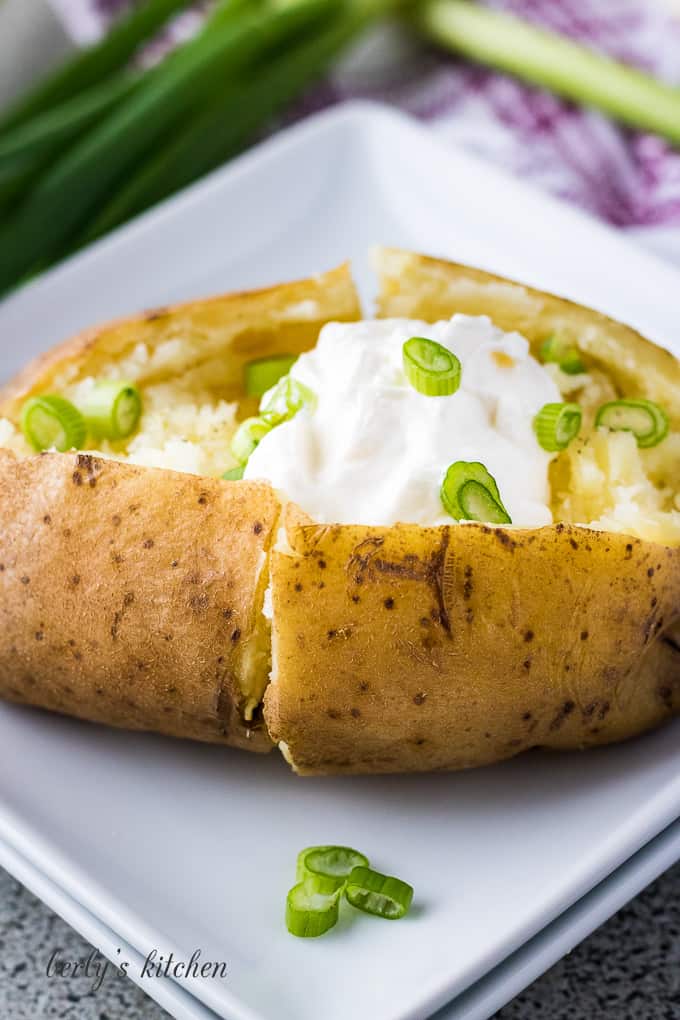 Instant Pot Baked Potatoes Recipe Tips:
For our recipe, Kim didn't poke holes in the potatoes. You can if you want to, it shouldn't change anything.
The baking potatoes we used were two and half to three inches wide. If your potatoes are larger or smaller you may need to adjust the cook time (more for larger, less for smaller).
Want to make a potato bar, then slice some butter, shred some cheddar, and use some pre-cooked bacon to make awesome toppings for your taters.
Other Instant Pot potato recipes you may enjoy:
Don't forget to check out our Instant Pot Baked Potatoes web story!
Yield: 4 Potatoes
Instant Pot Baked Potatoes Recipe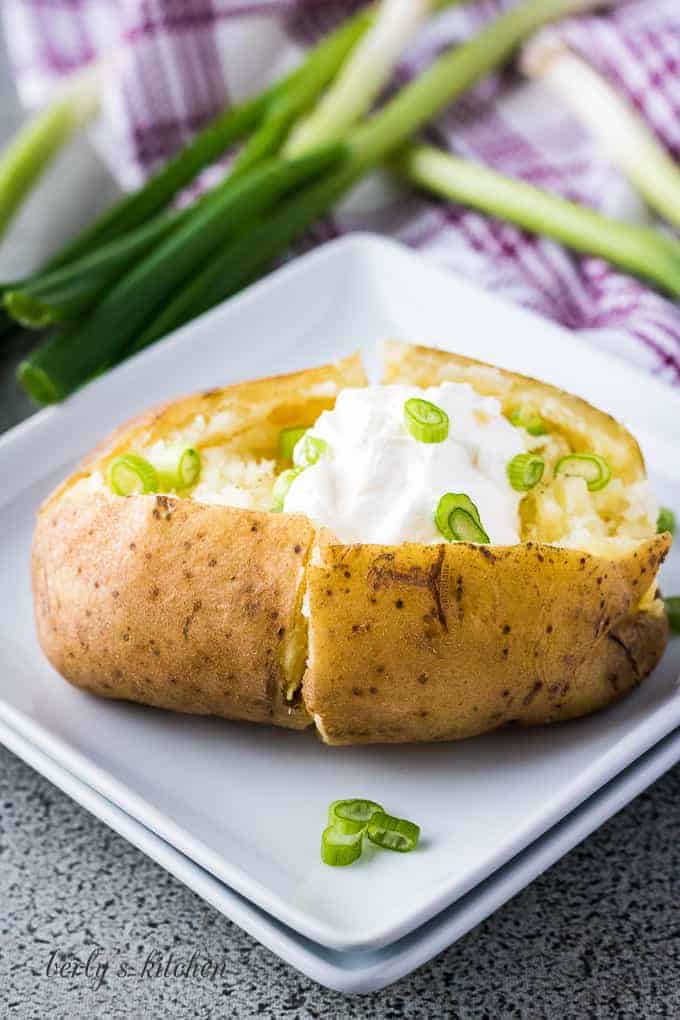 Want to make baked potatoes in a pressure cooker? Now you can with our Instant Pot baked potatoes recipe. Perfectly cooked potatoes every time!
Natural Release
10 minutes
Ingredients
4 Large Idaho, (or Russet, 2.5-3 inches wide)
1 Cup Water
Instructions
Pour 1 cup of water into the stainless steel insert of the Instant Pot. Add the trivet, then lay the potatoes onto the trivet.
Close the lid, ensure the valve is set to "sealing," and press the manual (pressure cook) button. Adjust the time to 30 minutes.
After the time is up, allow a 10 minute natural pressure release before opening the valve to release any remaining pressure.
Top the potatoes with your favorite toppings and serve hot.
Notes
The calories listed are an approximation based on the ingredients and a serving size of one (1) large potato. Additionally, the calorie count does NOT include the sour cream, diced green onions, etc. seen as toppings in the photos. Actual calories will vary.
Recommended Products
As an Amazon Associate and member of other affiliate programs, I earn from qualifying purchases.
Nutrition Information:
Yield:
4
Serving Size:
1 Potato
Amount Per Serving:
Calories:

292
Total Fat:

1g
Saturated Fat:

1g
Unsaturated Fat:

0g
Sodium:

22mg
Carbohydrates:

67g
Fiber:

5g
Sugar:

2g
Protein:

8g