*This post may contain affiliate links. As Amazon Associates we earn from qualifying purchases.
Need another quick weeknight dinner idea? Try our Instant Pot creamy shells and beef recipe! Seasoned ground beef and pasta served in a cheesy tomato sauce.
It's Monday again and for most people that means going back to work. We understand your pain and that's why we're here to help with simple Instant Pot ground beef and pasta recipe.
Our Instant Pot creamy shells and beef is easy to prepare, delicious, and perfect for a chilly Monday evening. It's full of cheesy beef and shells, tomatoes, and seasonings.
This is one of our favorite kid friendly Instant Pot meals. It's right up there with Creamy Tomato Pasta and Ranch Chicken and Rice.
How to make shells and beef in a pressure cooker?
First, go ahead and dice the onions, shred your cheese, and open all the boxes, cans, and jars. Basically, prep things and get them ready.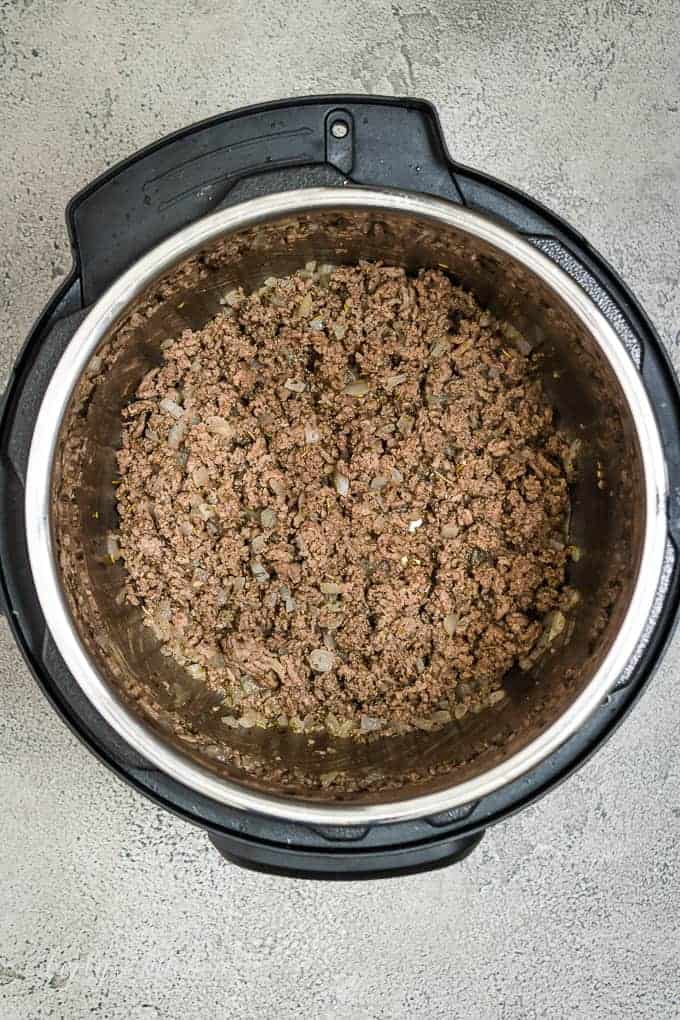 After that, place the liner into the pressure cooker and turn the cooker on to saute. Let it get hot, then toss in the oil, ground beef, onions, Italian seasonings, garlic powder, salt, and pepper.
Next, let everything saute until the beef has browned. Use your spoon to stir the ingredients as they cook so nothing sticks.
Once the beef has cooked, turn off the machine and layer in the following ingredients: shells, water, chicken broth, canned tomatoes, and heavy cream. If needed, use the spoon to press the shells below the liquid.
Furthermore, it's important that you place the ingredients into the pressure cooker in the order described above and do NOT stir anything. Otherwise, the creamy shells and beef may burn.
Now, pour the marinara on top of everything else. Put the lid on the cooker and set the valve to, "sealed."
Then, press the manual (high pressure cook) button and set the timer for five (5) minutes. When the timer goes off, use a towel the cover the valve, and preform a quick release (open the valve to release the steam).
Last, sprinkle the mozzarella cheese onto the shells and beef and stir the pasta dish.
That's it your recipe is done! Simply serve it hot and store any leftovers in a sealed container in your fridge. They'll hold for about three (3) days.
Kim and I hope you enjoy the pressure cooker pasta recipe and wish you all the best 🙂
If you like our creamy shells and beef instant pot recipe, please leave us a comment and rate the recipe card. You can also find us on Facebook, Pinterest, Twitter and Instagram searching for Berly's Kitchen!
Join our Facebook group for more recipes from Berly's Kitchen, our new site More Than Meat and Potatoes, and some of our blogger friends!