Homemade, sweet and tangy lemon cheesecake bars prepared using simple ingredients found in everyone's kitchen. Don't miss out on this guilty pleasure!
Who's ready for a dessert recipe? I know I am. Especially, one that involves lemons and cream cheese.
On the chance you follow our blog, then you probably already know that we love cheesecakes. In fact, I believe we over seven different cheesecake inspired dessert recipes.
It's almost as though we're some sort of factory of cheesecakes. I'm sorry, I couldn't help myself. Moving on, today's recipe is for lemon cheesecake bars.
As the description indicates, these bars are tart, tangy, and deliciously sweet. Creamy cheesecake filling, flavored with lemon juice and zest.
Each citrus flavored bite will satisfy your cravings for something sweet. Now, enough talk, let's get cooking!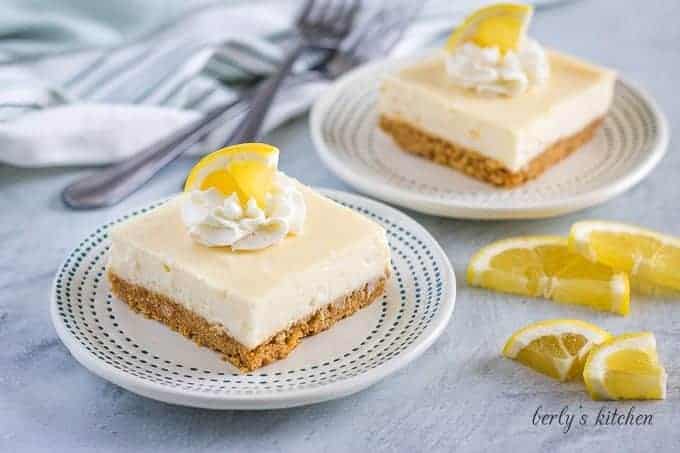 How to make Lemon Cheesecake Bars:
Before you get started, it's important that you remove the cream cheese from your fridge to soften. If you're in a rush, take a look at my tips for quick ways to soften cream cheese.
After that, it's time to start the crust. Preheat your oven to 350° F. and use butter to grease an eight by eight (8×8) inch pan.
Now, grab a medium sized mixing bowl and combine the graham cracker crumbs, butter, and both the regular and brown sugars.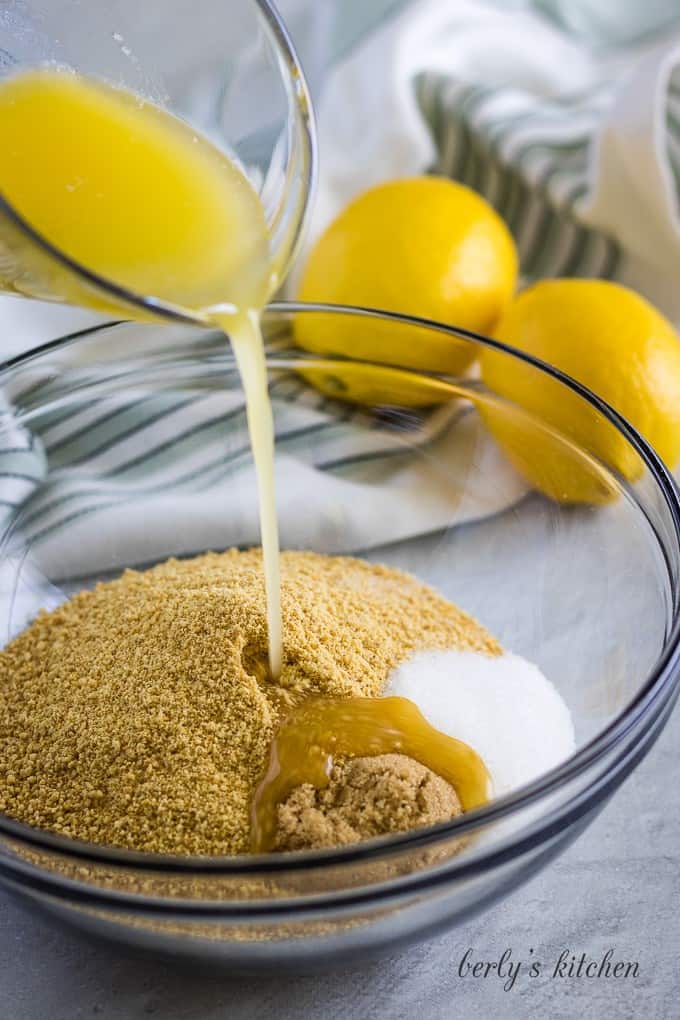 At this point, use a fork or spoon to mix everything together. I would not recommend using a whisk, because the metal wiring gets clogged up with wet cracker crumbs.
A fork definitely works better. Once all the ingredients are mixed, transfer them to the pan.
Use your hands or a wooden spoon to spread the mixture out evenly in the dish. Kim also suggested using a mug or ramekin to press the crust into place.
Which, is a wonderful idea. With the crust prepared, we can start on the filling.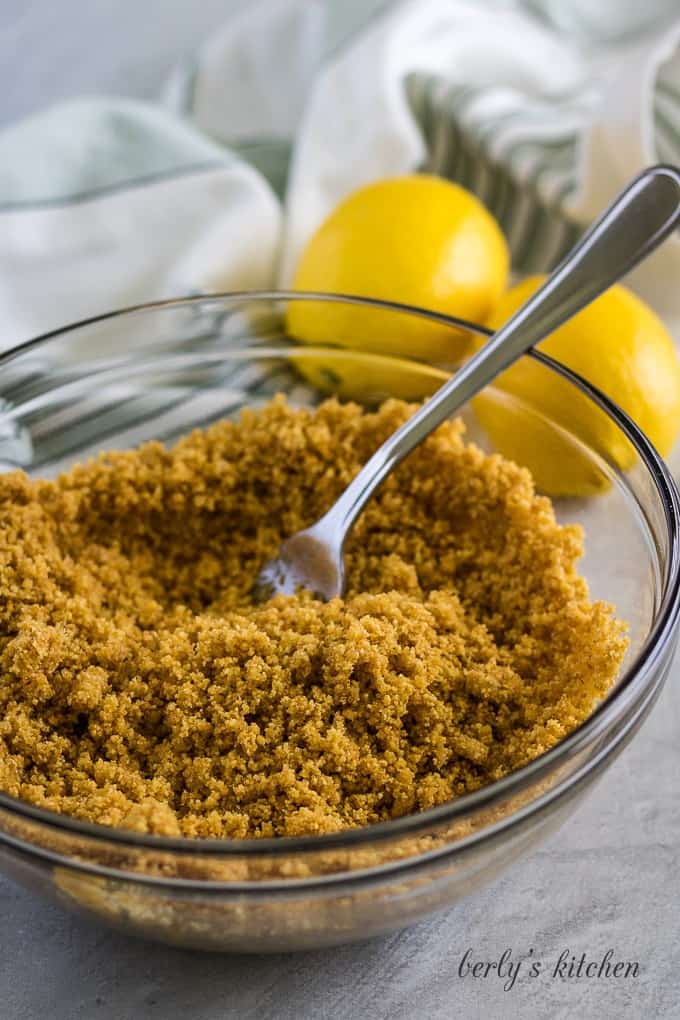 First, using a large mixing bowl and hand mixer (or a stand mixer) combine the all of the filling ingredients. The cream cheese, eggs, sugar, lemon zest, throw it all into the bowl.
A lot of cheesecake recipes say you have to mix the cream cheese and sugar first, then add one egg at a time, etc. But, this is Berly's Kitchen and we love simplicity.
So, just toss all of the filling components into the bowl and blend them until they're smooth and creamy. Trust me, your lemon cheesecake bars will be fine.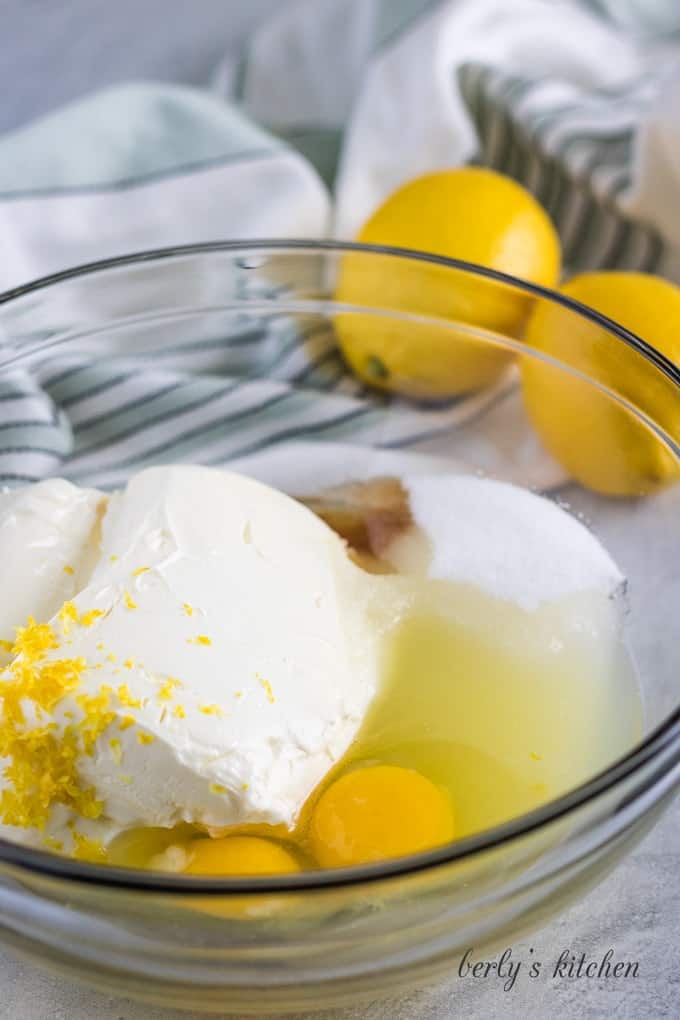 Afterward, pour the tasty lemon cheesecake filling into the pan with the crust. Bake it in your preheated oven for about 20 to 25 minutes.
Remove them from the oven and let the bars sit for about an hour before placing them into the fridge. Now comes the hardest part of the recipe, waiting three more hours for the lemon cheesecake bars to chill.
Although, it's worth wait, it's still not easy. Well, that's it, you lemon cheesecake bars are done. Kim and I hope you enjoy the recipe and wish you all the best 🙂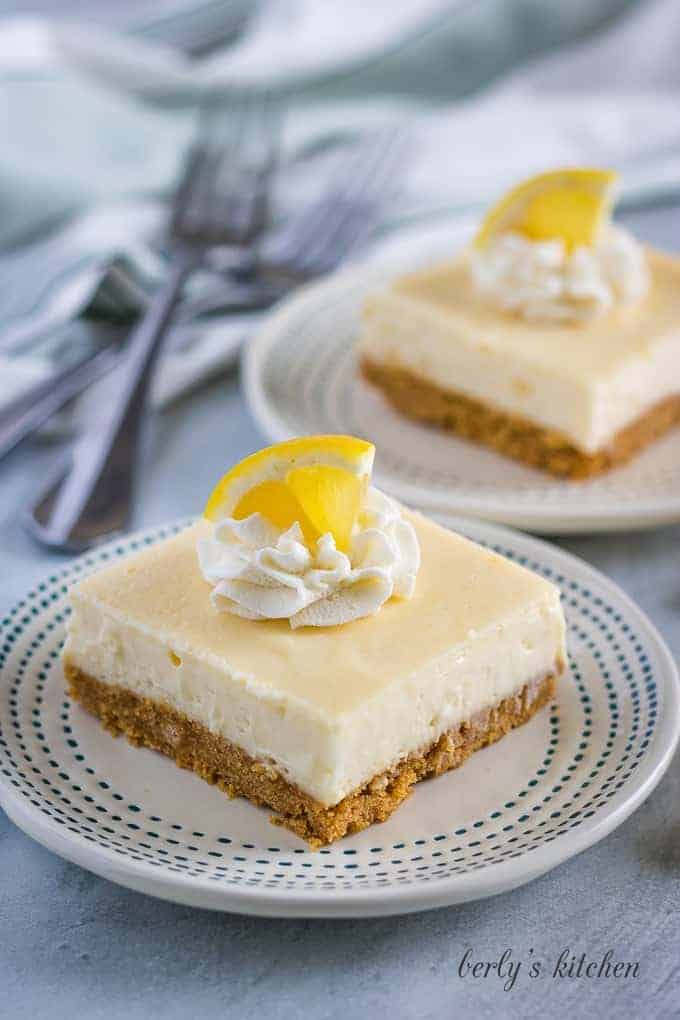 Lemon Cheesecakes Bars Recipe Tips:
Don't have time to wait for the cream cheese to soften, then try one of these methods. You can soften the cream cheese in your microwave using the low power setting for 1 to 3 minutes. Just be sure to check on the cream cheese every 20 seconds. Also, you can set the cream cheese on your stove while it pre-heats. Lastly, if you have a space heater handy, put the cheese on a plate in front of the heater. Set the heater on low while you prepare the crust.
If you don't have fresh lemons handy, then you can omit the zest and use lemon concentrate (the stuff in your fridge) or lemon extract. However, I recommend adding either option a tablespoon at a time. Make sure to taste the filling between each tablespoon. That way you don't overdo it.
Want to make your bars look like ours. Then grab a piping bag and some attachments. Add whipped cream to the bag and gently squeeze a little of it on each bar. Now, take a paring knife and cut little wedges out of a lemon and place it on top of the whipped cream.
If you enjoyed our lemon cheesecake bars recipe, please leave us a comment and rate the recipe card. You can also find us on Facebook, Pinterest, Twitter, and Instagram by searching for Berly's Kitchen!
Yield: 9 Servings
Lemon Cheesecake Bars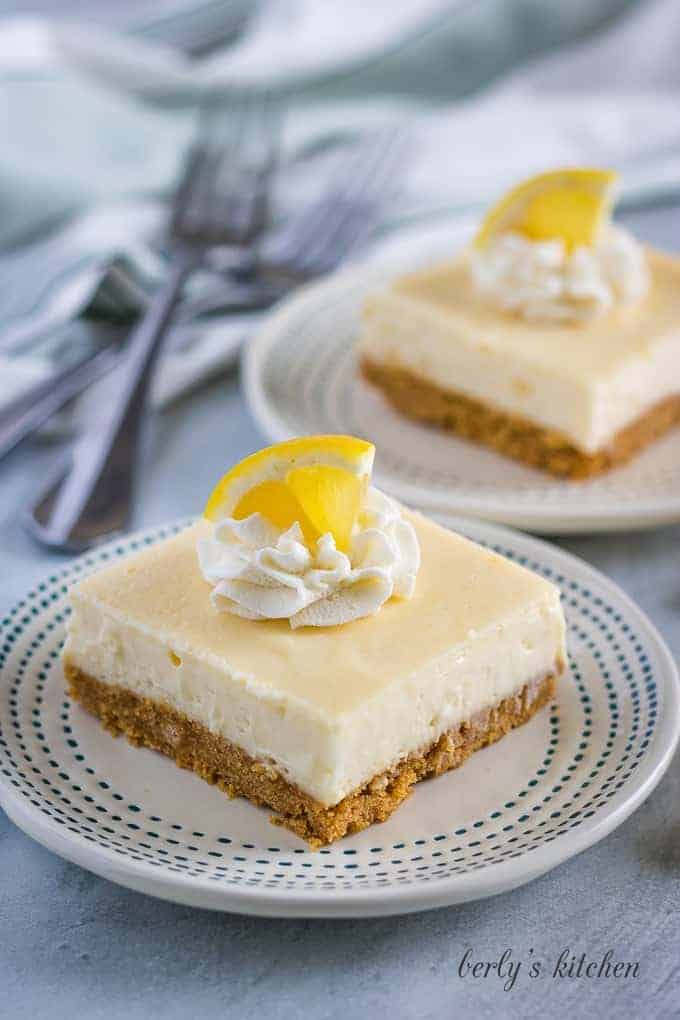 Homemade, sweet and tangy lemon cheesecake bars prepared using simple ingredients found in everyone's kitchen. Don't miss out on this guilty pleasure!
Total Time
4 hours
40 minutes
Ingredients
Graham Cracker Crust
1 1/2 Cups Graham Cracker Crumbs, (about 10-11 full sheets of graham crackers)
6 Tablespoons Unsalted Butter, (melted)
2 Tablespoons Granulated Sugar
1 Tablespoon Brown Sugar
Lemon Cheesecake Filling
16 Ounces Cream Cheese, (pre-softened)
2/3 Cup Granulated Sugar
2 Large Eggs
1 Teaspoon Lemon Zest
1 Teaspoons Vanilla Extract
1/4 Cup Lemon Juice, (preferably fresh)
Instructions
Graham Cracker Crust
Preheat the oven to 350 degrees, and grease an 8 x 8-inch baking with butter.
In a medium bowl, combine the graham cracker crumbs, butter, granulated sugar, and brown sugar.
Transfer the mixture into the baking dish. Use the bottom of a ramekin or heavy bottomed glass to press the crumbs into an even layer. Set aside.
Lemon Cheesecake Filling
Using a stand mixer or large bowl and hand mixer, combine the cream cheese, sugar, eggs, lemon zest, lemon juice, and vanilla. Mix until the ingredients are incorporated.
Pour the filling over the crust, and place in a preheated oven. Bake for 20-25 minutes.
The cheesecake bars should be cooked through around the edges and the center almost set (still slightly soft and a bit jiggly). Remove the bars from the oven, and let cool at room temperature for about an hour before transferring to the refrigerator.
Cool for an additional 3 hours in the refrigerator before cutting. Cheesecake bars are best stored in the refrigerator in a sealed container and eaten within 3 days.
Notes
The calories listed are an approximation based on the ingredients and a serving size of one (1) square when the bars have been cut into nine (9) equal sized portions. Furthermore, the calorie count does NOT include the whipped cream and lemon wedge garnishes seen in the photos. Actual calories will vary. The lemon cheesecake bars can be stored in your fridge in a sealed container for up to three (3) days.
Recommended Products
As an Amazon Associate and member of other affiliate programs, I earn from qualifying purchases.
Nutrition Information:
Yield:
9
Serving Size:
1 Square
Amount Per Serving:
Calories:

392
Total Fat:

27g
Saturated Fat:

15g
Unsaturated Fat:

0g
Cholesterol:

122mg
Sodium:

339mg
Carbohydrates:

32g
Fiber:

1g
Sugar:

24g
Protein:

6g