White Chocolate Raspberry Cheesecake Dip is a rich and velvety cheesecake dip made with smooth cream cheese, decadent white chocolate, and a homemade raspberry sauce.
Valentine's Day is less than a month away and I'm excited for the holiday. We hardly ever go out to eat, to celebrate, because the restaurants are always jam packed with people.
Instead, Kim and I will make a special meal for each other, with one of us cooking a different course. It's been that way for years, and personally, I find it much more appealing to have a quiet dinner at home than to suffer through the long waits at our favorite eateries.
Kim usually makes a dessert like red velvet cupcakes or red velvet truffles. This year, she wanted to work with white chocolate again and I couldn't be more excited. She has prepared a white chocolate raspberry cheesecake dip that's absolutely fabulous.
The dessert is creamy, rich, and loaded with cheesecake flavor. Best of all, the dip only uses seven ingredients and takes less than 20-minutes to prepare from start to finish.
Additionally, it looks amazing. The contrasts of red and white make it the perfect sweet option for Valentine's Day.
While it's not quite the same as making a white chocolate raspberry cheesecake, it is a whole lot easier. Simply melt some chocolate, combine a few ingredients with a mixer, and your basically done.
Whereas, baking a cheesecake takes time, as in hours. Most of don't have time for that, so a dessert like this is great alternative.
Well, there's not much more to say other than, let's get started!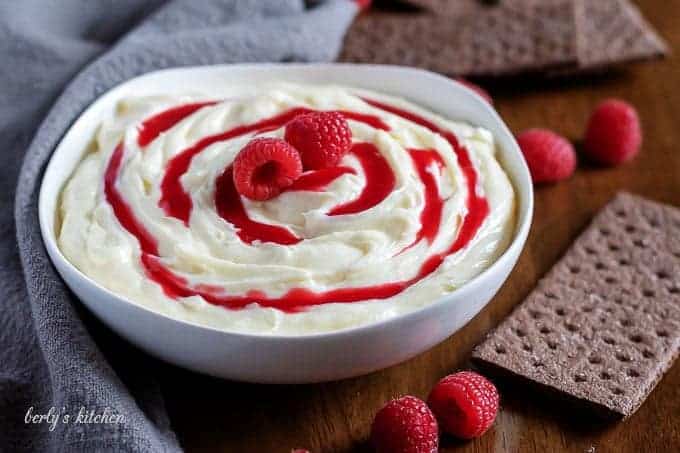 White Chocolate Raspberry Cheesecake Dip:
To be begin, you'll want to soften your cream cheese. I recommend removing it from your fridge at least an hour before mixing it with everything else.
However, if you forgot or are here because you're ready to cook, there are some ways to quickly soften the cheese. You can put it front of something warm, like a space heater.
Or, you could microwave it on low, for 15-second intervals until it's soft enough to leave finger imprint. In fact, the microwave method is how you will melt your chocolate.
Once the cream cheese is soft and the white chocolate is melted, it's time to get down to business. Use a stand mixer or mixing bowl and hand mixer, to combine the cheese, chocolate, sugar, vanilla, and sour cream.
Start the mixer on low and then increase it to medium as you combine the ingredients. For this dip, you'll want a smooth texture that's easy for dipping graham crackers.
That's it, the dip is done. Onward, to prepare the raspberry sauce.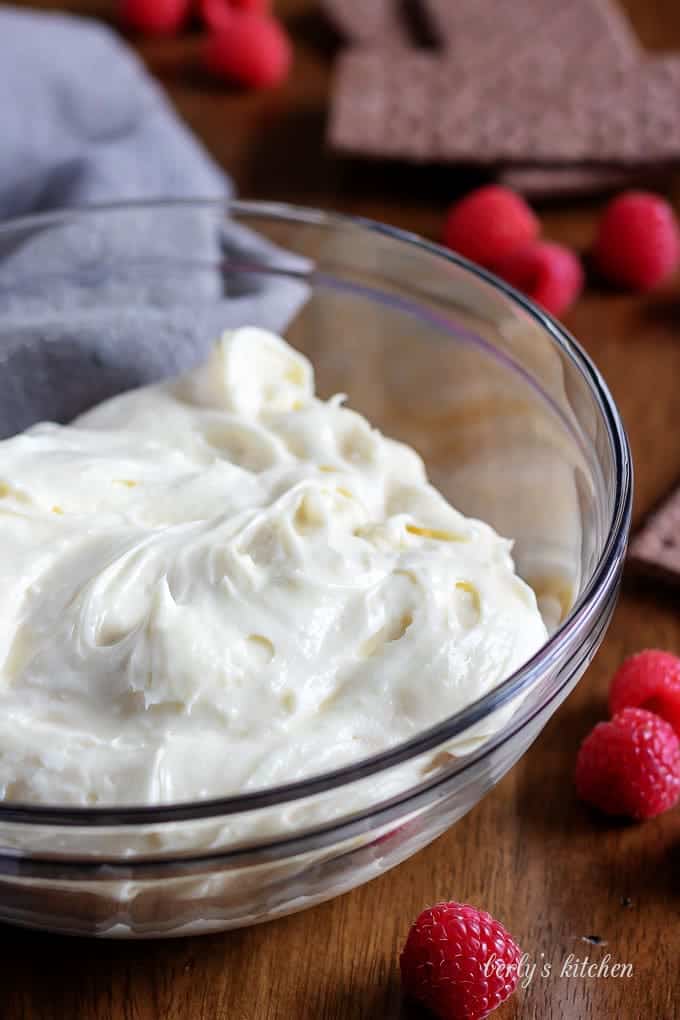 So, this raspberry sauce comes together in minutes and only uses two tools. You'll need a blender and a strainer or metal sieve.
In the blender, combine the raspberries and sugar, pulse until everything is liquefied. Then, strain the sauce to remove any seeds.
Last, drizzle or swirl it over the dip and serve the dessert. Simple, right? We chose chocolate graham crackers for dipping, but feel free to use whatever you like.
Like this dessert? Then, try our smores dip recipe or peppermint truffles!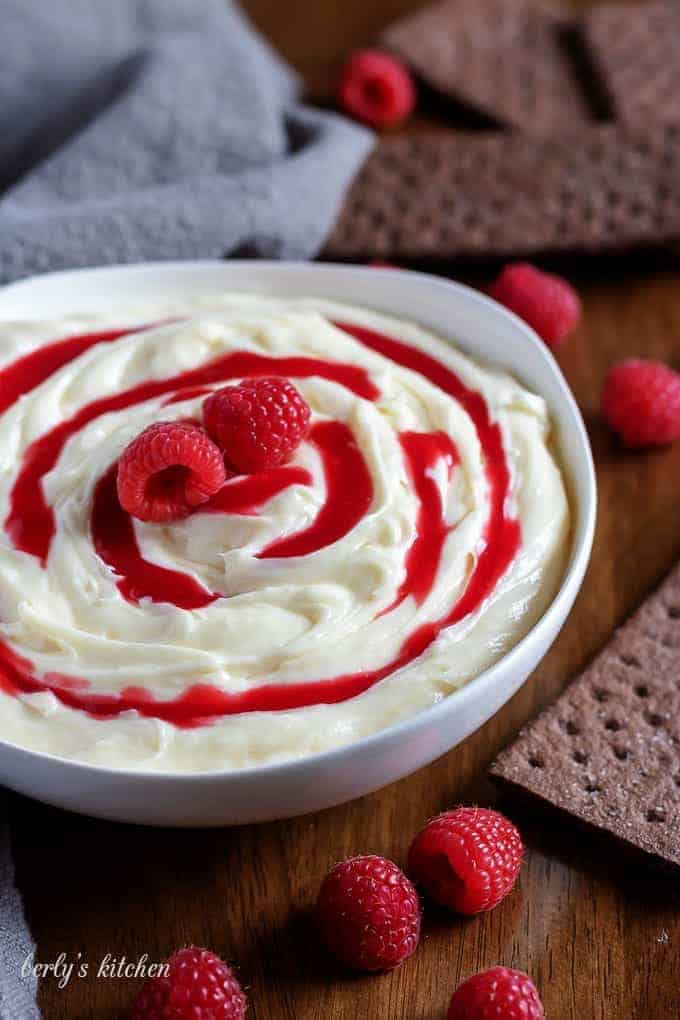 Cheesecake Dip Tips:
If you can't find fresh raspberries, you can use frozen. However, let me suggest that you thaw them out first and drain them of any excess water.
After reading this recipe, you should now know the base of most dessert dips is composed of cream cheese and sugar. Armed with that knowledge, you can now start creating your own dessert dips.
Try adding extracts, like peppermint or strawberry for a unique seasonal dish. If you're interested, there are a ton of different sparkling wines that would pair perfectly with this dessert.
For example, I would reach for an Asti or nice Rose', but I will leave that up to you.
If you like this recipe, please leave us a comment and rate the recipe card. You can also find us on Facebook, Pinterest, Twitter and Instagram searching for Berly's Kitchen!
Yield: 12 Servings
White Chocolate Raspberry Cheesecake Dip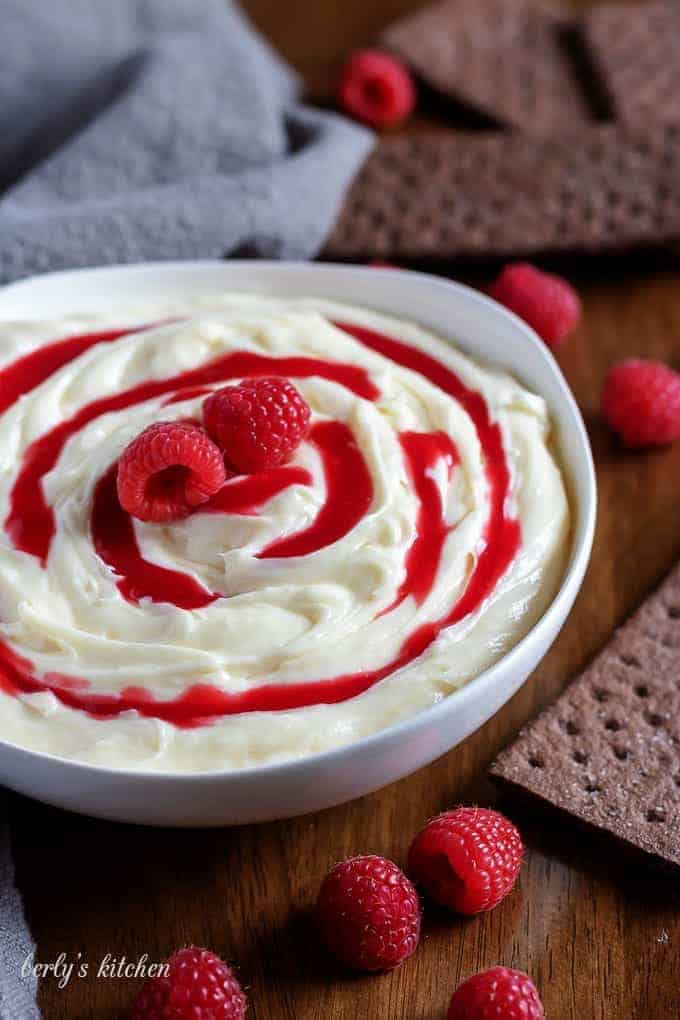 A rich and velvety white chocolate raspberry cheesecake dip made with smooth cream cheese, decadent white chocolate, and a homemade raspberry sauce.
Ingredients
White Chocolate Cheesecake Dip
16 Ounces Cream Cheese, (softened)
1 1/4 Cups Powdered Sugar
8 Ounces White Chocolate, (good quality if possible)
1 Teaspoon Vanilla Extract
1/3 Cup Sour Cream
Raspberry Sauce
1 Cup Raspberries, (fresh or frozen, thawed and drained)
1/4 Cup Granulated Sugar
Instructions
Dip
In a small, microwave-safe bowl, melt the white chocolate, stirring at 15 second intervals. Set aside.
In a separate medium bowl, use a hand mixer to combine the softened cream cheese, powdered sugar, vanilla, and sour cream until smooth. Then slowly add the melted chocolate. Continue to mix until incorporated. Place in the refrigerator until ready to serve.
Sauce
Place the raspberries and sugar into a food processor or blender. Pulse until smooth and all of the berries are pureed.
Pour the mixture through a mesh sieve to remove any seeds.
When you're ready to serve the dip, drizzle the raspberry sauce over the finished dip. Serve with chocolate or regular graham crackers.
Notes
The calories listed are an approximation based on the ingredients and a serving size of two (2) ounces of white chocolate raspberry cheesecake dip. Furthermore, the calorie count does not include any dipping items, such as the graham crackers seen in the photos. Actual calories will vary. The dip can be stored in your fridge for up to three (3) days in a sealed container.
Nutrition Information:
Yield:
12
Serving Size:
2 Ounces
Amount Per Serving:
Calories:

314
Total Fat:

20g
Saturated Fat:

11g
Unsaturated Fat:

0g
Cholesterol:

48mg
Sodium:

143mg
Carbohydrates:

30g
Sugar:

29g
Protein:

3g