Our simple smores dip recipe has all the flavors of your favorite campfire treat. Gooey marshmallow cream and hot fudge make for a delicious dessert dip!
Kim and I love dessert dips! It seems our readers enjoy them as well. Because our tempting turtle cheesecake dip is one of our most popular recipes.
Today, we're adding this smores dip recipe to the list of sweet dips. Gooey marshmallow cream combined with hot fudge make for an amazing treat.
The best part about this dish is that you don't need a campfire to enjoy it. All you need is four ingredients and some graham crackers.
I've included some tips near the bottom of the post. Just in case you run into any trouble mixing everything together.
But, I doubt that will be an issue. It's a simple recipe to prepare and only takes about 10-minutes provided you pulled the cream cheese out to soften in advance.
How to make our smores dip recipe?
First, grab a large mixing bowl and combine the softened cream cheese and powdered sugar. I recommend using a hand mixer.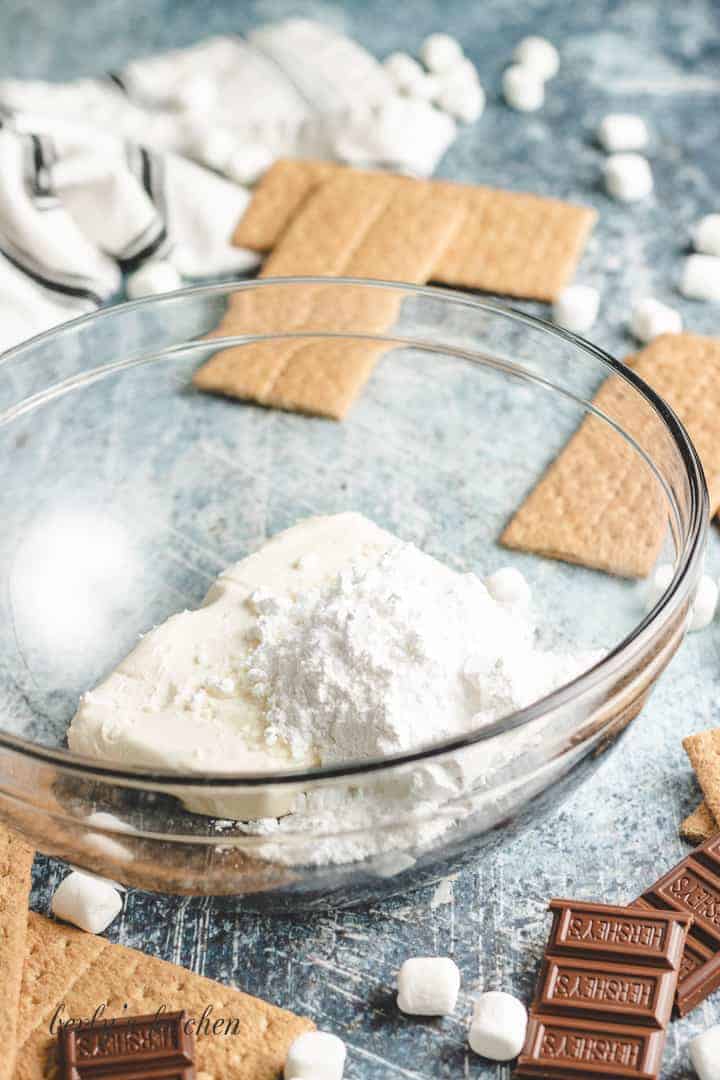 Next, add the hot fudge to the bowl with the cream cheese mixture. Again, use your hand mixer to combine the fudge into the cream cheese.
Once the three ingredients have been properly combined, set that bowl aside and grab another clean mixing bowl.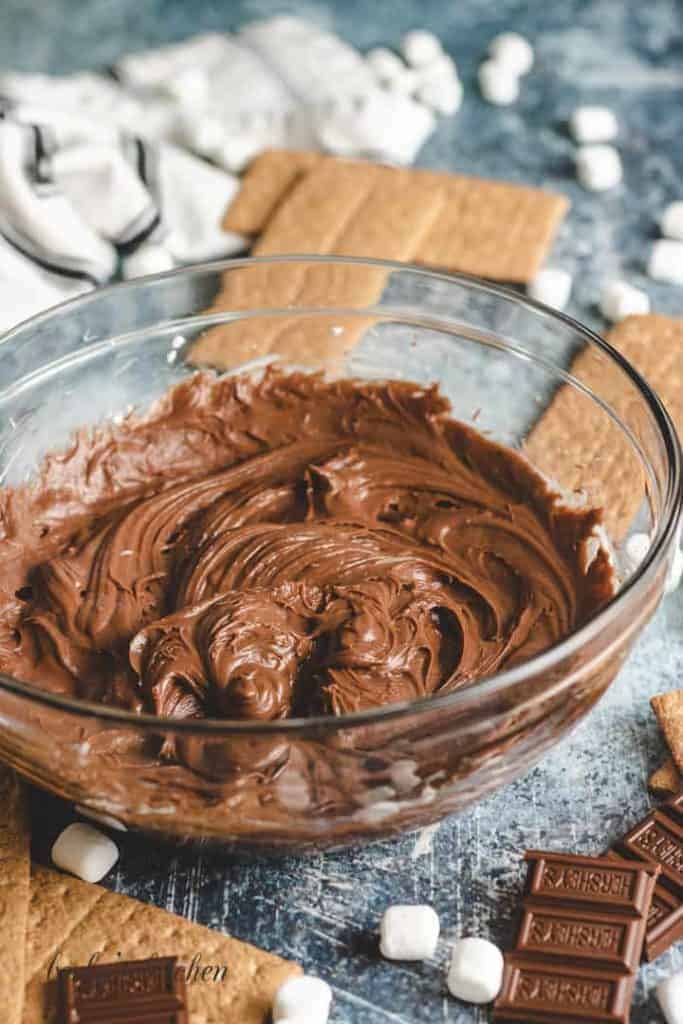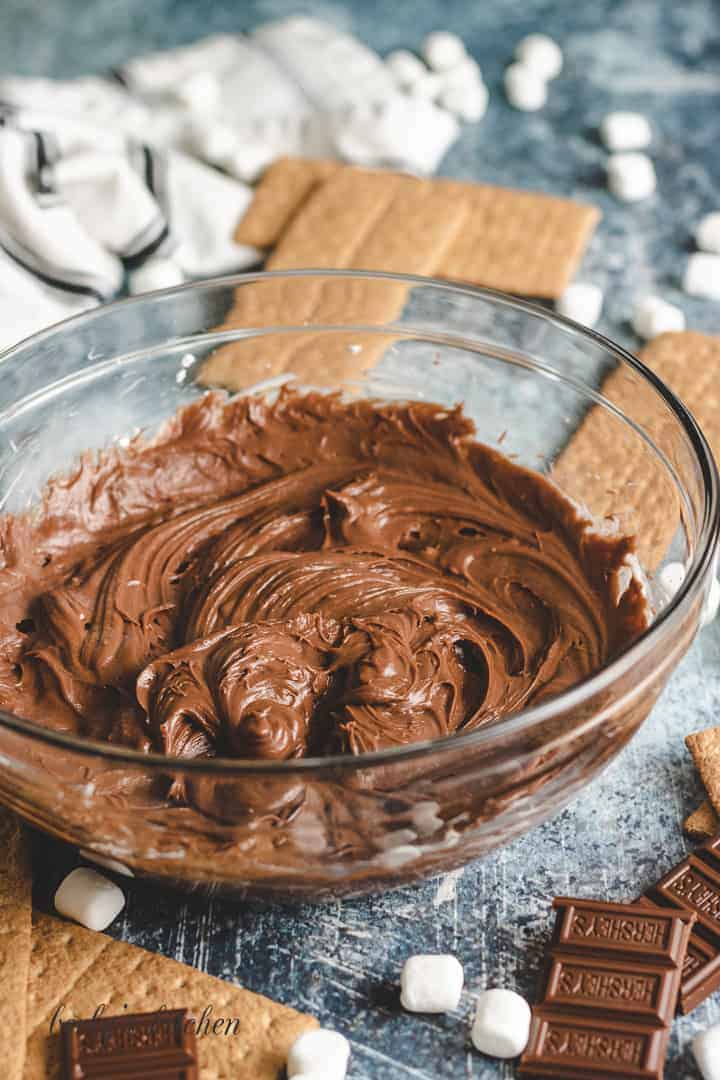 Afterward, pour the marshmallow cream (creme) into the clean bowl. Now, place the bowl into your microwave.
You want to soften the cream a little. We recommend using half-power and heating the gooey treat for about 30-seconds.
Once the it's warmed, grab your serving dish. Place one layer of marshmallow cream (creme) into the dish.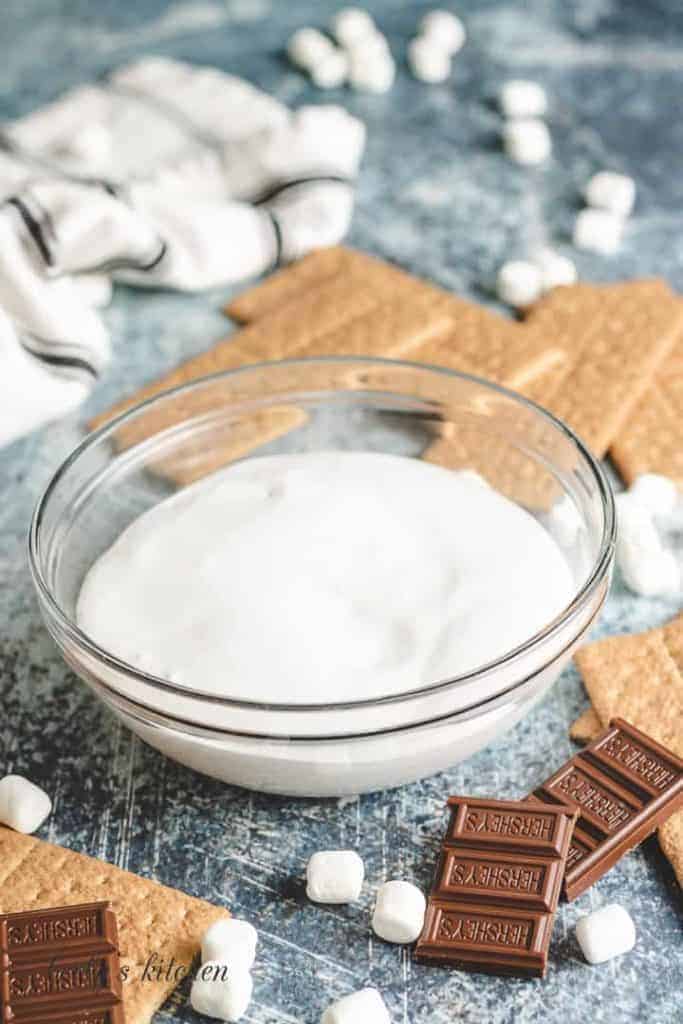 After that, add a layer of the hot fudge and cream cheese mixture. Last, continue alternating the layers until you've used all the ingredients.
That's it, the smores dip recipe is done! Kim and I hope you enjoy the dessert and wish you all the best 🙂
Recipe Tips:
The marshmallow cream (creme) and cream cheese mixtures combine well when they're slightly warmed. Try using your microwave (half-powered, 10-second intervals) to warm the mixtures before combining.
If you prefer your smores dip to be more chocolaty, then try reducing the cream cheese and powdered sugar by half.
Shortbread cookies also make great dippers because they're not as fragile as graham crackers. In other words, they hold up better to that gooey marshmallow cream (creme).
Don't forget to follow us on FACEBOOK and PINTEREST to see our newest recipes! You can also find us on Facebook, Pinterest, Twitter, and Instagram searching for Berly's Kitchen!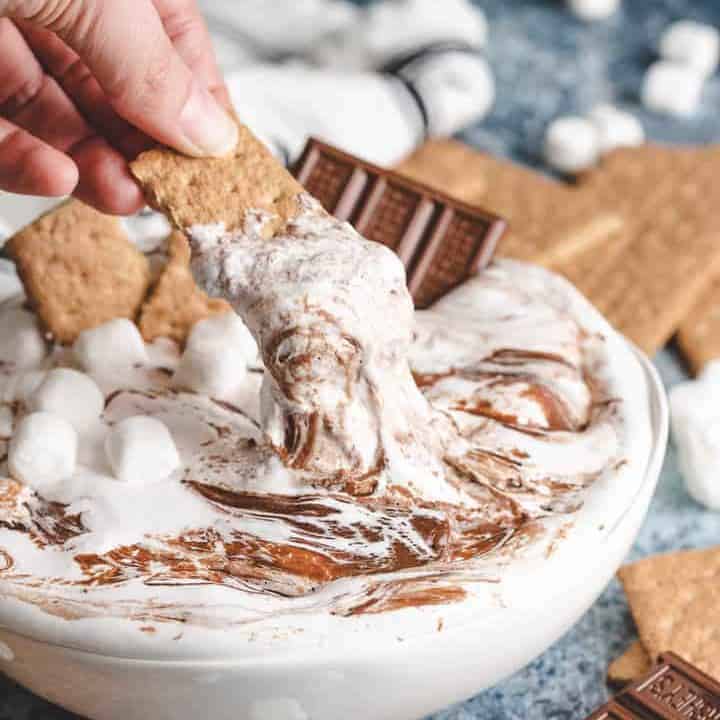 Simple Smores Dip Recipe
Our simple smores dip recipe has all the flavors of your favorite campfire treat. Gooey marshmallow cream and hot fudge make for a delicious dessert dip!
Ingredients
8 Ounces Cream Cheese, (one package, softened)
1/2 Cup Powdered Sugar
11.75 Ounces Hot Fudge, (one jar)
7 Ounces Marshmallow Cream, (or marshmallow creme, one jar, slightly warmed)
Instructions
In a medium bowl, use a hand mixer to combine the cream cheese and powdered sugar. Add the hot fudge and mix until combined. Set aside.
In a separate small bowl, heat the marshmallow creme until it's less thick and easier to spread (about 25-30 seconds in the microwave). Layer the chocolate mixture and marshmallow creme in a serving dish in alternating layers. If you'd like to swirl the layers, drag a knife through the layers or stir slightly.
Top with mini marshmallows, graham cracker pieces, or chocolate bar pieces if desired. Serve at room temperature or slightly warmed. Store leftovers in the refrigerator for up to 3 days.
Notes
The calories listed are an approximation based on the ingredients in the recipe card and a serving size of 2-ounces of smores dip. Additionally, the calorie count does NOT include the extra marshmallows, graham crackers, and chocolate bars seen in the photos. Actual calories will vary.
Try using graham crackers for dipping. Mini marshmallows and chocolate bars are great for garnish.
The chocolate and marshmallow layer and mix best when they're slightly warm. Microwave for a few seconds if needed to help with layering.
To increase the chocolate flavor, reduce the amount of cream cheese and powdered sugar by half.
Recommended Products
As an Amazon Associate and member of other affiliate programs, I earn from qualifying purchases.
Nutrition Information:
Yield:

14
Serving Size:

2 Ounces
Amount Per Serving:
Calories:

199
Total Fat:

8g
Saturated Fat:

4g
Unsaturated Fat:

0g
Cholesterol:

18mg
Sodium:

134mg
Carbohydrates:

32g
Fiber:

1g
Sugar:

22g
Protein:

2g