These hot chocolate cupcakes feature all the flavors of rich, creamy hot chocolate. They're even stuffed with gooey marshmallows!
"Oh my goodness, these cupcakes are adorable!" That was our first thought when we saw them.
Back a few weeks ago, Kim was on social media checking out all the holiday posts.
That's when she spotted these hot chocolate cupcakes. Julie from Lemon Peony was selling the recipe with photos.
Normally, we don't purchase recipes. Because, you never know how they'll turn out.
However, after the success of the mummy cookies, we decided to purchase this recipe.
Of course, we tested it and I can assure you that the recipe works just fine. Also, these chocolate cupcakes are amazing!
One other side note, while it's not a tough recipe, it has a lot of steps. So, we need to get started right away!
How to make hot chocolate cupcakes?
First, preheat your oven to 325 degrees F. and line a cupcake pan with decorative liners.
After that, grab a large mixing bowl and a hand mixer. Alternatively, you can use a stand mixer if you have one.
In the bowl, combine cake mix, instant pudding, eggs, water, and oil into a smooth batter.
After that, use a rubber spatula to fold in the chocolate chips. Using the spatula will keep you from overworking the batter.
Next, transfer the cupcake batter to the liners. You only want to fill them about 3/4th of the way full.
When the liners are full, place the cupcakes into the oven to bake for 30-minutes.
Afterward, remove them from the oven. It's time to use the large marshmallows.
Gently press a marshmallow into the top of the each cupcake. Use a twisting motion to press the marshmallow into place.
You'll only be able to fit about half the marshmallow into the cake. Now, return the cupcakes to the oven for 2-3 minutes.
Just long enough for the marshmallows to melt. Then, remove them from the oven.
After that, use your fingers to gently press the marshmallows down, creating an indention on top.
Let the cupcakes cool and then move them to a cooling rack while you make the frosting.
To prepare the chocolate frosting, grab a medium mixing bowl and a whisk.
Whip together the powdered sugar, cocoa powder, water, and vanilla extract. Set the frosting aside.
By this time, your hot chocolate cupcakes should've cooled some.
Go ahead and sprinkle some chocolate chips on top of the marshmallows and drizzle the cupcake with the frosting.
Last, cut another large marshmallow in half and place it on top of the frosting.
Garnish the cupcakes with whatever toppings you desire (crushed peppermint candies and/or holiday straws).
Serve and enjoy or store them for later. That's it, your hot chocolate cupcakes are done!
Kim and I hope you enjoy them and wish you all the best this holiday season 🙂
Recipe Tips & FAQ's:
If you're having trouble getting the marshmallows into the cupcakes, there is another option. You can use a frosting bag or cupcake decorator to inject marshmallow crème into each cupcake once they're done cooking.
The extra chocolate chips (placed on top), crushed peppermint candy, and holiday straws are all optional. Personally, I feel while these items are cute, they're a not necessity.
To avoid overfilling the cupcake liners, I recommend using a 1/4-cup measuring cup to transfer the batter to the liners. It will provide you with an accurate amount every time.
Can you freeze chocolate cupcakes?
I wouldn't recommend it. This recipe uses marshmallows and chocolate chips. These ingredients would not hold up in your freezer.
How long do hot chocolate cupcakes last?
When properly stored in your fridge, they will last for up to 3 days.
Don't forget to follow us on FACEBOOK and PINTEREST to see our newest recipes! You can also find us on Facebook, Pinterest, Twitter, and Instagram searching for Berly's Kitchen!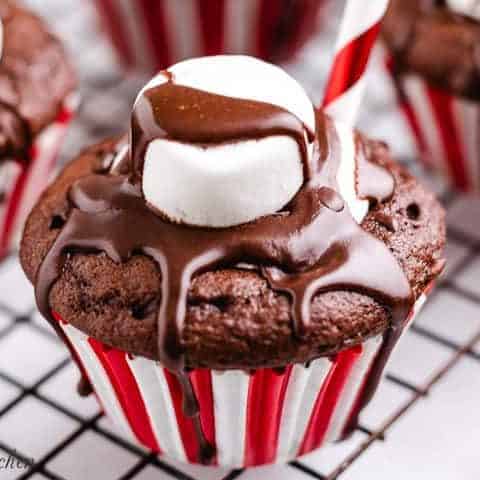 Hot Chocolate Cupcakes
Additional Time:
20 minutes
Total Time:
1 hour
10 minutes
These hot chocolate cupcakes feature all the flavors of rich, creamy hot chocolate. They're even stuffed with gooey marshmallows!
Ingredients
Cupcake Ingredients:
15.25 Ounces Chocolate Devil's Food Cake Mix (1 box)
3.9 Ounces Chocolate Instant Pudding (1 package)
4 Large Eggs
1 ¼ Cup Water
½ Cup Canola Oil
12 Ounces Semi-Sweet Chocolate Chips (1 bag)
10 Ounces Large Marshmallows (1 package)
½ Cup Mini Semi-Sweet Chocolate Chips
Frosting Ingredients:
3 Cups Powdered Sugar
⅔ Cup Cocoa Powder
½ Cup Water
1 Tablespoon Vanilla
Garnish:
Peppermint Crunch Sprinkles
Holiday Straws
Instructions
For the Cupcakes:
Preheat the oven to 325°F, and line two muffin pans with liners. Set aside.
In a large mixing bowl, combine the cake mix, instant pudding, eggs, water, and canola oil together with a stand or hand mixer. Use a spatula to fold in the chocolate chips.
Fill each cupcake liner about ¾ of the way full with the chocolate batter.
Bake for 30 minutes, then remove the cupcakes from the oven. Place a large marshmallow in the center of each cupcake, and twist gently as the marshmallows are being pressed. Return the cupcakes to the oven for 2 minutes, and allow the marshmallows to melt.
Remove the cupcakes from the oven a second time, and gently press the marshmallow down with your fingers (this will help the marshmallow melt on the inside of the cupcake and fill in the extra space around the cupcake). Let cool for 10 minutes in the cupcake pan before transferring to a cooling rack.
For the Frosting:
While the cupcakes cool, make the frosting by combining the powdered sugar, cocoa powder, water, and vanilla in a medium sized bowl. Mix until smooth.
Fill the marshmallow indention with mini chocolate chips, then drizzle with frosting. Cut large marshmallows in half, and place the marshmallow halves on top of the mini chocolate chips. Drizzle additional frosting over the top.
Garnish with Peppermint Crunch Sprinkles and holiday straws. Enjoy! Store any leftovers in an airtight container for 4 days.
Notes
The calories listed are an approximation based on the ingredients in the recipe card and a serving size of 1 hot chocolate cupcake. Actual calories will vary. For more information and tips, please refer to the post.
Recommended Products
As an Amazon Associate and member of other affiliate programs, I earn from qualifying purchases.
Nutrition Information:
Yield:

22
Serving Size:

1 Cupcake
Amount Per Serving:
Calories:

490
Total Fat:

20g
Saturated Fat:

9g
Trans Fat:

0g
Unsaturated Fat:

10g
Cholesterol:

40mg
Sodium:

238mg
Carbohydrates:

75g
Fiber:

3g
Sugar:

56g
Protein:

6g
*The calories are an estimate and are based on the ingredients and serving size listed. The calories can vary depending on the brand of product purchased.