A kid-friendly soft chocolate chip cookie recipe that's easy to make and creates tender, chewy cookies every time! From oven to table in less than hour.
Wow, this chocolate chip cookie recipe was originally shared back in November of 2016. It goes without saying, a lot has changed.
Including, the way we write posts and share recipes. Keeping that in mind, Kim and I decided this recipe was due for an update.
So, for today, I'm re-writing this soft chocolate chip cookie recipe. Now, the recipe itself was fine. The cookies are soft, chewy and delicious.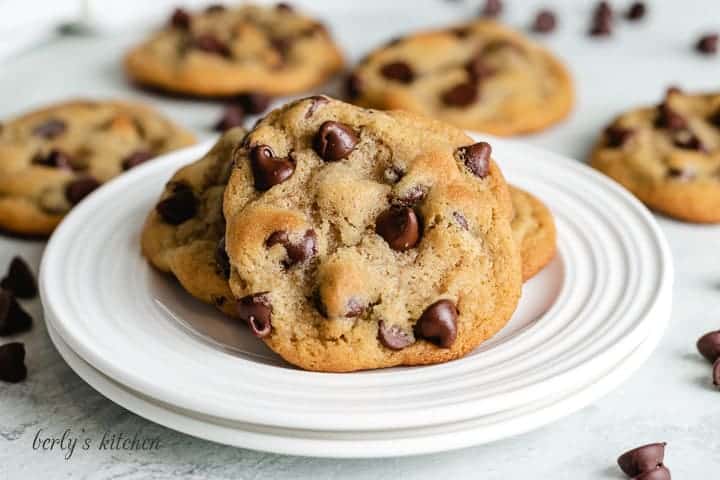 Best of all, they stay that way for days. What's the secret you ask? Well, I'm going to add a section to share some the ways we make simple soft cookies.
Can't get enough soft cookies? Then, check out our Soft Sugar Cookies, mini skillet cookie, or our Chewy Peanut Butter Cookies!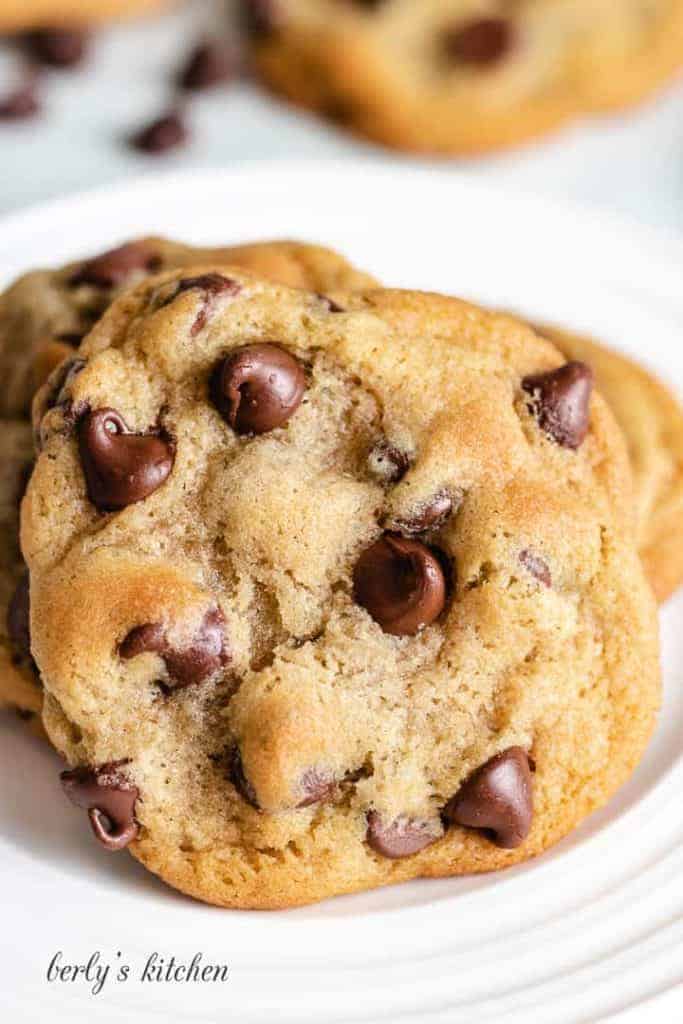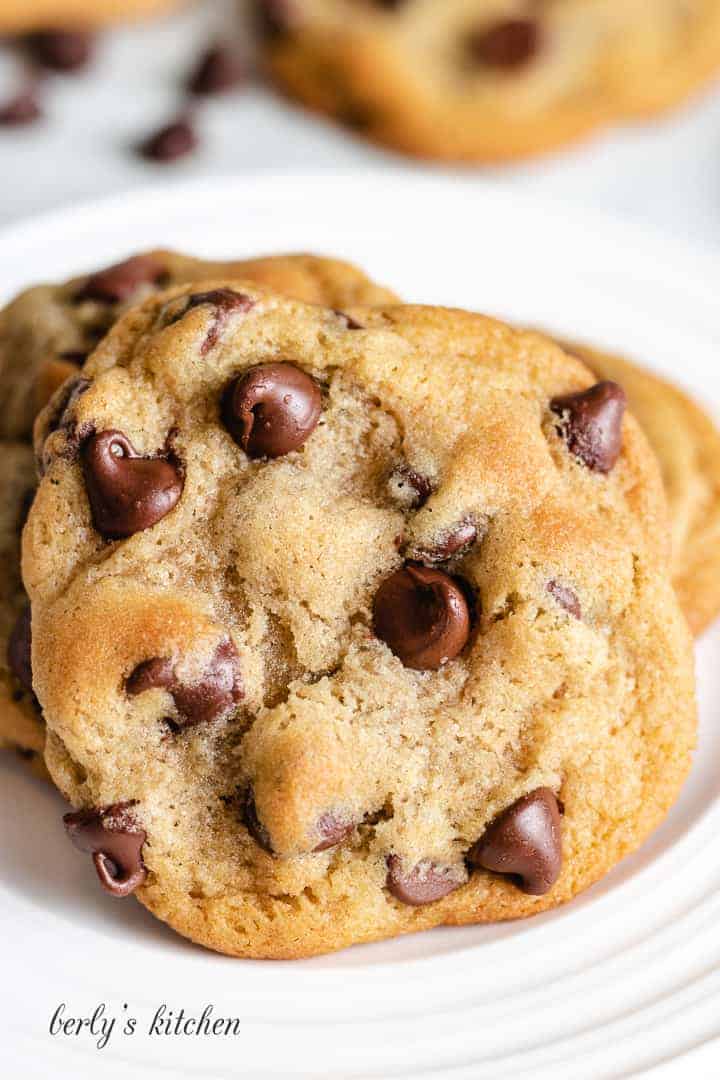 What's the secret to soft cookies?
I'm not a food scientist, so I'm not going to try and accurately explain the chemistry behind the ingredients and techniques.
However, there are 2-secrets that I'm aware of to create super soft, dense and chewy cookies every time.
Adding cornstarch is the first one. It never fails to create a tender cookie.
The second one is in the technique to making cookies. Always refrigerate your dough before baking.
This step allows the butter to chill and firm up. Preventing the cookies from spreading out and baking up thin and crispy.
By adding cornstarch and chilling the dough, you're guaranteed to create a soft batch of cookies every time.
What makes our soft chocolate chip cookie recipe kid-friendly?
For starters, it's a cookie recipe, and most kids I know love cookies. Also, there are no fancy steps or difficult techniques involved.
Furthermore, it teaches your children how to cook a simple dessert in less than an hour. That's just long enough to keep their attention, without making them bored.
Finally, and most importantly, it's an easy recipe that builds confidence and gets your children interested baking and cooking for themselves.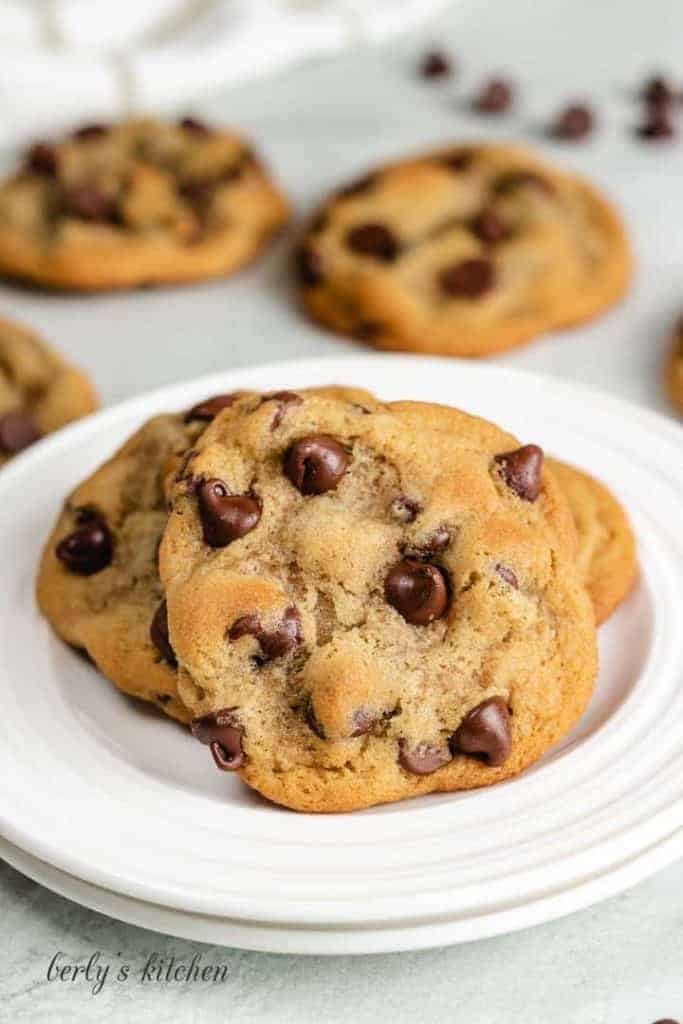 How do you make soft chocolate chip cookies from scratch?
That's easy, follow our recipe! All joking aside, start by preheating your oven to 350 degrees F.
After that, grab a large cookie sheet (9-inch by 13-inches) and either butter it, spray it with non-stick cooking spray, or line it with parchment paper.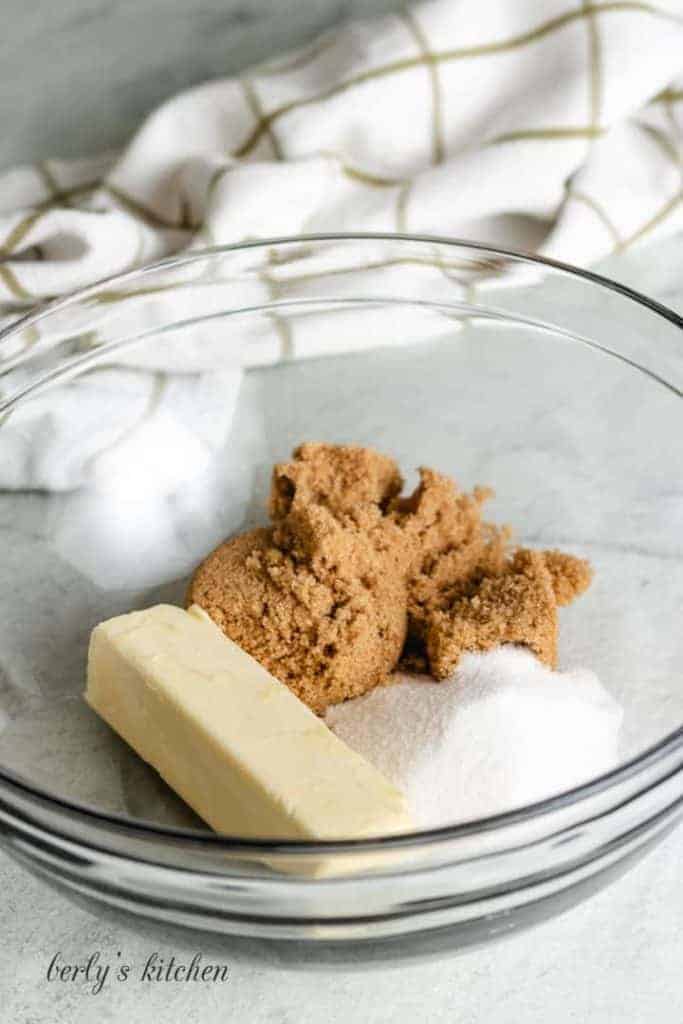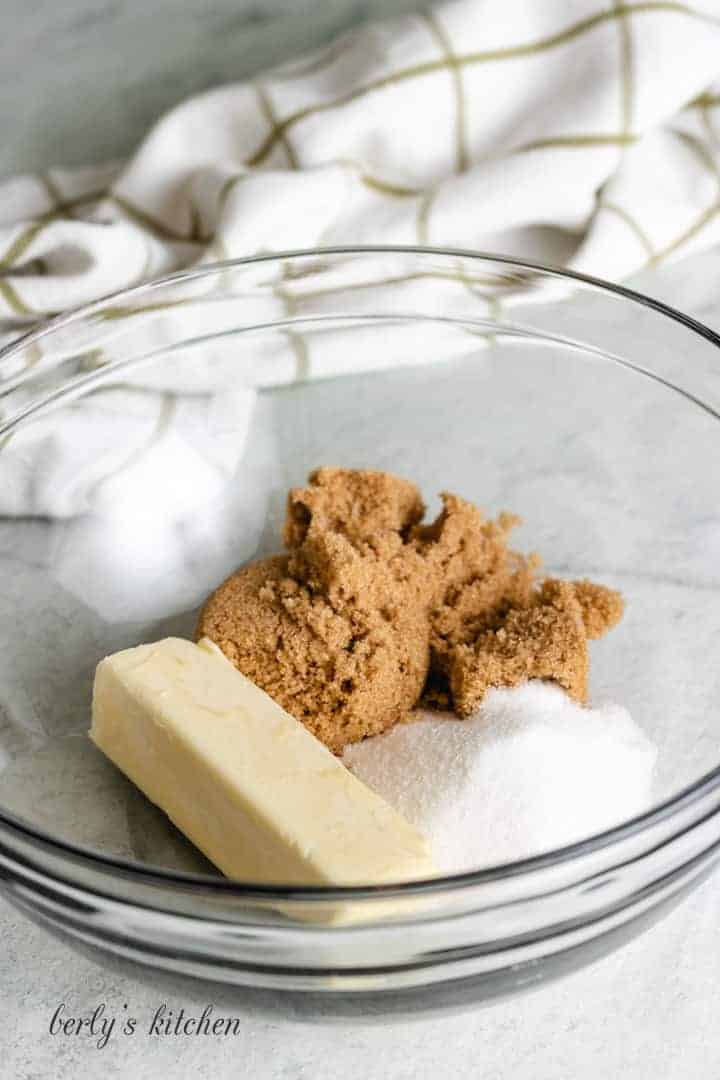 Next, using your stand mixer with a paddle attachment to combine the butter, brown, and granulated sugars. Mix the ingredients on medium speed for about 3-4 minutes.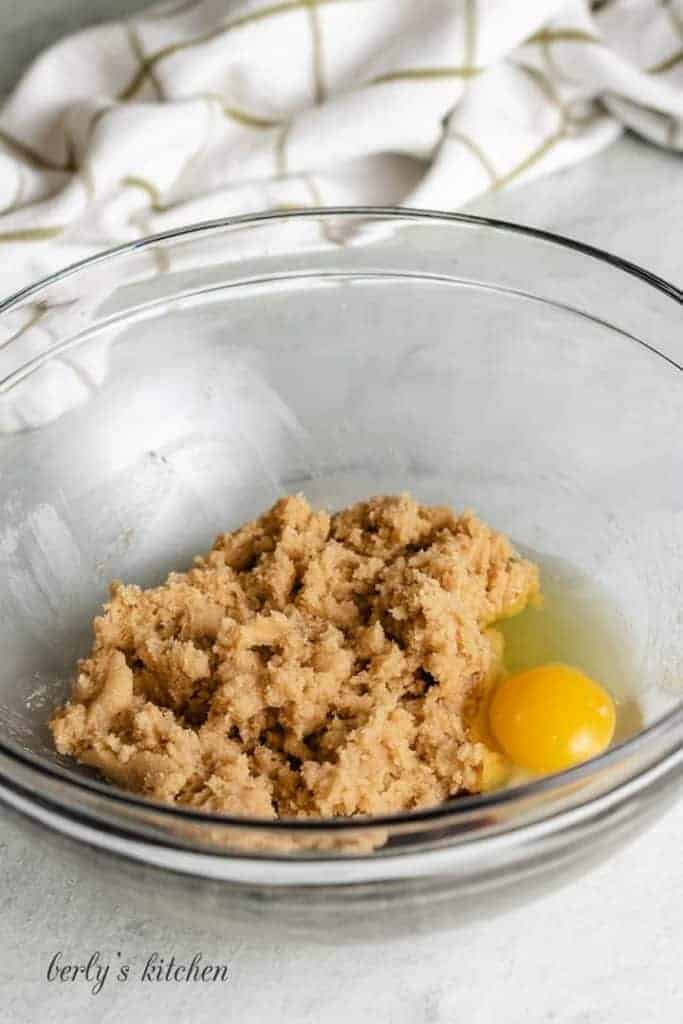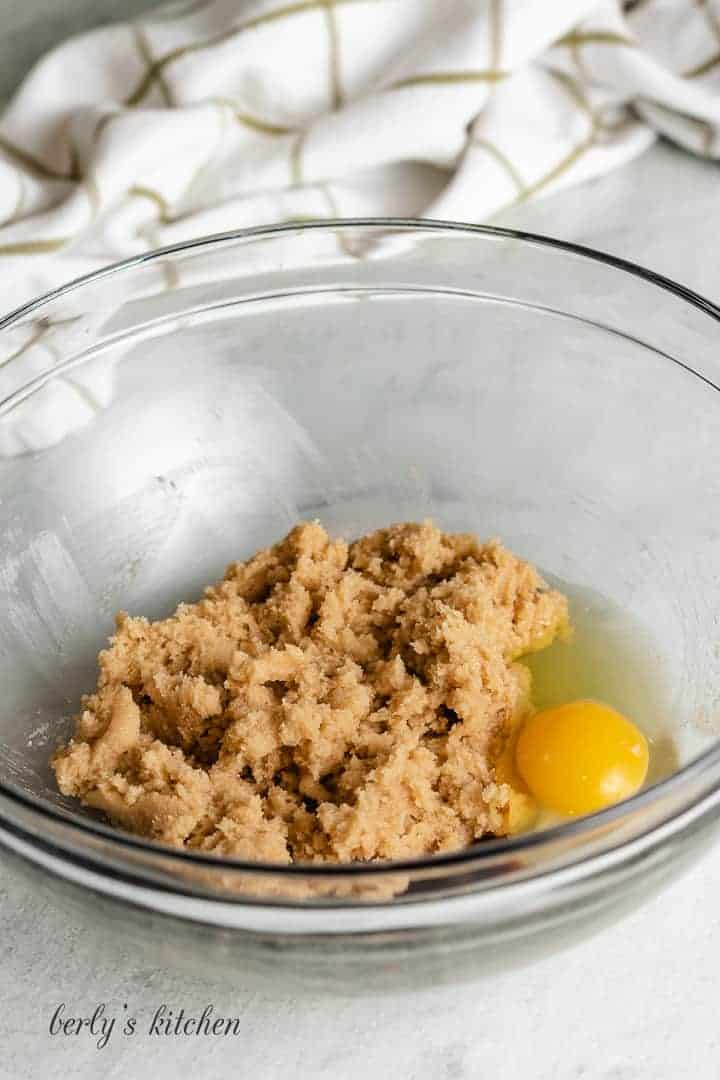 Now, add in the vanilla extract and the egg.
Reduce the speed to low and continue mixing for another 60-90 seconds.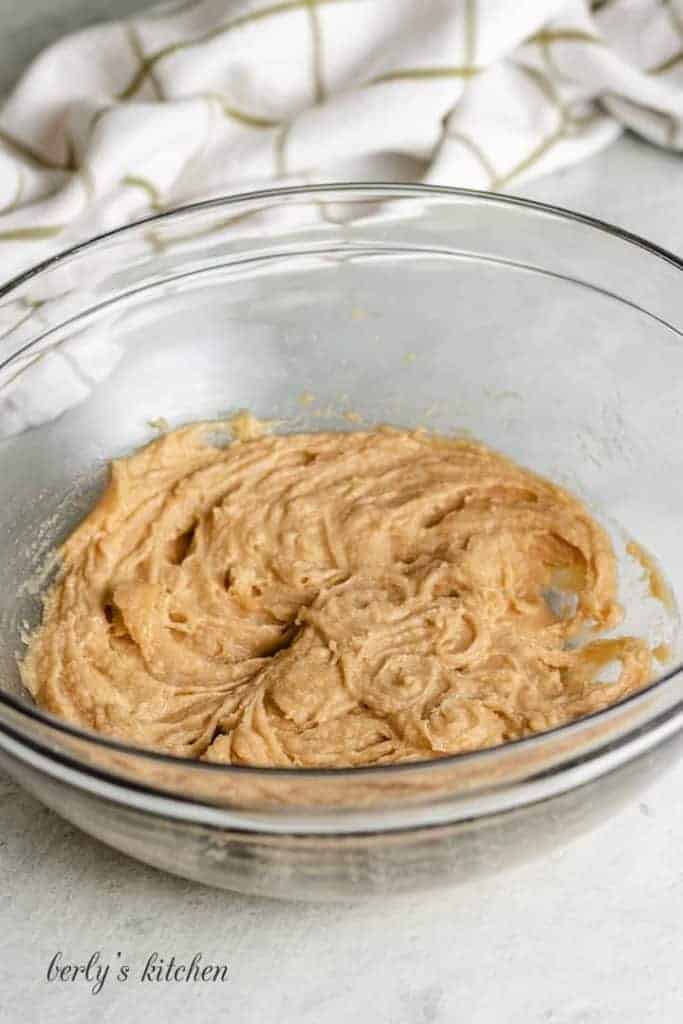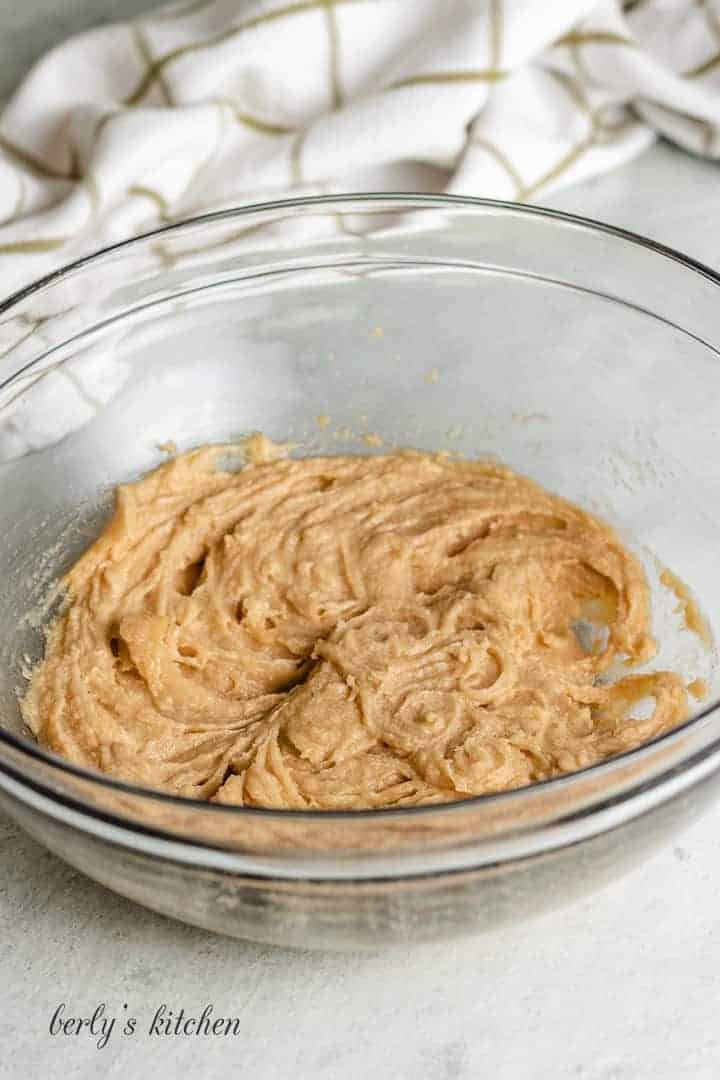 Afterward, set that mixture aside and grab a second bowl. In the clean bowl, combine the flour, cornstarch, baking soda, and salt.
You can use a whisk or a fork to mix the dry ingredients. Once they're mixed pour them into the bowl with the butter and sugar mixture.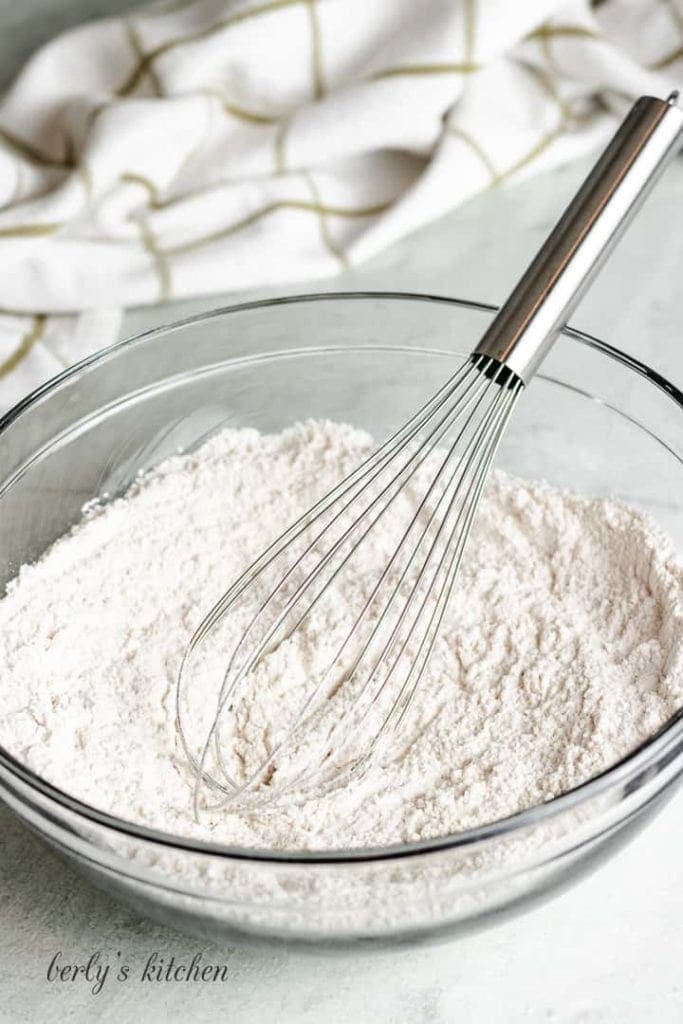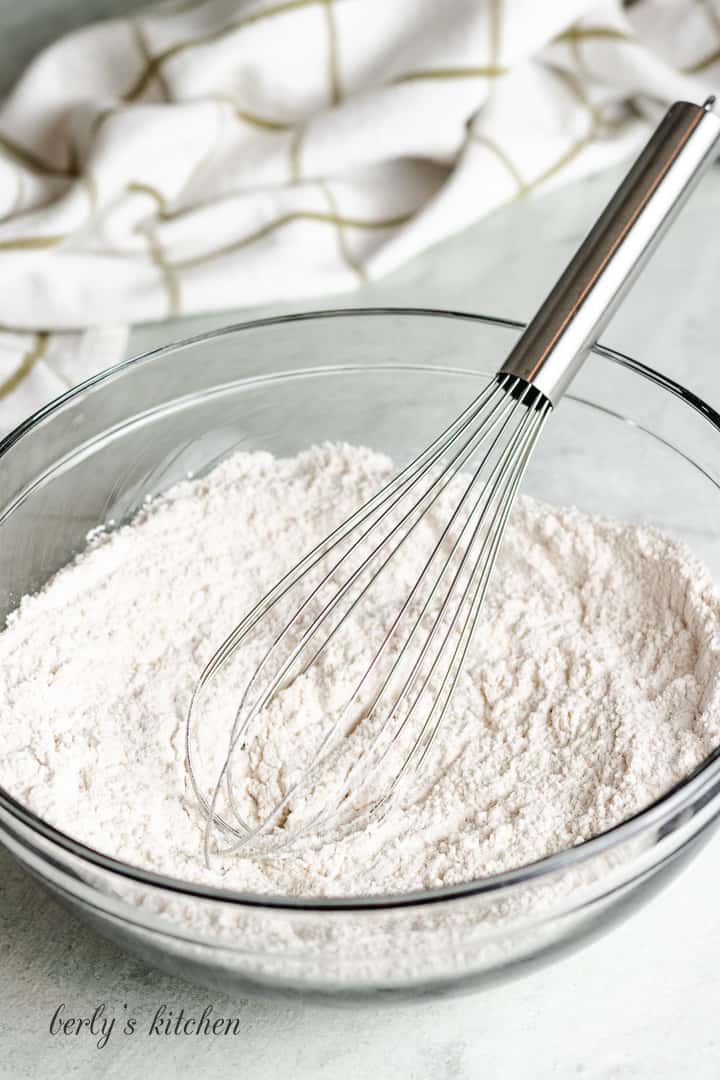 Then, mix the wet and dry ingredients together on low speed until combined (about 1-minute).
Use our photos as a reference.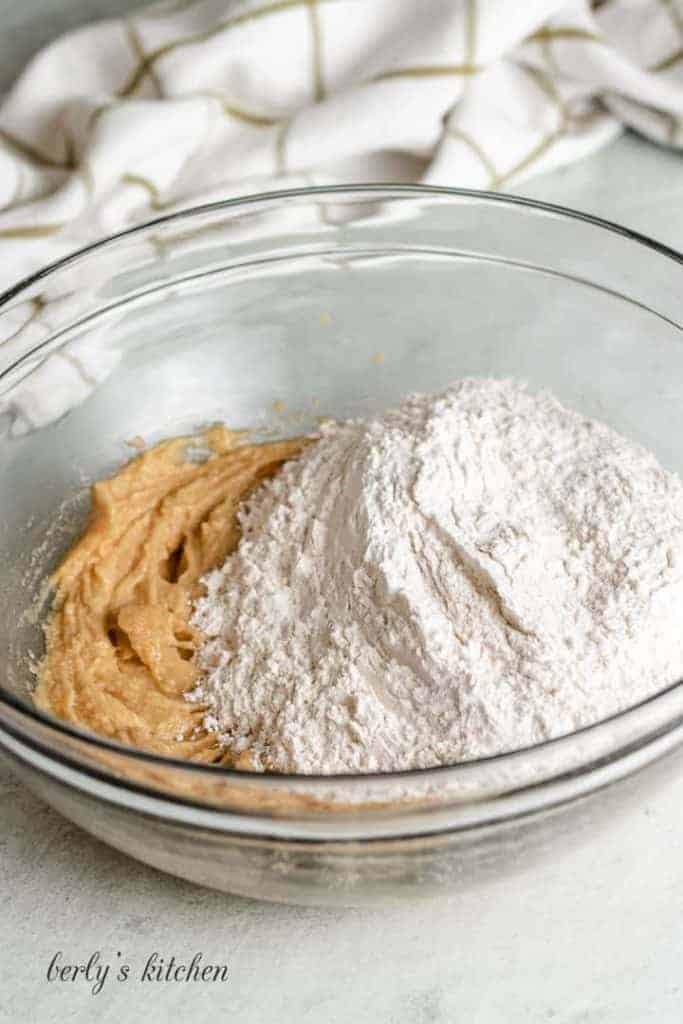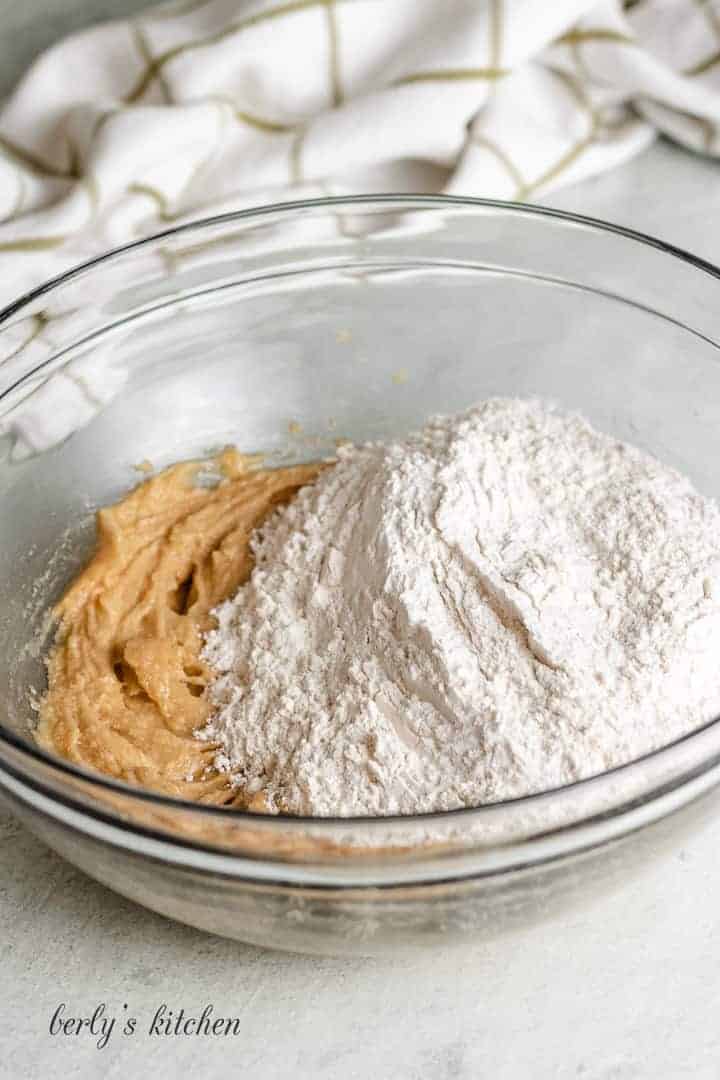 Go ahead and fold in the chocolate chips.
I use a rubber spatula for this step so that I don't over work the dough.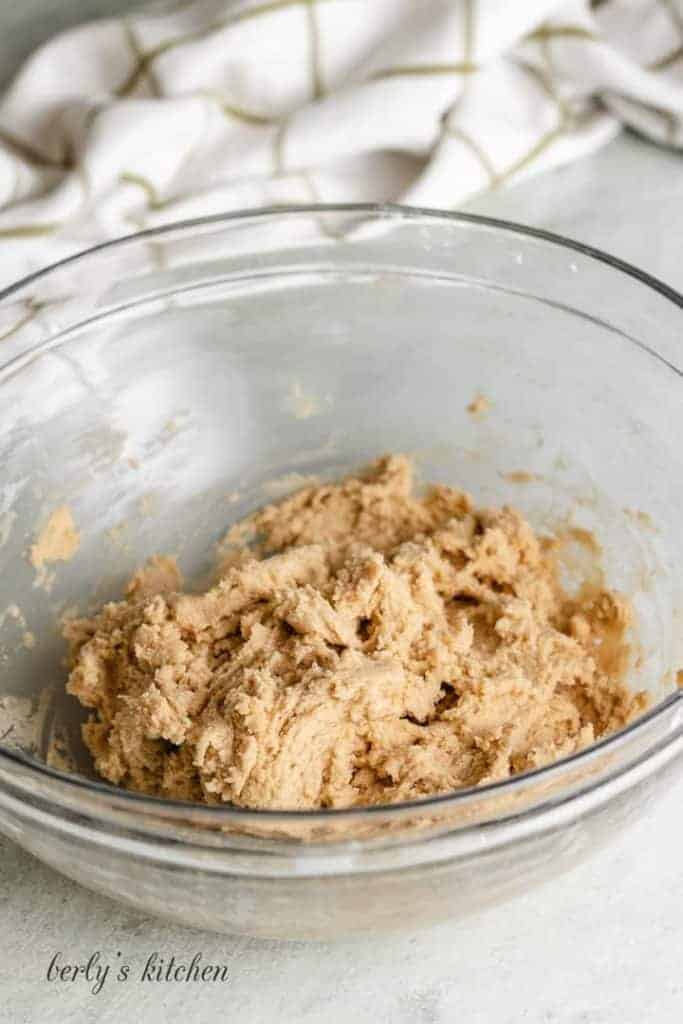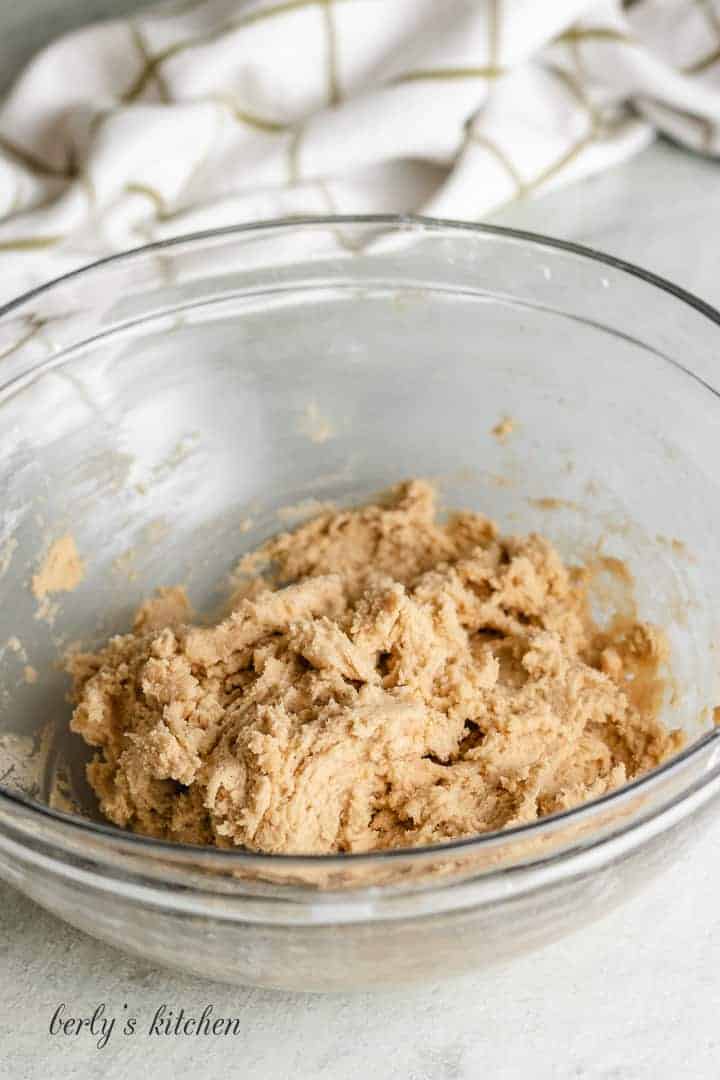 It's time to form the cookie dough balls. Kim uses a spoon to portion out the dough into 1.5-inch diameter balls.
Place the balls onto the prepared cookie sheet. When the cookie sheet is full, transfer it to your fridge to chill for at least 30-minutes.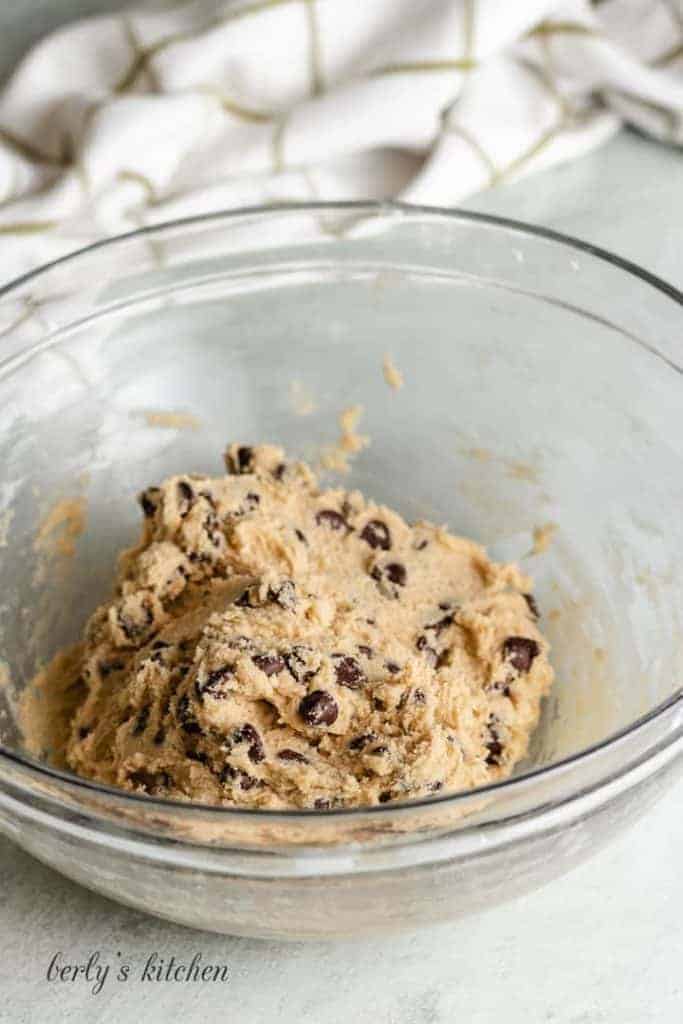 So, once the dough chills, remove the pan from your fridge and place it into your oven. Preferably on the center rack in the middle of the preheated oven.
Let the soft chocolate chip cookies bake for 10-12 minutes. They may not look completely done, but that's okay.
The cookies will finish cooking as they cool. But, if you prefer crispy edges, you could let them cook in the oven for an additional 1-2 minutes.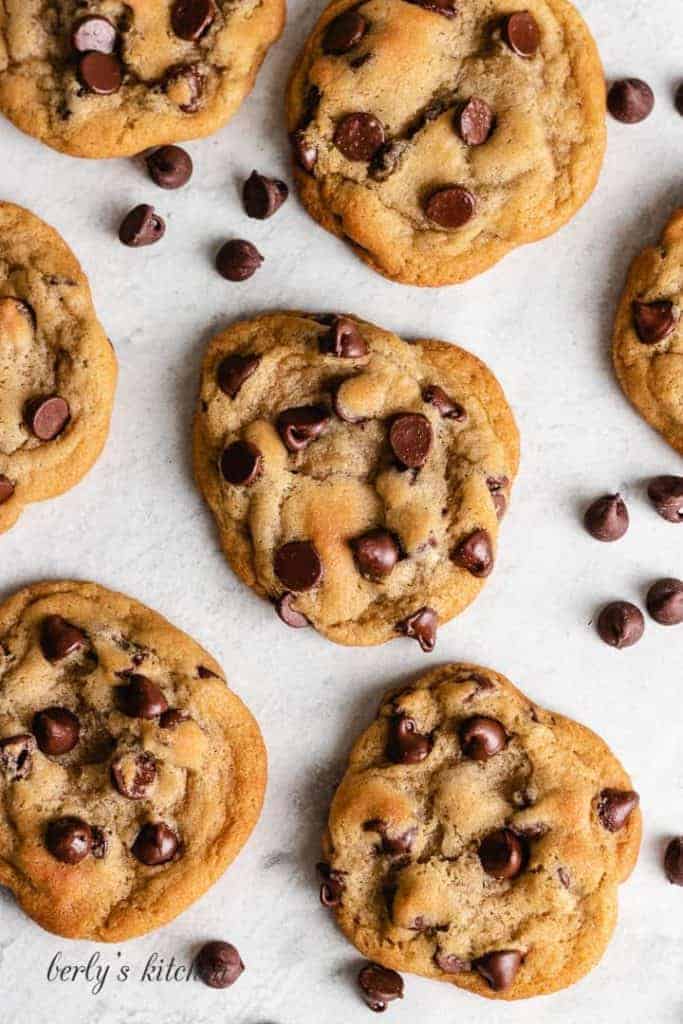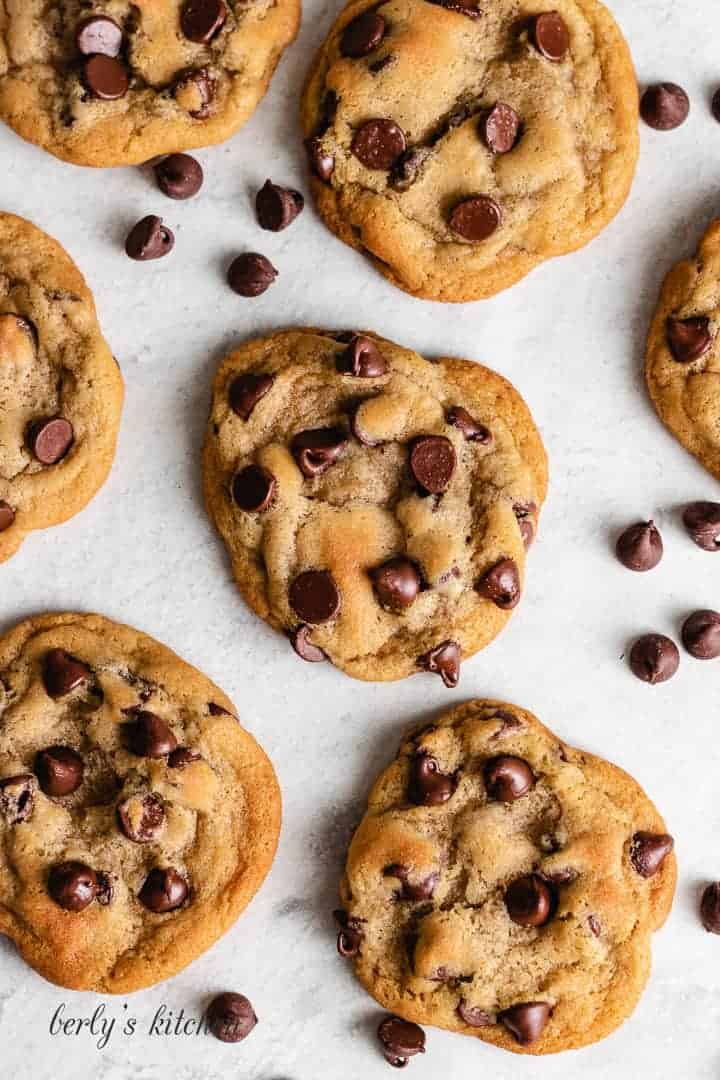 Last, remove them from oven and let them sit (untouched) for 1-2 minutes before transferring them to a cooling rack or plate.
That's it, your super soft chocolate chip cookie recipe is done! Kim and I hope you enjoy the treat and wish you all the best 🙂
Recipe Tips:
Be sure to remove the butter from your fridge at least 1-hour before starting. You want it to be soft when combine it with the sugars.
If you don't have a stand mixer with paddle attachments, then use a hand mixer and mixing bowl, or use a fork (for the butter and sugar) and a whisk (for the dry ingredients) and mix everything by hand.
Don't over mix the cookie dough. Flour can become tough when it's over worked.
Try to leave approximately 1-inch of space around each ball of dough so the cookies have room to grow as they bake.
If you like this recipe, please leave us a comment and rate the recipe card. You can also find us on Facebook, Pinterest, Twitter and Instagram searching for Berly's Kitchen!
Join our Facebook group for more recipes from Berly's Kitchen, our new site More Than Meat and Potatoes, and some of our blogger friends!
Yield: 13 Servings
Soft Chocolate Chip Cookie Recipe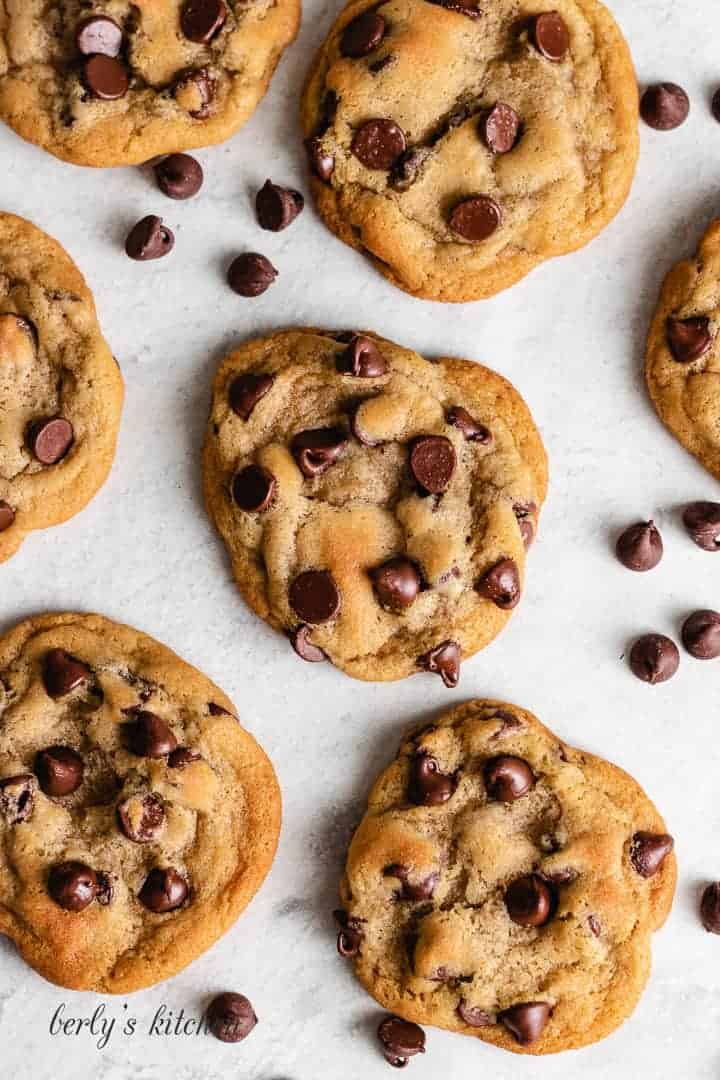 A kid-friendly soft chocolate chip cookie recipe that's easy to make and creates tender, chewy cookies every time! From oven to table in less than hour.
Ingredients
1/2 Cup Softened Butter
2/3 Cup Brown Sugar, (packed)
1/4 Cup Granulated Sugar
1 Large Egg
1 Tablespoon Vanilla Extract
1 1/2 Cup All-Purpose Flour
2 Teaspoons Cornstarch
1 Teaspoon Baking Soda
1/4 Teaspoon Salt
1 Cup Semi-Sweet Chocolate Chips
Instructions
Preheat the oven to 350 degrees. Prepare a baking sheet with a silicone mat or parchment paper.
In the bowl of a stand mixer or using a hand mixer and mixing bowl, use the paddle attachment to cream together the sugars and butter on medium speed until fluffy (about 3-4 minutes).
Add the egg and vanilla and mix on low speed until combined.
In a separate bowl combine the flour, cornstarch, baking soda, and salt.
Carefully add the flour mixture to the wet ingredients and mix on low speed until combined. Stir (or fold in) in the chocolate chips.
Shape the dough into balls about 1 1/2 inches in diameter. Place the dough balls on the baking sheet and place in the refrigerator for at least 30 minutes prior to baking.
After the dough chills, place in the oven and bake for 10-12 minutes. Remove the cookies from the oven when the cookies are lightly brown but still look soft in the middle.
Allow the cookies to cool for 2-3 minutes on the baking sheet then transfer to a cooking rack. Store in an airtight container.
Notes
The calories listed are an approximation based on the ingredients and a serving size of 2-cookies. Actual calories will vary. The chocolate chip cookies can be stored in a sealed container, at room temperature. The cookies will stay soft for 3-5 days.
Recommended Products
As an Amazon Associate and member of other affiliate programs, I earn from qualifying purchases.
Nutrition Information:
Yield:

13
Serving Size:

2 Cookies
Amount Per Serving:
Calories:

263
Total Fat:

13g
Saturated Fat:

8g
Unsaturated Fat:

0g
Cholesterol:

34mg
Sodium:

202mg
Carbohydrates:

34g
Fiber:

1g
Sugar:

20g
Protein:

3g
Share to Save The Recipe!