What could be better than a chocolatey, gooey, marshmallow-y, graham cracker wrapped S'more? A whole S'mores Board filled with all the ingredients to make a classic style s'more and even more! Perfect for camping or a backyard fire pit, this fun charcuterie style dessert board will have friends and family creating all kinds of s'mores flavors and concoctions this summer!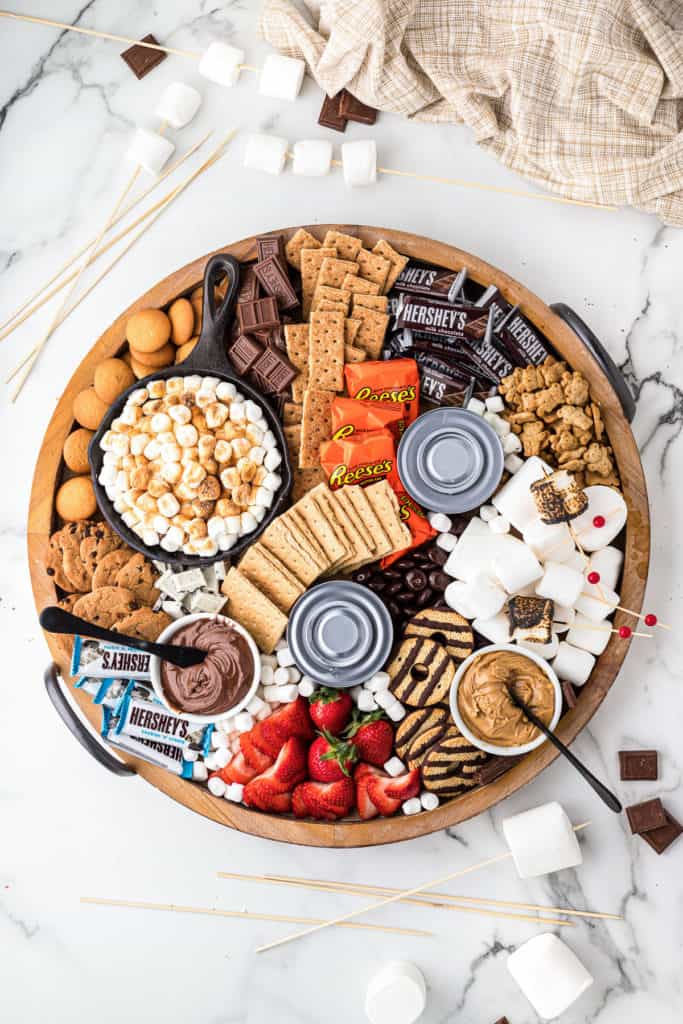 S'mores Board
Summer is almost upon us, and you know what that means? S'mores. Whether over a campfire, at the beach, or around a backyard fire pit after a long day in the sun, S'mores are arguably synonymous with summertime treats.
Serve them up in a fun new way with a S'mores charcuterie board! Essentially, this style takes your traditional charcuterie board of meats, cheeses, fruits, dips, and crackers and swaps them out for dessert options. You can completely customize what you want on this board.
This one is s'mores themed filled with marshmallows, graham crackers, and various types of chocolate and dessert dips, but you could take the overall idea and apply it to any kind of dessert!
Key Ingredients
These are a few suggestions for a classic S'mores Board. You can absolutely take away any ingredients or add anything you like! While gel flames were used for the photos of this amazing board, we don't recommend using them at home.
We suggest going the classic route for melting your s'mores: over a contained campfire, tabletop or small fire pit, large unscented candle, or in the microwave and always with adult supervision. Get creative, but do it safely!
Large and mini marshmallows.
Hershey's classic as well as cookies and cream mini candy bars.
Cinnamon and original style graham crackers.
Teddy grahams, vanilla wafers, chocolate chip cookies, fudge stripes cookies.
Reese's peanut butter cups.
Junior Mints.
Sliced strawberries or bananas.
Peanut butter (chunky or creamy) and Nutella.
How to Make a S'mores Board
Lay out a large board, tray, or platter. Think about what you would use for a traditional charcuterie board.
Arrange small bowls of the S'mores dip, peanut butter, and Nutella.
Now fill in all the empty space with the remaining ingredients. Feel free to play around with the look of the board, switch out where you want different items, take items away, or add items until you're happy with the combination and presentation.
Relax around the fire and enjoy!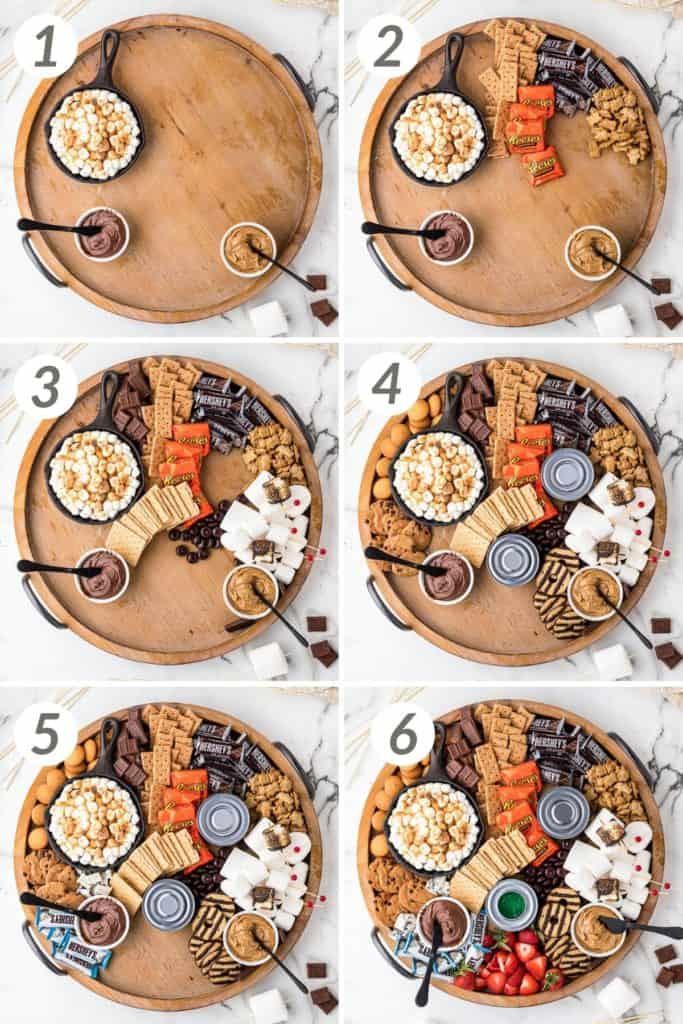 Tips and Variations
The pictures show gel flames, but those were just for decoration. We don't recommend using them at home. You can even skip the toasting of the marshmallows all together and substitute marshmallow fluff in your s'mores for a fire free option instead.
If using wrapped chocolate or candies go ahead and unwrap some of them so you can start assembling your desserts right away and there's no worry about trash.
This board is super customizable. You can easily add or take away any of the ingredients depending on your preference.
There are tons of s'mores variations to try! Here are a few fun combinations to get you started:

classic graham crackers, peanut butter, Hershey's chocolate bar, marshmallow.
cinnamon graham crackers, sliced strawberries, Hershey's chocolate bar, marshmallow.
graham crackers, Nutella, mini marshmallows.
Fudge Stripes cookies, peanut butter, marshmallow.
classic graham crackers, chocolate bar, Junior Mints, marshmallow.
graham crackers, Reese's Peanut Butter Cup, mini marshmallows.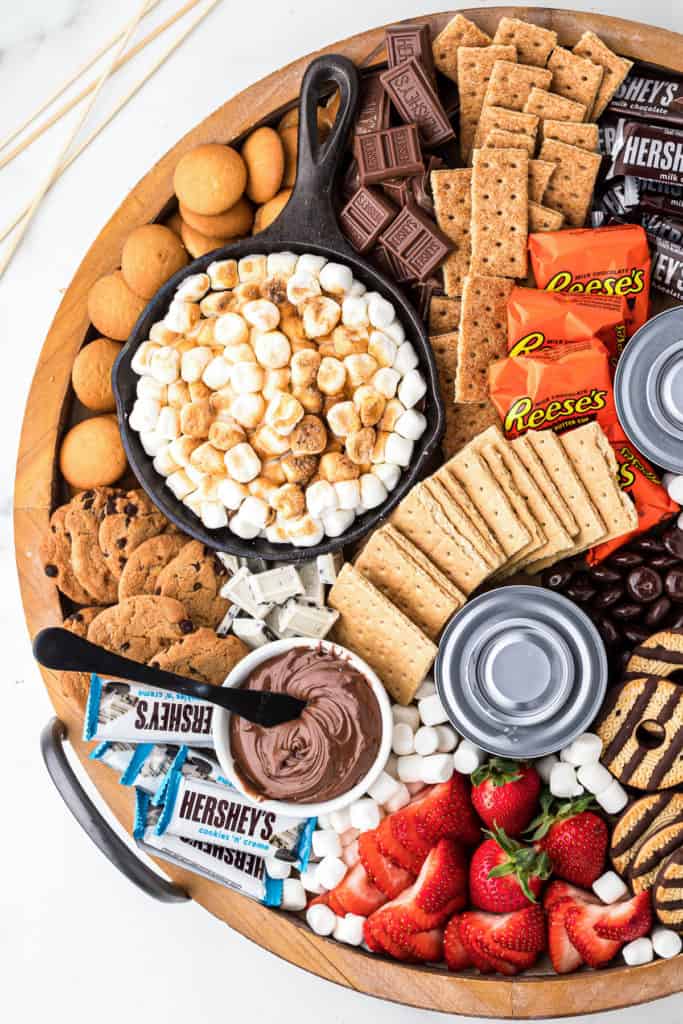 Storage
Storage: While we don't recommend storing a fully assembled s'more, you can easily store all the ingredients separately. As for the S'mores Dip, that can be stored in an airtight container in the fridge for up to 3 days.
Yield: Varying Amount
S'mores Board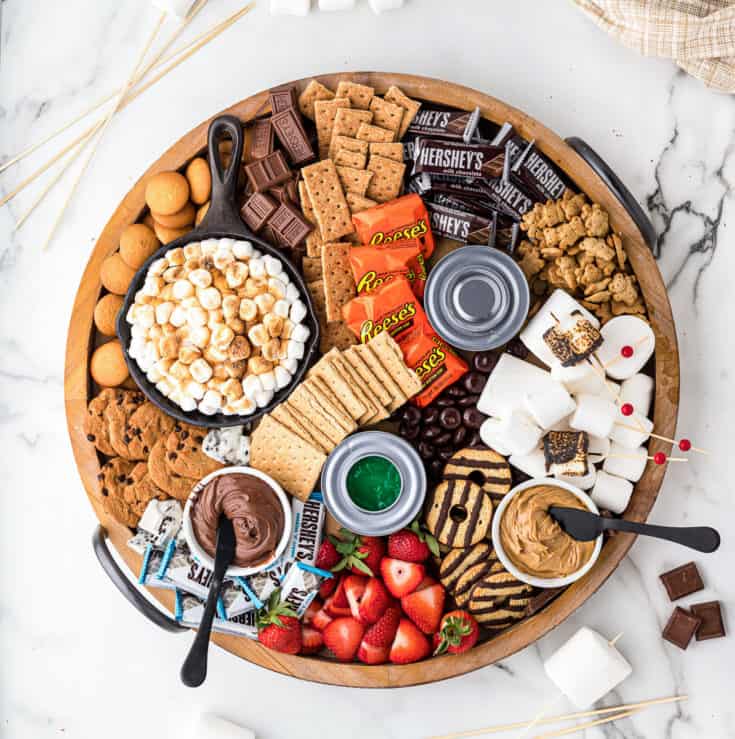 Our S'mores Board is perfect for camping or a backyard fire pit. This dessert board is perfect for creating all kinds of s'mores flavors!
Ingredients
S'mores dip
Large Marshmallows
Mini Marshmallows
Hershey's Mini Candy Bars
Hershey's Mini Cookies and Cream Candy Bars
Cinnamon Graham Crackers
Original Graham crackers
Teddy Grahams
Reese's Peanut Butter Cups
Junior Mints
Fudge Stripes Cookies
Vanilla Wafers
Chips Ahoy Chocolate Chip Cookies
Strawberries, sliced
Peanut butter
Nutella
Instructions
Lay out a large tray or platter.
First add a small bowl(s) of peanut butter, Nutella, and S'mores dip to the board.
Fill in the empty spaces with the remaining items.
Enjoy!
Notes
*The calories listed are an approximation based on the ingredients in the serving size of 1 regular s'mores. Actual calories will vary based on the ingredients used.
*For more information, tips, and answers to frequently asked questions, please refer to the post.
*Photos courtesy of Amy Mott Photography.
Recommended Products
As an Amazon Associate and member of other affiliate programs, I earn from qualifying purchases.
Nutrition Information:
Yield:
20
Serving Size:
1 s'more
Amount Per Serving:
Calories:

209
Total Fat:

7.9g
Saturated Fat:

4.2g
Cholesterol:

5mg
Sodium:

112mg
Carbohydrates:

34.8g
Fiber:

.9g
Sugar:

24.9g
Protein:

3g