*This post may contain affiliate links. As Amazon Associates we earn from qualifying purchases.
A Roasted Brussel Sprouts Caesar Salad is the perfect balance of hearty, roasted Brussel sprouts and light, Caesar salad. It's exactly what you need when you want a little something more than the traditional Caesar salad.
Hi everyone! I'm Jenna from over at Seasoned Sprinkles, and I'm a bloggy friend of Kim's. I saw that Kim was affected by Hurricane Irma so I offered to help out and write a post while Kim and John get back to normal after the storm. I thought I'd share one of my favorite fall salads with you all: this roasted Brussel sprouts caesar salad.
This time of year, I'm in a weird transition. I live in the northeast so September can be funky. Sometimes it is prematurely cool here the way it was through the end of August and Labor Day weekend. As soon as the first hint of chill comes into the air, I'm like give me all the comfort food. And I do mean all of it and of course, I want pumpkin everything like Grandma's Pumpkin Roll that Kim posted a few weeks ago or my Pumpkin Parmesan Pizza with Brown Butter Onions and Kale.
But then summer comes back. That's where it's at today here. As I write this, a warm, muggy breeze blows through my window. My confused legs are wearing shorts. My pumpkin coffee creamer feels oddly out of place. So I start to want salads and lighter feeling fare again, but I still want them to feel a little heartier than summer salads. Make sense? Ok good.
Well, this roasted brussel sprout caesar salad is the perfect mix of hearty and lighter. It'll be on our dinner menu for sure a few during this warm snap we are having. I might mix in a buffalo chicken Caesar salad or shaved brussel sprout salad too, you know for variety.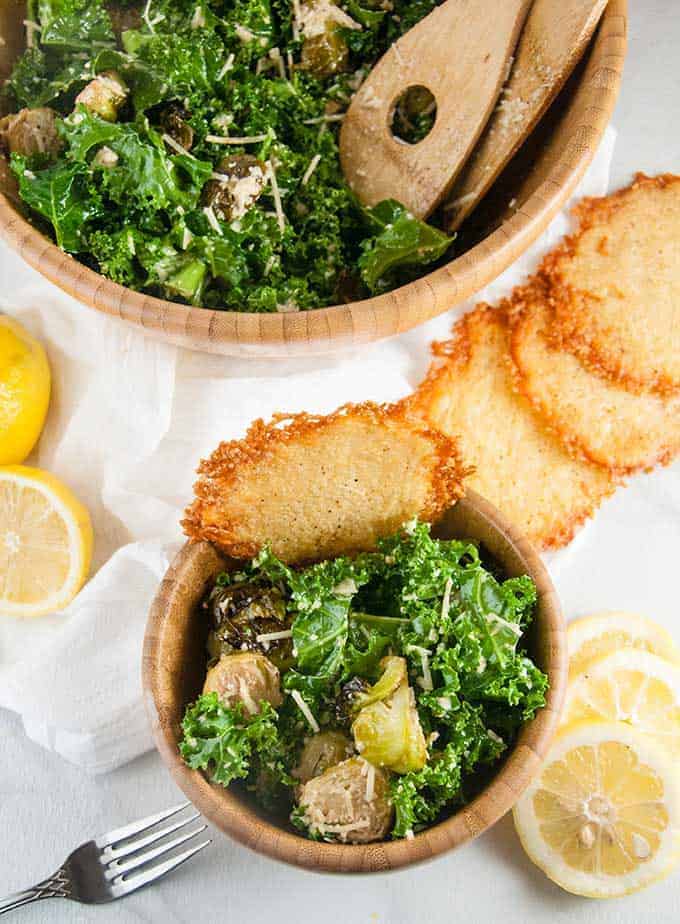 The roasted Brussel sprouts give it a nice earthy feel. They are full of flavor from roasting them with garlic, Parmesan cheese, and full-bodied olive oil so there's an extra layer of interest to this salad.
For the greens, you can use any greens you like, however, I prefer a really crunchy green that holds its texture well so I use kale as a base. Just remove the thick stalks and quick chop it. You could also use romaine hearts or even collard greens, any sturdy green your little heart desires. Then I drizzle it with my homemade, egg-free Caesar salad dressing and top it with lots of extra Parmesan cheese. And for extra crunch, I finish it all of with my baked Parmesan crisps. OMG. The best. I could snack on those alllll day. If you're looking for something to pair with this salad, try our fried cabbage.
If you like this Roasted Caesar Brussel Sprout Salad recipe, please leave us a comment and rate the recipe card. You can also find us on Facebook, Pinterest, Twitter and Instagram searching for Berly's Kitchen!