If you're looking for a delicious side dish, try out our Air Fryer Brussel Sprouts. They are cooked to perfection when air-fried and come out crispy on the outside and tender on the inside. Customize these air fryer brussel sprouts with your favorite seasonings and make them a great side dish for any meal!
The air fryer is one of the most versatile kitchen appliances. It can be used to cook a variety of foods, from chicken wings to chocolate chip cookies. One of an air fryer's main functions is to be used as a fryer.
This option uses very little oil and no added fat (or any at all if you choose not to use it) and means that you can cook healthier versions of your favorite vegetables like brussel sprouts.
For this simple air fryer brussel sprouts recipe, all you'll need is freshly cut brussel sprouts along with olive oil, salt, pepper, and parmesan cheese. Toss to combine and you've got a delicious side dish in under 15 minutes!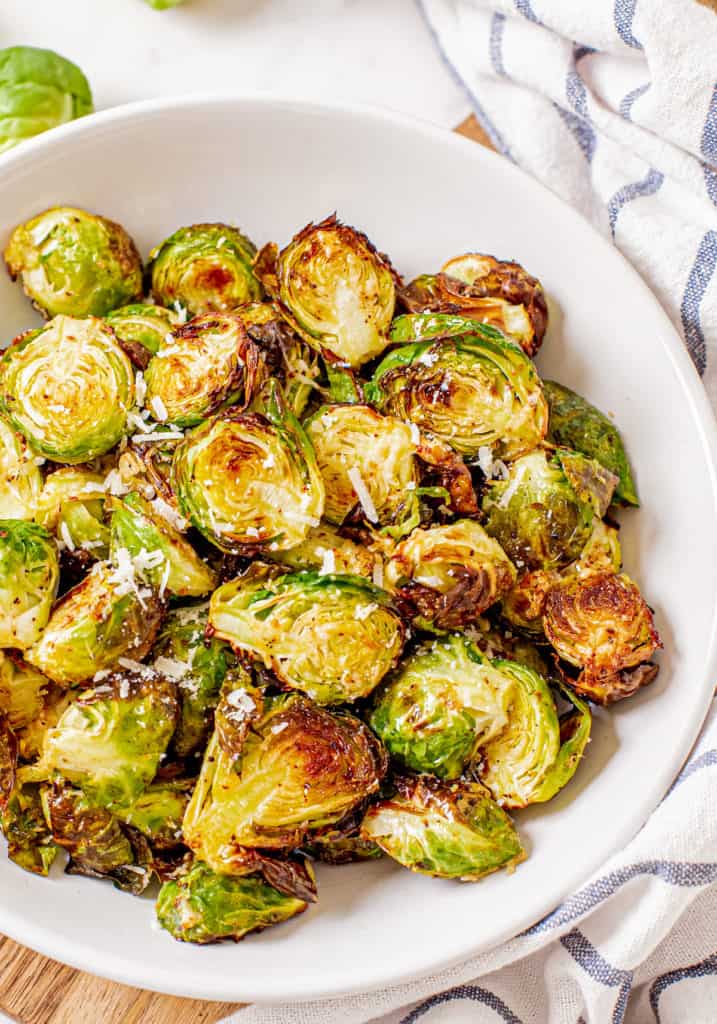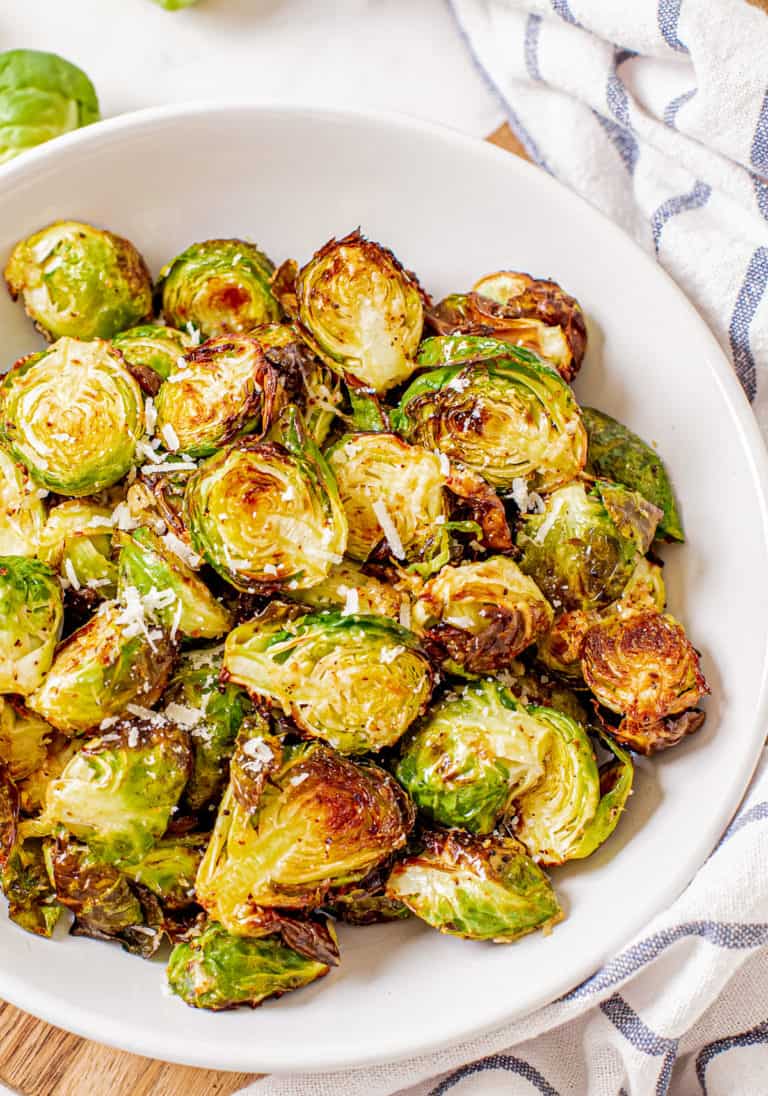 How To Make Air Fryer Brussel Sprouts
Prepare the brussel sprouts: Using a sharp knife, remove the woody stems on each sprout and cut in half or quarters depending on the size. Add to a medium-sized bowl.
Season the sprouts: To the chopped brussel sprouts, add salt, pepper, onion powder, and olive oil. Toss everything together to fully coat with the oil and seasonings.
Preheat the air fryer: Turn your air fryer to 400°F and let it preheat for 3-5 minutes.
Air fry the brussel sprouts: Add the seasoned brussel sprouts to the air fryer basket in a single even layer. Cook for 5-6 minutes, then toss or shake the basket to flip. Add the parmesan cheese, then cook for an additional 5-6 minutes or until brussel sprouts are cooked through and crispy on the outside.
Garnish and serve: Remove from the air fryer basket with tongs and add to a serving dish. Garnish with a sprinkling of cooked and crumbled bacon and parmesan cheese.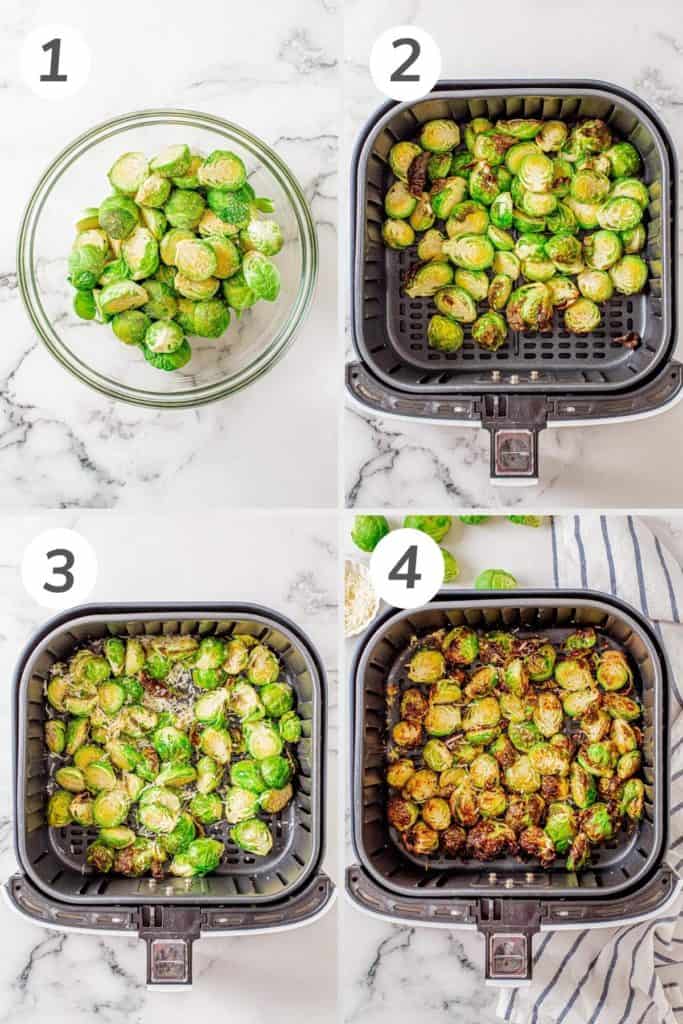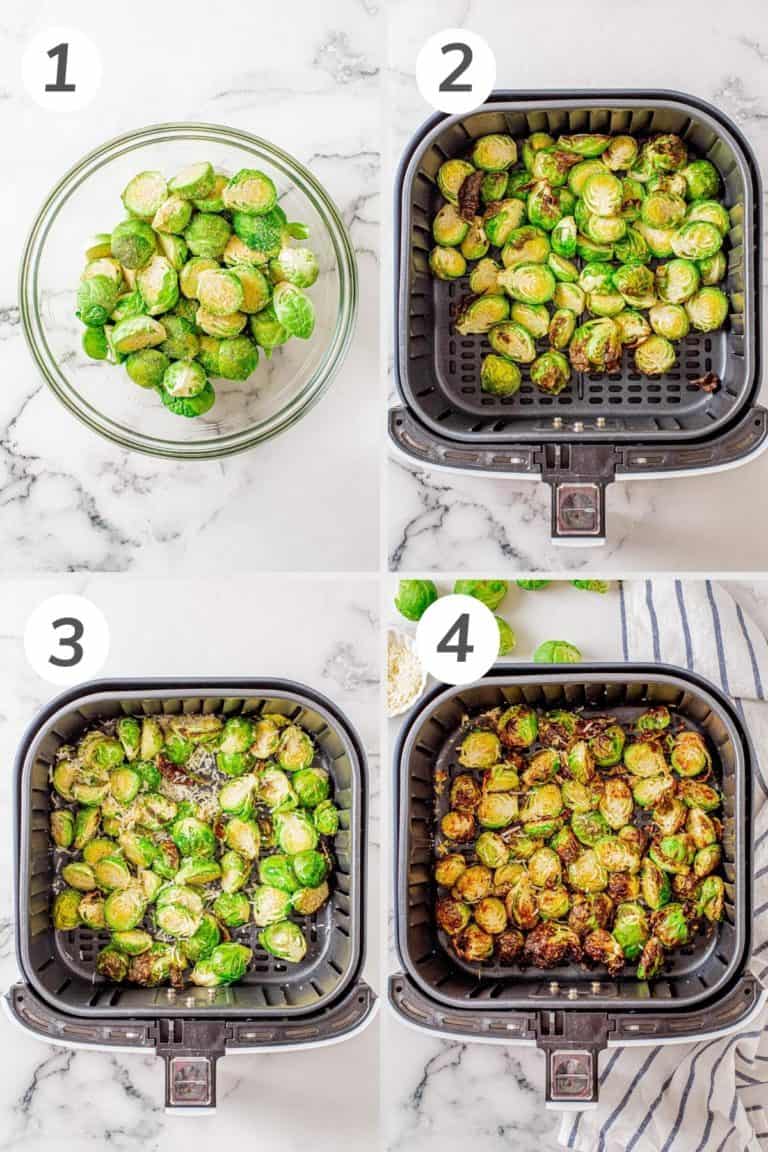 Recipe Tips
Brussel sprouts should be crisp (not firm but not overly soft either) and flavorful by the end of air frying.
For a softer vegetable, soak the brussel sprouts in water for about 30 minutes before air frying. Let them dry completely before cooking.
For even cooking, be sure to chop all of the brussel sprouts roughly the same size. Cut larger brussel sprouts in quarters if needed.
This recipe requires you to preheat the air fryer. Preheating the air fryer before cooking is beneficial because it will help you get crispy food every time.
If you want to save on fat, use half of the oil and seasonings, then add more if desired after air frying them once.
If your air fryer basket is too small to cook everything in a single layer, cook them in batches.
Variations
Add more chopped vegetables to the mix such as broccoli, cauliflower, or carrots.
Toss the brussel sprouts in your favorite BBQ, Asian, or Italian seasoning blend before air frying to change up the flavor.
Fresh herbs can be used instead of dried seasonings for a different taste. Try fresh rosemary, thyme, or parsley.
Sprinkle some lemon zest on top after cooking to add a bright citrus flavor and color contrast.
For a vegan version of this recipe, omit the parmesan cheese.
Toss with a dressing. Try serving the crispy brussel sprouts with a delicious homemade dressing. Our favorites are avocado ranch, honey mustard, or balsamic vinaigrette.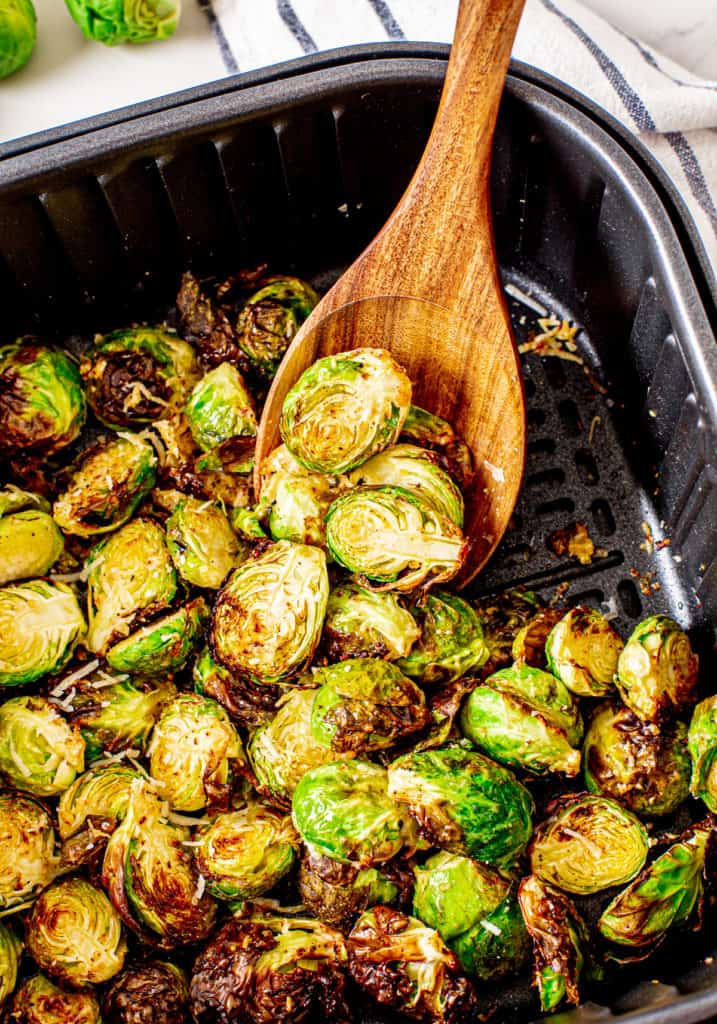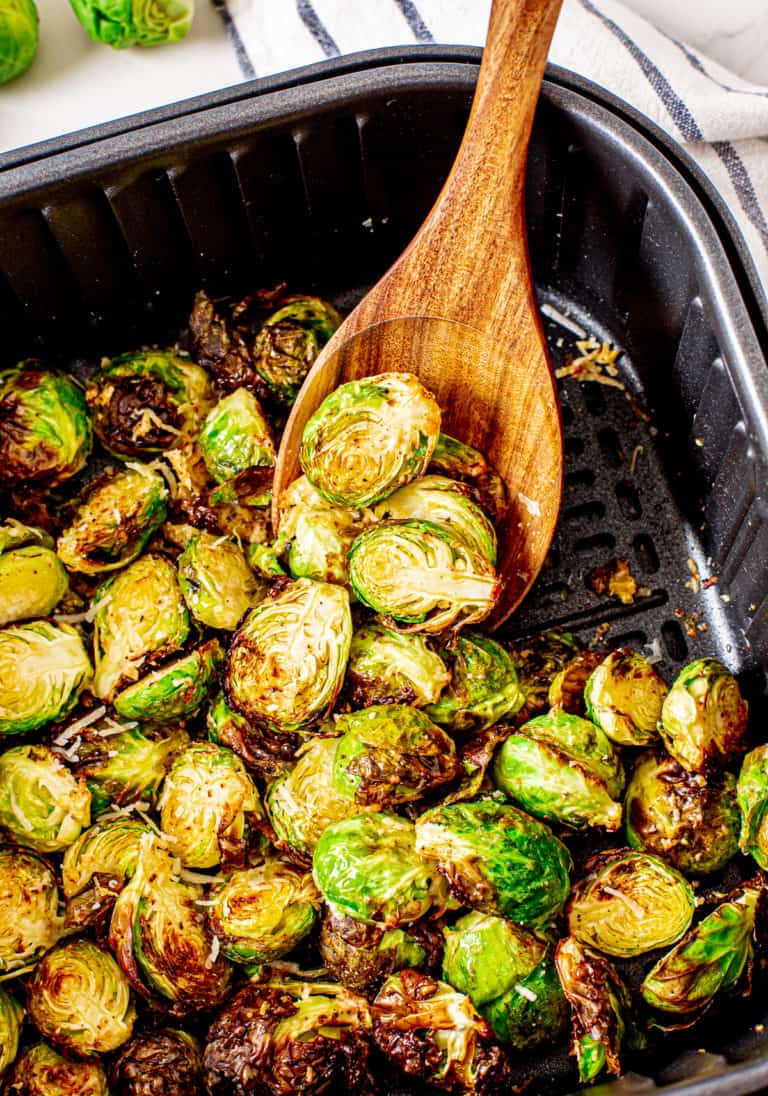 Why won't my brussel sprout get crispy?
If your Brussels sprouts are not crispy, it is likely that they were either over-cooked or soaked in water before cooking. Over-cooking will make them soft and soggy while soaking them in water will remove the crispy texture.
Should I blanch my brussel sprout before roasting?
You do not need to blanch brussels sprout before air frying or roasting. They are cooked from raw and will have the best flavor and texture this way.
Should I soak my brussel sprout in water before cooking?
Soaking your brussels sprouts in water for about 30 minutes can help them cook faster, however, you will lose some of the crispy texture.
Storing, Freezing, and Reheating.
Storing: Leftover air fryer brussel sprouts will last in the refrigerator for up to five days. Store them in an airtight container until ready to eat. They will not be as crispy when reheating but can still be delicious!
Freezing: To freeze, place cooked and cooled brussel sprouts on a baking sheet lined with parchment paper or a silicone mat. Freeze until solid, then transfer to a freezer-safe zip-top bag. Air fryer brussel sprouts will keep in the freezer for up to three months.
Reheating: Leftovers can be reheated back in the air fryer to help them retain their crispy coating or you can add them to other dishes like salad, soup, stir-fry just before serving.
Yield: About 1 Pound of Brussel Sprouts
Air Fryer Brussel Sprouts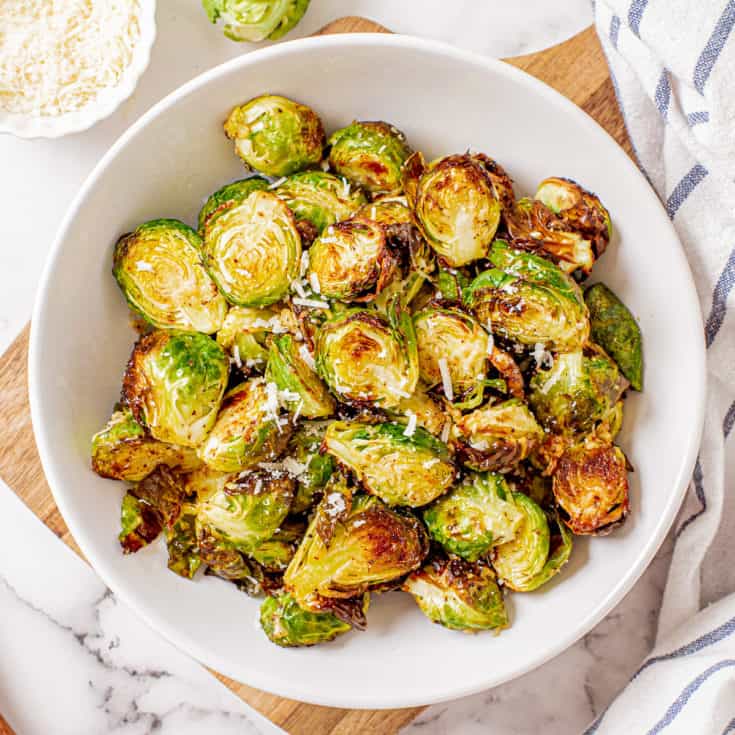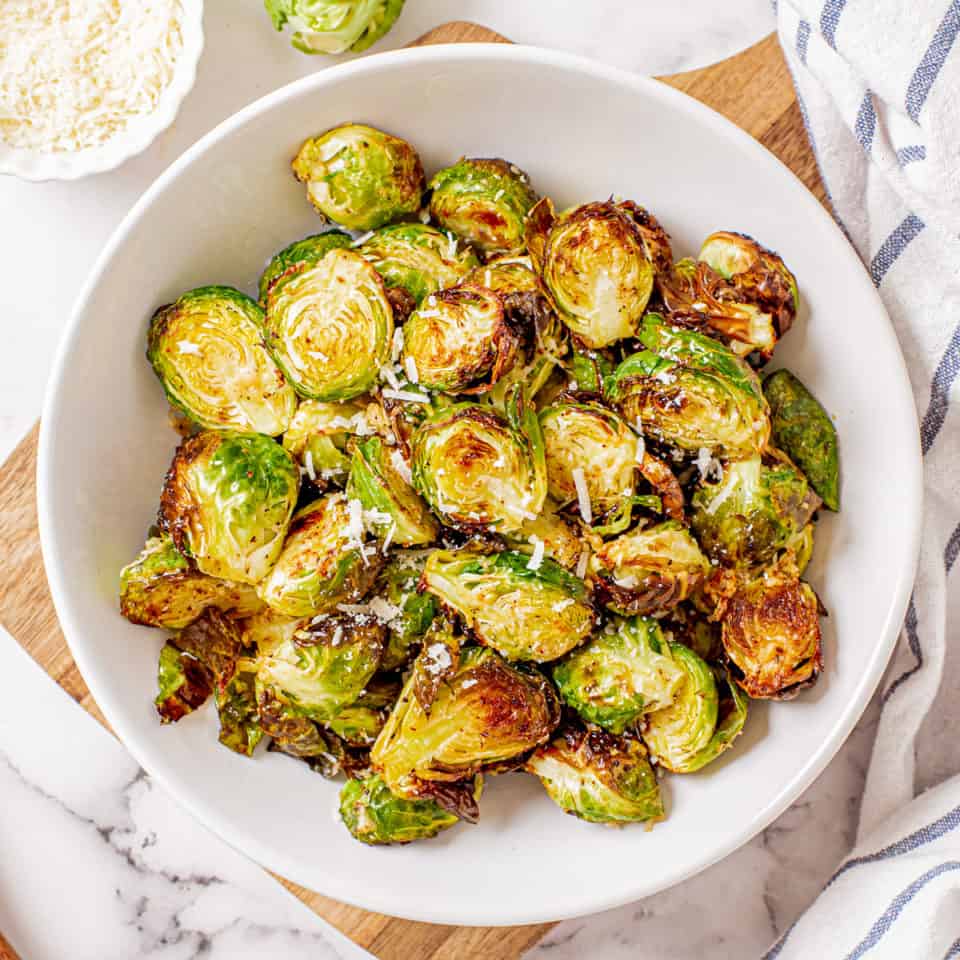 If you're looking for a delicious side dish, try out our Air Fryer Brussel Sprouts. They are cooked to perfection when air-fried and come out crispy on the outside and tender on the inside.
Ingredients
1 pound brussel sprouts, trimmed (cut large brussel sprouts in half)
1 tablespoon olive oil
¼ cup grated Parmesan cheese
Salt and pepper, to taste
1 teaspoon onion powder
Cooked and crumbled bacon and extra Parmesan cheese, for garnish (optional)
Instructions
In a medium bowl, combine the brussel sprouts, salt, pepper, onion powder, and olive oil.
Preheat the air fryer to 400°F according to manufacturer instructions.
After the air fryer preheats, add the brussel sprouts to the basket in an even layer. Cook for 5 minutes, shake and gently stir, add parmesan and fry for another 5-6 minutes until charred and crisp.
Serve with more Parmesan cheese and crumbled bacon on top. See post for storage options.
Notes
*The calories listed are an approximation based on the ingredients in the recipe card and a serving size of 1/4 pound of brussel sprouts. Actual calories will vary.
*For more information, tips, and answers to frequently asked questions, please refer to the post.
*Photos courtesy of Julia from The Yummy Bowl.
Recommended Products
As an Amazon Associate and member of other affiliate programs, I earn from qualifying purchases.
Nutrition Information:
Yield:
4
Serving Size:
1/4 pound
Amount Per Serving:
Calories:

145
Total Fat:

9g
Saturated Fat:

3g
Trans Fat:

0g
Unsaturated Fat:

6g
Cholesterol:

15mg
Sodium:

379mg
Carbohydrates:

10g
Fiber:

3g
Sugar:

2g
Protein:

8g
*The calories are an estimate and are based on the ingredients and serving size listed. The calories can vary depending on the brand of product purchased.