Homemade air fryer tortilla chips using only 3 ingredients. Crispy seasoned tortilla chips that you can flavor any way you want from chili lime to sea salt!
I love tortilla chips! They're crispy, salty and perfect for cheesy dips and spicy salsas.
However, there are times when I don't feel like going to the store and wrestling with the crowds for a bag of chips.
Fortunately, Kim bought an air fryer a few months ago. I used to prepare homemade tortilla chips in the oven, but now we use the air fryer.
Oh and we love using these chips for our roasted garlic hummus recipe!
Why should I make tortilla chips at home?
Our son was the first one to make chips in the air fryer. He brushed the corn tortillas with vegetable oil, seasoned them, and then cooked them.
For the seasonings, he used chili powder, sea salt, and cumin. He served them with our mild Serrano pepper salsa.
When we decided to share the recipe with you, Kim and I wanted to keep it simple. So, our version uses cooking spray and seasoned salt.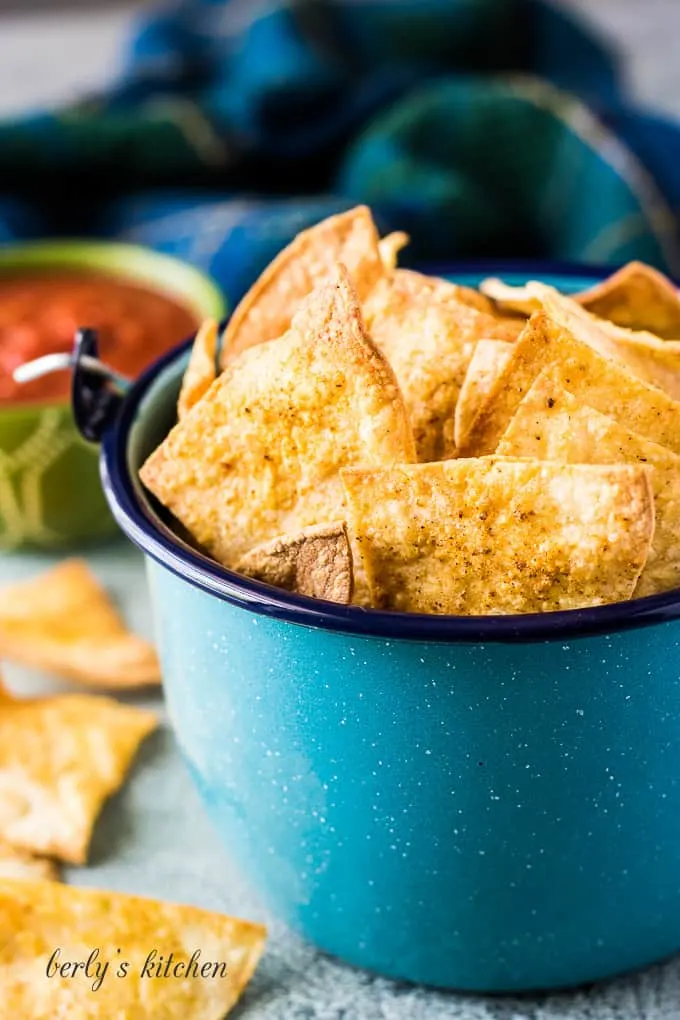 With that being said, feel free to use oil instead of spray. Also, don't forget, you can use any type of seasonings you enjoy. Here's a list of ideas:
Cinnamon and Sugar
Chili Powder
Cumin Powder
Garlic and Onion Powder
Chili Lime Seasoning
What I love most about air fryer tortilla chips is they can hold up to heavy cheese dips.
Nothing's more frustration than dipping a flimsy chip into a cheese dip and having it break in half and fall into the dip.
How to make tortilla chips in an air fryer?
First, quarter the corn tortillas. Meaning, you want to cut them into 4 triangles with rounded edges. Use the photo below as a reference.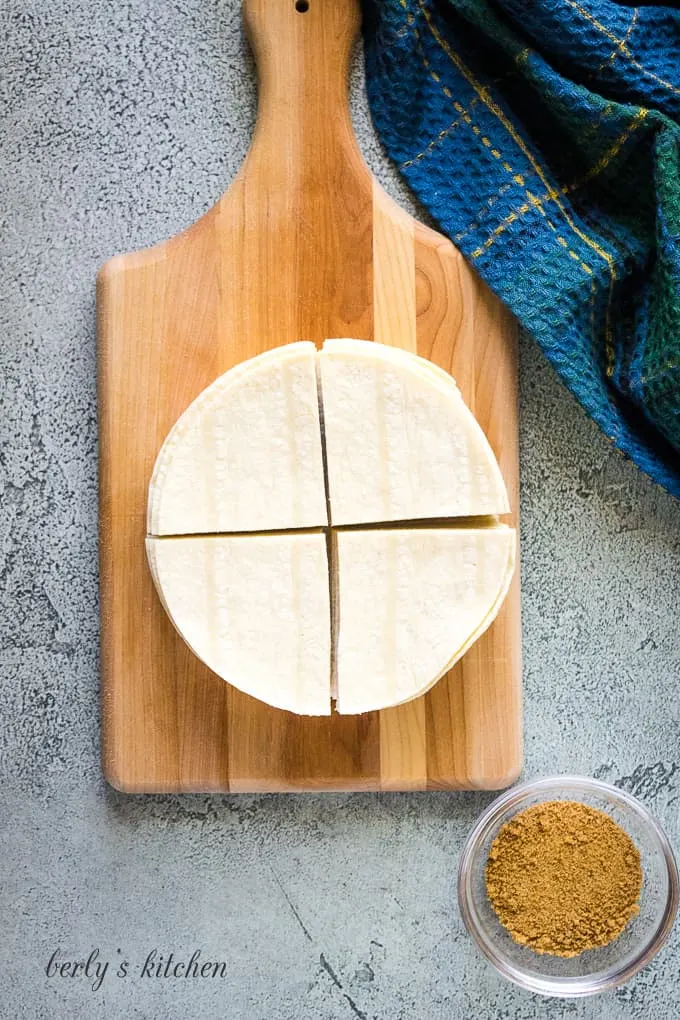 After that, spray both sides of the chips with cooking spray or brush them with an oil of your choice. Season the chips with seasoned salt.
Alternatively, you could toss them in the oil and spices. But, I don't recommend that method because the tortillas can get soggy.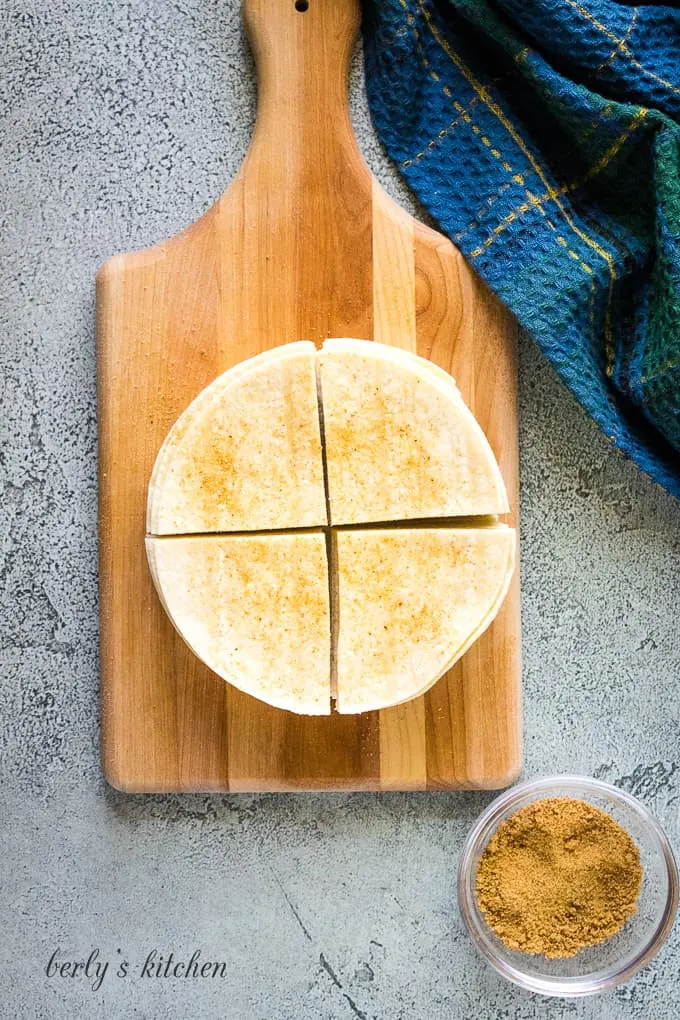 Next, press the bake button on the air fryer and set the temperature to 350 degrees F. Set the timer for about 9 minutes.
Then, once the fryer has heated, place the chips into the basket or tray. Be sure to work in batches and don't overfill the machine.
Otherwise, the air fryer tortilla chips will not cook properly. After 4 minutes have passed, flip the chips.
Last, when the timer goes off, use tongs to remove the chips and place them on a rack or paper towel. Repeat the process until all the corn tortillas have been cooked.
The chips can be stored in a sealed container, on your counter, for up to 3 days.
That's it, your air fryer tortilla chips recipe is done! Kim and I hope you enjoy the snack and wish you all the best 🙂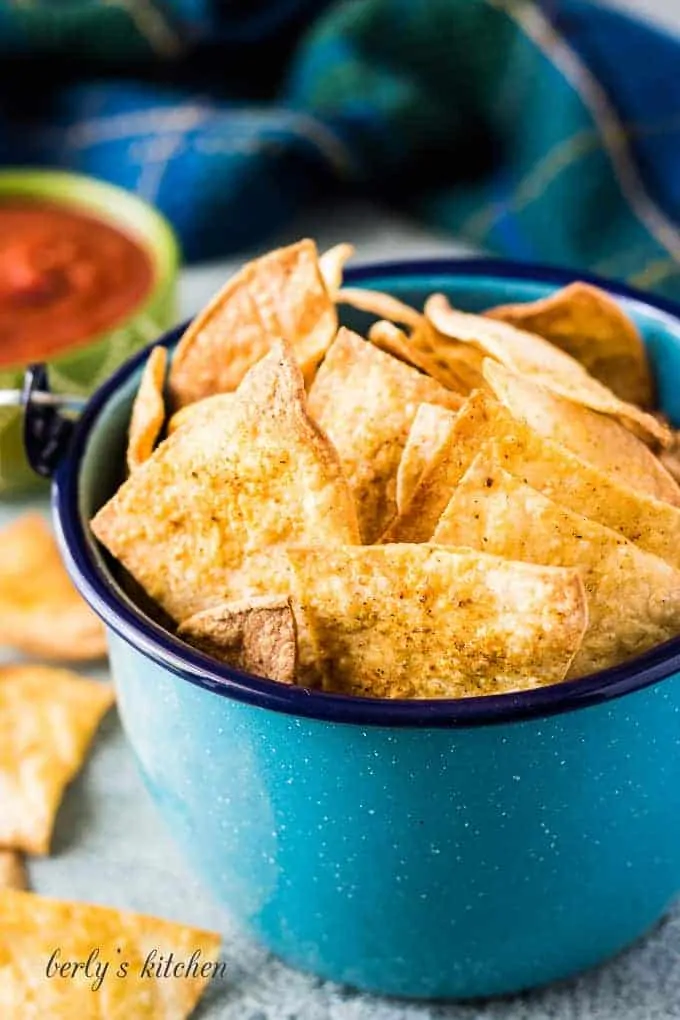 Other air fryer recipes you may enjoy: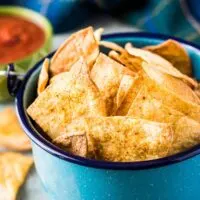 Air Fryer Tortilla Chips Recipe
Print
Pin
I earn a commission from Amazon and Instacart from qualifying purchases.
Ingredients
16

corn tortillas

,

cut into quarters

2

tablespoons

cooking spray

,

(estimated measurement)

½

teaspoon

seasoned salt

,

or more or less to taste
Instructions
Cut the tortillas into quarters and lightly spray both sides with cooking spray. Sprinkle the tortillas with seasoned salt and set aside.

16 corn tortillas

2 tablespoons cooking spray

½ teaspoon seasoned salt

Press "bake" on the air fryer and adjust the temperature to 350°F, and the time to 8 to 10 minutes. 8 minutes will yield a chewier less crispy chip. 10 minutes will yield a chip that's very crisp. Depending on the brand of air fryer, it will beep when it's preheated and ready for the tortillas to be added.

Work in batches and place the tortillas onto the cooking tray in an even layer without overlapping. Close the basket and cook for 8 to 10 minutes, ensuring to flip the chips halfway through the cooking process. (Some brands of air fryer will signal when it's time to flip the food and others may not.)

When the cooking time is up, open the basket and use tongs to remove the chips to a waiting plate, bowl, or wire rack. Eat immediately or store in an airtight container for up to 3 days.
Notes
The calories listed are an approximation based on the ingredients and a serving size of 8 chips (2 small tortillas). Additionally, the calorie count does NOT include the salsa seen in the photos. Actual calories will vary.
*Adjust the cook time according to how you like your chips. The longer the chips cook, the crispier they'll be. The less time they cook, the chewier they'll be.
*These chips are chewier in texture than bagged tortilla chips.
*If you are opposed to using cooking spray, substitute it with a light coating of your favorite cooking oil on both sides of the tortillas.
*Substitute seasoned salt with your favorite seasonings.
Nutrition
Serving:
8
chips
|
Calories:
143
kcal
|
Carbohydrates:
24
g
|
Protein:
3
g
|
Fat:
4
g
|
Saturated Fat:
1
g
|
Polyunsaturated Fat:
1
g
|
Monounsaturated Fat:
2
g
|
Sodium:
171
mg
|
Potassium:
97
mg
|
Fiber:
3
g
|
Sugar:
0.5
g
|
Vitamin A:
1
IU
|
Calcium:
42
mg
|
Iron:
1
mg
Don't Lose This Recipe!
Save it on Pinterest! Follow us at @berlyskitchen!