Roasted Brussel Sprouts are deliciously browned and crispy on the outside and tender on the inside. Lightly drizzled in olive oil and seasoned with a touch of salt and pepper, this base recipe is perfect to customize while teaching you how to get the perfect brussel sprouts every time. A side dish that compliments any main you wish to make, Roasted Brussel Sprouts are simple and truly delicious.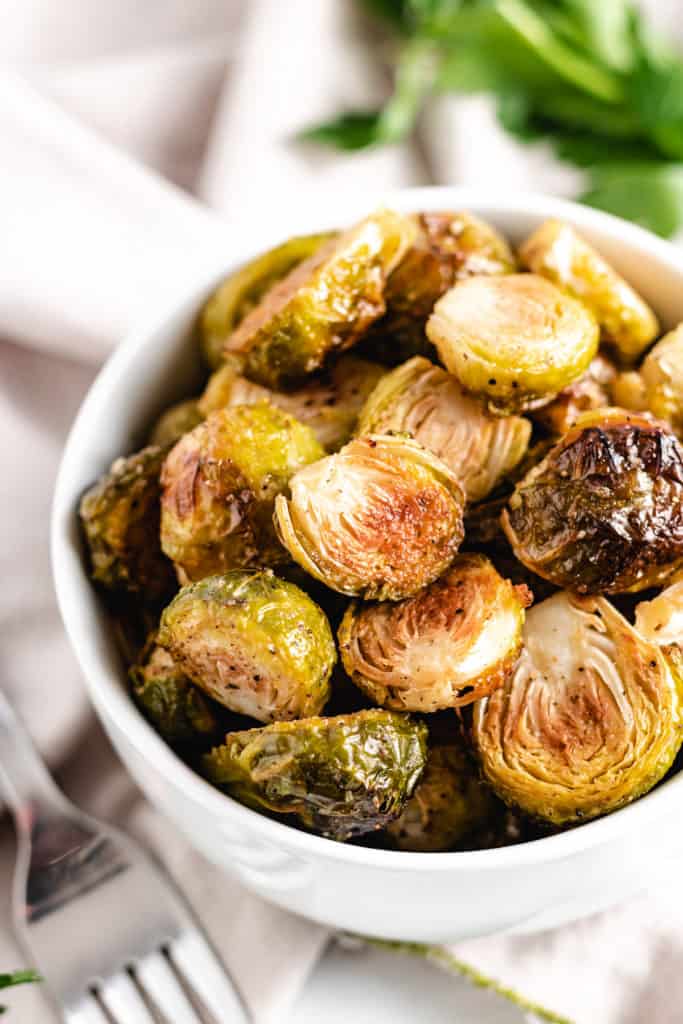 Roasted Brussel Sprouts
Brussel sprouts seem to receive a lot of hate, but we think that's because the masses have never had them cooked properly! They're a very divisive vegetable, but they really shouldn't be. Brussel sprouts have such a delicious and unique flavor that adapts to so many seasoning options.
They can compliment just about any dish (we honestly can't think of one they wouldn't go well with) whether that's as part of a salad, roasted with other veggies, or all on their own. This recipe is a very basic version that essentially teaches you the proper method to get your brussel sprouts roasted to perfection each time.
You can fully customize your sprouts with different spices, sauces (a good balsamic glaze is perfection), garnishes (bacon bits anyone?), or even salad dressing. This recipe is so versatile, you could whip these up every night of the week! Although maybe don't make them every night…let's not get too excessive.
Key Ingredients
brussel sprouts: You'll need about 1 pound, cut in half and the hard ends trimmed off.
olive oil: Enough to lightly coat your brussel sprouts but not enough to drench them.
salt and pepper: To taste. Feel free to add additional seasoning and spices at this time.
How to Make Roasted Brussel Sprouts
First up, preheat your oven to 425°F.
Place the Brussel sprouts into a large bowl. Drizzle with olive oil, and sprinkle with salt and pepper. Toss to combine and coat.
Transfer the Brussel sprouts to a large baking sheet and turn them flat side down.
Bake the Brussel sprouts for 25-30 minutes or until they are browned on the bottom and the desired doneness is reached.
Serve hot with your favorite main dish and enjoy!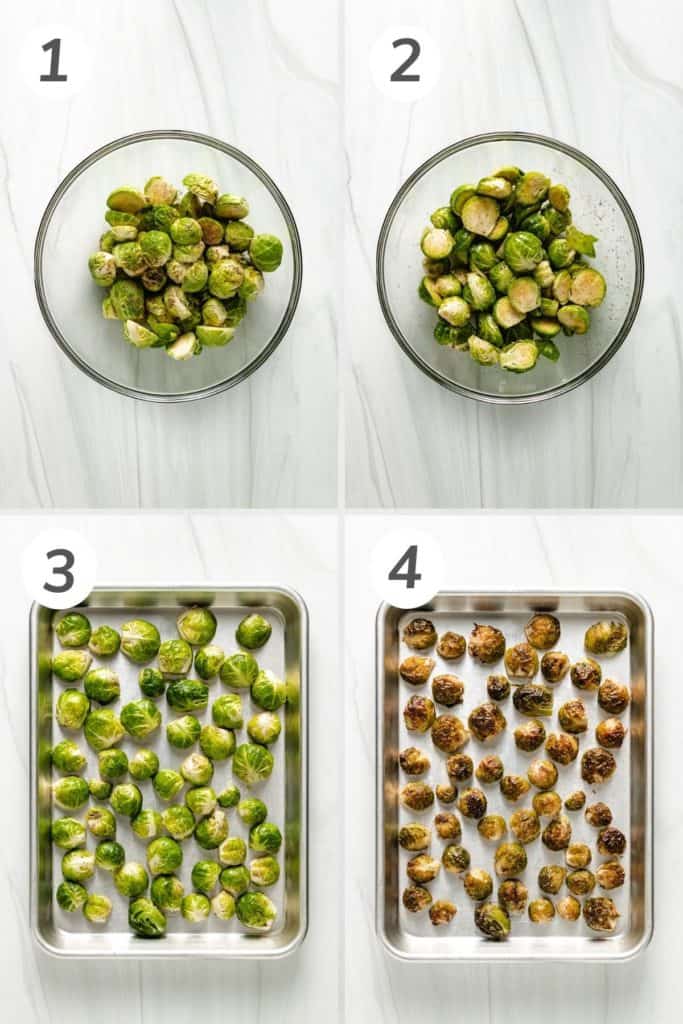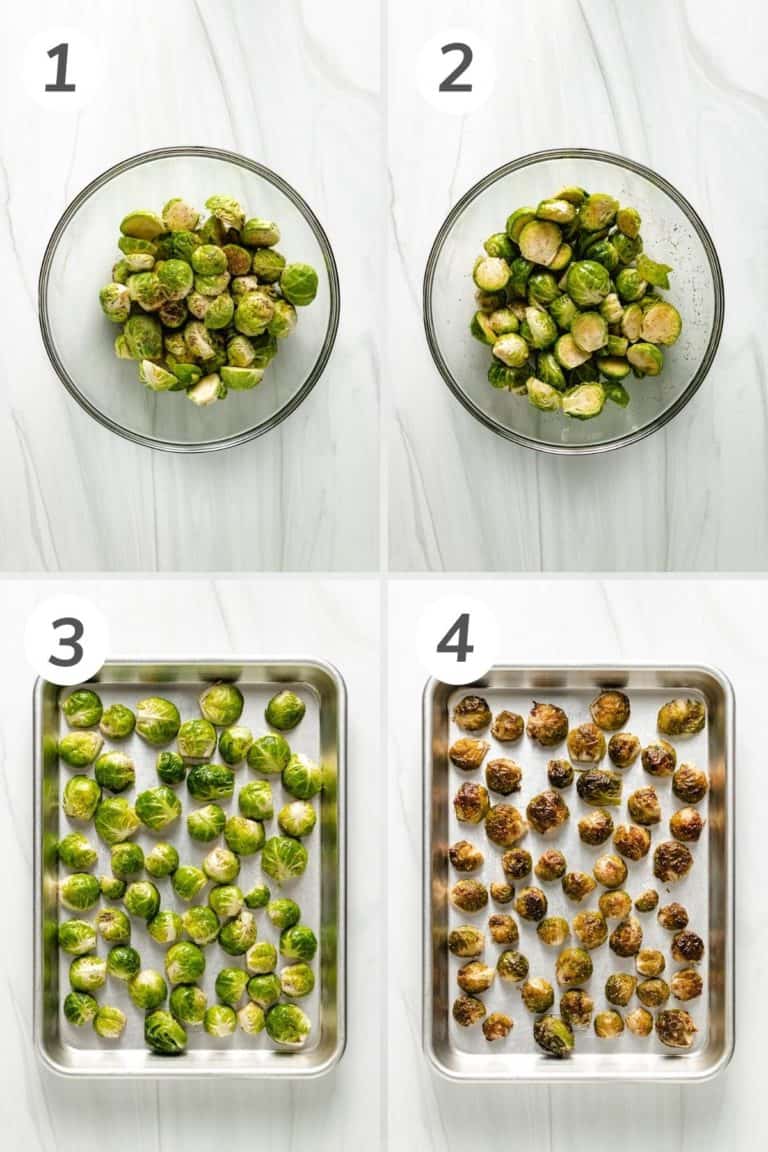 Tips and Variations
Try drizzling with some honey and sriracha for a sweet yet spicy flavor combination!
If you're using smaller brussel sprouts you can leave them whole, if using larger ones it's recommended you cut them in half to make sure they cook all the way through. Either way be sure to cut off any stems or hard bottoms.
Try roasting garlic alongside your brussel sprouts then finishing them off with freshly shaved parmesan.
To ensure your brussel sprouts don't get soggy and retain that delicious crunch, don't overcrowd your pan and don't use too much olive oil.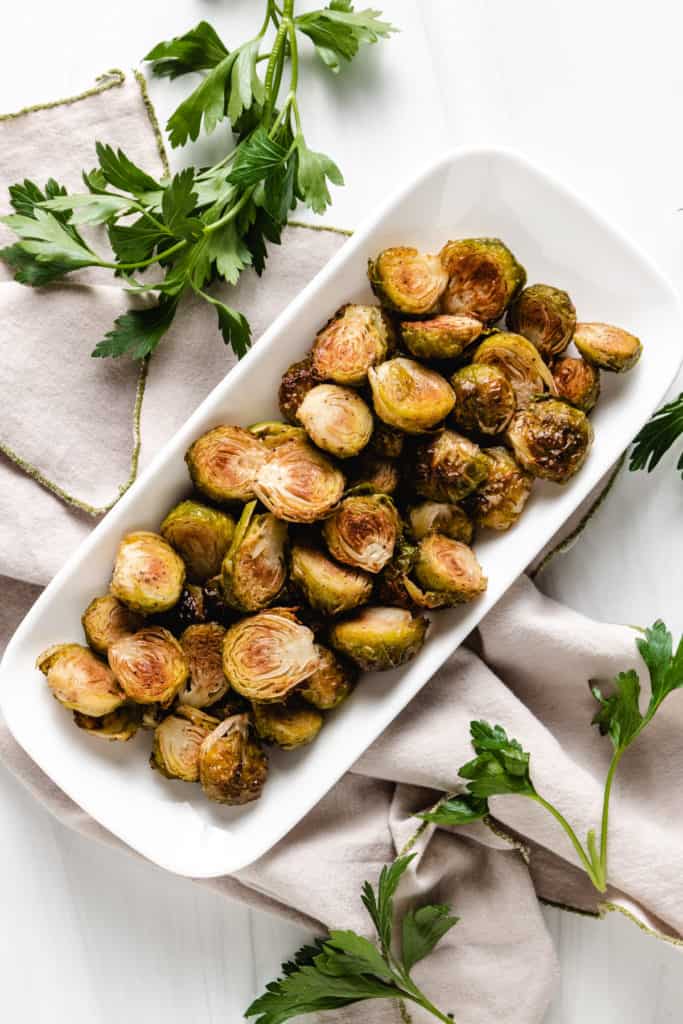 How long do you roast brussel sprouts?
This depends on how "done" you like the brussel sprouts, the size of the brussel sprouts you're roasting, and what temperature you use for roasting. Small brussel sprouts can finish roasting in about 12-15 minutes. Large to jumbo brussel sprouts may take as long as 35-40 minutes.
What do brussel sprouts taste like?
Brussel sprouts have a flavor similar to broccoli or cabbage. The seasonings used on the brussel sprouts will enhance certain flavors and bring out more of a nutty, sweet, or slightly bitter taste.
Storage and Reheating
Storage: Leftover brussels sprouts can be stored in an airtight container in the fridge and will stay fresh for up to 4 days.
Reheating: When reheating, Roasted Brussel Sprouts can be warmed in the microwave or oven until heated through. We recommend the oven if you'd like to retain their crunch. A skillet with a lid on the stove will work as well.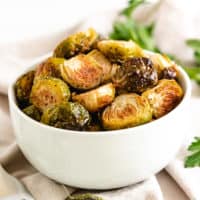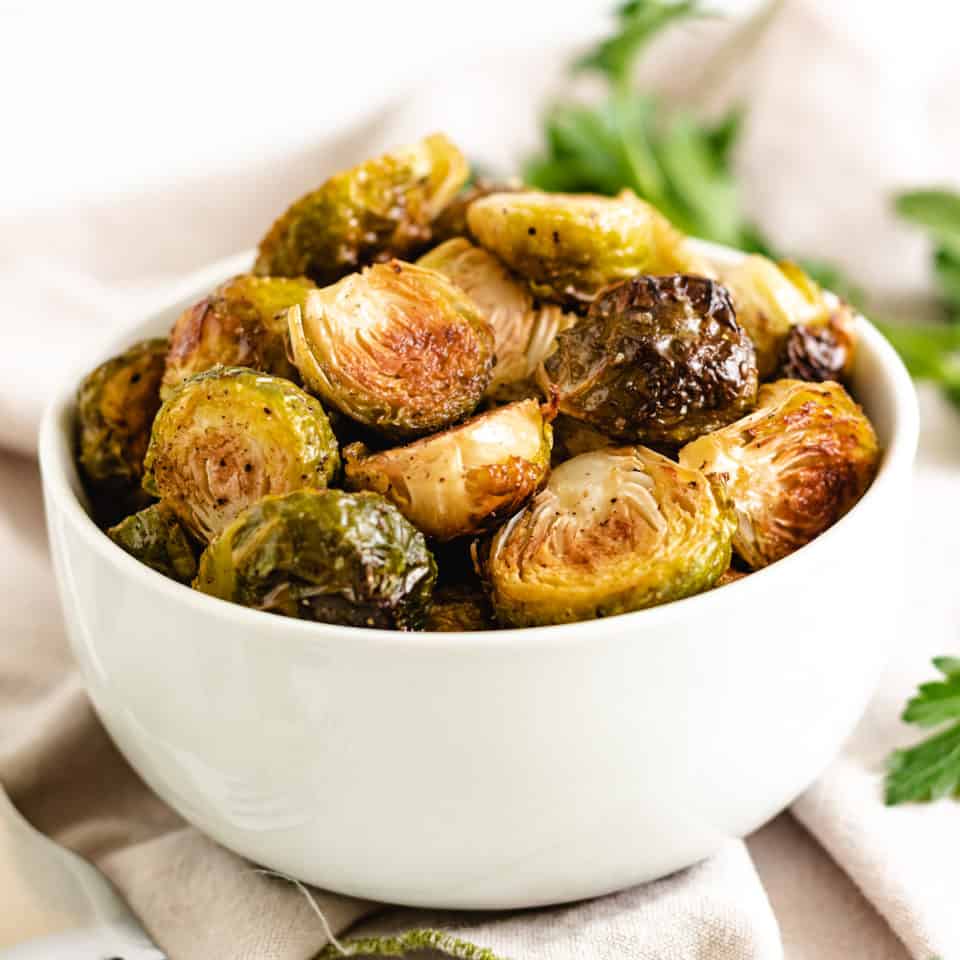 Ingredients
1

pound

brussel sprouts

cut in half and ends trimmed

2

tablespoons

olive oil

½

teaspoon

salt

Pinch

black pepper
Instructions
Preheat the oven to 425°F.

Place the brussel sprouts into a large bowl. Drizzle with olive oil, and sprinkle with salt and pepper. Toss to combine.

Transfer the brussel sprouts to a large baking sheet, and turn them flat side down.

Bake for 25-30 minutes or until they are browned on the bottom or the desired doneness is reached.

Serve hot. See post for storage recommendations.
Notes
*The calories listed are an approximation based on the ingredients in the recipe card and a serving size of 1 ounce of brussel sprouts. Actual calories will vary.
*For more information, tips, and answers to frequently asked questions, please refer to the post.
Nutrition
Serving:
1
ounce
|
Calories:
50
kcal
|
Carbohydrates:
4
g
|
Protein:
1
g
|
Fat:
4
g
|
Saturated Fat:
1
g
|
Polyunsaturated Fat:
3
g
|
Sodium:
144
mg
|
Fiber:
1
g
|
Sugar:
1
g