Our yellow squash casserole recipe features perfectly cooked yellow squash combined with two kinds of cheese, a sour cream sauce, and sweet yellow onions.
Yellow squash sauteed with sweet onions and then baked in a cheesy sour cream sauce. Sounds pretty good, right? I've cooked a lot of squash recipes in my kitchen adventures but never one like this.
In fact, I had never eaten a squash casserole until Kim made her version. The buttery topping adds a nice crunchy texture to offset the creamy casserole filling.
If you wanted to add a kick to the recipe, I feel red pepper flakes would be a nice addition. All in all, this recipe is a keeper and I'm pleased to share it with our readers.
Now, let's get in the kitchen and start cooking!
Squash Casserole Instructions:
First things first, you'll need to preheat your oven to 350°F. and prepare a two (2) quart casserole dish. By prepare, I mean grease it with butter or use a non-stick cooking spray.
After that, start slicing your yellow squash and sweet onions. Personally, I feel like Vidalia onions would be amazing in this casserole.
Once that's done, crumble up your crackers and measure out the rest of the ingredients.
Next, go ahead and toss the olive oil, squash, and onions into a large skillet or saute pan.
Cook them over medium heat for about three (3) to five (5) minutes, or until the veggies are soft.
Afterward, while the squash cools, combine the sour cream, cheddar cheese, Parmesan cheese, and salt and pepper. Use a large mixing bowl for blending these ingredients.
Because, once they're mixed you going to add the onions and squash to the rest of the filling ingredients. Now, use tongs to toss everything together.
Then, transfer the mixture to your casserole dish. Using a separate small bowl, mix together the crumbled crackers and additional Parmesan cheese.
Sprinkle this concoction over the casserole and drizzle the melted butter over the crunchy topping.
Place the casserole dish into your oven to bake for about thirty (30) minutes or until the crust is golden brown. Take a look at the photo above as a reference.
Last remove the yellow squash casserole from the oven and let it cool for approximately fifteen (15) minutes before serving. That's it, your squash casserole recipe is done.
Kim and I hope you enjoy this offering from Berly's Kitchen, LLC. Furthermore, we hope you have a wonderful day 🙂
Can't get enough casserole? Then try our Chile relleno casserole made with roasted pablano peppers or our Corn Casserole made with two kinds of corn, butter, and sour cream!
Yellow Squash Casserole Recipe Tips:
There are all kinds of crackers you can use as a topping for this recipe. For example, we chose butter crackers; however, saltines work well with this recipe too.
Also, you don't have to use crackers, bread crumbs or ground chips might make wonderful substitutions.
Yellow isn't the only kind of squash to choose for this dish. Try using zucchini as the base and adding things like bell peppers or green chilies.
The point is, don't let your creativity or imagination be bound to a recipe. Figure out what kind of squash grows seasonally in your area and try it instead.
Side dishes like this one are a great way to get children accustomed to the taste of fruits and vegetables. Don't be afraid to make meals like this for little kids.
Teach your children that when prepared correctly, fruits and veggies can be nutritious and tasty.
If you liked our yellow squash casserole recipe, please leave us a comment and rate the recipe card. You can also find on my Facebook, Pinterest, Twitter, and Instagram by searching for Berly's Kitchen!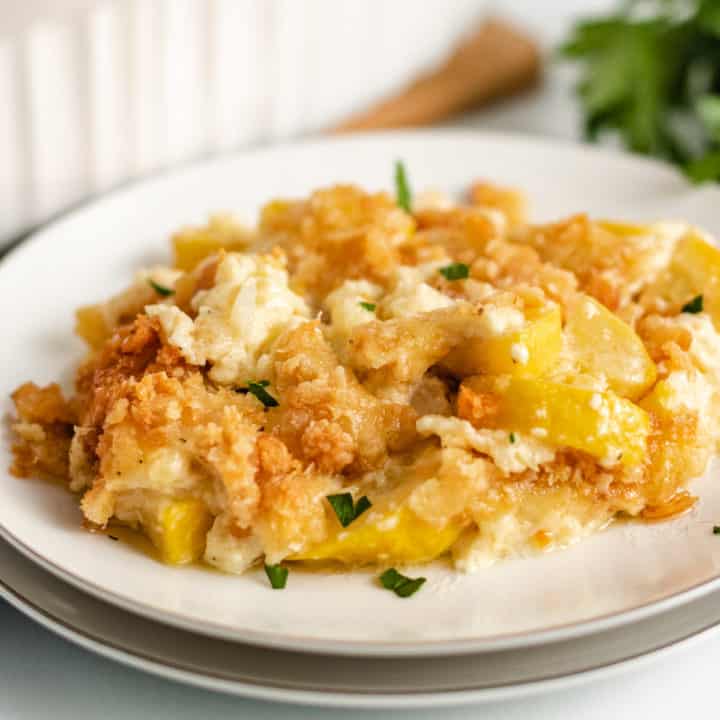 Yellow Squash Casserole
Total Time:
1 hour
5 minutes
This easy recipe for Yellow Squash Casserole is the perfect way to enjoy garden-fresh yellow squash in a creamy comforting side dish. Make it during the summer months or whip it up for the holiday season for everyone to enjoy!
Ingredients
Squash Casserole Filling
1 tablespoon olive oil
2 large yellow squash, cut into 1-inch pieces (about 4 to 5 cups)
1 cup sweet white onions, diced
1 cup mayonnaise
1 large egg
1 cup cheddar cheese, shredded off the block
½ cup Parmesan cheese, shredded off the block
1 tablespoon all-purpose flour
1 teaspoon garlic powder
Salt and pepper, to taste
Cracker Topping
½ cup finely crushed butter crackers (similar to Ritz crackers, about ½ sleeve)
¼ cup Parmesan cheese, finely shredded off the block
2 tablespoons unsalted butter, melted
Instructions
Squash Casserole Filling:
Preheat the oven to 350ºF, and lightly grease a 2-quart baking dish.
In a large skillet, heat the olive oil over low-medium heat. Add the squash and onions, and cook until they begin to soften slightly (about 4 to 5 minutes). Remove from heat.
Combine the mayonnaise, egg, cheddar cheese, Parmesan cheese, flour, garlic powder, salt, and pepper in a large bowl. Add the squash and onions, and stir to coat.
Transfer the squash mixture to the prepared baking dish.
Cracker Topping:
In a separate small bowl, combine the crushed crackers, Parmesan cheese, and melted butter.
Top the squash mixture with the cracker mixture, and spread into an even layer.
Place the casserole into the oven, and bake for 30 minutes or until the top is golden brown and the filling is bubbly.
Remove from the oven, and allow the casserole to cool for 10 to 15 minutes before serving.
Store leftovers in the refrigerator for up to 3 days.
Notes
*The calories listed are an approximation based on the ingredients in the recipe card and a serving size of ½ cup of casserole. Actual calories will vary.
*For more information, tips, and answers to frequently asked questions, please refer to the post.
Recommended Products
As an Amazon Associate and member of other affiliate programs, I earn from qualifying purchases.
Nutrition Information:
Yield:

12
Serving Size:

1/2 cup
Amount Per Serving:
Calories:

256
Total Fat:

23g
Saturated Fat:

7g
Trans Fat:

0g
Unsaturated Fat:

15g
Cholesterol:

42mg
Sodium:

331mg
Carbohydrates:

8g
Fiber:

1g
Sugar:

3g
Protein:

6g
*The calories are an estimate and are based on the ingredients and serving size listed. The calories can vary depending on the brand of product purchased.