Need a side dish recipe that's simple to prepare and tastes good? Then try our air fryer cauliflower florets. Perfectly seasoned and cooked every time!
Lately, we've been adding a few air fryer recipes to our catalogue. While Kim and I love the appliance, we really haven't given it chance to shine.
So, today we're a another dish to the list. It's an air fryer cauliflower florets recipe. As you might have guessed, making it is simple.
But, what you might not expect is how delicious cauliflower can be when properly seasoned.
With that being said, I know the recipe won't appeal to everyone. However, if you love vegetables as much as I do, then I suggest giving this one a try.
Looking for a more filling vegetable side dish? Take a look at our homemade creamed spinach recipe.
How to make air fryer cauliflower?
First, start by measuring about 7-8 cups of cauliflower florets. Wash and dry them. Then set the florets in a large mixing bowl.
After that, drizzle them with avocado (or olive ) oil.
Next, go ahead and sprinkle the cauliflower with the garlic powder, onion powder, salt, black pepper, and smoked paprika.
Then, toss the florets with the oil and spices to evenly coat the vegetables.
Now, preheat the air fryer to 400 degrees F. Once the fryer is hot, transfer the florets to the basket.
Place them in an even layer to ensure even cooking. Set the timer for 11-minutes and close the basket.
Also, flip the cauliflower halfway through the cooking process. Otherwise, the vegetable will overcook on one side and be raw on the other side.
Last, once the timer goes off, open the basket and remove the vegetable. Transfer the florets to a serving dish and enjoy!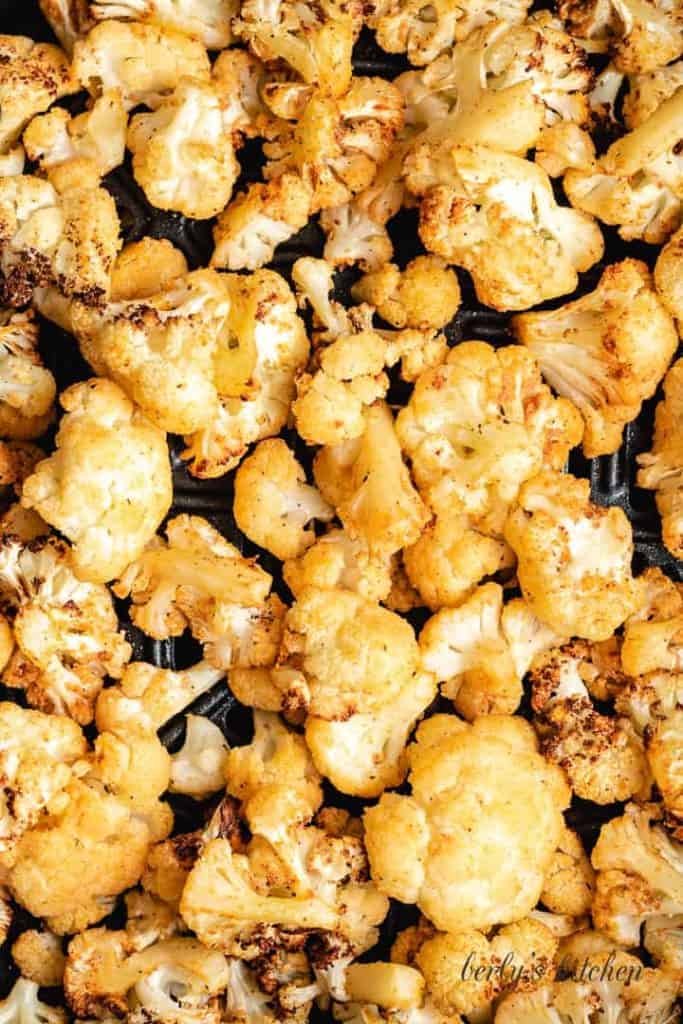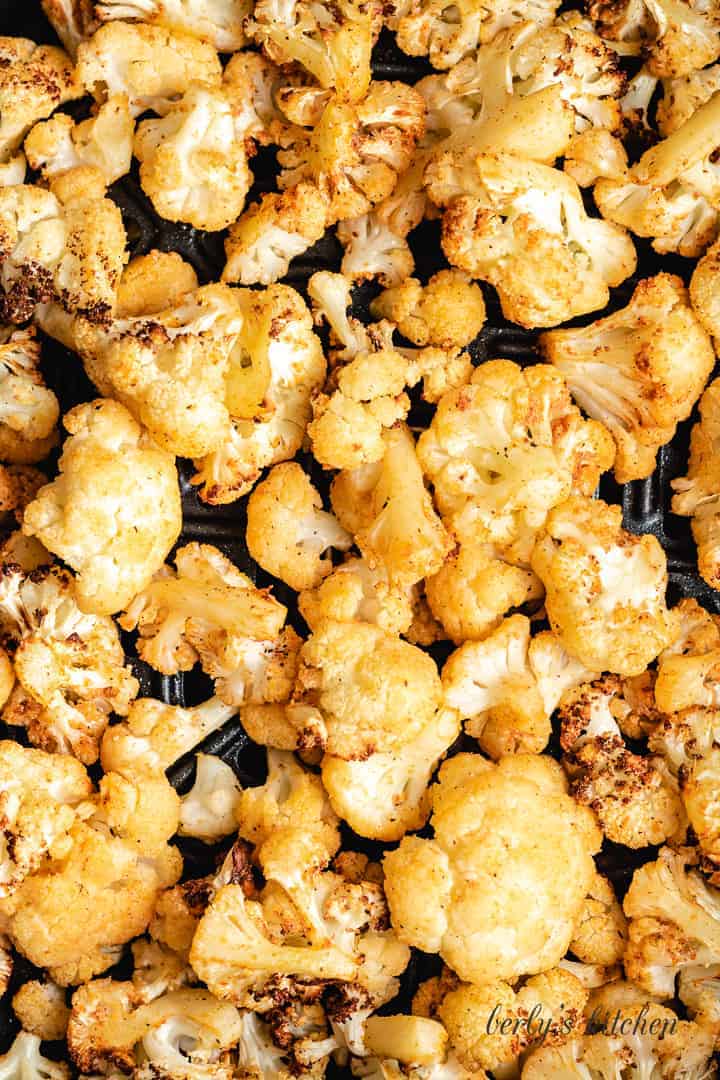 That's it, your air fryer cauliflower recipe is done! Kim and I hope you enjoy the veggies and wish you all the best 🙂
If you're looking for a main course to serve with the cauliflower, then check out our grilled BBQ chicken breast recipe.
Other air fryer recipes you may love:
Yield: 8 Servings
Air Fryer Cauliflower Florets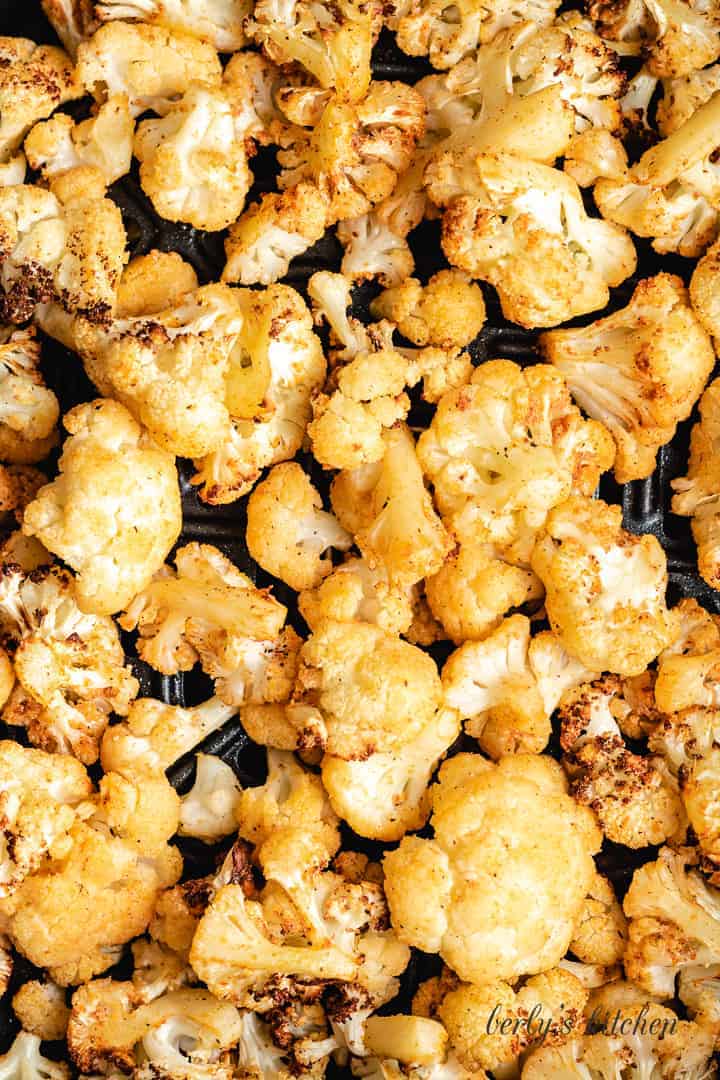 Need a side dish recipe that's simple to prepare and tastes good? Then try our air fryer cauliflower florets. Perfectly seasoned and cooked every time!
Ingredients
7 Cups (about 1 head) Cauliflower Florets, (washed and dried)
1 1/2 Tablespoons Avocado Oil, (or olive oil)
1 Teaspoon Garlic Powder
1/2 Teaspoon Onion Powder
1/2 Teaspoon Salt
1/4 Teaspoon Black Pepper
1/4 Teaspoon Smoked Paprika
Instructions
Cut the cauliflower into florets, wash, and dry very well. Place the florets into a medium bowl, and drizzle with avocado oil, garlic powder, onion powder, salt, pepper, and paprika. Toss to combine.
Preheat the air fryer by setting it to roast or bake at 400°. After the air fryer preheats, add the cauliflower to the basket in an even layer. Cook for 11 minutes, and flip halfway through.
Serve immediately. Store leftovers in the refrigerator for up to 3 days.
Notes
The calories listed are an approximation based on the ingredients shown and a serving size of about 1/2 a cup of cooked cauliflower. Actual calories will vary. Leftovers can be stored in a sealed container for up to 3 days.
Recommended Products
As an Amazon Associate and member of other affiliate programs, I earn from qualifying purchases.
Nutrition Information:
Yield:
8
Serving Size:
0.5 Cup
Amount Per Serving:
Calories:

47
Total Fat:

3g
Saturated Fat:

1g
Unsaturated Fat:

0g
Sodium:

172mg
Carbohydrates:

5g
Fiber:

2g
Sugar:

2g
Protein:

2g