An easy 4-ingredient grilled BBQ chicken breast recipe that creates juicy chicken every time! Best of all, you can make it using your favorite BBQ sauce.
It's definitely that time of the year. Time to remove those grill covers and start grilling! Personally, I couldn't be more exited.
We already offer quite a few grilling options. Including some recipes that aren't BBQ themed. Like our grilled shrimp tacos or our grilled chicken salad.
However, today we're sharing a more traditional grilling recipe. It's our grilled BBQ chicken breast made with boneless, skinless chicken.
This recipe is so easy to prepare and can be made on a gas or charcoal grill. If you don't have either of those, you can make it using a stove-top griddle pan.
Now, you may notice there aren't many process shots. Well, that's because it's not complicated to make.
All you need is the chicken and your favorite BBQ rub and sauce. So, shall we get started?
How to make grilled BBQ chicken breast at home?
First, grab the the chicken breast and get it ready for the grill. In order to cut down on cooking time, I recommend using tenders or slicing the meat into 1-inch thick cutlets.
Next, place them in a small baking dish or onto a deep rimmed plate. After that, sprinkle them with BBQ rub.
Make sure to completely cover the meat, on both sides, in the rub. Gently massage the rub into the protein.
Then, place the chicken into your fridge to chill for 30-minutes. Preheat your grill in the meantime.
Afterward, brush the grill with oil and remove the meat from the fridge. Place it on the grill.
Let it cook for about 6-minutes on each side, or until it is fully cooked at the thickest point.
Last, just before the grilled chicken is done cooking (about 1-minute before), brush it with BBQ sauce.
Once done, remove the meat from the grill and let it rest before serving (about 10-minutes).
Need a side dish idea? Then take a look at our grilled corn on the cob in foil or slow cooker baked beans.
That's it, your grilled BBQ chicken breast recipe is done! Kim and I hope you enjoy this simple meal and wish you all the best 🙂
Try our cheesy loaded chicken featuring grilled chicken topped with sauteed mushrooms, crispy bacon, cheddar and Monterrey Jack cheeses, served with honey mustard dipping sauce!

Do you put BBQ sauce on chicken before grilling?
Typically, no. Because, by time the chicken is finished cooking the heat from the grill will burn the brown sugar found in most BBQ sauces.
Recipe Tips:
Be sure to let the meat rest for about 10-minutes before serving. Otherwise, once the chicken is cut into, all the juices will out and the meat will become dry.
It's easy to cross contaminate your food when grilling. So, I use 2 sets of tongs. One set for the raw meat and another for the cooked meat.
Don't forget to check out our BBQ Chicken Breast web story!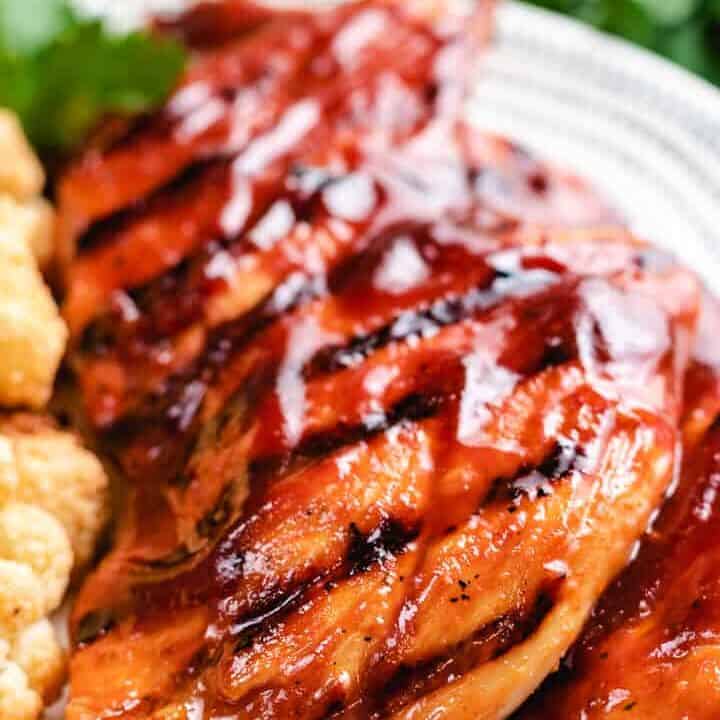 Grilled BBQ Chicken Breast
Chilling Time:
30 minutes
An easy 4-ingredient grilled BBQ chicken breast recipe that creates juicy chicken every time! Best of all, you can make it using your favorite BBQ sauce.
Ingredients
16 Ounces Chicken Breast, (boneless, skinless)
2 Tablespoons BBQ Rub, (we used brown sugar hickory variety)
1 Teaspoon Oil, (avocado, canola, etc.)
1/4 Cup BBQ Sauce, (we used Sweet Baby Ray's)
Instructions
Sprinkle both sides of the chicken breasts with barbecue rub, and massage it into the meat. Cover and refrigerate for 30 minutes.
While the chicken rests, heat a grill or griddle to low-medium heat. When it's hot, brush it lightly with cooking oil.
Remove the chicken from the refrigerator, and place it on the hot grill. Cook it for 4-6 minutes per side (may vary depending on thickness). Just before the chicken finishes cooking on the second side, brush it with the barbecue sauce.
Use tongs to remove the cooked chicken from the grill to a waiting plate. Let it rest for 10 minutes before serving.
Store any leftovers in the refrigerator for up to 3 days.
Notes
The calories listed are an approximation based on the ingredients in the recipe card. Additionally, it does NOT include the cauliflower shown in the photos. Actual calories will vary.
Recommended Products
As an Amazon Associate and member of other affiliate programs, I earn from qualifying purchases.
Nutrition Information:
Yield:

4
Serving Size:

4 Ounces
Amount Per Serving:
Calories:

192
Total Fat:

5g
Saturated Fat:

1g
Unsaturated Fat:

0g
Cholesterol:

73mg
Sodium:

317mg
Carbohydrates:

12g
Fiber:

1g
Sugar:

6g
Protein:

25g