A simple 5-ingredient seasoned air fryer asparagus recipe that creates tender asparagus every time. With only 3-steps, it's done in less than 15-minutes.
Eating healthier foods isn't always easy. You come home from work or school and you're totally exhausted.
The very idea of cooking a balanced dinner just makes you feel even more tired. Well, Kim and I understand because we've been there too.
That's way we create simple recipes like this one. In fact, we have quite a few, "healthier options," on this blog. Like our air fryer cauliflower florets.
In the meantime, let's focus on these seasoned air fryer asparagus spears. Tasty and fast is how I would describe them.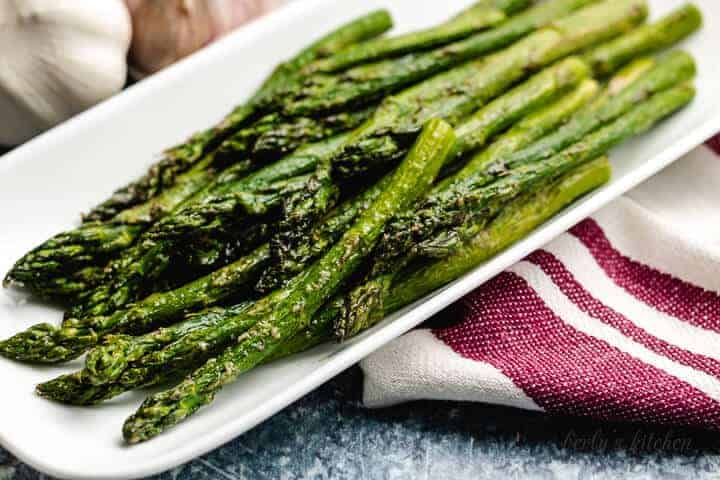 All you need is an air fryer, some oil, and a few spices of your choosing. For our recipe, we used garlic powder, pepper, and salt.
But, there are a lot other oils and spices that pair well with asparagus.
Sesame oil and onion powder can drastically change the flavor of the dish. So, have fun and experiment!
Love using your air fryer? Then, take a look at our air fryer cabbage or our air fryer home fries!
How to make air fryer asparagus?
First, start by trimming, washing and drying the vegetable. After that, place the vegetable into a medium mixing bowl.
Next, drizzle the asparagus spears with avocado or olive oil and sprinkle them with the black pepper, garlic powder, and salt.
Afterward, toss everything together. Preheat your air fryer to 400 degrees F. on the bake or roast setting.
Then, once the air fryer is hot, place the spears into the basket and close it.
Allow them to cook for 3-7 minutes depending on the vegetable's thickness and your preferred doneness.
In other words, you'll need to adjust the cook time based on the thickness of the asparagus spears and how tender you like your vegetables.
Last, once the everything is done, use tongs to remove them from the appliance and serve.
That's it, the air fryer asparagus recipe is done! Kim and I hope you enjoy the side dish and wish you all the best 🙂
Recipe Tips:
Be sure to properly dry the asparagus before drizzling it with olive oil. Extra moisture can lead to extra soggy vegetables.
Adjust the time as noted above according to how well done you like the asparagus. The time also needs to be adjusted based on the thickness of the asparagus.
Thin asparagus that's retains a firm doneness should be finished cooking in 2-minutes. However, thick asparagus with a soft doneness will need to cook for 7-minutes. So, keep that mind as you prepare your air fried asparagus.


What part of the asparagus do you cut off?
You want to trim off the pale woody part located at the bottom of the vegetable. That's the part that's almost inedible.


How much do you cut off asparagus?
For most varieties, it's the last inch to inch and a half (1-1.5 inch), at the bottom of the vegetable.

Recipe Card with Ingredient Amounts and Instructions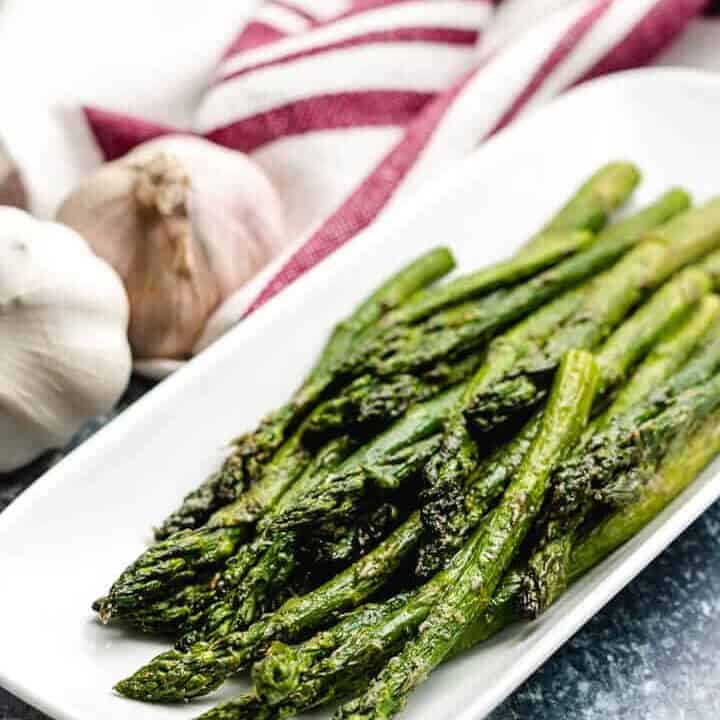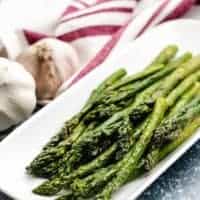 Ingredients
1

pound

asparagus

,

fresh, trimmed, washed, and dried

1

tablespoon

olive oil

¼

teaspoon

kosher salt

¼

teaspoon

garlic powder

⅛

teaspoon

ground black pepper
Instructions
Place the washed and trimmed asparagus into a medium bowl. Drizzle with olive oil, salt, garlic powder, and pepper. Toss to combine.

1 pound asparagus

1 tablespoon olive oil

¼ teaspoon kosher salt

¼ teaspoon garlic powder

⅛ teaspoon ground black pepper

Preheat the air fryer by setting it to roast or bake at 400°. After the air fryer preheats, place the asparagus in an even layer into the basket. Close the basket and cook for 2-3 minutes for slightly cooked, firm asparagus, 4-5 minutes for softer asparagus, or 6-7 minutes for soft asparagus with very little or no firmness.

After the time is up, remove the asparagus with tongs and enjoy immediately.
Notes
*The calories listed are an approximation based on the ingredients in the recipe card. Actual calories will vary. Leftovers can be stored in a sealed container, in your fridge, for up to 3-days.
*Doubling or tripling this recipe has not been tested. Therefore, we can not guarantee the outcome of adjusting the ingredients.
Nutrition
Serving:
4
Ounces
|
Calories:
54
kcal
|
Carbohydrates:
5
g
|
Protein:
3
g
|
Fat:
4
g
|
Saturated Fat:
1
g
|
Polyunsaturated Fat:
0.4
g
|
Monounsaturated Fat:
3
g
|
Sodium:
148
mg
|
Potassium:
232
mg
|
Fiber:
2
g
|
Sugar:
2
g
|
Vitamin A:
858
IU
|
Vitamin C:
6
mg
|
Calcium:
28
mg
|
Iron:
2
mg
Don't Lose This Recipe!
Save it on Pinterest! Follow us at @berlyskitchen!