*This post may contain affiliate links. As Amazon Associates we earn from qualifying purchases.
Baked chicken taquitos make the perfect appetizer for your next Fiesta Friday dinner. Try them with fresh toppings like lettuce, tomatoes, and guacamole!
I know Fiesta Friday has already come and gone, but Taco Tuesday is just around the corner. So, why not try something new?
Kim prepared these baked chicken taquitos last week and they were delicious! After trying them, we knew we had to share them with our readers.
Spicy chicken breast mixed with shredded cheese makes for a wonderful combination. Especially, when topped with things like fresh guacamole and sour cream.
Best of all, they can be served as an appetizer or a main dish. Simply, add a side of rice or refried beans and you have an amazing dinner that's sure to satisfy everyone. So, shall we get started?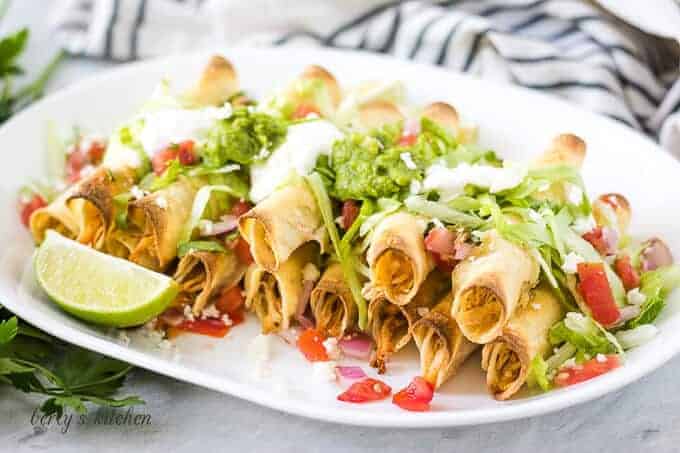 Chicken Taquitos Recipe Instructions:
First, preheat your oven to 425 degrees F. and spray a large baking or cookie sheet with non-stick cooking spray.
Next, place the shredded chicken and all of the spices into a large mixing bowl. Toss them together to combine the ingredients.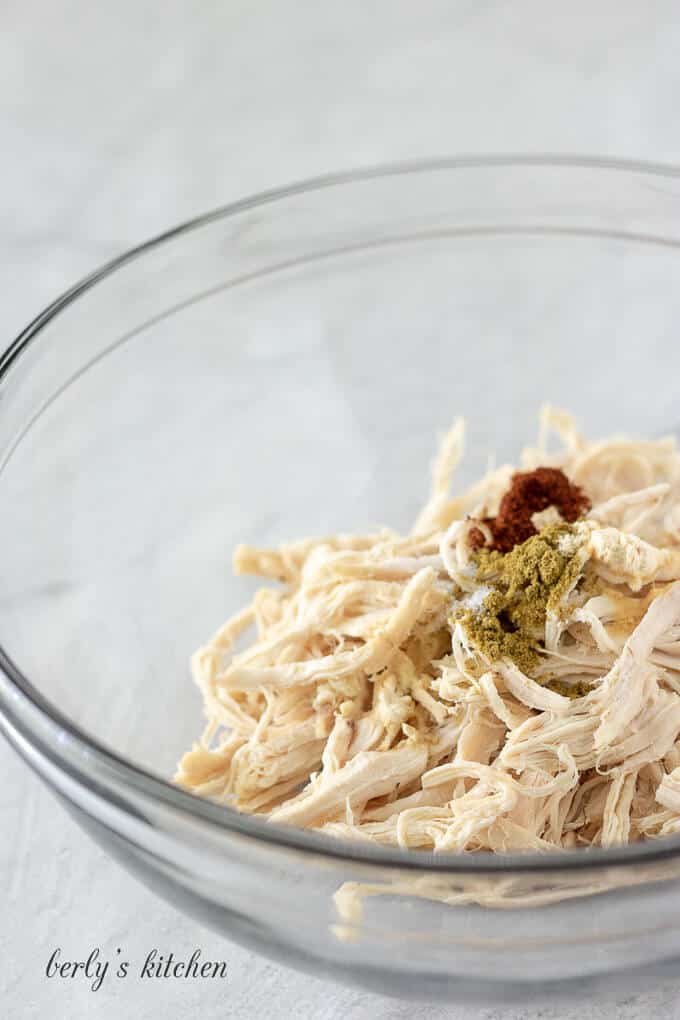 Then, add the shredded cheese and mix it with the chicken and spices.
Now, it's time to roll the chicken taquitos. I've provided a separate set of instructions just below.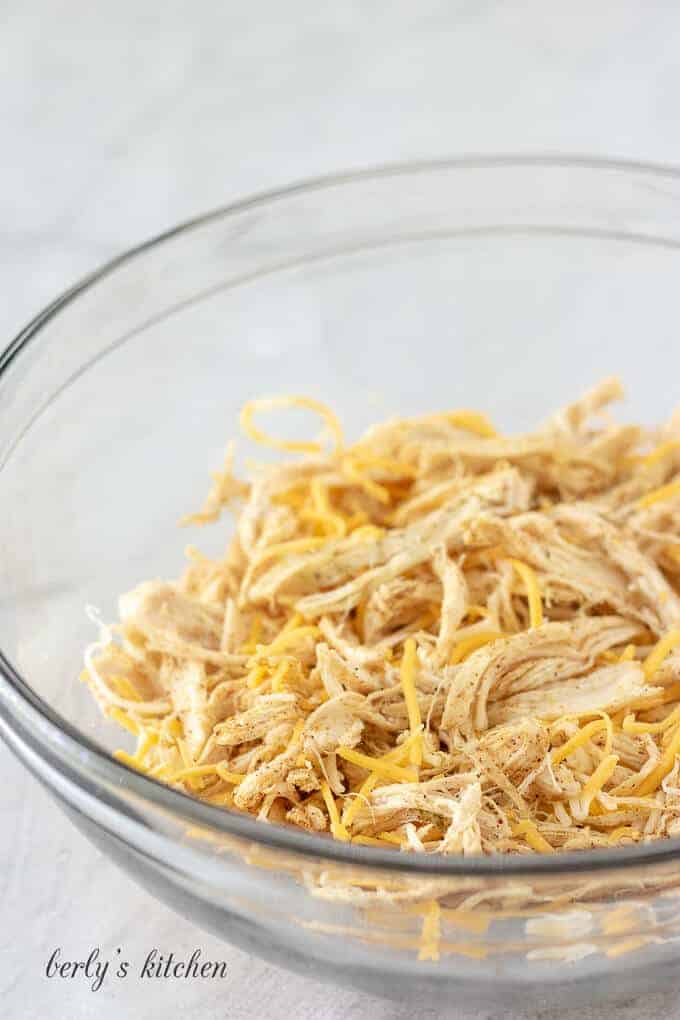 How to Roll Taquitos:
To begin, work in batches and heat the tortillas. Usually, we only heat two (2) or three (3) of them at a time. Using the microwave, warm them for about twenty (20) seconds each batch.
You'll want to work quickly. Add about two (2) tablespoons of the chicken and cheese mixture to each tortilla. Roll them up tightly making sure that the seam is facing the bottom.
After that, place them on the baking sheet, leaning against each other. Repeat the process until all the filling is gone. Use the picture below as a reference.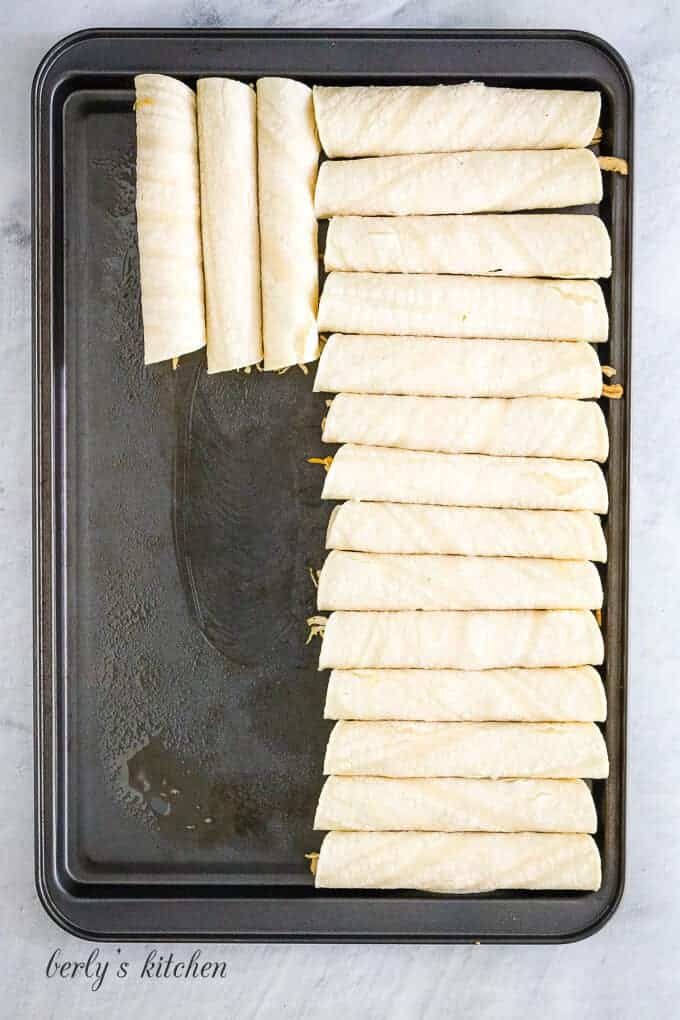 Once they are rolled and on the baking sheet, place the chicken taquitos in the oven to bake for about fifteen (15) minutes or until the tortillas begin to crisp around the edges.
Last, remove them from the oven and serve them with your favorite Tex-Mex toppings. Kim and I hope you enjoy the recipe and wish you all the best 🙂
What toppings go on tacos and taquitos?
Sour Cream
Shredded lettuce
Pico de Gallo
Diced Tomatoes
Queso Fresco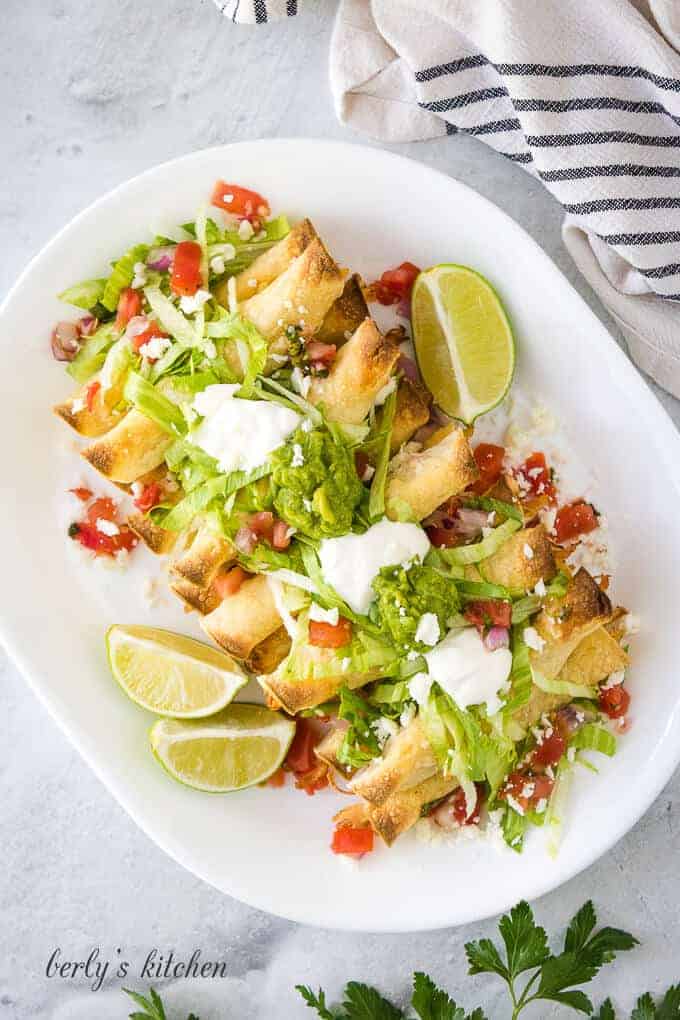 Baked Chicken Taquitos Tips:
Leftover rotisserie chicken works well for this recipe.
Placing the tortillas between two (2) damp paper towels while warming them keeps the tortillas pliable.
When placing the taquitos on a baking sheet, it's helpful to prop them against each other, seam side down to keep them from unrolling.
The best way to reheat our chicken taquitos are to warm them in a toaster oven.
If you like our baked chicken taquito recipe, please leave us a comment and rate the recipe card. You can also find us on Facebook, Pinterest, Twitter and Instagram searching for Berly's Kitchen!
Join our Facebook group for more recipes from Berly's Kitchen, our new site More Than Meat and Potatoes, and some of our blogger friends!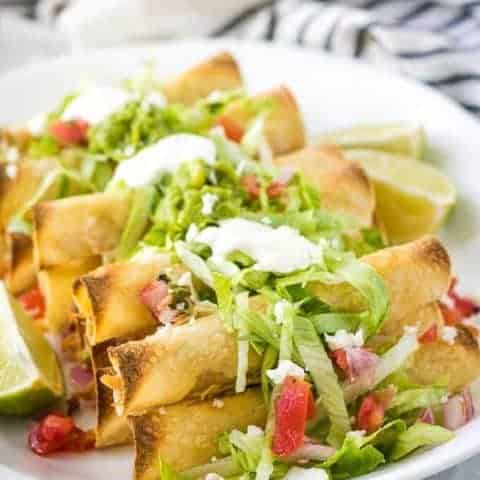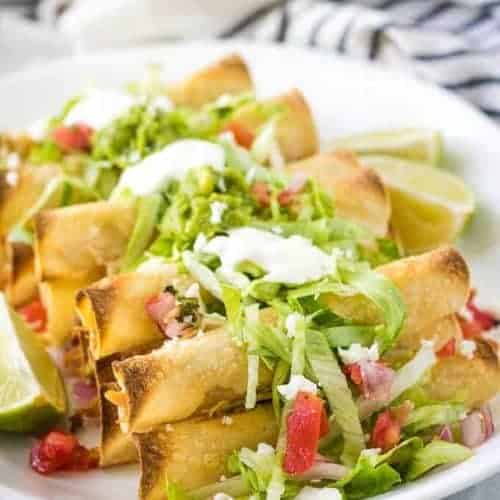 Baked Chicken Taquitos Recipe
Baked chicken taquitos make the perfect appetizer for your next Fiesta Friday dinner. Try them with fresh toppings like lettuce, tomatoes, and guacamole!
Ingredients
2 Cups Chicken Breast, (cooked, shredded)
18 Small Corn Tortillas, (fajita or taco sized- size affects number of servings!)
1/2 Teaspoon Garlic Powder
1/2 Teaspoon Cumin Powder
1/4 Teaspoon Onion Powder
1/4 Teaspoon Chili Powder
1/4 Teaspoon Salt
1 Cup Cheddar Cheese, (shredded, by volume not weight)
Instructions
Preheat the oven to 425 degrees, and spray a baking sheet lightly with cooking spray.
Place shredded chicken, garlic powder, cumin, onion powder, chili powder, and salt in a medium bowl. Mix to combine.
Add the shredded cheese, and mix until the chicken and cheese are well combined.
Working in batches, heat the tortillas, two or three at a time, in the microwave for about 20 seconds. Work quickly, and add about 2 tablespoons of the chicken and cheese mixture to each tortilla. Roll them up tightly, and place them on the baking sheet. Repeat until all the filling is used.
Place the taquitos in the oven, and bake for 15 minutes or until the ends are brown and crispy.
Remove from the oven, and serve with your favorite toppings. Save any leftovers in the refrigerator for up to 3 days.
Notes
The calories listed are an approximation based the ingredients listed and a serving size of two (2) taquitos without any toppings. Furthermore, the topping seen in the photos are NOT included in the calorie count. Actual calories will vary.
Recommended Products
As an Amazon Associate and member of other affiliate programs, I earn from qualifying purchases.
Nutrition Information:
Yield:

9
Serving Size:

2 Taquitos
Amount Per Serving:
Calories:

212
Total Fat:

7g
Saturated Fat:

3g
Trans Fat:

0g
Unsaturated Fat:

3g
Cholesterol:

40mg
Sodium:

195mg
Carbohydrates:

22g
Fiber:

3g
Sugar:

1g
Protein:

16g
*The calories are an estimate and are based on the ingredients and serving size listed. The calories can vary depending on the brand of product purchased.
Want more easy appetizer recipes?