A flavor filled chicken taco bowls recipe made in a pressure cooker, featuring tender chicken, taco seasonings, black beans, corn, and diced tomatoes.
It's Wednesday, we're almost to the weekend. Who's excited about that?
I bet most people are ready for the week to end so they can relax and rest. Usually, on Fridays, Kim and I like to serve Tex-Mex inspired meals.
Last week, she made these chicken taco bowls in her pressure cooker. They were quite tasty, so we decided to share them with our readers.
The dish is straightforward, it's pretty much dump and go. Like most fiesta themed meals, it's best served with fresh toppings.
I've provided a list of options below, along with the usual tips or best practices. Shall get we started?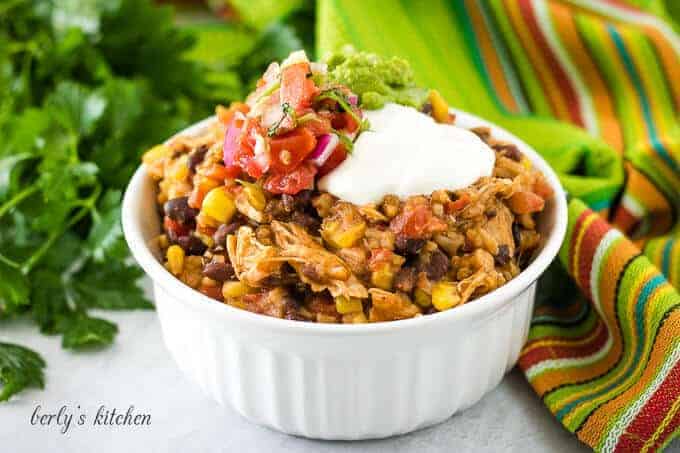 Chicken Taco Bowls Recipe Instructions:
First, grab all your ingredients and get them prepped. You know the drill by now, open the cans, measure things out, etc.
Once that's out of the way, place the liner into your Instant Pot or pressure cooker.
Next, add the broth and rice to the liner. Give the ingredients a good stir, then lay the chicken on top of the mixture.
After that, sprinkle in your taco seasonings. Now, toss in the black beans, corn, and diced tomatoes.
At this point, it's important that you do NOT stir the mixture. You want everything resting on top of the chicken and rice.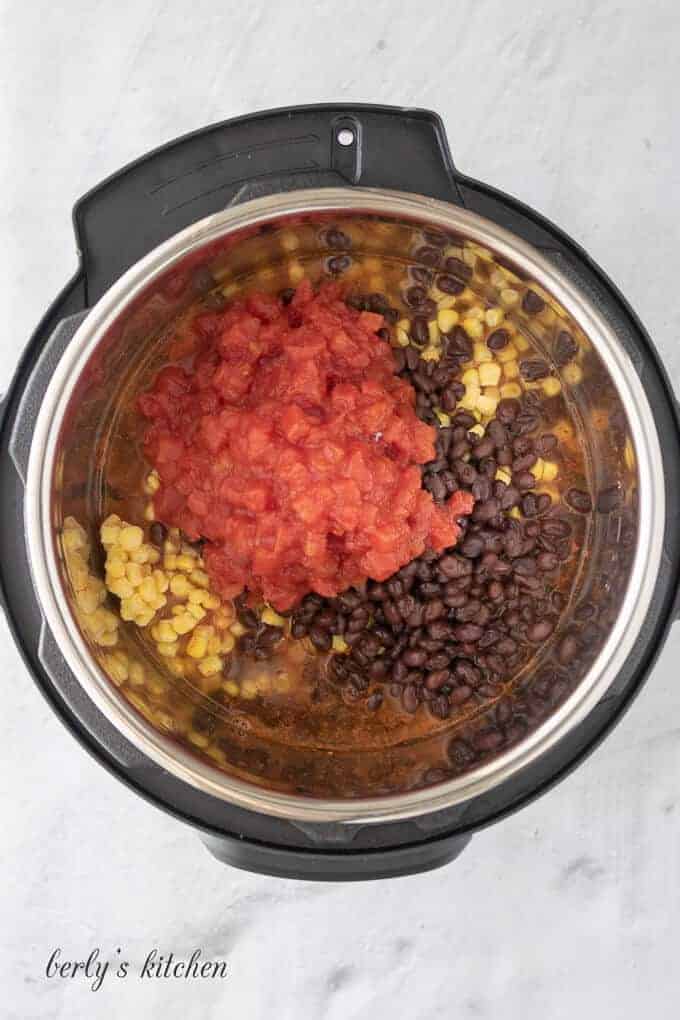 It's time to the put the lid on the machine and set the valve to, "sealed." Afterward, use the manual or high pressure cook button to cook the chicken taco bowls for eight (8) minutes.
When the timer goes off, let the pressure cooker complete a ten (10) minute natural release. Last, after the natural release, unseal valve and open the appliance.
Shred the chicken with forks and give the taco bowl ingredients a good stir. That's it, the recipe is done.
Serve it anyway you like with any toppings you desire. Kim and I hope you enjoy the meal and wish you all the best 🙂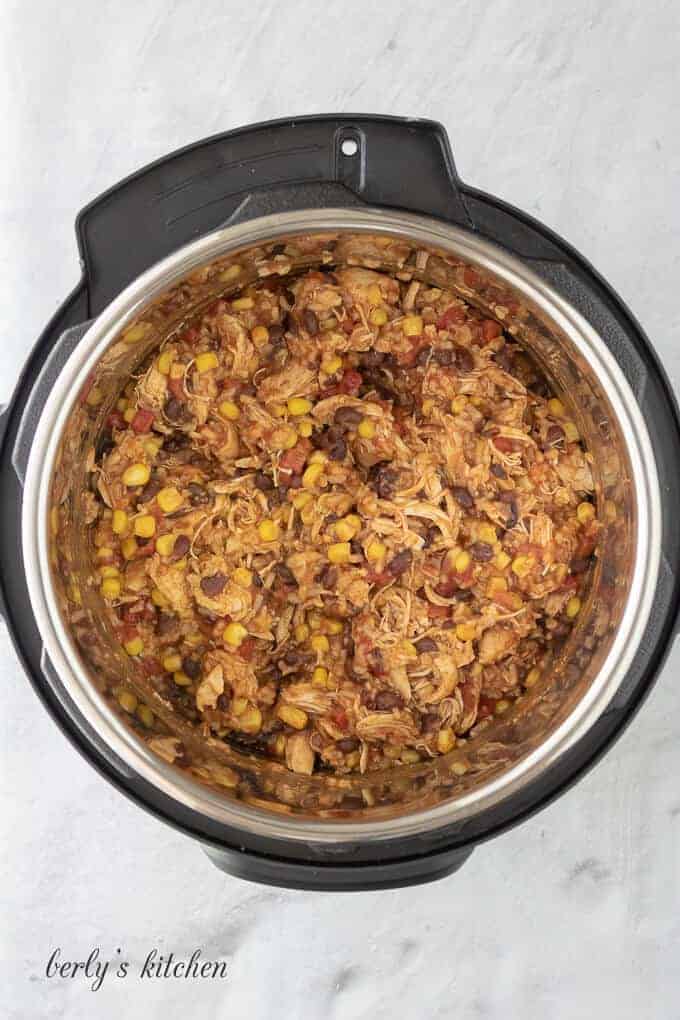 Taco Salad and Taco Bowl Toppings:
What's the difference between a taco bowl and a taco salad? Well, not much besides the lettuce and dressing. As far as I can tell, anyways. Keeping that in mind, here's a list of options for you try on your next Tex-Mex meal.
Pico de Gallo
Sour Cream
Guacamole
Cilantro
Fresh Avocado
Diced Onions
Shredded Cheese
Shredded Lettuce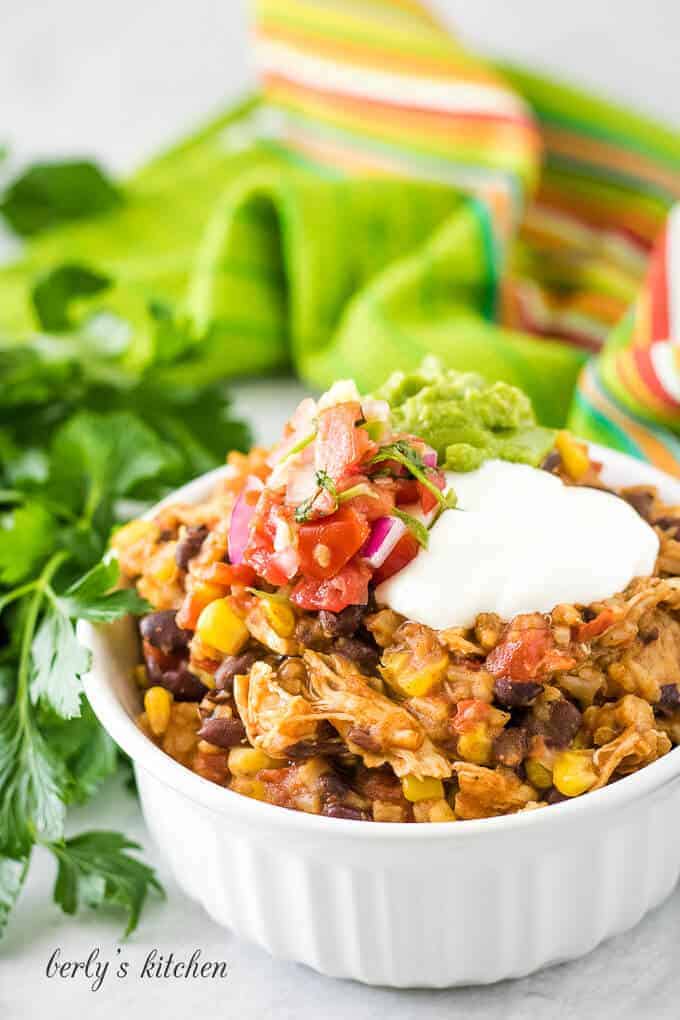 Instant Pot Chicken Taco Bowls Recipe Tips:
There's always more than one way to layer the ingredients. However, it's important that the rice does not stick to the bottom of the liner. Otherwise, it may burn and you'll get a notice.
If your pressure cooker has tendency to burn things, then try this layering option instead; chicken, broth, rice (make sure it's submerged in broth, add extra if needed), corn, black beans, tomatoes, and finally taco seasoning on top.
I know the ten (10) minute natural release seems like a long time. With that being said, the Instant Pot recommendation, for tender meat, is to allow for a ten (10) minute natural release. Moral of the story is that if you want tender chicken, then be patient. Better things come to those who wait.
If you like our chicken taco bowls recipe, please leave us a comment and rate the recipe card. You can also find us on Facebook, Pinterest, Twitter and Instagram searching for Berly's Kitchen!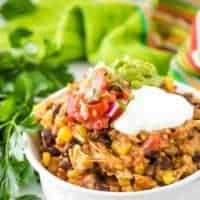 Ingredients
1

Cup

White Rice

(long grain)

1 1/2

Cups

Chicken Broth

(low sodium or you can use water)

1

Lb.

Chicken Breast

(tenders or thin cut cutlets)

1 1/4

Ounces

Taco Seasoning

(one ((1)) packet)

15

Ounces

Black Beans

(one ((1)) can, drained and rinsed)

1 1/2

Cups

Frozen Corn

(or one ((1)) can, drained and rinsed)

10

Ounces

Diced Tomatoes

(one ((1)) can undrained)
Instructions
Add the rice and broth to the liner of the Instant Pot. Stir to ensure the rice is evenly dispersed.

Next, add the chicken in an even layer. Sprinkle the taco seasoning on the top of the chicken.

Pour the corn, black beans, and tomatoes on next, in that order. Do NOT stir!

Close the lid, and set the valve to sealing. Use the pressure cook (manual) button and adjust the time to 8 minutes.

After the time is up, allow a 10 minute natural release before opening the valve to release any remaining pressure.

Open the lid, use two forks to shred the chicken, then stir to mix the ingredients. Serve hot with your favorite toppings.
Notes
The calories listed are an approximation based on the ingredients and serving size of about one (1) cup of the chicken taco bowls recipe. Actual calories will vary.
Additionally, the calories listed do NOT include the guacamole, pico de gallo, sour cream, or any other toppings seen in the photos.
Any leftovers can be stored in a sealed container for up to three (3) days.
This recipe was tested using a 6-quart Instant Pot and long grain white rice. If you're using an 8-quart Instant Pot, additional liquid (1-2 cups) may be required. We have not tested the recipe using brown rice, cauliflower rice, etc. Using a different type of rice will drastically change the cooking time and amount of required liquid.
Nutrition
Serving:
1
Cup
|
Calories:
266
kcal
|
Carbohydrates:
42
g
|
Protein:
20
g
|
Fat:
2
g
|
Saturated Fat:
1
g
|
Cholesterol:
36
mg
|
Sodium:
638
mg
|
Fiber:
7
g
|
Sugar:
2
g