Boiled Peanuts are no longer just for road trips, baseball games, or flea markets. Now you can make a batch at home anytime you want them! Salty, savory, and seasoned to perfection, boiled peanuts are simmered for hours until tender. They're addictive and perfect for a summertime snack!
Combat the salt with something a little sweet and refreshing like a Strawberry Soda or a Homemade Blueberry Soda! Keep the peanut theme with No-Bake Peanut Butter Pretzel Cookies, or add these to your Baseball Snack Board!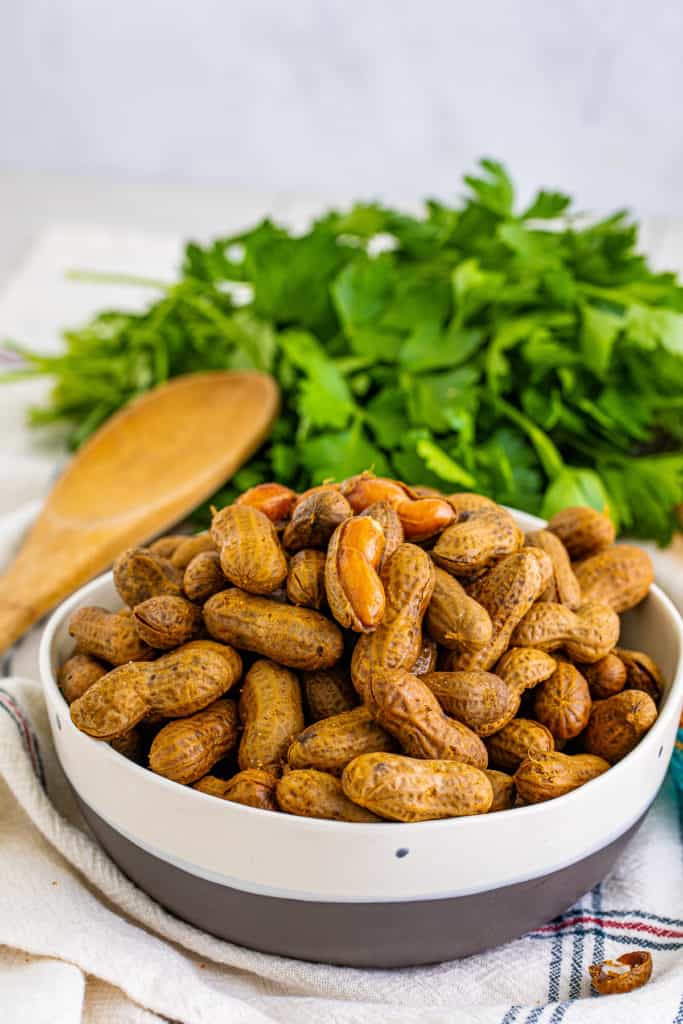 Boiled Peanuts
Love boiled peanuts but hate having to find a gas station or flea market to get them? Don't want to wait for the next game day at the stadium or long road trip to indulge in this salty snack?
Well you're in luck, today we'll teach you how to boil your own peanuts at home so you can snack away whenever the craving hits! This recipe is so ridiculously easy, anyone can do it!
Rinse, season, and boil. That's basically it. Even the most novice of at home cooks can handle that. Customize the seasoning, make them spicy, or try out unique flavor combinations.
These are great for snack time after the little league game or to have on hand for a fun 4th of July BBQ. Salty but not too salty and seriously so easy, you'll be making them all summer long!
How to Make Boiled Peanuts
Fill a large stockpot with the peanuts and enough water to cover the nuts. Use your hands or a large spoon to mix the peanuts in the water and loosen any dirt or debris. Drain the water and repeat.
Now add the creole seasoning, salt, garlic powder, paprika, and onion powder along with enough water to cover the peanuts (about 4 quarts). Stir to combine the seasonings and nuts.
Bring the peanut mixture to a boil. Cover and reduce to a simmer. Simmer for 6-8 hours until the peanuts are tender but not mushy.
Drain the excess water. Or keep and store the peanuts in the seasoned water.
Serve hot, cold, warm, or at room temperature and enjoy!
Tips and Variations
Make sure to keep an eye on the pot and stir about every 30 minutes or so. You may need to add more warm water as the peanuts simmer if the water level starts to go down.
Don't be alarmed when all the peanuts sink to the bottom. This is normal. After a few hours they're saturated in the liquid and will settle and sink to the bottom of the pot.
This recipe is great because you can customize your flavor profile! Instead of seasoning, you can try old bay, creole, lemon pepper, blackened seasoning, or even just salt. We do recommend if you use a seasoning that doesn't have salt in it to add an additional tablespoon or 2 of kosher salt for flavor.
For a spicy variation, add in crushed red pepper flakes, chipotle powder, cayenne, or your favorite hot sauce.
Make sure your pot is big enough to hold the peanuts and the amount of water needed for them to be covered.
Raw green peanuts can be used as well. These only take about 2-3 hours to cook as opposed to 6-8.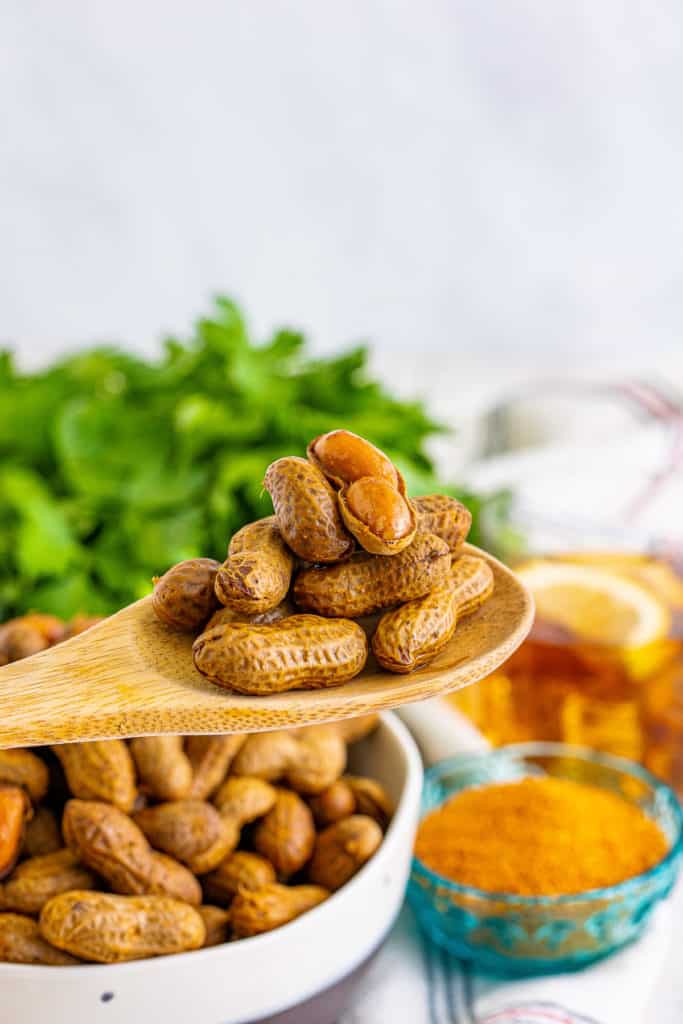 Storage and Reheating
Storage: Store any leftover boiled peanuts in the fridge for up to 7 days. You can store them drained or right in the cooking liquid.
Freezing: You can freeze these boiled peanuts for up to 3 months in a freezer safe container.
Reheating: To reheat, warm in the microwave until heated through. Or if storing in the liquid, you can heat them up on the stove by bringing them to a simmer until warmed through.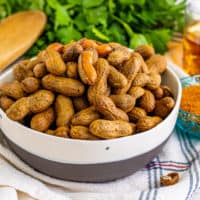 Boiled Peanuts
Print
Save
Saved!
Pin
I earn a commission from Amazon and Instacart from qualifying purchases.
Ingredients
2

pounds

raw peanuts

in their shells

4

quarts

water

plus additional for rinsing the peanuts

¼

cup

kosher salt

¼

cup

Creole seasoning

2

teaspoons

garlic powder

2

teaspoons

smoked paprika

1

teaspoon

onion powder
Instructions
Place the peanuts in a large stockpot, and add enough water to cover the peanuts. Use your hands to combine the peanuts and water to loosen any dirt or debris. Drain the water, and repeat the process one more time.

Add 4 quarts of water (or just enough water to cover the peanuts when they sink to the bottom of the stockpot) salt, Creole seasoning, garlic powder, paprika, and onion powder to the pot. Stir to combine.

4 quarts water

¼ cup kosher salt

¼ cup Creole seasoning

2 teaspoons garlic powder

2 teaspoons smoked paprika

1 teaspoon onion powder

Bring to a boil, reduce to a simmer, and cover. Simmer for 6-8 hours until the peanuts are tender.

Drain away excess water (unless you'd like to store the peanuts in the water), and serve immediately.

Serve hot, warm, room temperature, or cold! See post for storage options.
Notes
*The calories listed are an approximation based on the ingredients in the recipe card and a serving size of 1 ounce of peanuts. Actual calories will vary.
*For more information, tips, and answers to frequently asked questions, please refer to the post.
*Photos courtesy of This Silly Girl's Kitchen.
Nutrition
Serving:
1
ounce
|
Calories:
169
kcal
|
Carbohydrates:
6
g
|
Protein:
8
g
|
Fat:
14
g
|
Saturated Fat:
2
g
|
Polyunsaturated Fat:
5
g
|
Monounsaturated Fat:
6
g
|
Sodium:
897
mg
|
Potassium:
254
mg
|
Fiber:
3
g
|
Sugar:
0.2
g
|
Vitamin A:
831
IU
|
Vitamin C:
1
mg
|
Calcium:
38
mg
|
Iron:
1
mg
Don't forget to check out our Boiled Peanuts web story!