A light and flavorful bruschetta chicken pasta prepared with fresh basil, garlic, and tomatoes. Drizzled with Balsamic vinegar and garnished with Parmesan!
It feels like it's been forever since we've shared a light, fresh meal option. Don't get me wrong, I love warm, Winter dishes.
But, after a few months of heavy dinners, I could go for some lighter fare. Keeping that theme in mind, Kim and I decided to publish our bruschetta chicken pasta.
Today's offering was inspired by our tomato bruschetta appetizer. Which, people seemed to love, so much so, that it was featured in Woman's World magazine in September of 2018 (pg. 49).
Using similar ingredients, Kim created a pasta dinner that perfectly mimics the beloved appetizer in almost every way.
I invite you to give it a try and see what you think. How about we step in the kitchen and get started?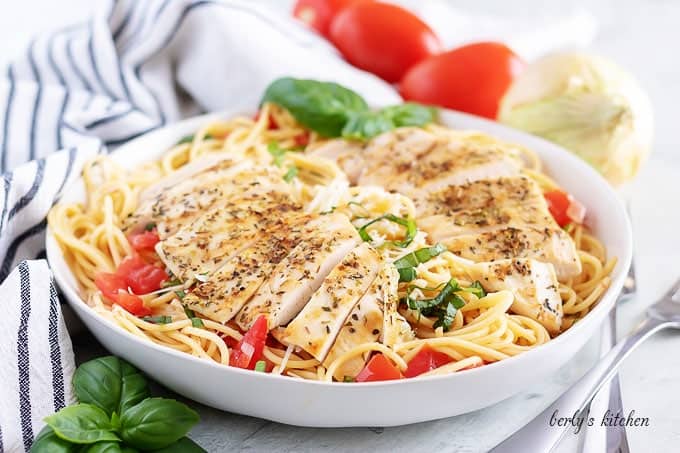 Bruschetta Chicken Pasta Directions:
First, always start with prepping all your ingredients. You can mince your garlic, dice your tomatoes (remove any seeds), and grab all your spices.
Doing so, will definitely help you during the cooking process. Once you've prepped everything, preheat a griddle or pan over medium heat and brush it with oil.
Sprinkle the chicken, both sides, with Italian seasonings and salt and pepper. Let them grill for four (4) to six (6) minutes on each side before removing them to rest while you finish the meal.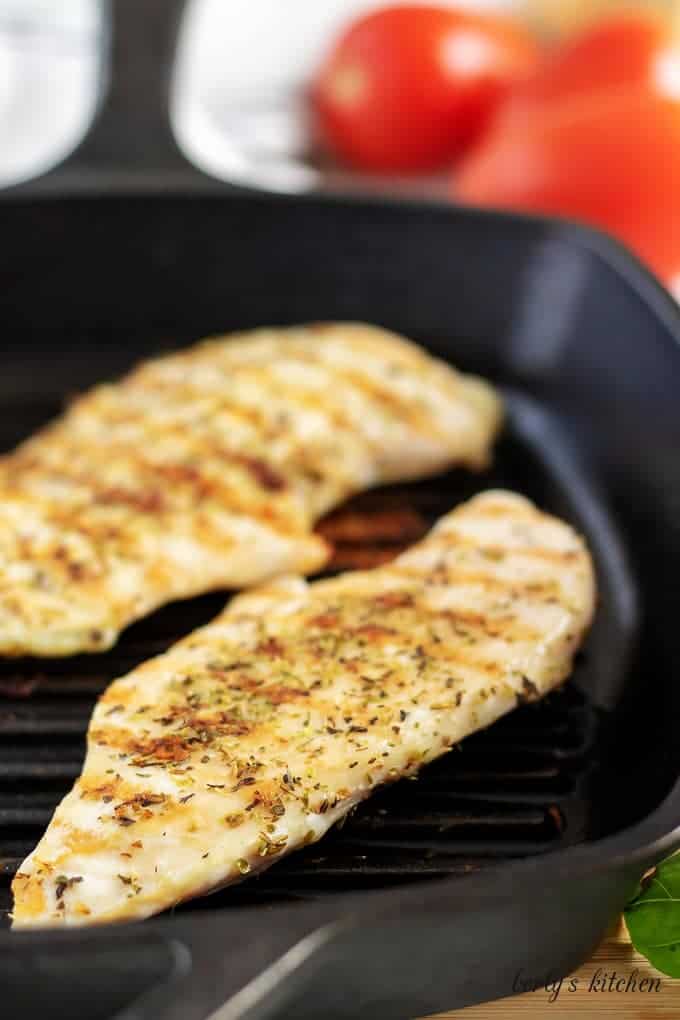 As the breasts grill, go ahead and start cooking your pasta in salted water. Feel free to use the package instructions.
With that being said, I always salt the water because it adds flavor to the noodles. When the chicken and noodles are done, you can begin making the bruschetta portion of the chicken pasta.
Using a large saucepan, over medium-low heat, combine the olive oil and onions.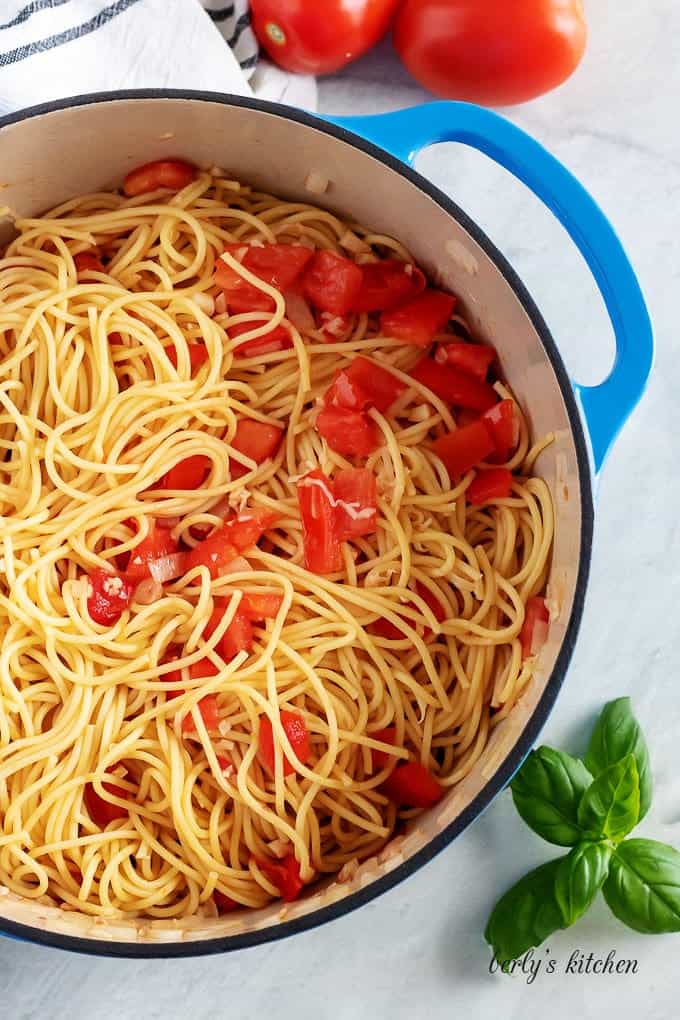 Let the onions saute' for three (3) to five (5) minutes, Now, toss in the garlic, salt, and tomatoes. You should only let them cook for one (1) to two (2) minutes.
Anything more and the garlic will burn (turn bitter) and your tomatoes will disintegrate (get mushy). All that's left to do is to add the pasta noodles to the garlic and tomatoes, drizzle everything with Balsamic vinegar, and add the basil and Parmesan cheese.
Simply toss the ingredients together, using tongs or pasta spoons, and top the servings with the chicken. Or, serve it, "family style," in a large pan.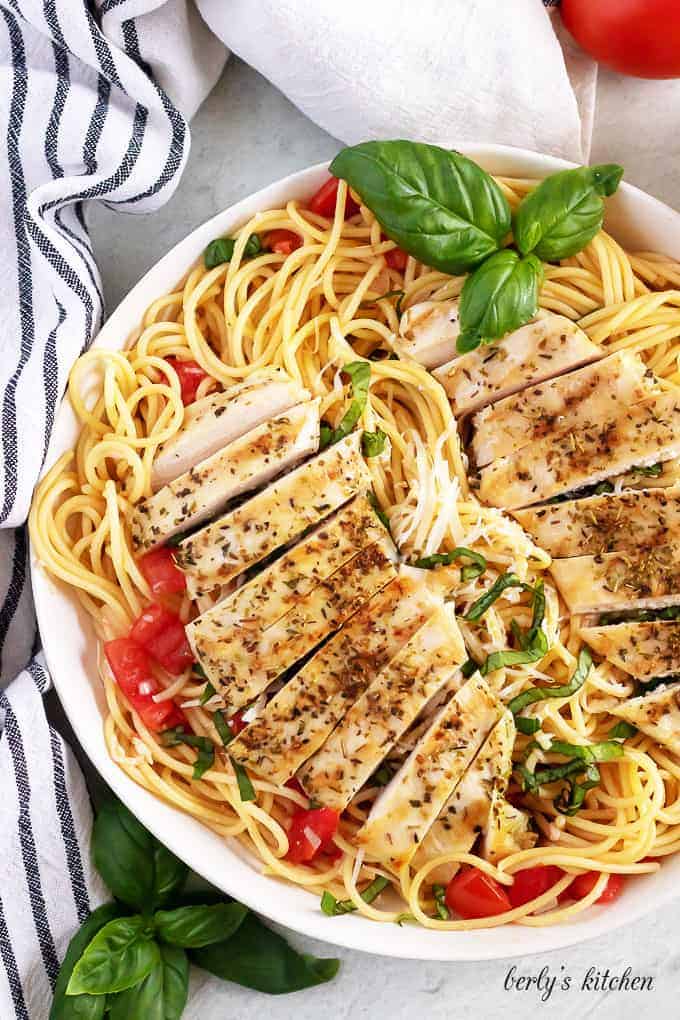 Bruschetta Chicken Pasta Tips:
Making this dish vegetarian is extremely simple. Just omit the chicken. To my knowledge there are no other meat or meat based products in the ingredients.
This is a meal that can be partially prepped in advance. For example, if you're someone who uses left-overs, cook the chicken on Saturday or Sunday.
Then, prepare the pasta and sauce portion on Monday or Tuesday evening and top it with the reheated chicken breast. Honestly, the longest part of the recipe is waiting for the pasta to cook.
One thing I always recommend is to buy a quality olive oil. I know that can be difficult to do; especially, in the U.S. where most of our "olive oils" aren't pure.
In fact, a good portion of them are hybrids (cottonseed and olive oil- See FDA Title 21 Part 102 Sec 102.37). So, in short, check the label and make sure you're buying the purest olive oil you can.
If possible, try to be comfortable spending a little money. Trust me, the flavor is worth the cost.
Yield: 8 Servings
Bruschetta Chicken Pasta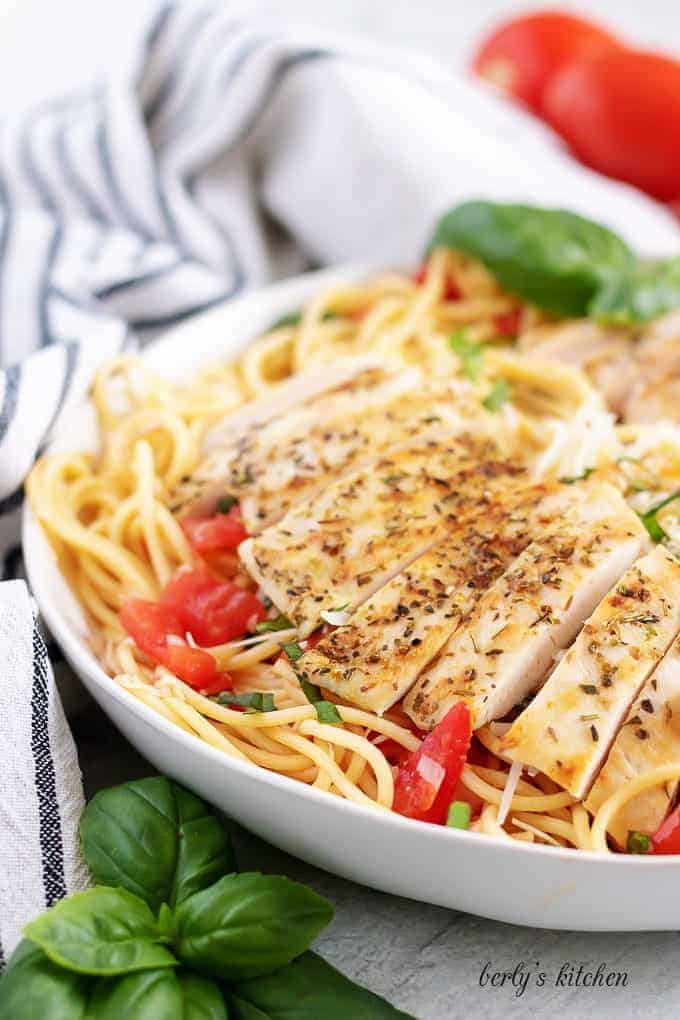 A light and flavorful bruschetta chicken pasta prepared with fresh basil, garlic, and tomatoes. Drizzled with Balsamic vinegar and garnished with Parmesan!
Ingredients
1 Lb. Uncooked Spaghetti Noodles, (thin, long, pasta noodles)
1 Lb. Chicken Breast, (thin, boneless, skinless)
2 Teaspoons Italian Seasonings, (for chicken)
1 Teaspoon Sea Salt, (for chicken)
1/8 Teaspoon Black Pepper, (optional for chicken)
1/4 Cup Olive Oil
2 Teaspoons Sea Salt, (for pasta)
1 Cup White Onion, (finely chopped)
6 Large Garlic Cloves, (minced)
1.5 Lbs. Roma Tomatoes, (approx. 8, seeded, diced)
2 Tablespoons Balsamic Vinegar
1/2 Cup Parmesan Cheese, (shredded, add more for garnish)
1/2 Cup Fresh Basil, (sliced, more for garnish)
Instructions
Preheat a grill or griddle over medium heat and lightly apply a thin layer of cooking oil. While the griddle heats, season both sides of the chicken breasts with Italian seasoning. Place the chicken breasts on the hot griddle and cook for 4-6 minutes per side (longer for thick chicken).
While the chicken grills, cook the pasta noodles according to the package directions. Drain the pasta, reserving ½ cup of pasta water for possible use later. Set the cooked noodles aside
After the chicken cooks completely, remove it from the griddle and allow it to rest for at least 10 minutes before slicing.
While the chicken rests, make the bruschetta. In a large, deep pan heat the olive oil over low-medium heat. Add the onion, and stir for 3-5 minutes until the onions begins to heat and becomes slightly fragrant. Next, add the garlic, salt, and tomatoes. Continue to stir for 1-2 minutes, just long enough to warm the tomatoes and bring out the flavor of the garlic.
Next, add the cooked pasta, and drizzle it with the balsamic vinegar. Turn off the heat, then, add the shredded Parmesan cheese, and toss to combine the ingredients.
Divide the pasta evenly among serving dishes and top with thinly sliced chicken. Garnish with extra Parmesan cheese, balsamic vinegar or glaze, and fresh basil.
Notes
Th calories listed are an approximation based on the ingredients and a serving size of two (2) ounces of cooked pasta along with four (4) ounces of chicken breast. Additionally, the calorie count does not include any garnishments seen in the photos (additional Parmesan cheese, fresh basil, etc.). Actual calories will vary. The bruschetta chicken pasta can be stored in your fridge in a sealed container for up to the three (3) days.
Recommended Products
As an Amazon Associate and member of other affiliate programs, I earn from qualifying purchases.
Nutrition Information:
Yield:
8
Serving Size:
6 Ounces (see notes)
Amount Per Serving:
Calories:

391
Total Fat:

10g
Saturated Fat:

2g
Unsaturated Fat:

0g
Cholesterol:

40mg
Sodium:

1048mg
Carbohydrates:

49g
Fiber:

3g
Sugar:

5g
Protein:

22g