Easy Bruschetta Recipe is a fresh, easy to prepare appetizer. The vibrant flavors of tomato, onion, garlic, basil, olive oil, and Parmesan come together in this classic dish.
When it comes to an easy appetizer, an easy bruschetta recipe is hard to top. Not only is it easy to make, the colors are gorgeous, and it looks so elegant on a toasted slice of bread.
It's the perfect start to any meal. Additionally, you can never go wrong with the flavors of tomato, garlic, and basil.
In fact, we love these flavors so much that we've used them in our bruschetta chicken pasta and tomato basil pasta recipes. In a way, these classic flavors are also front and center in tomato basil soup.
This easy bruschetta recipe is probably the quickest to prepare out of all those recipes. It goes from prep to table in no time at all!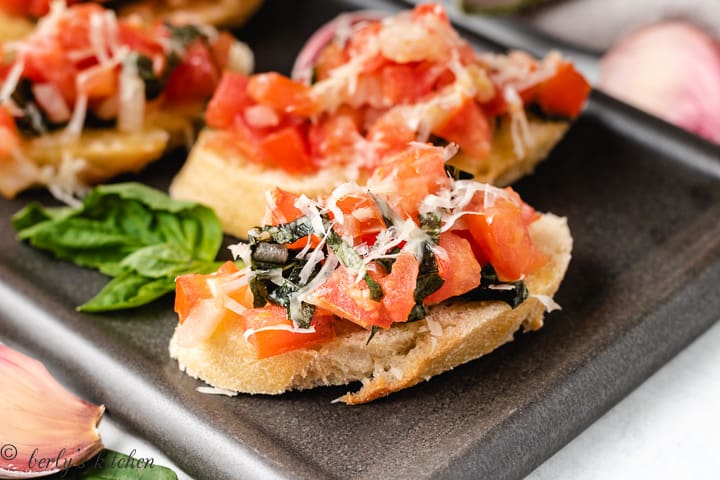 How to Make Our Easy Bruschetta Recipe:
Preheat the oven, and grab a baking sheet. Slice the baguette or French loaf, unless you purchased it pre-sliced, and arrange the slices on a baking sheet.
Bake it for a few minutes until it's lightly toasted, but don't get it too crispy. It's going back in the oven for a couple more minutes at the end of the recipe.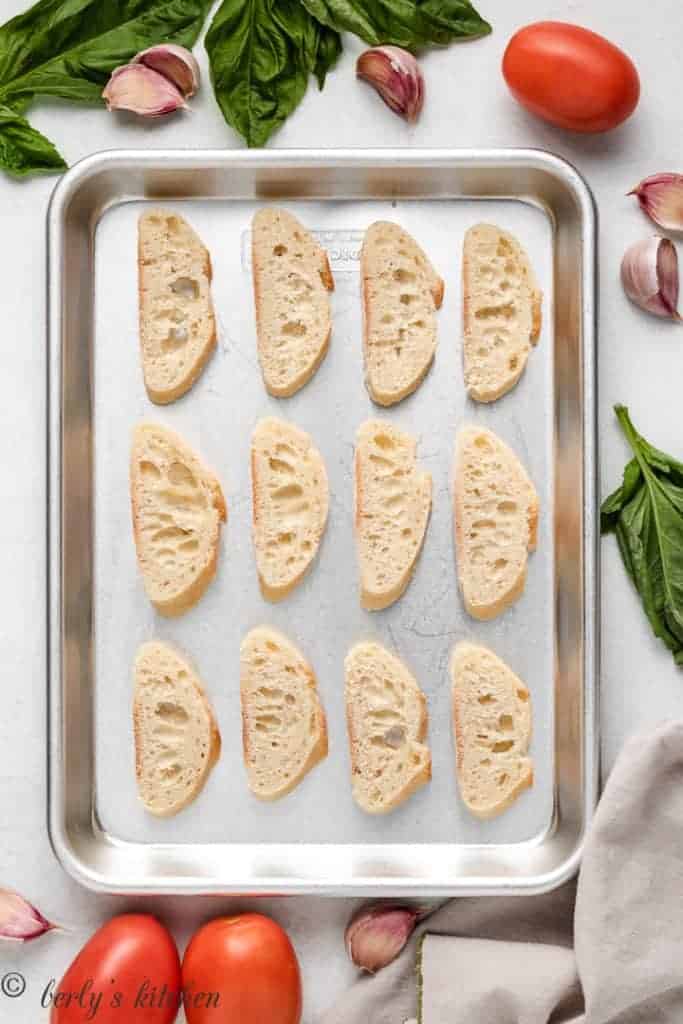 While the bread toasts, make the bruschetta. Dice the onions and tomatoes, and place them in a medium bowl.
Next, mince the garlic and julienne the basil, and add it to the bowl with the onions and tomatoes, then add the salt and pepper.
Once you've seasoned the mixture, add olive oil to the other ingredients and stir gently to mix everything together.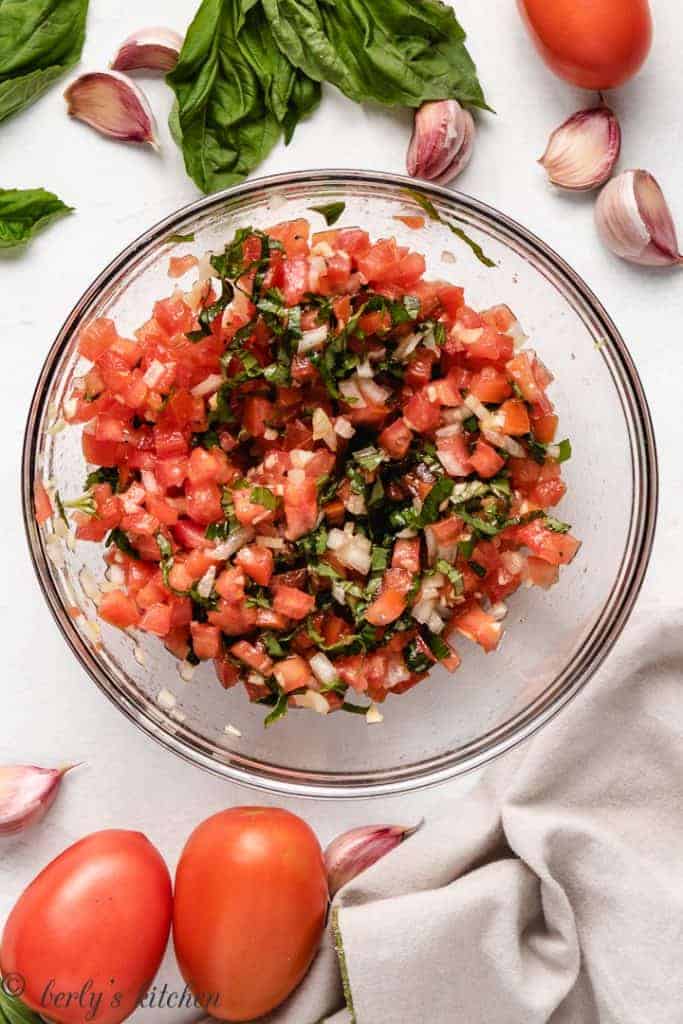 When you're ready, spoon the bruschetta mixture on top of the toasted bread and sprinkle with freshly grated or shaved Parmesan cheese.
Last, place the bread and bruschetta back in the oven for 2-3 minutes to heat slightly and melt the cheese, or eat it at room temperature.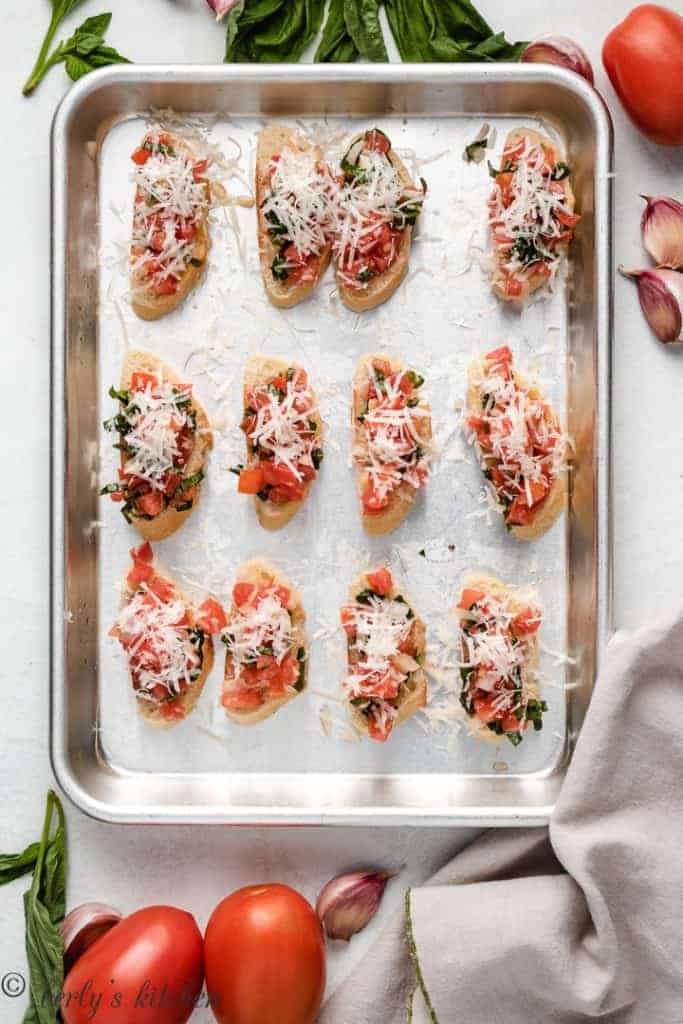 Do you have to add Parmesan cheese to bruschetta?
No, you can use any cheese that you like. Mozzarella is another great option. Some people also enjoy goat cheese on tomato bruschetta.
Can you add balsamic vinegar to bruschetta?
Yes, balsamic vinegar can be added to the bruschetta. However, the acid in the vinegar begins to break down the tomatoes and other ingredients, so it's best to enjoy the bruschetta quickly. We recommend using a balsamic glaze just prior to serving instead.
How long does bruschetta last?
Bruschetta is best enjoyed shortly after being prepared. If needed, allow the bruschetta to set for about 30 minutes to an hour so the flavors can meld. It will last in the refrigerator for 1-2 days after preparation.
Can you use a different type of tomato?
Yes, Roma or plum tomatoes are great for bruschetta, but there are other varieties that also work great. Cherry or grape tomatoes are a good choice, as well as, a variety of heirloom tomatoes.
How do you keep bruschetta from getting soggy?
Start by de-seeding the tomatoes to remove as much excess moisture as possible, and toast the bread to dry it out a bit. You can even brush it with a tiny bit of olive oil or melted butter prior to toasting to give it an extra crunchy exterior. Don't add too much olive oil to the bruschetta, and skip the balsamic vinegar. Go for a balsamic glaze at the end.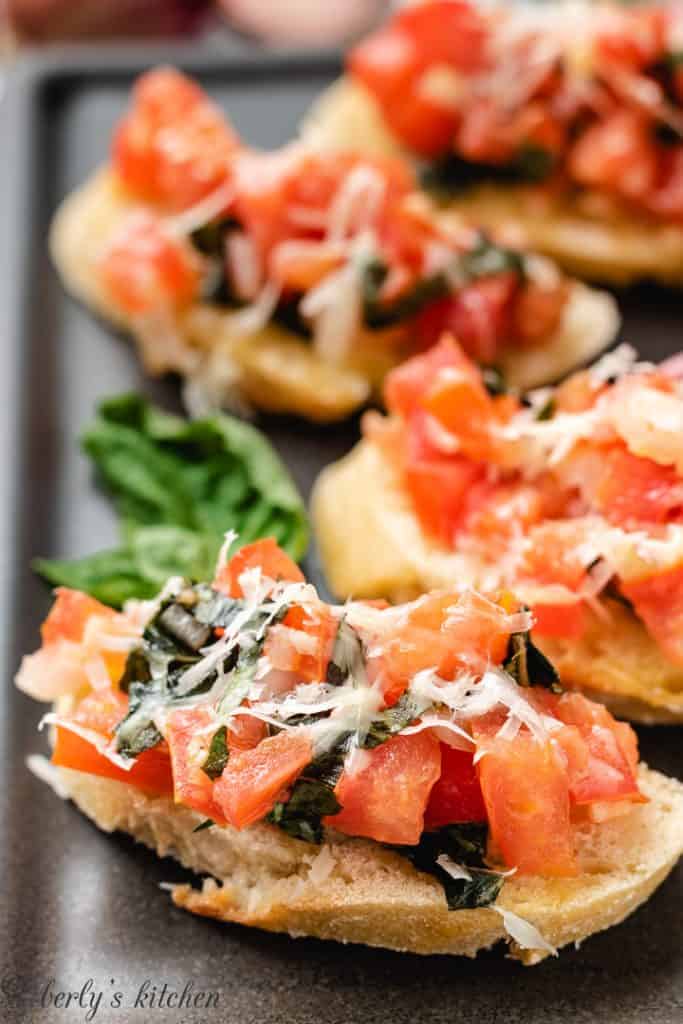 Don't forget to check out our Easy Bruschetta Recipe web story!
Yield: 16 Servings
Easy Bruschetta Recipe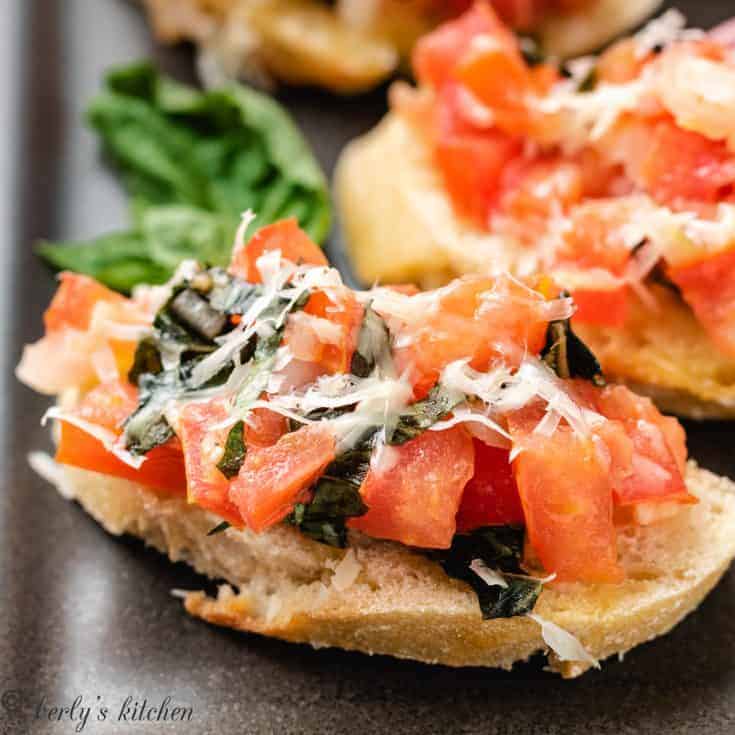 Easy Bruschetta Recipe is a fresh, easy to prepare appetizer. The vibrant flavors of tomato, onion, garlic, basil, olive oil, and Parmesan come together in this classic dish.
Ingredients
16 Slices French Baguette or Rustic Sourdough Loaf, toasted
1 Pound Roma Tomatoes, diced
1/2 Cup Onions, chopped
1/2 Cup Basil, julienned
2 Medium Garlic Cloves, minced
2 Tablespoons Olive Oil
Salt and Pepper, to taste
1/4 Cup Parmesan Cheese, shredded off the block
Instructions
Preheat the oven to 350°F.
Place the bread slices onto a baking sheet, and place it in the oven for 5 to 7 minutes. It should be lightly toasted. While the bread toasts, prepare the bruschetta.
In a large bowl, combine the tomatoes, onions, basil, garlic, and olive oil. Taste, and add salt and pepper.
Top each piece of bread with 1 to 2 tablespoons of the tomato mixture. Sprinkle Parmesan cheese over the tomato mixture.
Return the bruschetta back to the oven for 2 to 3 minutes, and allow cheese to melt slightly.
Enjoy immediately! Leftovers can be stored in an airtight container in the refrigerator for 1 to 2 days.
Notes
*The calories listed are an approximation based on the ingredients and a serving size of two slices of bread with tomato topping. Actual calories may vary.
*If needed, the bruschetta can be prepared ahead of time, and kept in the refrigerator for up to an hour before serving. We recommend keeping the topping separate from the bread until the bruschetta is ready to be served.
*For more information, tips, and answers to frequently asked questions, please refer to the post.
Recommended Products
As an Amazon Associate and member of other affiliate programs, I earn from qualifying purchases.
Nutrition Information:
Yield:
16
Serving Size:
1 Slice
Amount Per Serving:
Calories:

287
Total Fat:

4g
Saturated Fat:

1g
Trans Fat:

0g
Unsaturated Fat:

3g
Cholesterol:

1mg
Sodium:

612mg
Carbohydrates:

51g
Fiber:

3g
Sugar:

5g
Protein:

11g
*The calories are an estimate and are based on the ingredients and serving size listed. The calories can vary depending on the brand of product purchased.