This Penne alla Vodka recipe is the perfect blend of tomato, vodka, heavy cream, garlic, and onions simmered together to make a unique, pink sauce.
John loves comfort food like broccoli cheese soup or chicken paprikash. Our son adores a good Shepherd's pie or French onion casserole.
Me? Give me all the pasta! Penne alla vodka is one of my top five pasta favorites. Spaghetti arrabiata is up there, too, along with Giuseppe's pasta from a restaurant in South Florida called Flanigan's.
We have a similar tomato basil pasta recipe that's pretty close, so whenever I get a craving for that South Florida favorite I make it.
Penne alla vodka is one that I make often. It's not too complicated, and we all love it!
It's a simple sauce of sautéed onions, garlic, and red pepper flakes combined with tomato sauce, heavy cream, and of course, vodka! Toss that pink sauce with perfectly cooked penne, and you've got an amazing dish.
We even made an Instant Pot penne alla vodka version, and a couple of spin off recipes with similar ingredients.
One is our Instant Pot Creamy Tomato Pasta and the other is Slow Cooker Creamy Chicken Pasta. Both are delicious and very popular with our readers.
How to Make Penne alla Vodka:
First, gather all the ingredients needed and prep them in bowls or cups. Go ahead, and chop the garlic and onions.
The recipe tends to move quickly once it gets going, so it's best to have everything prepped and ready.
Next, cook your pasta noodles, per the box instructions. Keep about a 1/4 cup of pasta water to use in the vodka sauce if it's too thick.
Melt 3 tablespoons of unsalted butter and 1 tablespoon of olive oil together in a large saucepan. Add the onions and 1/4 teaspoon crushed red pepper flakes (adjust to taste or omit if desired).
Cook over low-medium heat until the onions are soft and translucent, about 4 to 5 minutes. Add the garlic, and sauté for an additional 30 seconds to a minute just until the garlic becomes fragrant.
Pour in 1/2 a cup of vodka, and stir to combine. *If you are working with an open flame, turn off the flame before pouring the vodka.
Please note, it's important to let the alcohol cook out of the vodka before adding other ingredients. Otherwise, your sauce will taste boozy.
That boozy taste is great in a vodka cranberry cocktail, but it's not so tasty in penne alla vodka.
Let the vodka sauce cook for about 15 minutes and then add the tomato sauce, salt, and pepper.
Reduce the heat to low, and slowly stir in the heavy cream. Continue to stir to incorporate the heavy cream.
Bring the vodka sauce to a steep, but don't let it bubble or boil; otherwise, the cream may curdle. Cook for 4 to 5 minutes, then remove from heat.
Toss the cooked noodles with vodka sauce. If the sauce is too thick, use a little of the reserved pasta water to loosen it up.
If it's fine, toss out the pasta water. Serve the penne alla vodka with shaved Parmesan, fresh basil, a baguette slice, and a side salad.
If you'd like to add a protein to your penne alla vodka, try this Penne alla Vodka with Pancetta.
Does penne alla vodka taste like vodka?
If the vodka is cooked down properly, you won't be able to taste it. However, if it's not cooked out, the pasta can have an alcohol or boozy flavor that can be quite strong.
What is the purpose of vodka in penne alla vodka?
The vodka interacts with the tomato sauce to bring out flavors that may not be noticeable otherwise. It also emulsifies the sauce and helps hold the heavy cream and tomato sauce together. Normally the fat in the cream and the acid in the tomato would cause the sauce to separate.
What can I use instead of vodka in penne alla vodka?
For an alcohol based substitution, try silver tequila, white rum, or red wine. For a non-alcoholic swap, try water mixed with a couple tablespoons of vinegar or lemon juice. Any of these substitutions may change the flavor of the pasta from the original version.
What protein can you add to penne alla vodka?
Cooked chicken, rotisserie chicken, ham, bacon or pancetta would all make great additions.
Can you freeze vodka sauce?
Yes, you can freeze vodka sauce. I'd recommend making the vodka sauce without the noodles and freezing it in batches.
Allow the sauce to cool completely, then transfer it to freezer-safe containers or zip top bags. The vodka sauce should freeze well for up to 3 months.
Don't forget to check out our Penne alla Vodka web story!
Don't forget to follow us on FACEBOOK and PINTEREST to see our newest recipes! You can also find us on Facebook, Pinterest, Twitter, and Instagram searching for Berly's Kitchen!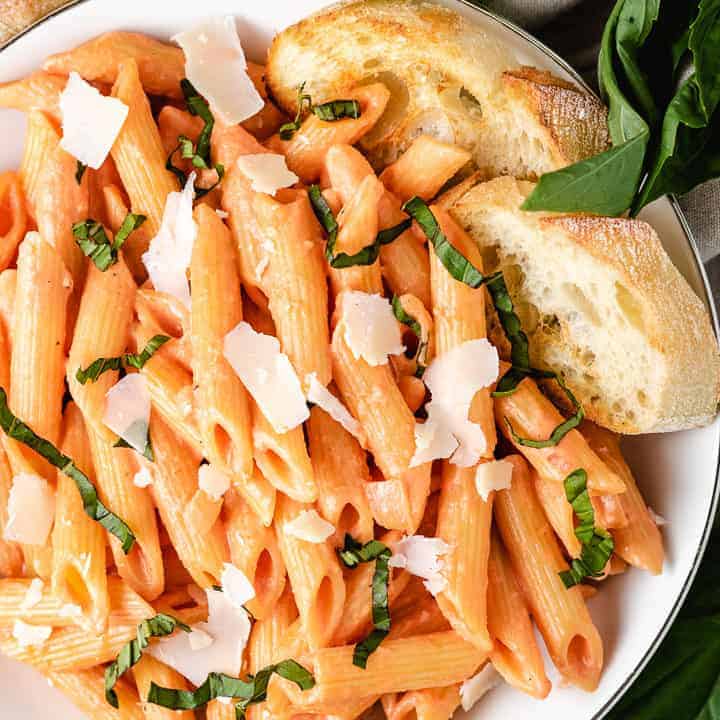 Penne Alla Vodka
This Penne alla Vodka recipe is the perfect blend of tomato, vodka, heavy cream, garlic, and onions simmered together to make a unique, pink sauce.
Ingredients
16 Ounces Penne, cooked, drained with 1/4 cup pasta water reserved (per package directions)
3 Tablespoons Unsalted Butter
1 Tablespoon Olive Oil
4 Cloves Garlic, minced or pressed
1 Cup White Onion, diced
1/4 Teaspoon Red Pepper Flakes
1/2 Cup Vodka
1 (15 Ounce) Can Tomato Sauce
Salt and Pepper, to taste
1 Cup Heavy Cream
Instructions
Cook the penne according to package directions. Drain, but reserve 1/4 cup pasta water. Set noodles aside.
Melt butter and olive oil together in a saucepan over medium heat. Add onions and red pepper flakes. Cook until onions are translucent, about 4 to 5 minutes. Add the garlic, and cook for an additional 30 seconds to 1 minute.
Pour in the vodka, and allow the alcohol to cook out, about 15 minutes. Add the tomato sauce, salt, and pepper. Bring to a simmer for an additional 5 minutes.
Reduce the heat to low, and add heavy cream. Stir to combine. Don't allow the sauce to become too hot or cream could break or curdle. Bring sauce to a simmer for 4 to 5 minutes, then remove from heat.
Toss the noodles with the sauce, and use the reserved pasta water to thin out the sauce if needed. Top with grated parmesan and fresh basil. Serve immediately.
Store leftovers in the refrigerator for up to 3 days.
Notes
*The calories listed are an approximation based on the ingredients in the recipe card and a serving size of 2 ounces of pasta. Actual calories will vary.
*For more information, tips, and answers to frequently asked questions, please refer to the post.
Recommended Products
As an Amazon Associate and member of other affiliate programs, I earn from qualifying purchases.
Nutrition Information:
Yield:

8
Serving Size:

2 Ounces
Amount Per Serving:
Calories:

305
Total Fat:

18g
Saturated Fat:

10g
Trans Fat:

0g
Unsaturated Fat:

6g
Cholesterol:

45mg
Sodium:

320mg
Carbohydrates:

25g
Fiber:

2g
Sugar:

5g
Protein:

5g
*The calories are an estimate and are based on the ingredients and serving size listed. The calories can vary depending on the brand of product purchased.