For your next big game party try our cheese stuffed breadsticks. Pizza crust seasoned with Italian spices and stuffed with gooey mozzarella cheese!
Who doesn't love a good cheesy bread? Soft and chewy bread topped with melted cheese that stretches when you grab a bite.
Well, what if we added cheese to the inside of the bread and topped it with melted butter, herbs, and spices?
That's exactly what we did for today's post. These cheese stuffed breadsticks are sure to please any lover of cheesy bread. So, let's get started.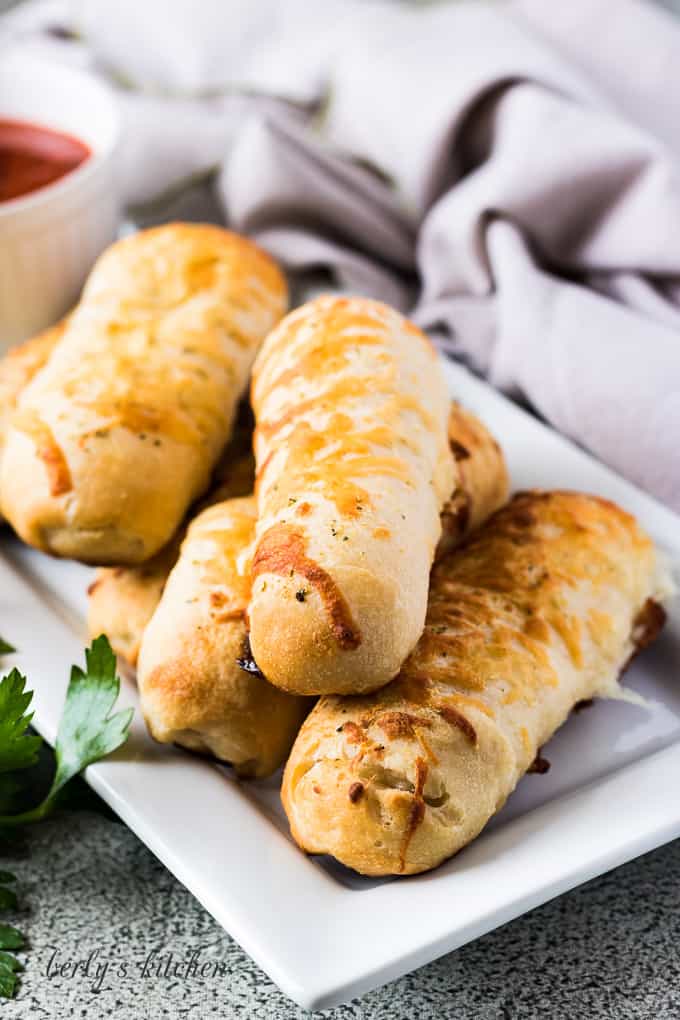 How to make cheese stuffed breadsticks?
First, start by preheating your oven to 425°F, and placing parchment paper on your sheet pan. Use our photos as a reference.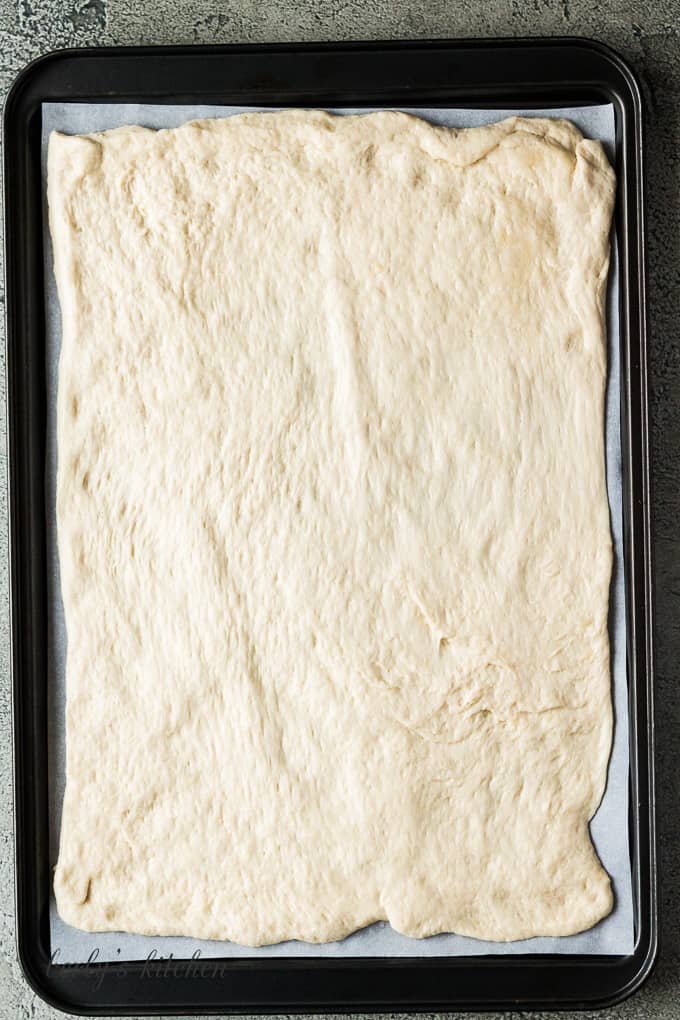 Honestly, if you don't have any paper, non-stick cooking spray works just fine.
Next, open the pizza dough and unroll the raw pastry. Use your knife to cut the dough into six (6) equal sized pieces.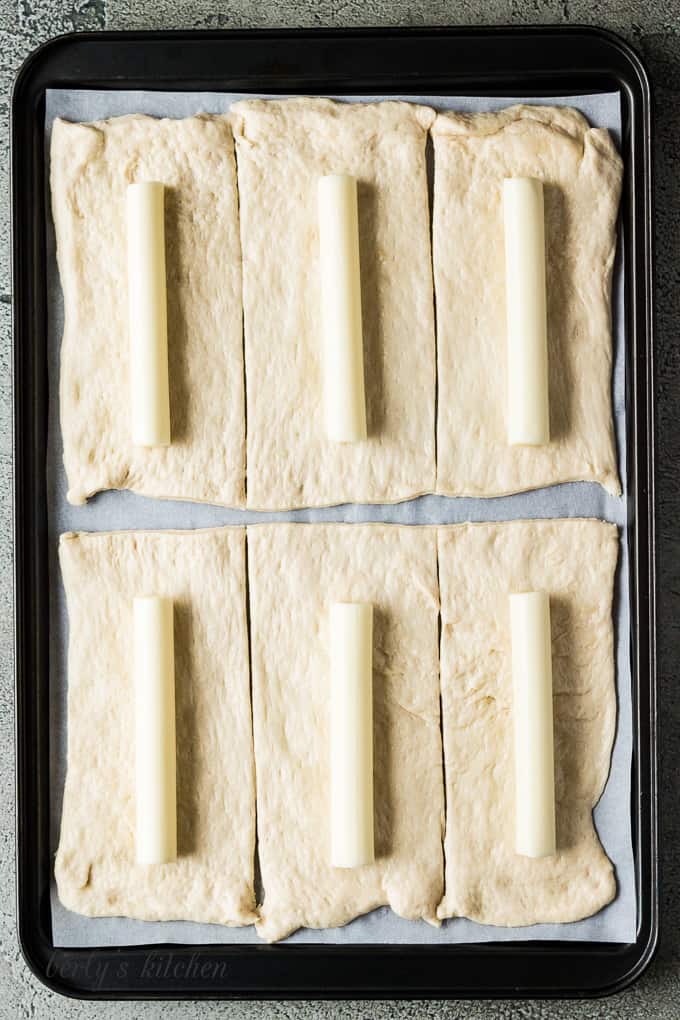 Then, unwrap six mozzarella sticks. Place one cheese stick in the middle of each piece of pizza dough.
Now, carefully wrap the dough around the cheese stick. Be sure to pinch around the seam to seal the breadstick.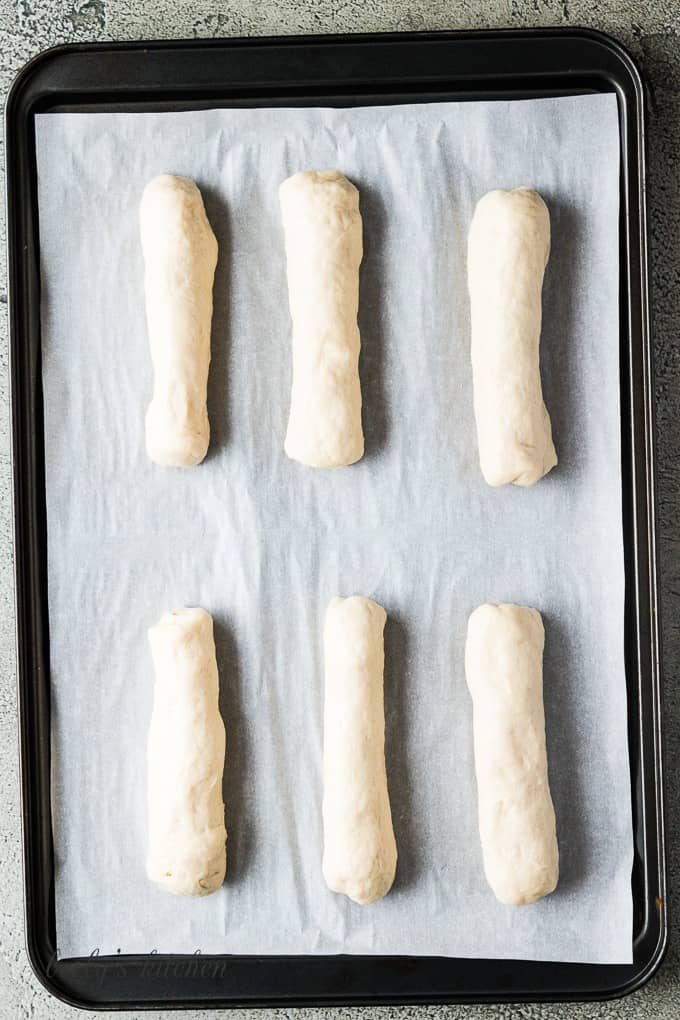 Otherwise, the breadstick will burst open during the baking process and all that melted cheese will ooze out of the snack.
Once all the breadsticks are filled and sealed, place them on the baking sheet. Be sure to leave about two inches of space between each one. That gives the appetizers room to grow as they bake.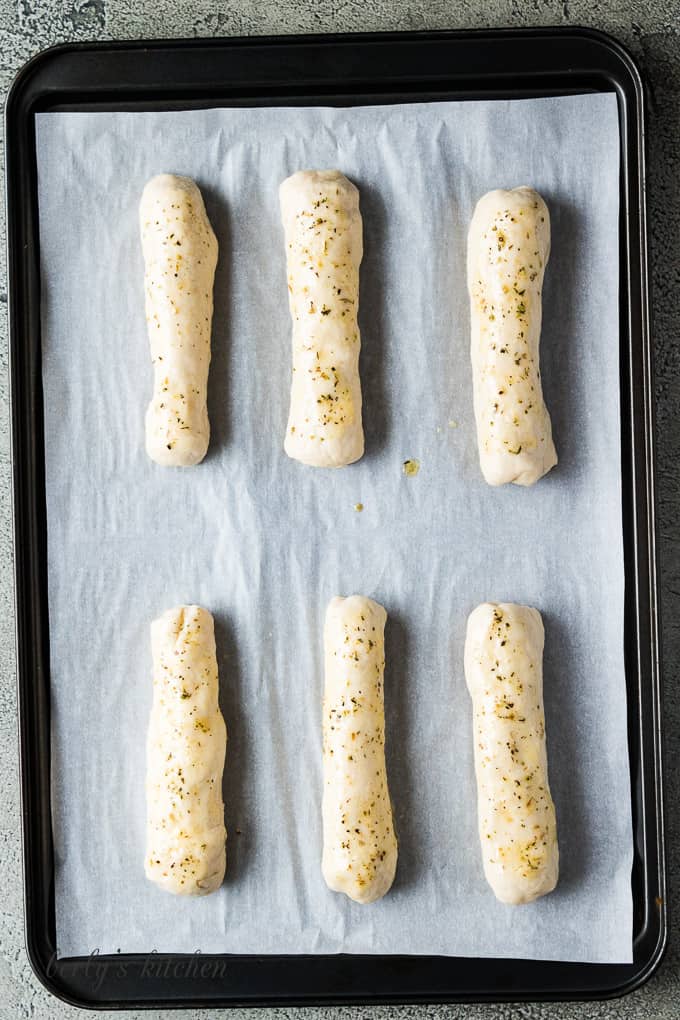 At this point, you can melt the butter (in your microwave) and combine it with the garlic powder, Italian seasonings, and salt.
Afterward, drizzle the butter (or use a pastry brush) over the breadsticks and sprinkle them with the mozzarella cheese.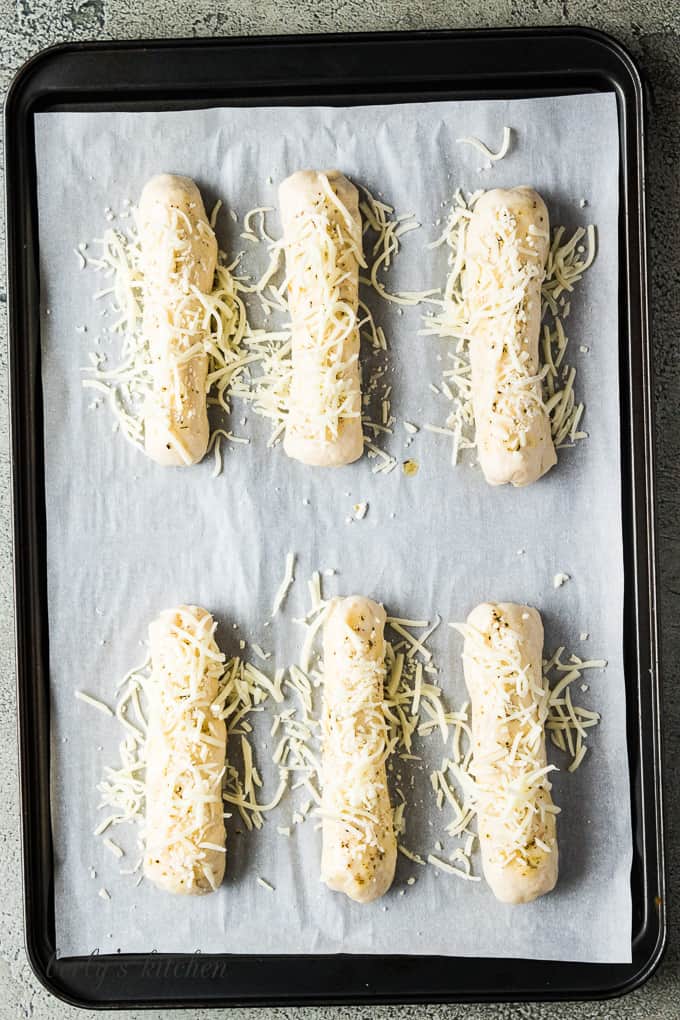 Last, place them into the oven to bake for twelve to fourteen minutes or until they're done. Remove them from the oven and let them cool for a few minutes before serving them with marinara or ranch.
That's it, your cheese stuffed breadsticks are done! Kim and I hope you enjoy the recipe and wish you all the best 🙂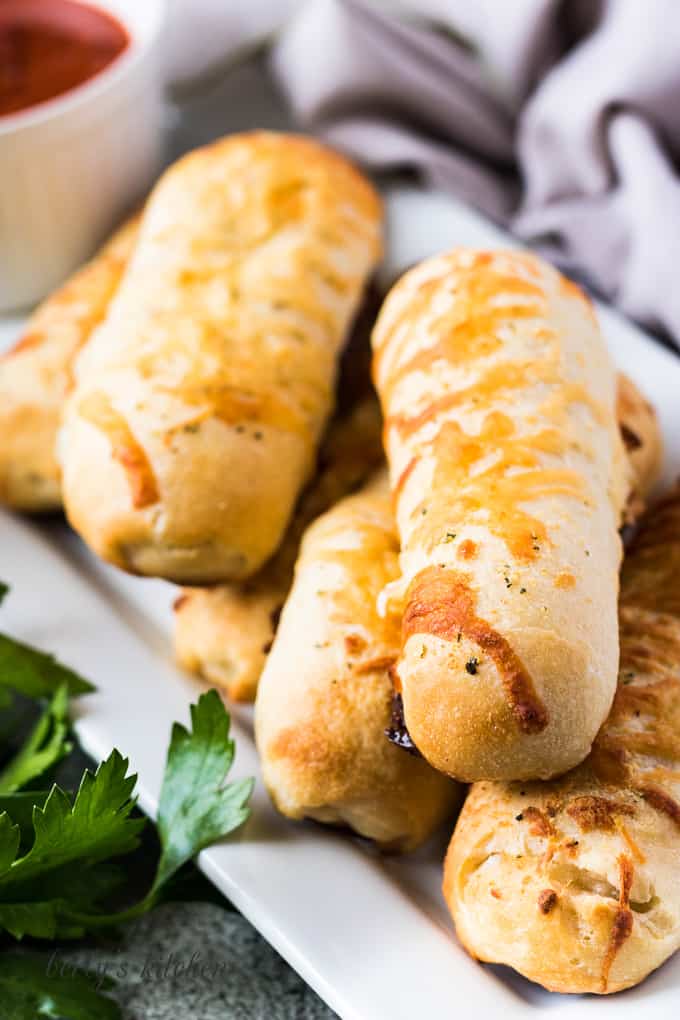 What goes good with breadsticks?
Marinara Sauce
Garlic Butter Sauce
Caesar Salad
Spring Salad
Italian Wedding Soup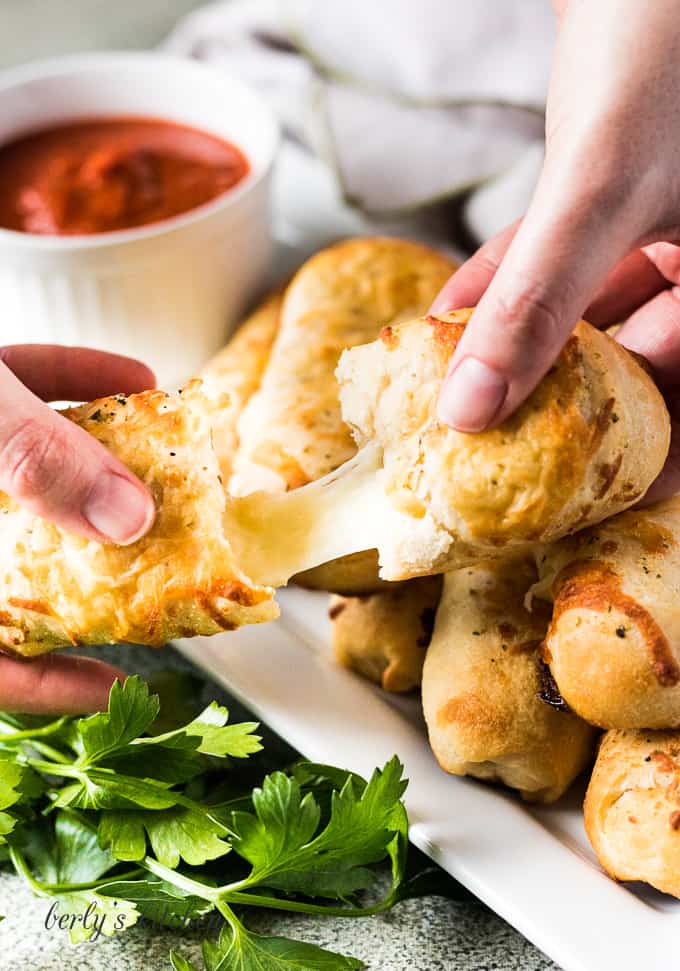 Don't forget to check out our Cheesy Stuffed Breadsticks web story!
If you like our easy cheese stuffed breadsticks recipe, please leave us a comment and rate the recipe card. You can also find us on Facebook, Pinterest, Twitter and Instagram searching for Berly's Kitchen!
Yield: 6 Breadsticks
Easy Cheese Stuffed Breadsticks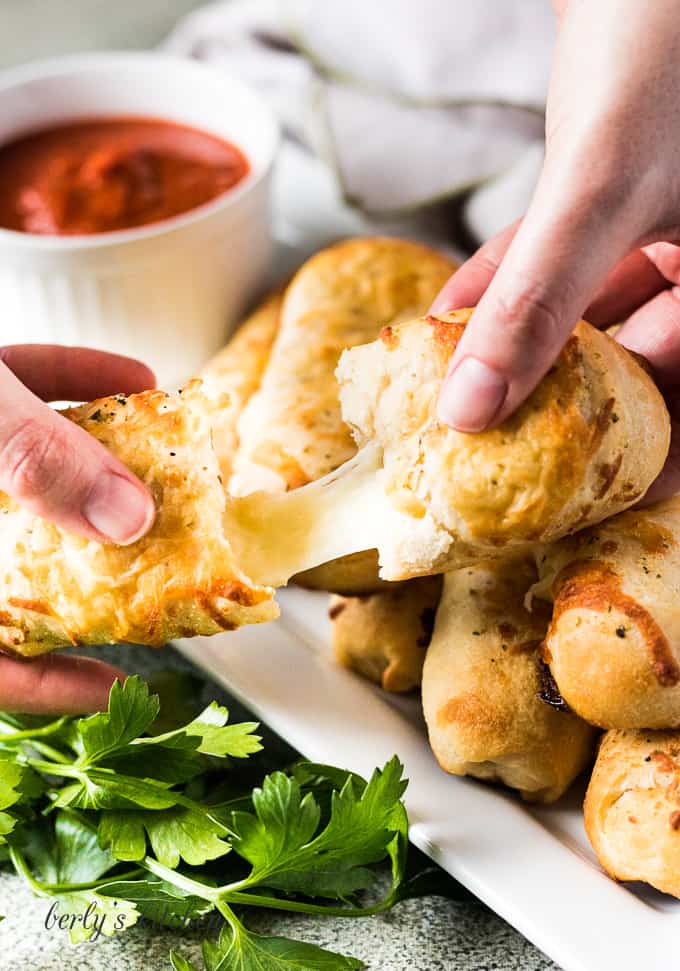 For your next big game party try our cheese stuffed breadsticks. Pizza crust seasoned with Italian spices and stuffed with gooey mozzarella cheese!
Ingredients
6 Large Cheese Sticks, (we used mozzarella)
1 Tablespoon Unsalted Butter
1/2 Teaspoon Salt, (or to taste)
1/2 Teaspoon Garlic Powder, (or to taste)
1/2 Teaspoon Italian Seasonings
1 Ounce Mozzarella Cheese, (shredded)
Instructions
Preheat the oven to 425 degrees, and line a large baking sheet with parchment paper.
Unroll the pizza dough and stretch it out slightly to form a large rectangle. Use a pizza cutter or sharp knife to cut the rectangle into 6 even pieces.
Place a mozzarella stick onto each piece of dough, and form the dough around the mozzarella stick. Make sure to seal the dough well, and pinch all seams tightly. Otherwise, the cheese will ooze out while the breadsticks bake.
Arrange the breadsticks about 2 inches apart on the baking sheet. Melt the butter, and stir in the salt, garlic powder, and Italian seasoning. Use a pastry brush to apply the melted butter mixture to each breadstick and top with shredded mozzarella.
Bake for 12 to 14 minutes or until the breadsticks are golden brown. Remove from the oven and let the breadsticks cool for about 5 minutes before serving.
Notes
The calories listed are an approximation based on the ingredients and a serving size of one (1) cheese stuffed breadstick. Additionally, the calorie count does NOT include any dipping sauces seen in the photos. Actual calories will vary. Any leftovers can be stored in your fridge, in a sealed container, for up three (3) days.
Recommended Products
As an Amazon Associate and member of other affiliate programs, I earn from qualifying purchases.
Nutrition Information:
Yield:
6
Serving Size:
1 Breadstick
Amount Per Serving:
Calories:

275
Total Fat:

11g
Saturated Fat:

6g
Unsaturated Fat:

0g
Cholesterol:

24mg
Sodium:

939mg
Carbohydrates:

33g
Fiber:

1g
Sugar:

4g
Protein:

12g