Savory pork sausage, fluffy eggs, and cheddar cheese are the stars in our cheesy breakfast enchiladas recipe. Breakfast doesn't get much better than this!
They say breakfast is most important meal of the day. When I was younger, I scoffed at the idea.
However, as I've gotten older, I come to the conclusion, that they were right. So, why waste such an important meal?
I say, make something that you'll enjoy. If you love breakfast sausage, eggs, and cheese, then you'll probably enjoy our cheesy breakfast enchiladas.
Just like our cheesy breakfast casserole, we took all your breakfast favorites and rolled them into a flour tortilla. Then, covered them in green chili sauce and cheddar cheese.
It's a simple, satisfying meal that your whole family will love. Shall we get started?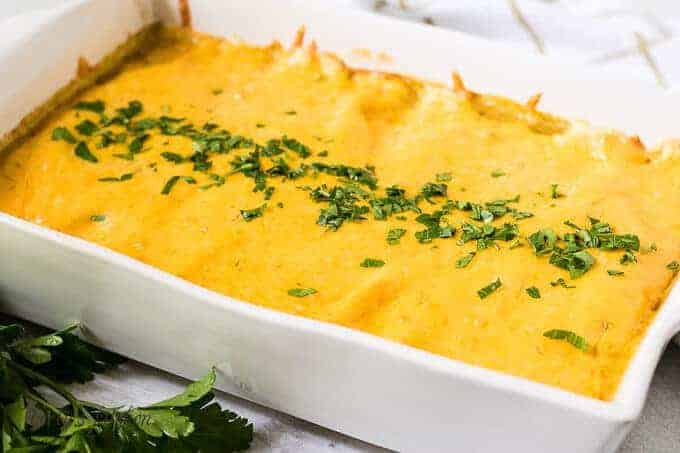 Cheesy Breakfast Enchiladas Instructions:
First, preheat your oven to 400° F. and prep any ingredients needed. You know, chop or dice your veggies, shred the cheddar cheese, etc.
Once that's done, grab a large skillet and place it over medium-low heat. Add the sausage, onions, and bell peppers.
Let them cook until the meat is perfectly browned.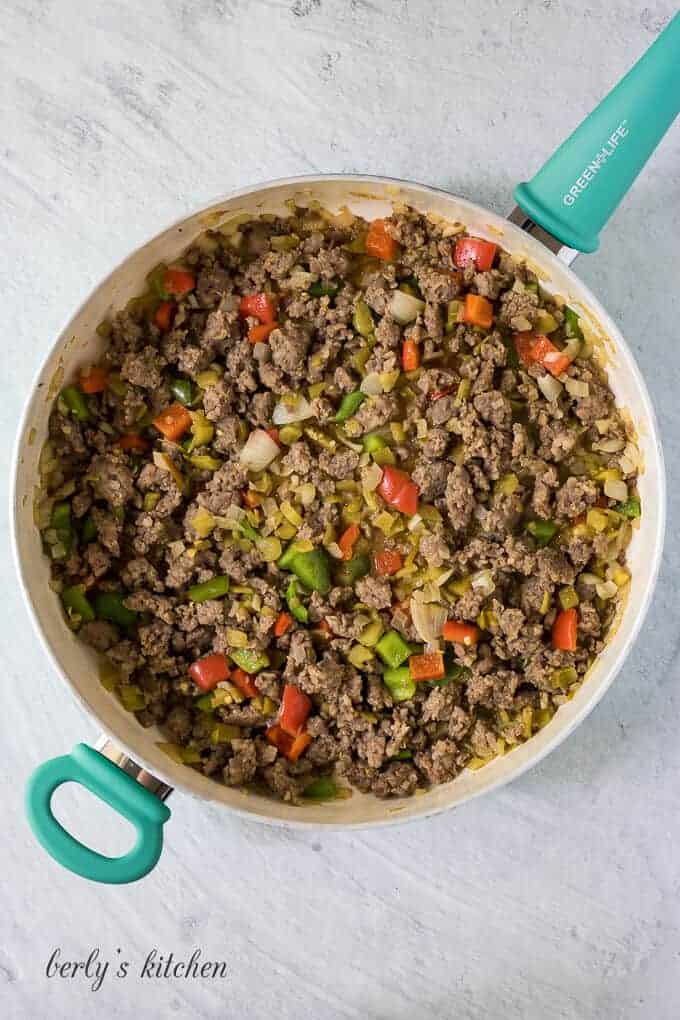 While the mixture cooks, crack the eggs into a large mixing bowl. After that, use a fork or a whisk to whip the eggs.
Usually, I will add the salt and pepper to the beaten eggs. Once the sausage and peppers are ready, pour the eggs into the skillet.
Continue cooking everything until the eggs are scrambled.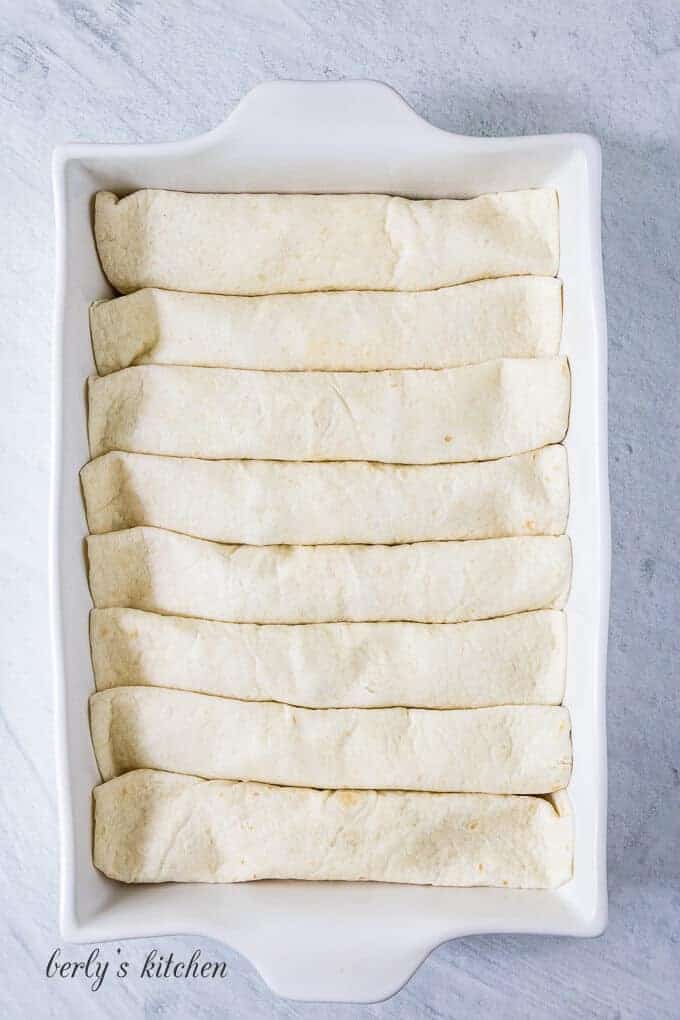 Now, it's time to roll the breakfast enchiladas. Add about one-third (1/3) of a cup of the sausage and eggs to a flour tortilla.
Roll it up and place the enchilada in a large baking dish. Continue this process until all the tortillas are gone.
Afterward, pour the green enchilada sauce over the enchiladas. Take a look at the photos, use them as a guide.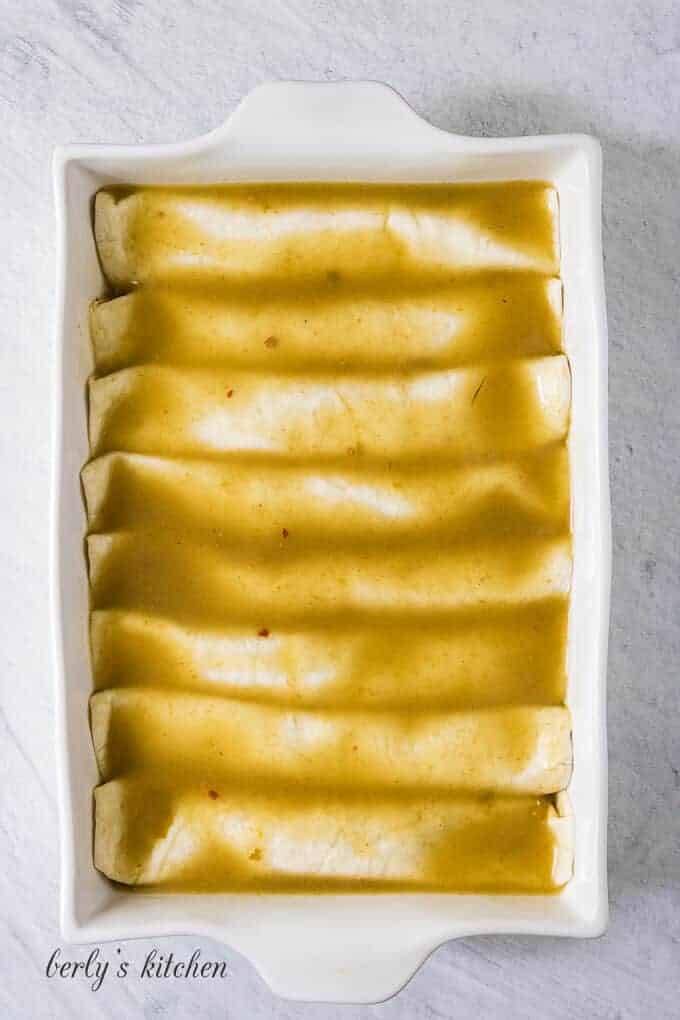 Enchilada Instructions Continued:
Spread the sauce evenly over the dish. At this point, you can top everything off with shredded cheddar cheese.
Place the dish into your oven to bake for about fifteen minutes or until the cheese has melted. Last, remove the dish from the oven and serve.
That's it, your breakfast sausage enchiladas are done! Kim and I hope you enjoy the recipe and wish you all the best 🙂
For subtle twist on this recipe, try using ground beef or turkey sausage instead or pork sausage.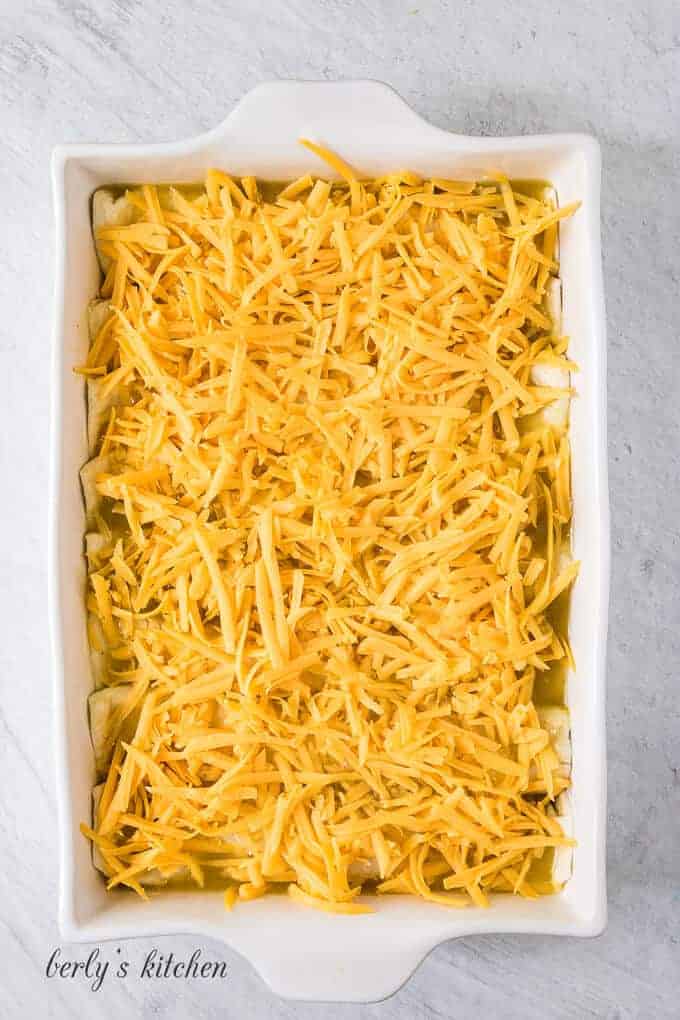 Do I have to cover enchiladas when baking?
The short answer is that it depends on the recipe. Traditional versions are usually covered when baking to prevent them from drying out during the baking process.
For our breakfast enchiladas, the answer is no. Because, they're only going to bake long enough to melt the cheese and heat the sauce.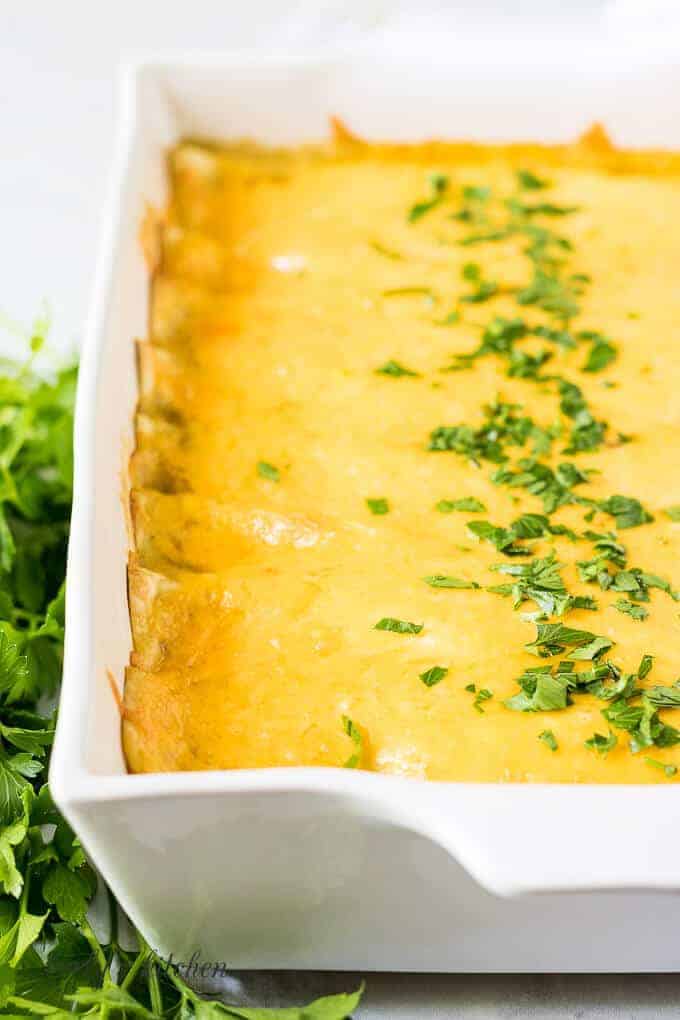 How do I wrap enchiladas?
We place the filling in the center of the tortilla, then starting on one side, we roll them up and place them seam side down in the pan. That way, they stay closed and do not come unraveled.
How do you roll enchiladas without breaking tortillas?
Simple, heat the tortillas before you start the rolling process. Kim or I usually will place a couple of tortillas into the microwave to heat them for a few seconds before using them.
If you like our breakfast enchilada recipe, please leave us a comment and rate the recipe card. You can also find us on Facebook, Pinterest, Twitter and Instagram searching for Berly's Kitchen!
Yield: 10 Servings
Cheesy Breakfast Enchiladas Recipe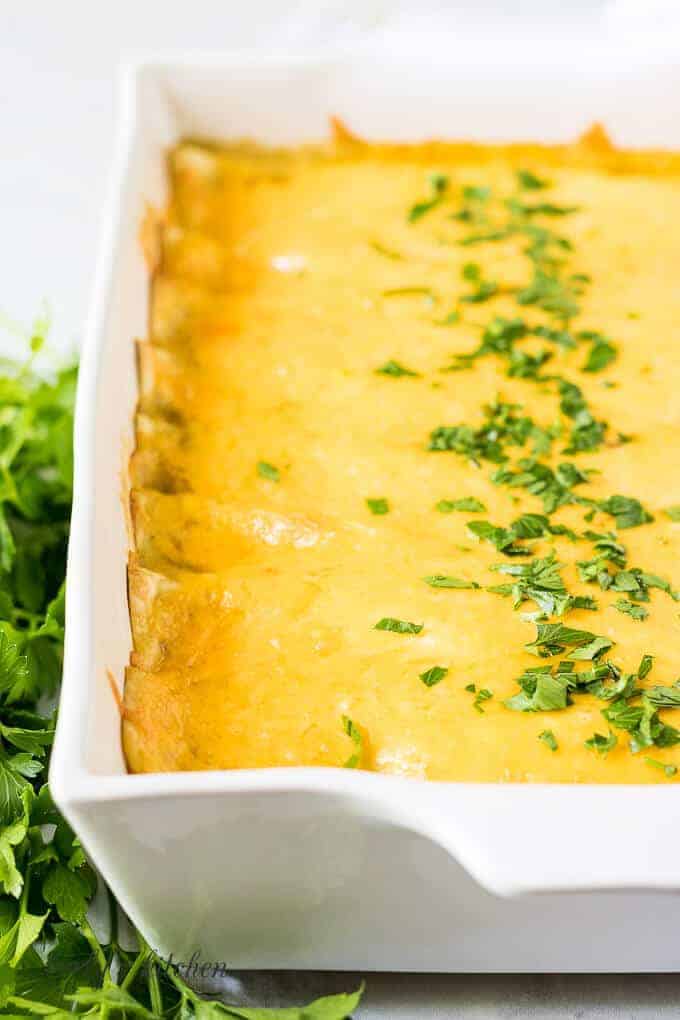 Savory pork sausage, fluffy eggs, and cheddar cheese are the stars in our cheesy breakfast enchiladas recipe. Breakfast doesn't get much better than this!
Ingredients
1 Lb. Breakfast Sausage, (we used pork)
1 Cup White Onion, (diced)
1 Cup Bell Pepper, (diced, we used green, red, and yellow)
7 Ounces Green Chilies, (we used one ((1)) can of Hatch chilies)
2 Cups Cheddar Cheese, (shredded)
8 Large Flour Tortillas, (we used large taco sized)
8 Large Eggs, (beaten)
10 Ounces Green Chili Sauce, (we used one ((1)) can Old El Paso)
Salt and Pepper to Taste
Instructions
Preheat the oven to 400 F., and set aside a large baking dish (see notes regarding size options).
In a large skillet, cook the sausage, onion, and bell peppers over low-medium heat. Break up the sausage into small pieces, and cook until it's no longer pink (about 7-10 minutes). When the sausage is finished cooking, add the green chiles, and cook an additional 2-3 minutes.
While the sausage cooks, place the eggs in a medium bowl along with the salt and pepper. Use a whisk or fork to beat the eggs. After the sausage and peppers are cooked, add the eggs to the sausage mixture and scramble over low-medium heat. Scramble until the eggs are soft and cooked through.
Remove the sausage and egg mixture from heat, and prepare to assemble the enchiladas. Place ⅓ to ½ cup of the filling into a tortilla and roll it tightly leaving the ends open. Line the filled tortillas into the baking dish so they fit against each other snuggly.
Top the enchiladas with the enchilada sauce, and use a spatula to smooth it out evenly. Cover the enchiladas with shredded cheese, and transfer the pan to the oven.
Bake for 15 minutes or until the cheese is melted and the sauce is bubbling around the edges.
Serve hot topped with your favorite toppings like sour cream, tomatoes, bacon, cilantro, green onions, green chiles, or pico de gallo.
Notes
The calories listed are an approximation based on the ingredients and a serving size of one (1) breakfast enchilada. Actual calories will vary. The breakfast enchiladas can be stored, in a covered container, in your fridge for up to three (3) days. Additional notes:
**If making 8 enchiladas, they will fit snuggly into a 7 x 11 dish, although the ends will be slightly squashed.**
**A 9 x 13 inch baking dish can be used to make 8 or 10 enchiladas, but it may be necessary to add extra enchilada sauce.**
Recommended Products
As an Amazon Associate and member of other affiliate programs, I earn from qualifying purchases.
Nutrition Information:
Yield:
10
Serving Size:
8 Ounces
Amount Per Serving:
Calories:

412
Total Fat:

26g
Saturated Fat:

11g
Unsaturated Fat:

0g
Cholesterol:

225mg
Sodium:

1105mg
Carbohydrates:

22g
Fiber:

3g
Sugar:

6g
Protein:

21g