A no-fuss, creamy cheese grits recipe using six ingredients or less. You can't go wrong with warm, cheesy grits in less time than it takes to make pancakes!
Ah, breakfast, one of my favorite meals. Whether or not it's the most important meal of the day is debatable.
But, there's no arguing about one thing, a good breakfast is hard to beat. So, why not start your day with something tasty and filling?
Our recipe is basic, but delicious. Furthermore, it shouldn't take long to prepare.
Even though, it's homemade, there are only six (6) ingredients. It takes about twenty (20) minutes to put together.
That's less time than it takes to make a stack banana oat pancakes or batch of Monkey Bread Muffins, even with instant mixes. The serving size is small, but it's intended to be a side dish.
Take a look at my tips if want to make your cheese grits into a meal. Now, let's get started!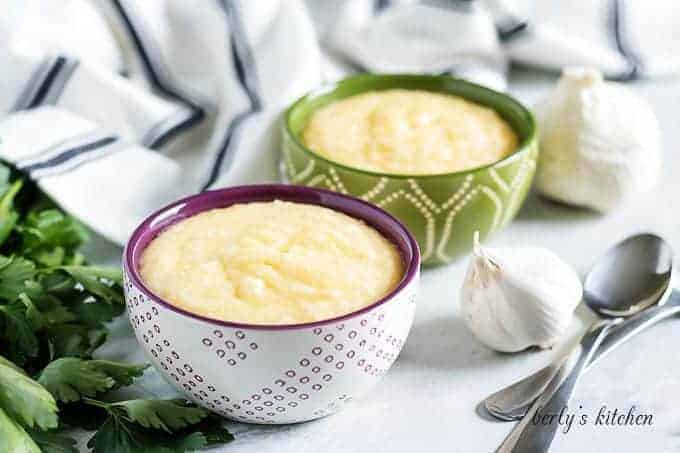 Cheese Grits Directions:
First, mince the garlic and shred your cheese. Then grab a medium-sized saucepan and put it over low-medium heat. To that, add the butter and let it melt.
Once the butter has melted, toss in the garlic and let it cook for about thirty (30) seconds. At that point, you'll be ready to pour in the grits.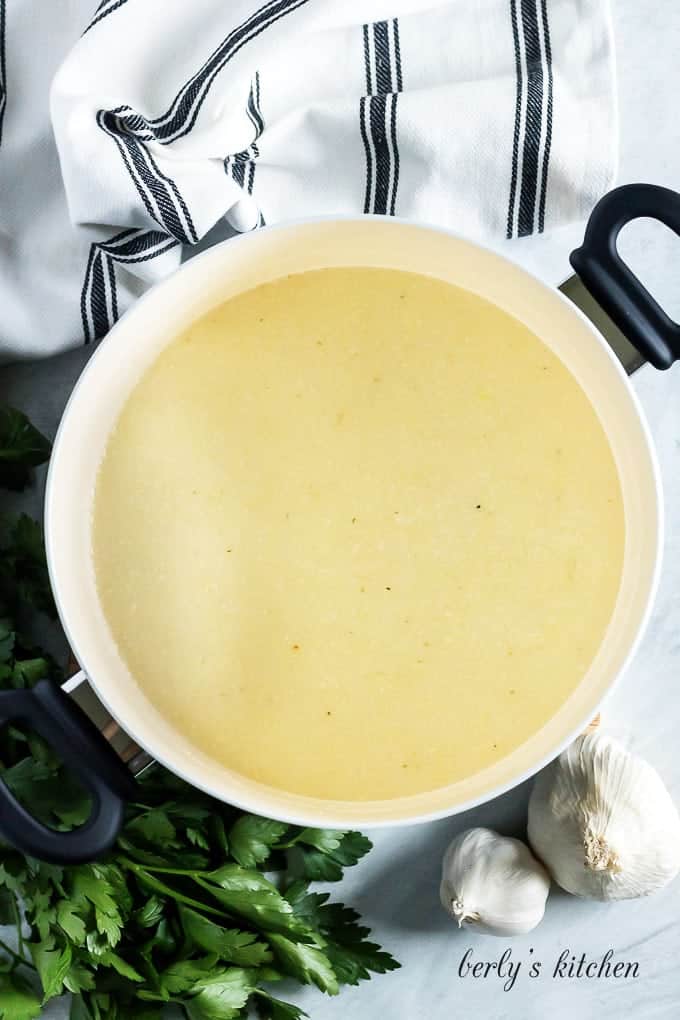 Stir together the butter, garlic and grits. Now, add the water and salt (optional).
Use a rubber spatula or your wooden spoon to mix everything together. It's safe to say you shouldn't leave the pan unattended.
Dishes like this can burn easily. Unfortunately, that means you need to babysit the pan. But, trust me, it's worth it.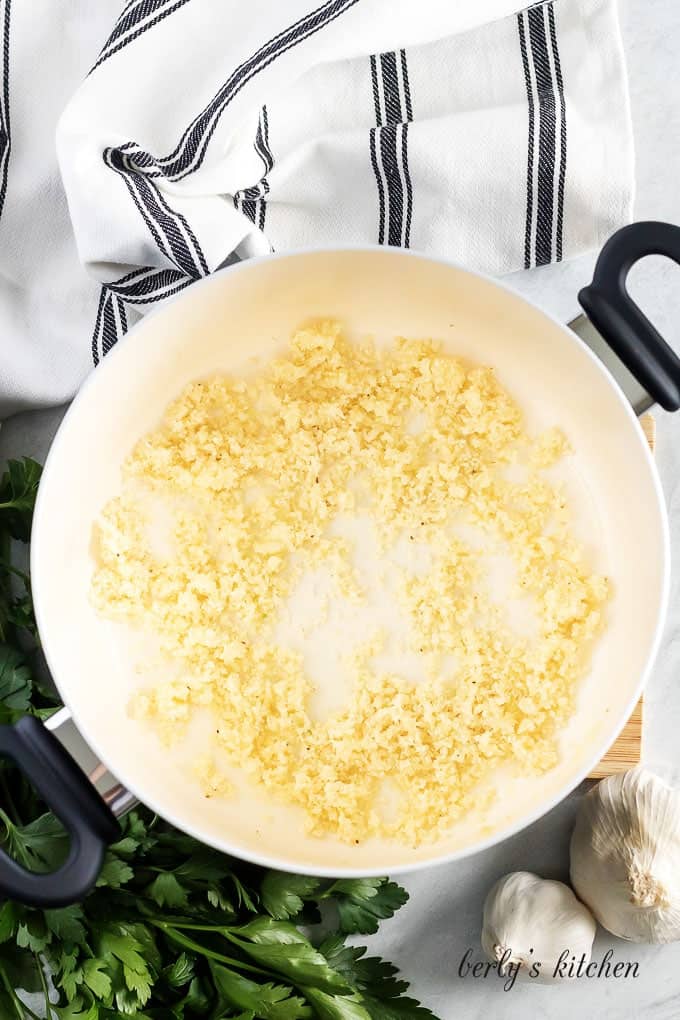 As the grits cook for the next fifteen (15) to twenty (20) minutes, keep stirring. Once most of the water has been absorbed and they reach a creamy consistency, you can turn off the heat.
All that's left to do is add the cheese and keep on stirring until it has melted. You can do a taste test and add salt, if needed.
But, please be careful and don't burn yourself. That's it, your creamy cheese grits are done. Kim and I hope you enjoy the recipe and wish you a lovely day 🙂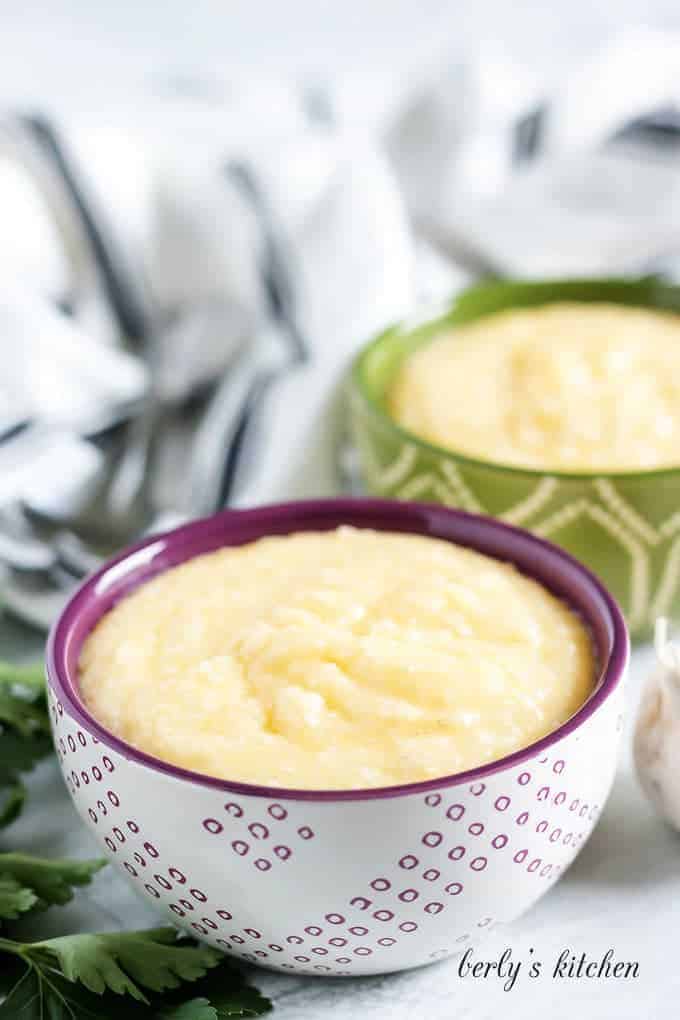 Creamy Cheese Grits Recipe Tips:
After storing your cheese grits, you may notice they've become a dry, lump of paste. When you decide to reheat them, for the best results, try these steps.
Reheat them in a pan, over low heat, with one-fourth (1/4) a cup of milk, stock, or water. Adding the extra liquid will help, "soften them up," a bit so you can stir them as they reheat.
What goes with cheesy grits? Well, that depends on your preferences. Some people love adding shrimp.
I, on the other hand, prefer diced andouille or chorizo sausage; something a little spicy. Moreover, I also enjoy using pepper jack cheese instead of white cheddar. Just a few suggestions.
If all you have on-hand are instant or quick cooking grits, you can still make this recipe. The only things that really change are the cook times and liquid amounts.
Simply, disregard the grits and water ingredients/instructions and follow the directions on the package for the quick versions.
Meanwhile, cook the garlic in half a tablespoon of butter in a separate pan. Then, stir the butter, garlic, and cheese into the grits while they're still hot. We haven't tried this, but it seems like it should be a viable option.
If you like our creamy cheese grits recipe, please leave us a comment and rate the recipe card. You can also find us on Facebook, Pinterest, Twitter and Instagram searching for Berly's Kitchen!
Yield: 4 Servings
Creamy Cheese Grits Recipe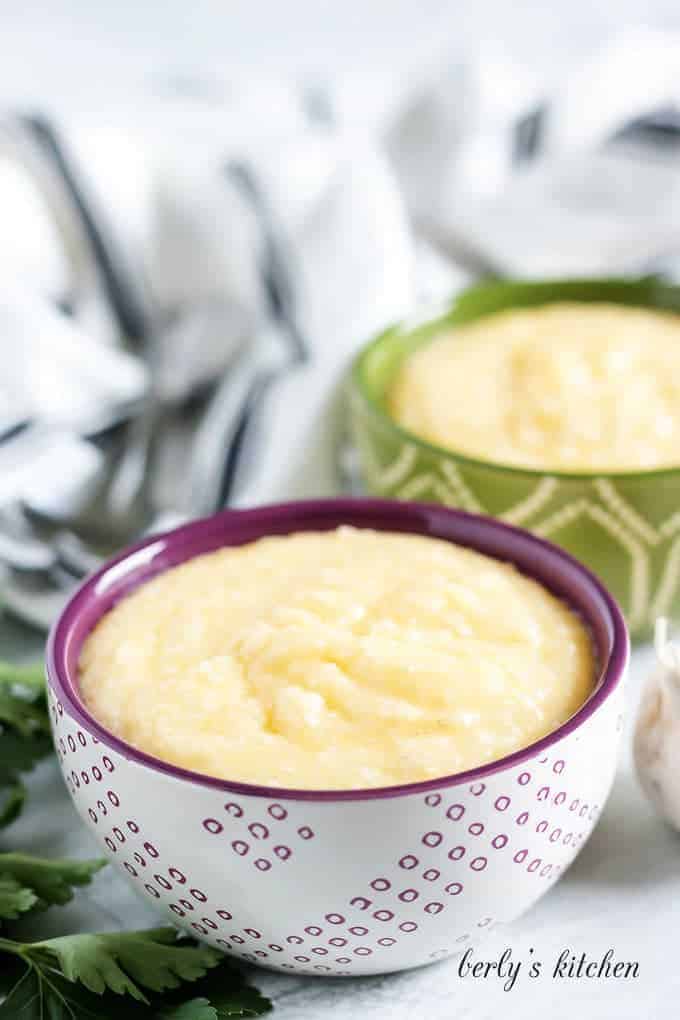 A no-fuss, creamy cheese grits recipe using six ingredients or less. You can't go wrong with warm, cheesy grits in less time than it takes to make pancakes!
Ingredients
2 Tablespoons Unsalted Butter
2 Large Garlic Cloves, (minced)
1/2 Cup Old Fashioned Grits, (not instant or quick cooking)
2 Cups Water, (or chicken broth)
2 Ounces Cheddar Cheese, (shredded, equivalent to 1 cup in volume)
Salt to Taste
Instructions
In a medium-sized pan, melt the butter over low-medium heat. After the butter melts, add the garlic, and cook an additional thirsty (30) seconds
Pour in the grits, and stir to combine. Next, add the water or chicken broth and salt (or wait to add the salt to taste at the end).
Continue to cook over low-medium heat for fifteen to twenty (15-20) minutes, stirring frequently, until the grits have reached a creamy consistency. Remove from heat.
Add the cheese, and stir until completely melted. Serve while hot.
Notes
The calories listed are an approximation based on the ingredients and a serving size of half a cup (1/2 cup). Actual calories will vary. The cheese grits can be stored in your fridge in a sealed container for up two (2) days.
Recommended Products
As an Amazon Associate and member of other affiliate programs, I earn from qualifying purchases.
Nutrition Information:
Yield:
4
Serving Size:
0.5 Cup
Amount Per Serving:
Calories:

181
Total Fat:

10g
Saturated Fat:

6g
Unsaturated Fat:

0g
Cholesterol:

29mg
Sodium:

144mg
Carbohydrates:

16g
Protein:

5g