Our egg in a toast basket is a simple and delicious breakfast dish that only uses 4 ingredients and takes less than 15 minutes from start to finish!
When it comes to breakfast, toast and eggs are the perfect combination. In fact, we've been eating them together for decades.
Our eggnog French toast is a perfect example of eggs and bread coming together to make an amazing meal.
However, it wasn't until I was in my mid-twenties that I discovered how to make an egg in a toast basket.
All the credit goes to Jim, my Branch manager. He was the one that shared and showed be how to prepare this tasty recipe!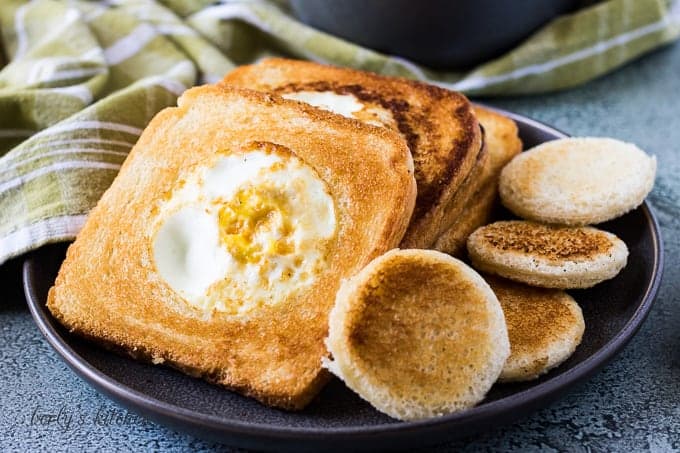 At the time, I was a supervisor working at a transportation company. The management team decided it would be nice to make breakfast for the staff.
I thought the idea was a good gesture. So, we gathered everything up and planned the event.
If I remember correctly, I was running the griddle that day and he asked me to make eggs in a basket for him.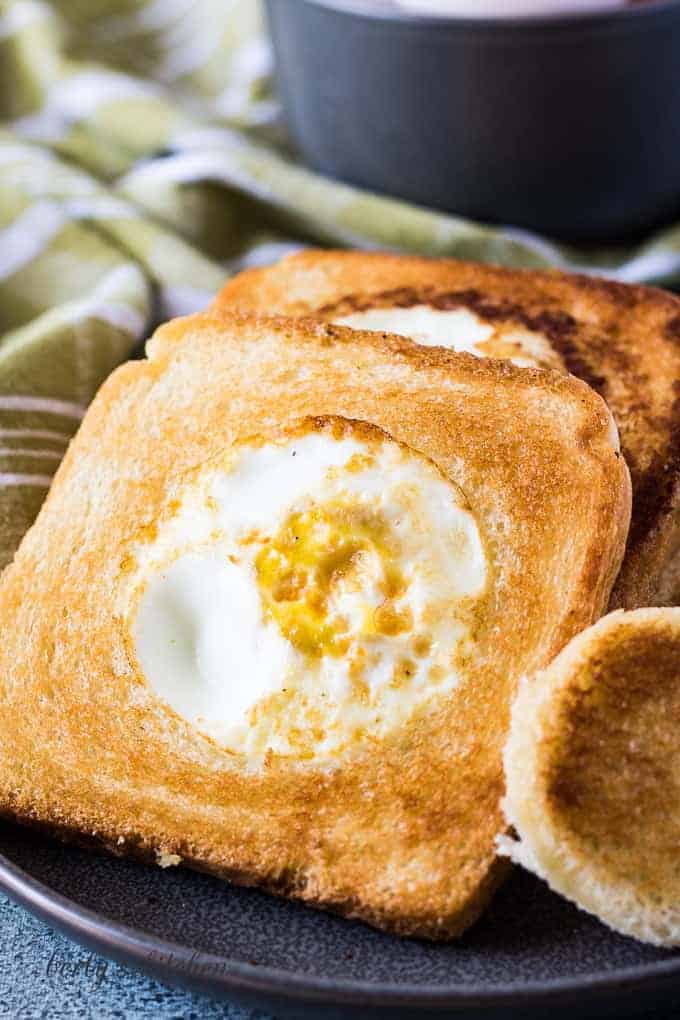 Even after years of working in the restaurant field, I was clueless. He took the time to share the knowledge and show me how it was done.
Now, Kim and I are sharing that same recipe with you. We hope enjoy these eggs in a hole as much as we do.
Looking for a sweet treat for breakfast? Try our overnight blueberry French toast recipe.
How to make eggs in a toast basket?
First, grab your bread. I recommend using Texas toast, but that's just preference. Use whatever type of bread you have in your pantry.
Afterward, use a biscuit cutter or a coffee mug to cut circular holes in the center of each slice of bread. Keep in the circular pieces for later.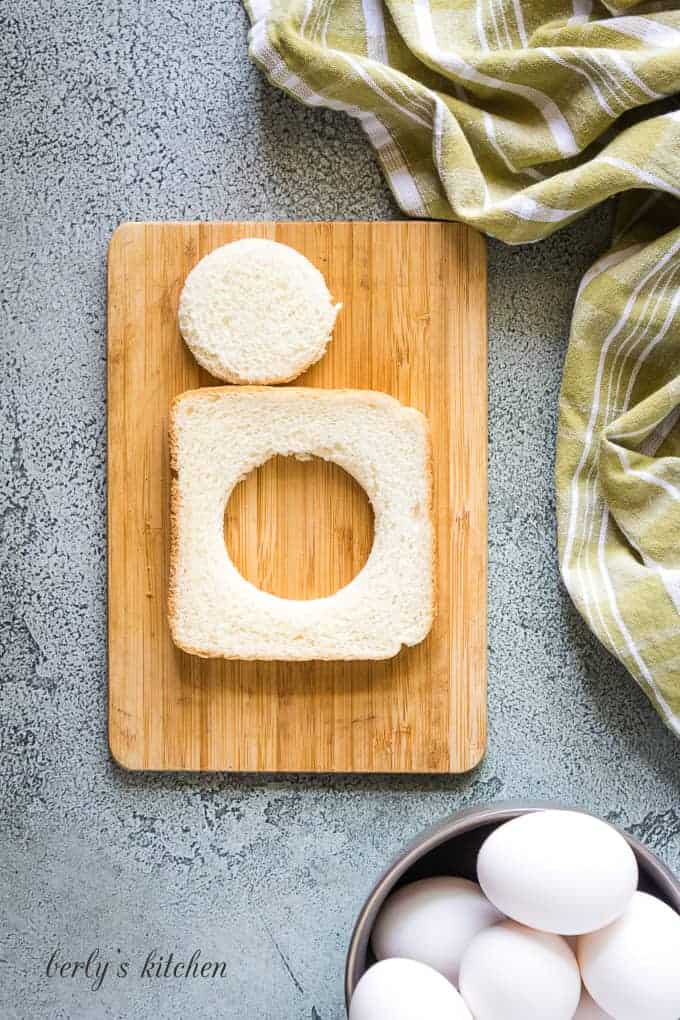 Next, place a medium sized skillet over low-medium heat and place 1/2-tablespoon of butter into the pan.
Now, let the butter melt and place a slice of the bread into the pan. Crack one of the eggs into the center of the bread. Place the one of the circular pieces into the pan too. It can cook at the same time.
If you want, add the salt and pepper to the egg or you can wait until everything cooks. It's up to you.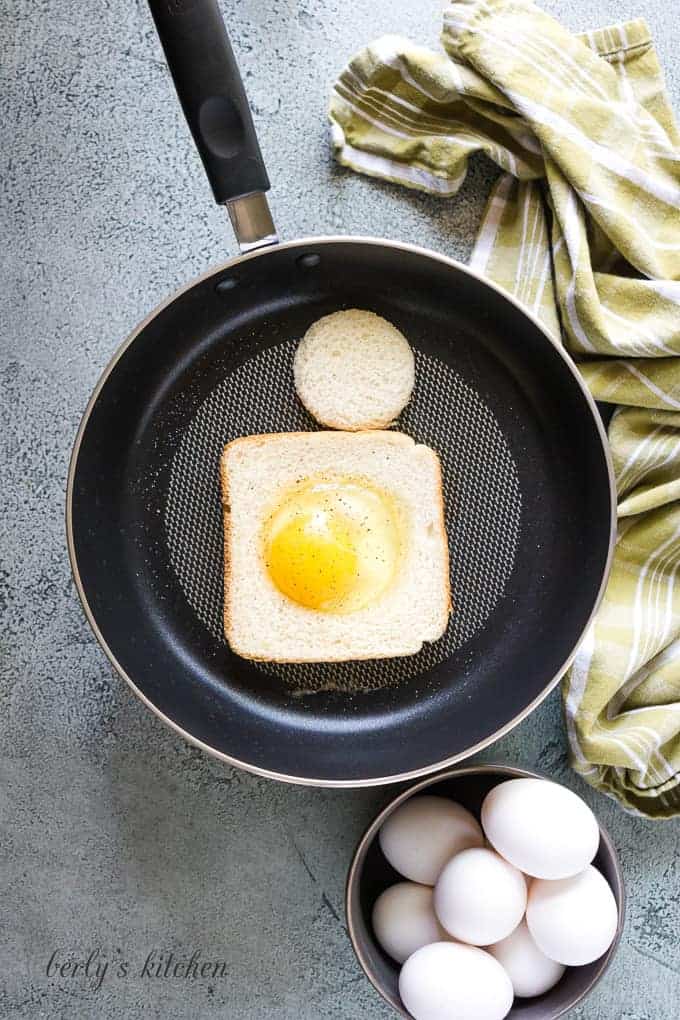 At this point, how long you cook the egg is up to you. We cooked our's for 4-5 minutes on the first side, then for about 3 minutes on the other side for an over well egg.
For an an over easy egg, the egg toast would only need to cook for about 3 minutes on each side.
Over medium would be about 4 minutes on each side. Just keep in mind, the egg cook time will affect the doneness of the toast.
When you flip the egg toast, be sure to flip the circular piece as well. You don't want that to burn.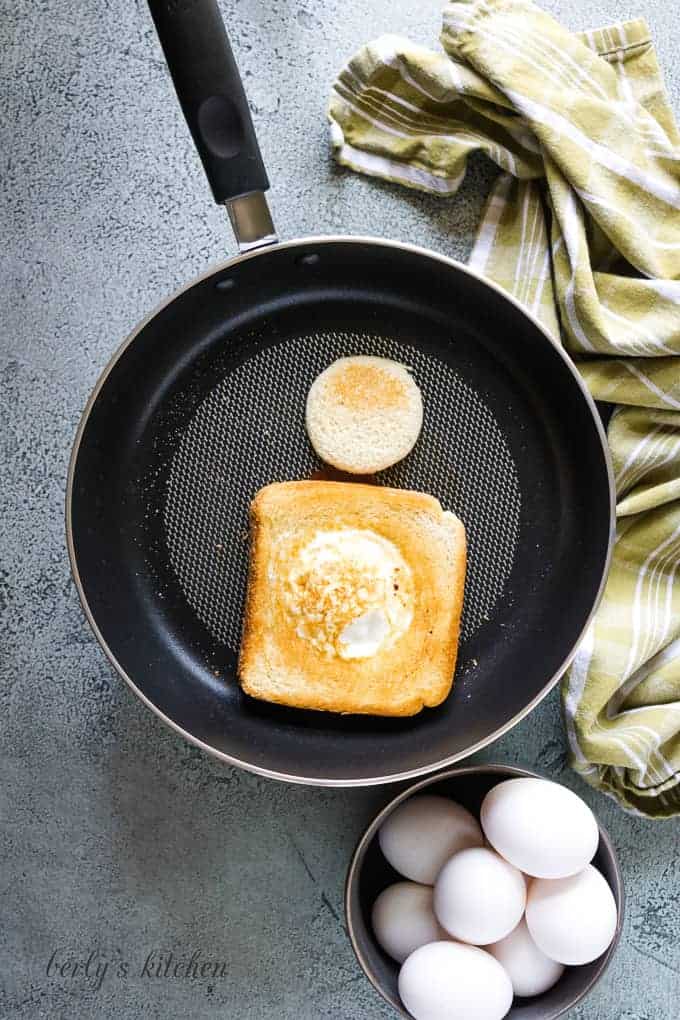 Last, when your egg in a basket has cooked, remove it from the pan along with toasted circle. Repeat the steps until all the toast has been cooked.
Serve this breakfast dish hot. Also, you could even put a little homemade strawberry jam on the toasted circular bread for a touch of sweetness!
That's it, your eggs in a toast basket are done. Kim and I hope you enjoy this easy breakfast recipe and wish you all the best 🙂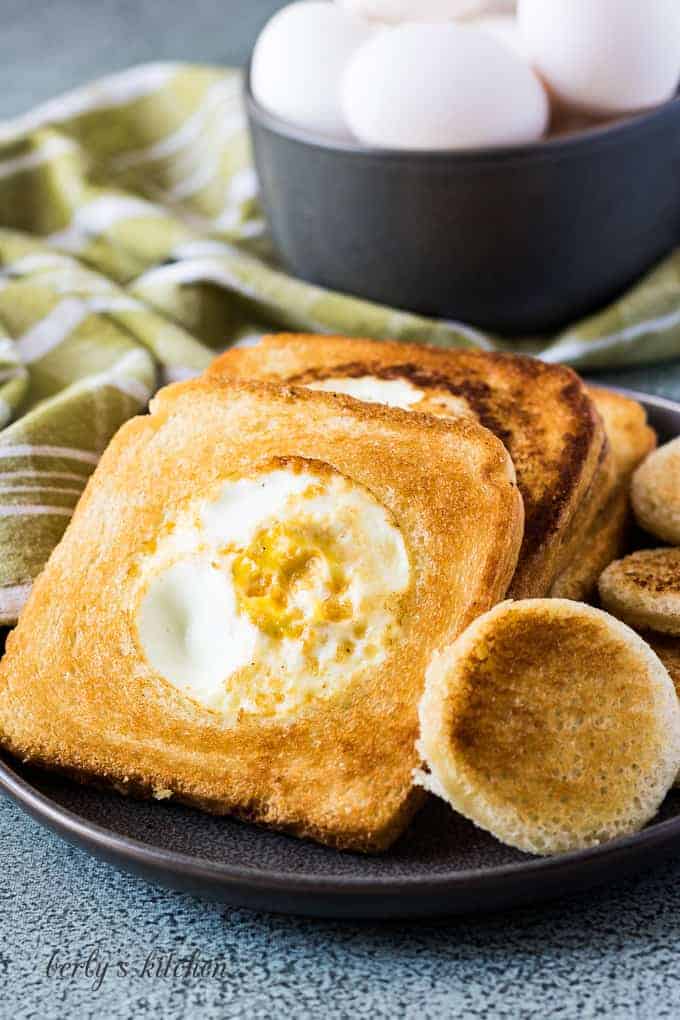 How do you make eggs in a basket video?
Usually, our videos can be found towards the top of the page. If you don't see the video in place, then we haven't finished editing it.
It will be published shortly. Additionally, if you're having issues viewing the video, please leave us a comment so we can address it.
Other breakfast recipes you may enjoy:
Yield: 4 Servings
Egg in a Toast Basket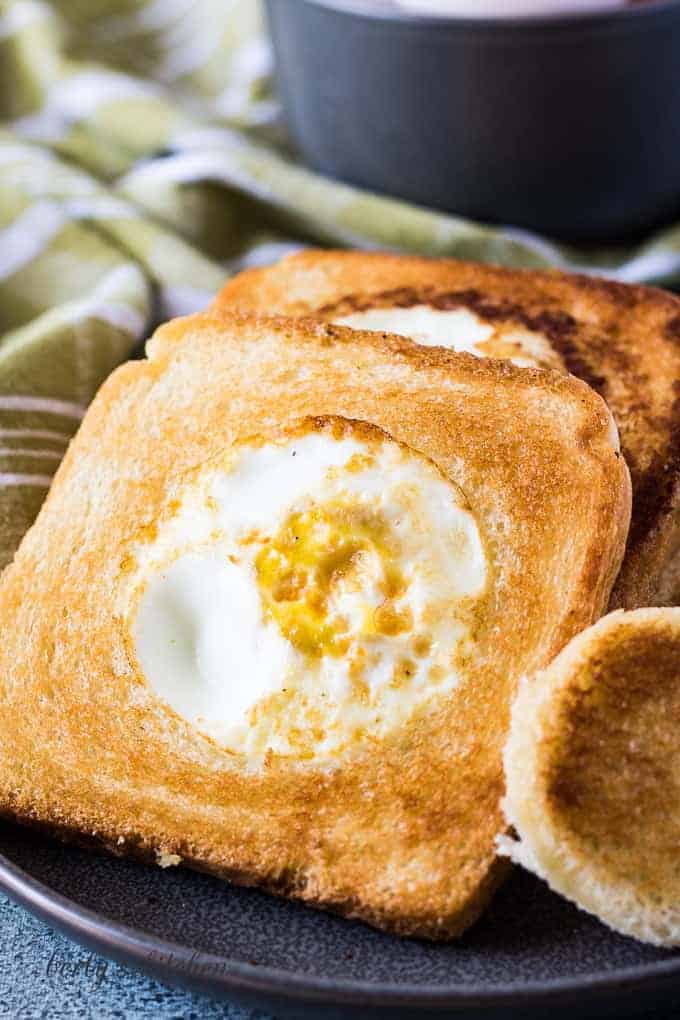 Our egg in a toast basket is a simple and delicious breakfast dish that only uses 4 ingredients and takes less than 15 minutes from start to finish!
Ingredients
4 Slices Bread, (white, wheat, Texas toast, etc.)
4 Large Eggs
2 Tablespoons Unsalted Butter, (up to 4 tablespoons)
Salt and Pepper to Taste
Instructions
Use a biscuit cutter or circular glass to cut the center out of all 4 slices of bread. Set aside.
Heat a medium skillet over low to medium heat. Melt ½-1 tablespoon of butter in the skillet, then add a slice of bread. Place the center piece that's been cut out of the bread in the skillet next to the main slice.
Crack 1 egg into the hole of the slice of bread. Season with salt and pepper.
Allow the bread and egg to cook for 4 to 5 minutes until the bread is toasted and the egg is cooked. Use a spatula to flip the bread and cook the second side for 3 to 4 minutes. Do the same for the center hole of the bread.
Remove the bread from the pan and serve immediately.
Notes
The calories listed are an approximation based on the ingredients and a serving size of 1 piece of the finished egg toast. Actual calories will vary. It can be stored in a sealed container in your fridge for up to 3 days.
Recommended Products
As an Amazon Associate and member of other affiliate programs, I earn from qualifying purchases.
Nutrition Information:
Yield:
4
Serving Size:
1 Piece
Amount Per Serving:
Calories:

197
Total Fat:

11g
Saturated Fat:

5g
Unsaturated Fat:

0g
Cholesterol:

201mg
Sodium:

266mg
Carbohydrates:

14g
Fiber:

1g
Sugar:

2g
Protein:

9g