*This post may contain affiliate links. As Amazon Associates we earn from qualifying purchases.
Make an affordable and tantalizing French-inspired two-course steak dinner with these authentic, made in France, cheeses, and wines.
**This post is sponsored by The French Ministry of Agriculture, but the opinions are my own.**
Admit it, some of the best meals you have ever eaten were French-inspired or used products that were made in France.
When it comes to cuisine, French cooking involves enticing textures and delicious flavors.
However, there is only one problem, cost. It's hard to create an authentic French dish when you are strapped for cash. Or is it?
I am thrilled to say The French Ministry of Agriculture has given us some cheeses and wines that are made in France but not near as expensive as you might think.
We received four bottles of wine, two different types of cheese, and two varieties of salt. With these kinds of high-quality ingredients, we prepared a French-inspired two-course meal that is sure to be a treat!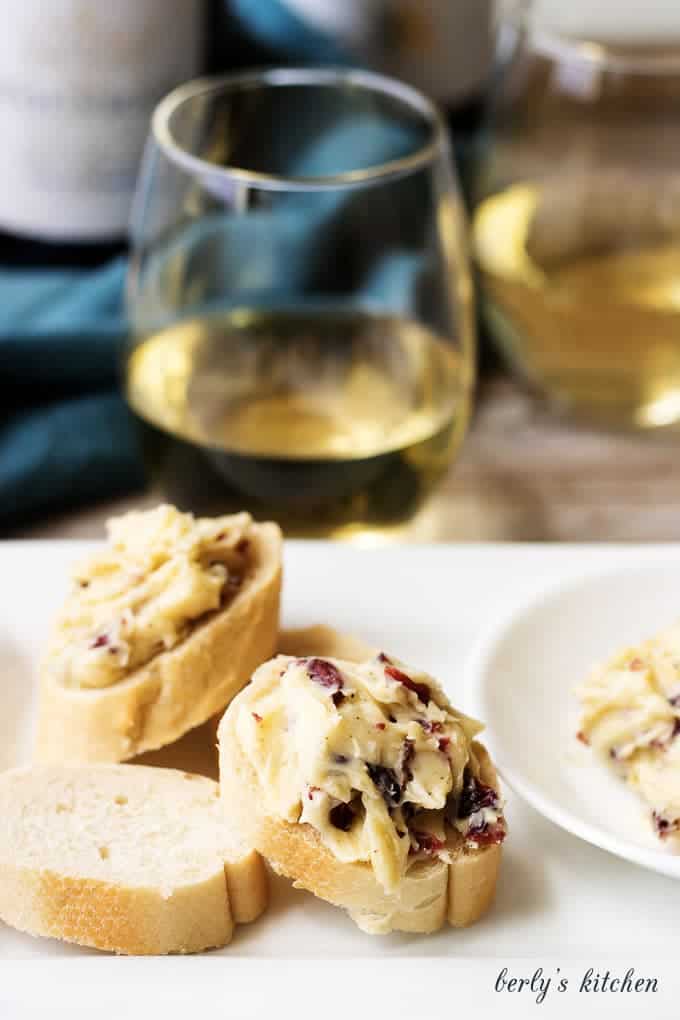 Let's start with the appetizer or aperitif. The meal begins with Dried Cranberry Cheese Spead served on a French baguette.
For this recipe, we used the St. Andre Triple Cream Cheese from Ile De France Cheeses.
It was softened and then combined with dried cranberries, pepper, and a special salt. The salt came from La Baleine, and it was grey sea salt.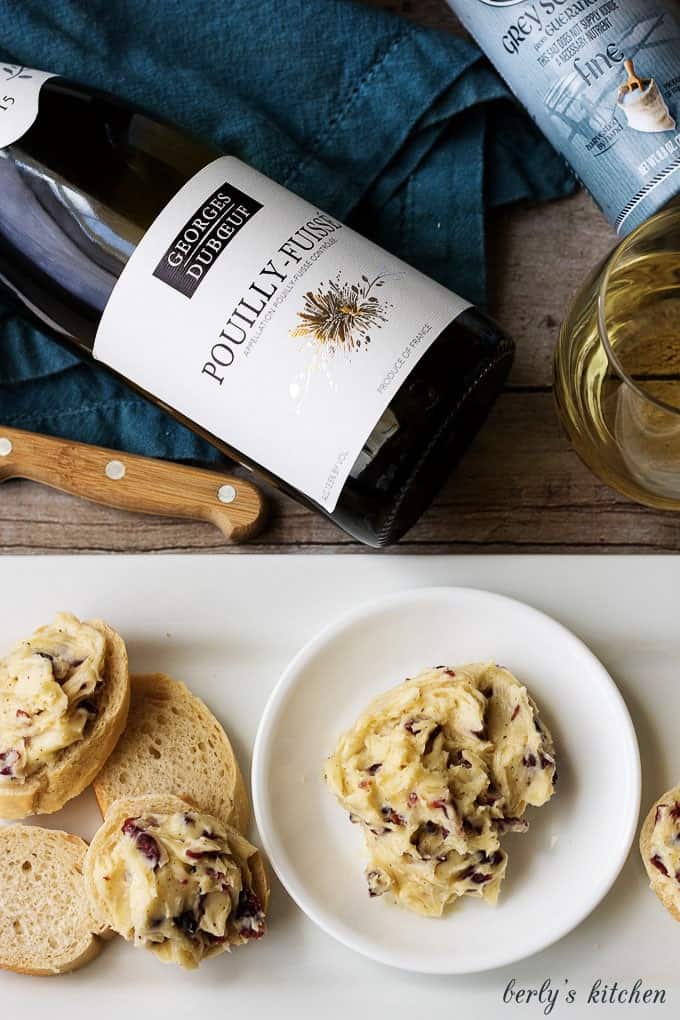 The cheese had a wonderful salty flavor and was soft and creamy. The sea salt only seemed to enhance the acidic tanginess of the spread.
The sweetness of the dried cranberries contrasted against the spiciness of the black pepper.
When paired with the fruity, pale taste of Marie De Beauregard Chenin Blanc (white wine) from Saget La Perriere, it's a little sweet and savory bite of heaven.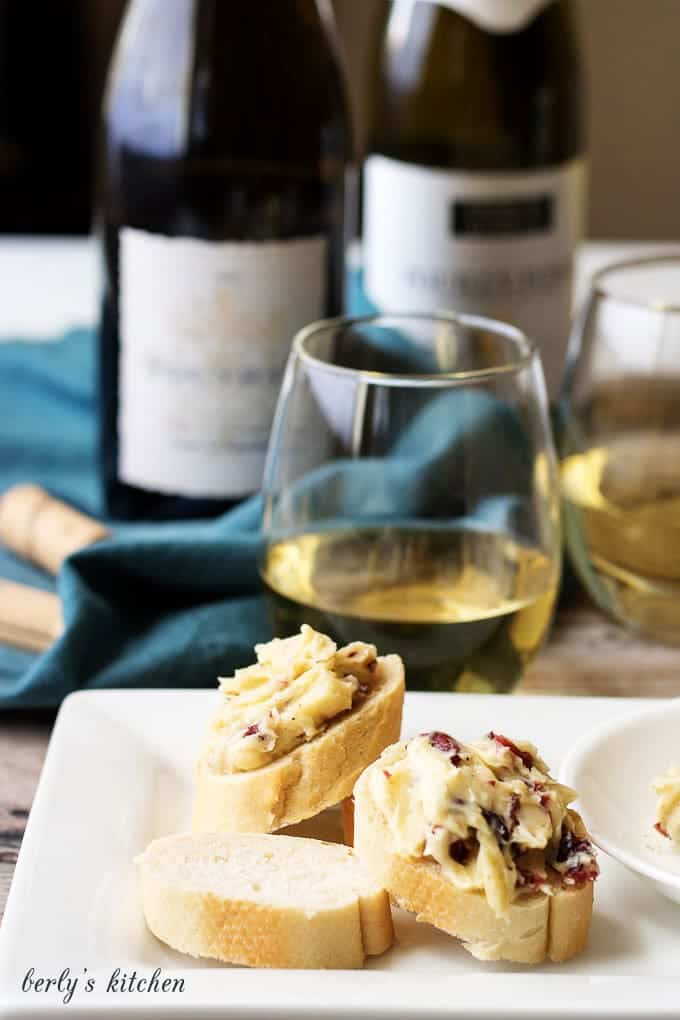 It should be noted that another white wine from Georges Duboeuf, namely the Pouilly-Fuisse also works well with this appetizer due to its hints of peaches and pears and its toasted almond fragrance.
Personally, what I found so compelling about this course was the way in which the smooth wines seemed to wake up my taste buds and allow me to fully experience the salty, sweet, and tart flavors of the cheesy spread.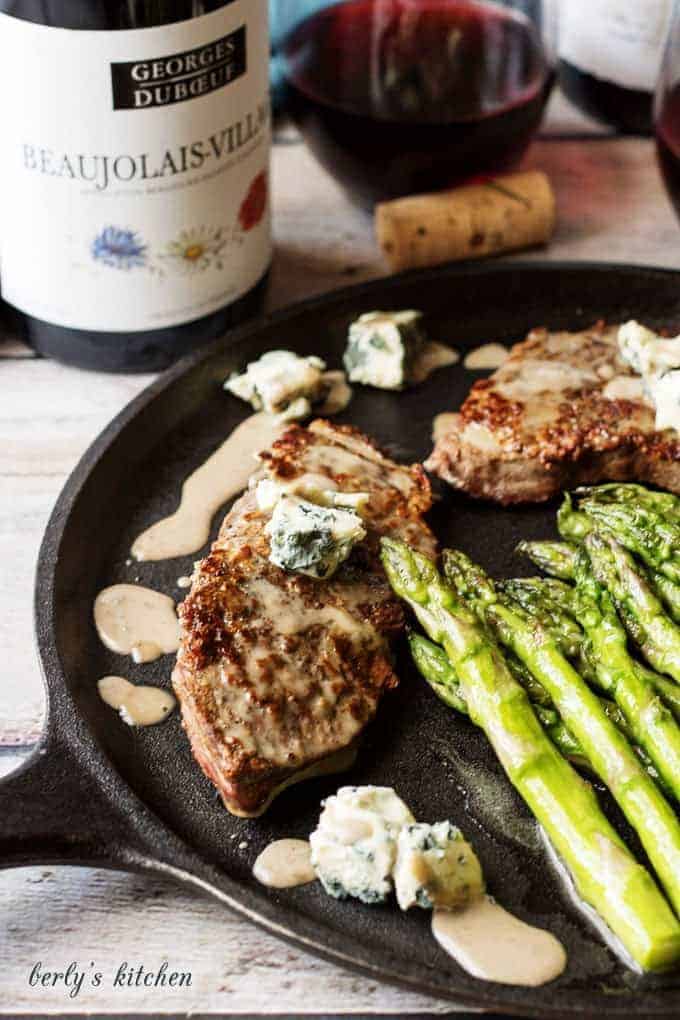 Once the first course has been served, it's time to move on to the entree. For this course, we decided to save the best for last.
Using a grey sea salt and black pepper, we managed to create a crust on the steak. It locked in all the juices and added another layer of texture to the meat.
Now, I must warn you, try not to go too heavy on the salt because it can over season the meat.
What you want here is for the pepper to shine and La Baleine's Kosher Sea Salt made that happen.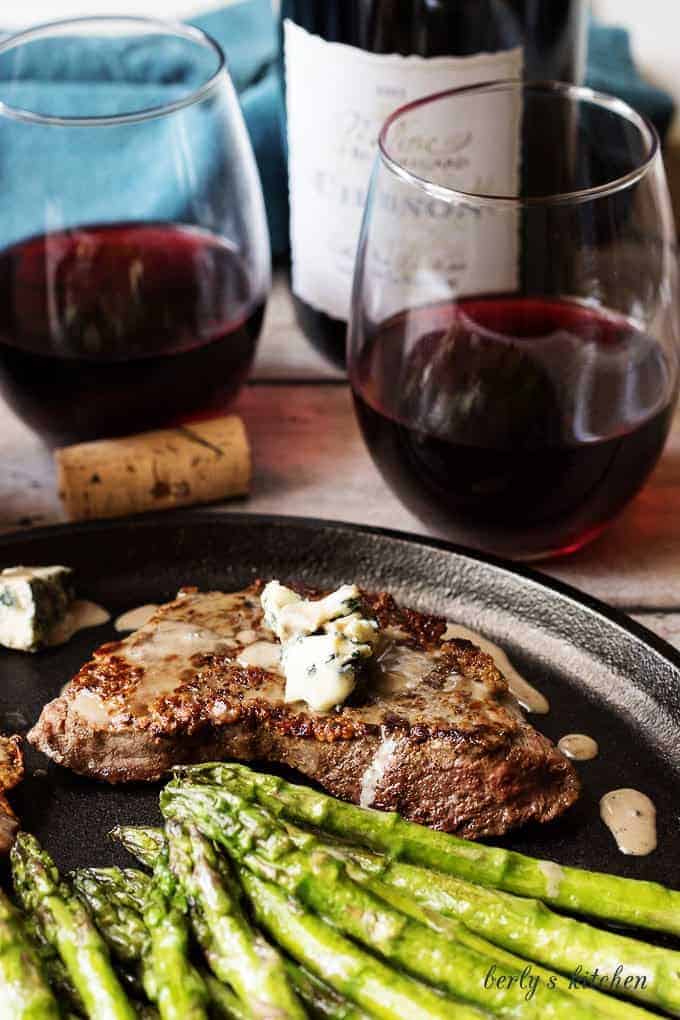 It helped to form a thin crust of salt that accentuated the spice of the pepper. Furthermore, the shell sealed in all the juices from the steak, keeping it from becoming dry, even when cooked medium-well.
As you can see from the photos, the steak was topped with a simple pan sauce using Ile De France Cheese's Blue Cheese.
The sauce was creamy, savory, and rich. Best of all, it had that heavy, dark flavor of blue cheese. Additionally, I added a Cabernet from Saget La Perriere to the pan sauce for a hint of raspberries and redcurrants.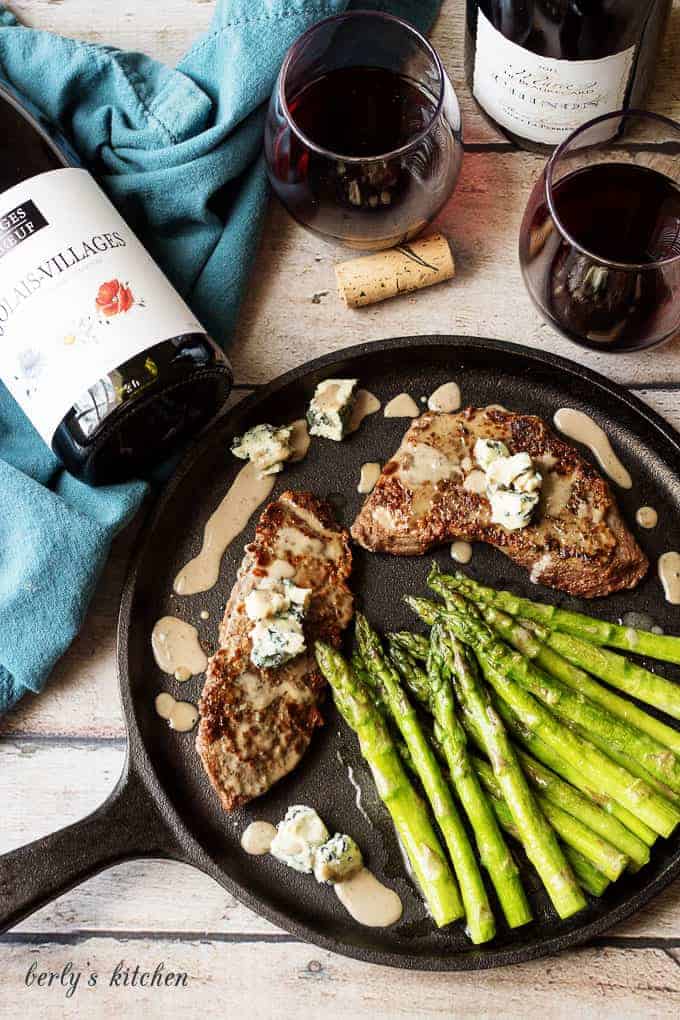 The side dish was simply sauteed asparagus. What made it French-inspired was the pan sauce I made using Georges Duboeuf Pouilly-Fuisse White Burgundy Wine.
The sauce is incredibly easy and only uses two ingredients, white wine, and butter. How can you go wrong, right?
The entree was served with Georges DuBoeuf Beaujolais-Villages Red Wine. The reason we chose this wine was that it's a lighter red wine and can be paired with red meat and light vegetables.
The red variety also makes a delicious mulled wine that's perfect around the holidays.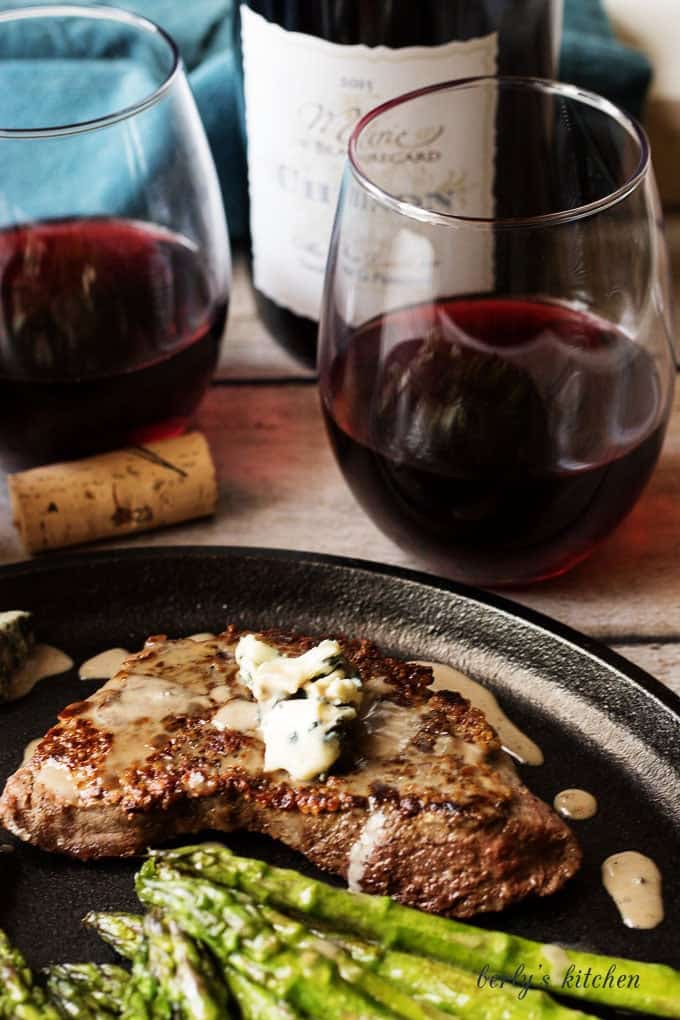 This meal was created with products made in France but available here in the U.S. Most of which can be found at local retailers like Dierbergs, Publix, and Whole Foods.
The wines can be purchased at liquor stores or grocery stores.
In regards to cost, they are surprisingly affordable. You will spend about the same amount on these cheeses and wines as you would any other brands.
So why not treat yourself to authentic products made in France? I promise you won't regret it!
If you like this recipe, please leave us a comment and rate the recipe card. You can also find us on Facebook, Pinterest, Twitter and Instagram searching for Berly's Kitchen!
Join our Facebook group for more recipes from Berly's Kitchen, our new site More Than Meat and Potatoes, and some of our blogger friends!
Yield: 2 People
French Inspired Two Course Steak Dinner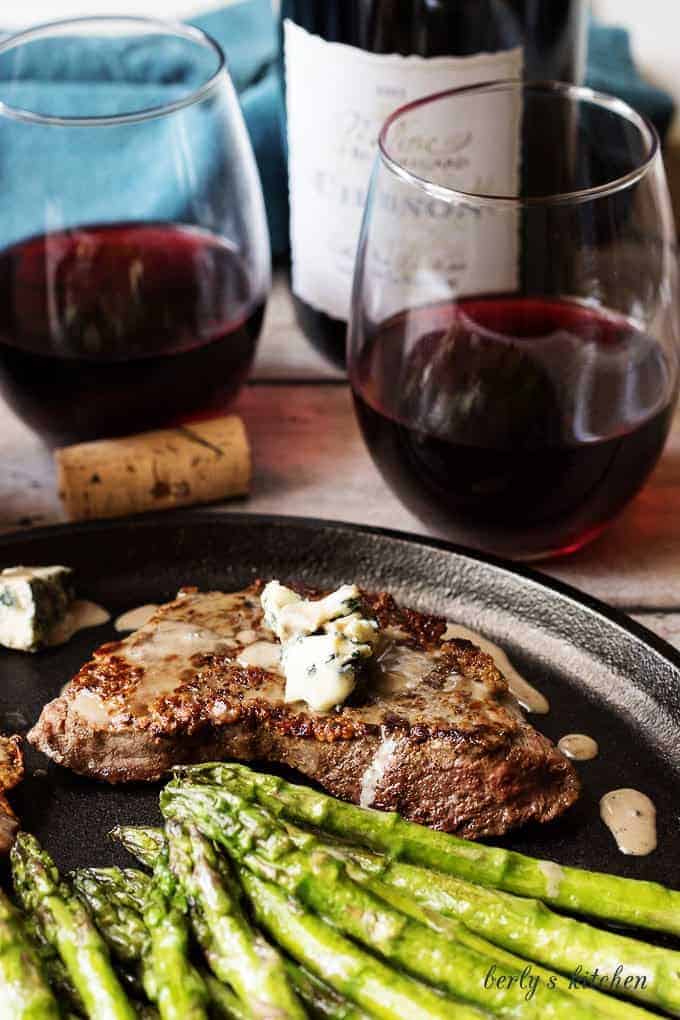 Make an affordable and tantalizing French-inspired two-course steak dinner with these authentic, made in France, cheeses, and wines.
Ingredients
Dried Cranberry Cheese Spread
7 Ounces St Andre Heavenly Triple Cream Cheese, (softened)
1/4 Cup Dried Cranberries, (roughly chopped)
1/4 Teaspoon Baleine Grey Sea Salt
1/4 Teaspoon Ground Black Pepper
1/2 Loaf French Baguette, (6 to 8 slices)
Salt Crusted Sirloin with Blue Cheese Pan Sauce
2 6 Ounce Sirloin Steaks, (trimmed)
1/2 Teaspoon Baleine Sea Salt, (kosher)
1 Teaspoon Ground Black Pepper
2 Ounces St. Agur Blue Cheese, (extra for crumbles optional)
1/4 Cup Marie De Beauregard Chinon Red
2 Tablespoons Unsalted Butter, (softened)
1/2 Cup Heavy Cream
Sauteed Asparagus with White Wine Butter Sauce
1 lb. Fresh Asparagus, (ends removed and washed)
1 Tablespoon Virgin Olive Oil
1/2 Teaspoon Baleine Grey Sea Salt
1/4 Cup Georges Duboeuf Pouilly-Fuisse White Wine
2 Tablespoons Unsalted Butter
Instructions
Dried Cranberry Cheese Spread
First, remove the cream cheese from your fridge about an hour or so before starting the appetizer so it can soften.
Next, roughly chop the dried cranberries and slice the bread into 1/4 to 1/2 inch slices.
Then, in large mixing bowl or food processor, combine the cheese, cranberries, salt, and pepper. Mix all the ingredients together until a smooth creamy spread forms.
Last, serve the spread in a bowl with the sliced bread and pair it with one of the white wines listed above.
Salt Crusted Sirloin with Blue Cheese Pan Sauce
First, preheat a cast iron skillet or saute pan over medium heat.
Next, trim and clean the steaks. After that, sprinkle the salt and pepper over each side of the side and massage the seasonings into the meat.
Then, place the meat in the preheated pan and cook it for seven to nine minutes on each side depending on the desired doneness.
Now, remove the steak from the pan and set them aside to rest for a few minutes while you create the sauce.
Afterward, turn off the heat from the pan and pour the red wine into the hot skillet to deglaze the pan. Use a spatula or wooden spoon to scrape the bottom of the pan as the alcohol cooks out.
It's time to add the butter, blue cheese, and cream. Stir the sauce constantly until the cheese melts. If the vegetables are done, you can drizzle the sauce over the steaks and serve the meal with one of the red wines mentioned above. In addition, you can sprinkle crumbles of blue cheese on top of the steaks if have extra.
Sauteed Asparagus with White Wine Butter Sauce
First, preheat a large saute pan over medium heat.
Next, slice off the bottoms of the asparagus as they are inedible. Now, wash the vegetable and dry it off.
Then, in a large bowl toss the asparagus with the olive oil and salt.
After that, transfer the vegetables to the preheated pan and cook them for five to seven minutes turning occasionally.
Now, remove the asparagus from the pan and set them aside.
Add the white wine to the hot pan and let it cook for about a minute or so for the alcohol to cook out. Then add the butter and turn off the heat.
Last, stir the sauce until the butter melts and then pour it over the cooked asparagus. If the steaks are done, serve the vegetables with the meat.
Notes
Due to issues with calculating caloric values with the wine and ingredients, the calorie count is listed as zero for this recipe. Please use your own calculations to determine the calorie count of your meal. This meal is high in sodium content.
Recommended Products
As an Amazon Associate and member of other affiliate programs, I earn from qualifying purchases.
Nutrition Information:
Yield:

2
Serving Size:

1 g
Amount Per Serving:
Calories:

1223
Total Fat:

96g
Saturated Fat:

54g
Unsaturated Fat:

0g
Cholesterol:

272mg
Sodium:

2584mg
Carbohydrates:

61g
Fiber:

7g
Sugar:

18g
Protein:

24g
Want more appetizer recipes?