Our sweet and savory grilled brie and pear sandwich is a delightful balance of ripe, fruity pears and salty, creamy brie cheese.
When it comes to grilled cheese sandwiches, the possibilities are endless. Keeping that in mind, we decided to combine two flavors that we feel work well together.
It might not be a bacon and cheese grilled cheese, but we all know cheese and fruit are a partnered up in a lot of recipes.
It just so happens that brie and pears are the perfect balance between savory and sweet.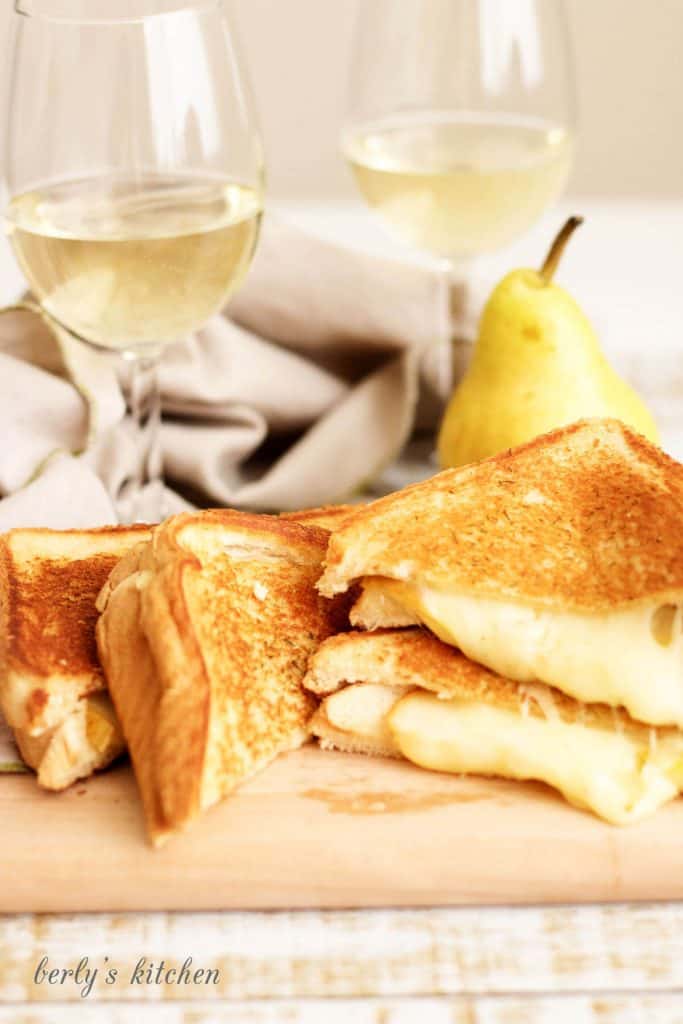 When paired with a nice glass of white wine, this dish goes from a child's snack to an elegant sandwich that we hope you enjoy!
Looking for a lunchtime classic? Then try our BLT sandwich recipe for a quick and easy meal.
This dish was another one of those, "on the fly," recipes that hit me as Kim and I sat discussing different grilled cheese options for the blog.
I couldn't help but notice all the delicious brie and fruit plates offered by many bloggers.
So I thought, why not put it all between two buttery pieces of Texas Toast? I was satisfied with the results.
Unfortunately, Kim would not touch this one, so she missed out on a great mishmash of contrasting flavors.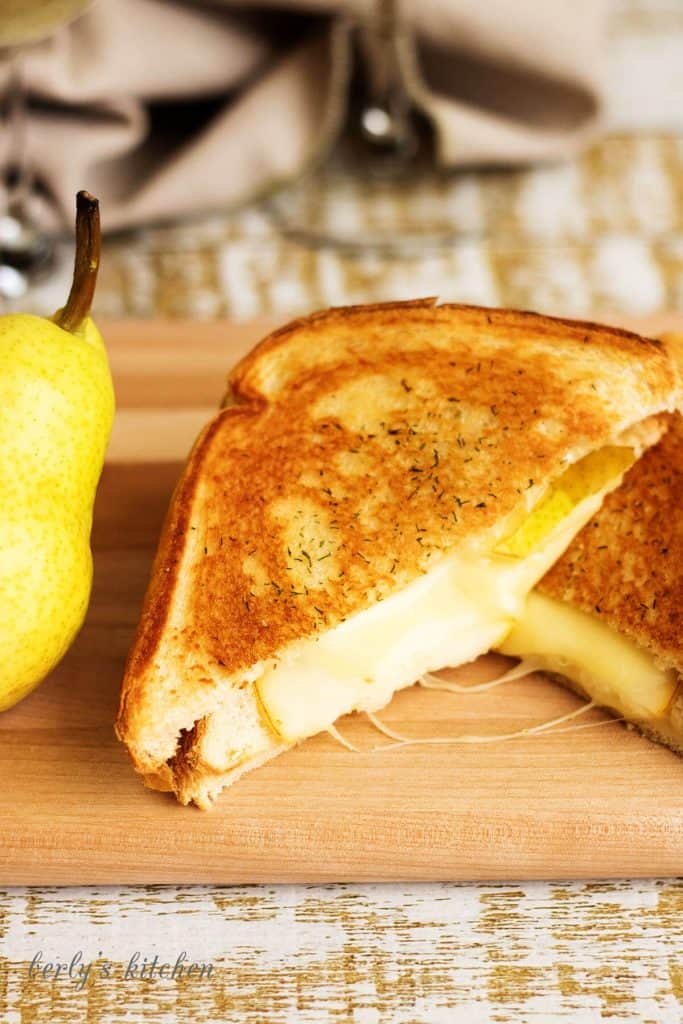 The soft texture and salty flavor of the brie works to intensify the fruity essence of the pears.
The crispiness of the toast keeps the sandwich from feeling mushy so that you won't get overwhelmed by the creaminess of the cheese.
With that being said, it is a rich and heavy dish, so I would recommend a glass of white wine on the side.
At the very least, another drink that has enough acidity to cut through the richness of the grilled brie and pear sandwich.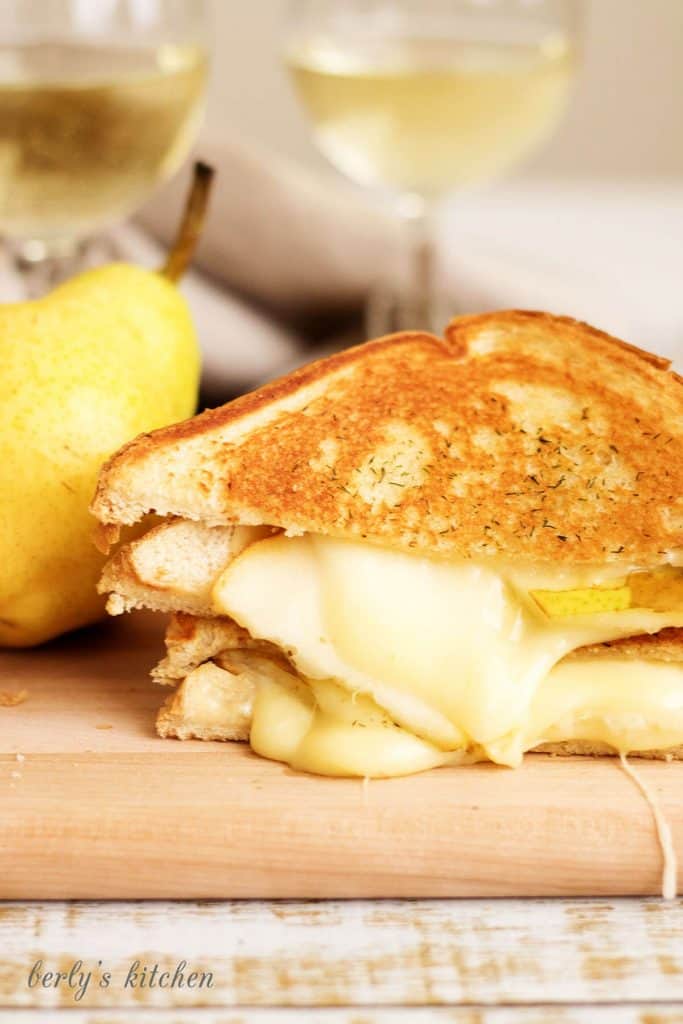 Originally, this dish was not going have dill as an ingredient. However, when I tasted the pear, it was ripe and extremely sugary.
To keep that sweetness from overpowering the cheese, I put a dash of dill on the top and bottom of the grilled cheese.
Hopefully, everything balances out for you the same way as it did for me. In closing, I wish a long life, love everlasting, and full stomach!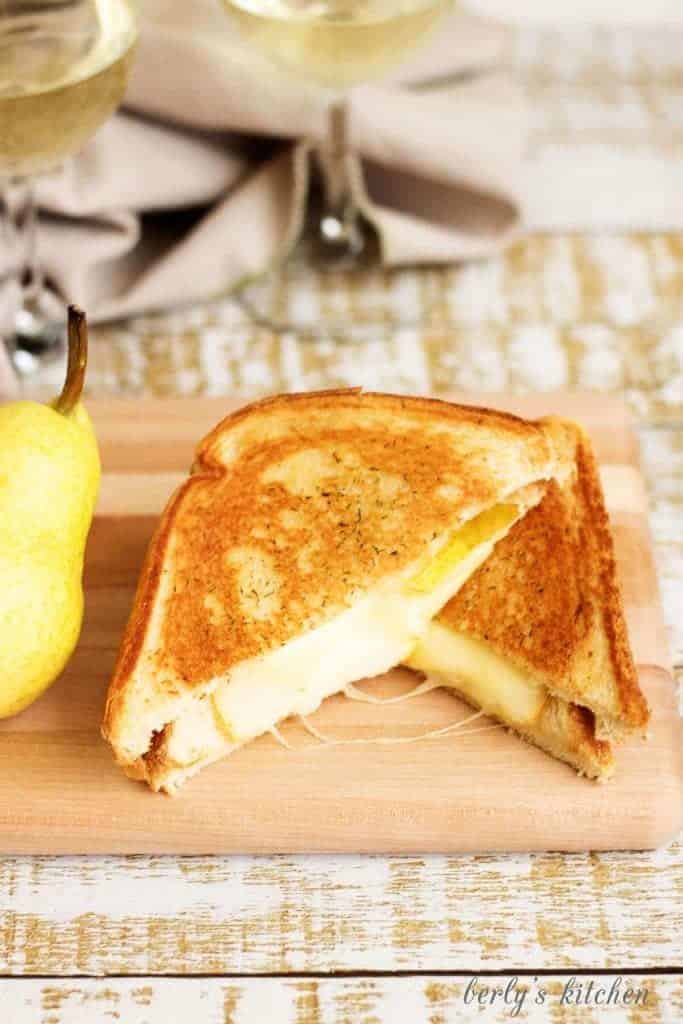 How to make a brie and pear sandwich:
Simplicity, as always, is my motto and this recipe is no different. First, wash and dry the pear before slicing into 1/4 inch or 6 mm slices.
Next, thinly slice the brie. If you have any issues, cut it as best you can, then squish it flat between your palms for easy melting.
Afterward, melt the butter in your microwave and then use a basting brush to slather up the outsides of the bread. Now, preheat your skillet over medium heat.
Once the pan is warm, place the sandwich into the pan and cover it with a lid. Let it cook for approximately 3 to 5 minutes on each side.
Make sure to check the toast from time to time just in case it wants to burn. Last, remove the brie and pear sandwich from the pan and serve immediately.
Looking for another tasty sandwich? Then check out our quick crab roll recipe!
If you like this recipe, please leave us a comment and rate the recipe card. You can also find us on Facebook, Pinterest, Twitter and Instagram searching for Berly's Kitchen!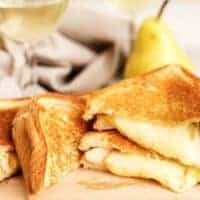 Sweet and Savory Grilled Brie and Pear Sandwich
Print
Save
Saved!
Pin
I earn a commission from Amazon and Instacart from qualifying purchases.
Ingredients
1

Medium Pear

Bartlett or Bosch, Thinly Sliced

4

ounces

Brie Cheese

Sliced

4

slices

Texas Toast

1

Tablespoon

unsalted butter

1/4

teaspoon

Chopped Dill

Garnish
Instructions
First, wash and dry pear, then thinly cut into 1/4 inch or 6 mm slices.

Next, thinly slice the brie cheese and flatten it down with your palms.

Melt the butter in your microwave and use a basting brush to baste the outsides of the bread.

Preheat your skillet on medium heat.

Build the grilled cheese sandwich starting with the bread, then the pear slices, brie cheese, and, top with the other slice of bread. Afterward, sprinkle the buttered sides of the bread slices with a dash of dill seasoning.

Place the sandwich into the preheated skillet, cover it with a lid, and then cook for 3 to 5 minutes on each side.

Once the bread is evenly toasted, remove the grilled cheese from the pan and serve immediately.
Notes
This recipe is for two sandwiches. The grilled cheese dishes can be served with chips and salsa, soup, or any other sides you desire.
Nutrition
Serving:
1
grams
|
Calories:
480
kcal