*This post may contain affiliate links. As Amazon Associates we earn from qualifying purchases.
A classic BLT sandwich recipe featuring crunchy bacon, crispy fresh lettuce and juicy ripe tomatoes sandwiched between two slices of buttery toasted bread!
Growing up, I made a lot of blt sandwiches. During Summer breaks it was my go-to meal for lunch.
It's such an easy sandwich recipe. Fry some bacon, slice a tomato, and shred some lettuce.
I would even butter the bread before toasting it for an extra layer of flavor. Today, we're sharing that same BLT sandwich recipe.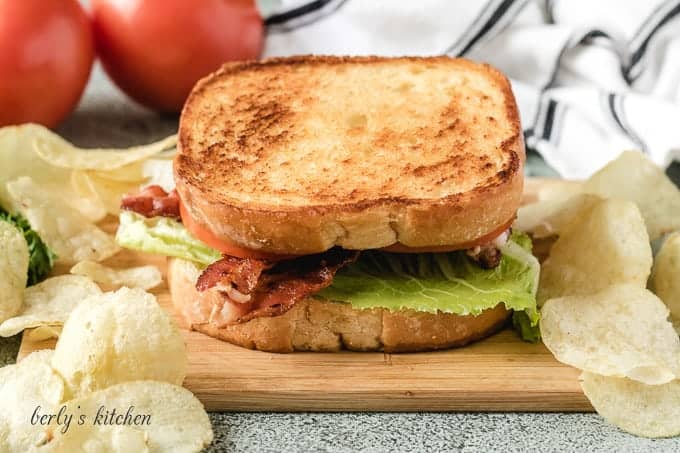 How do you layer a BLT sandwich?
Before we get started on the sandwich, I would like to go over how to layer a BLT.
To maintain the integrity of the toast, it's important to place the layers in a specific order.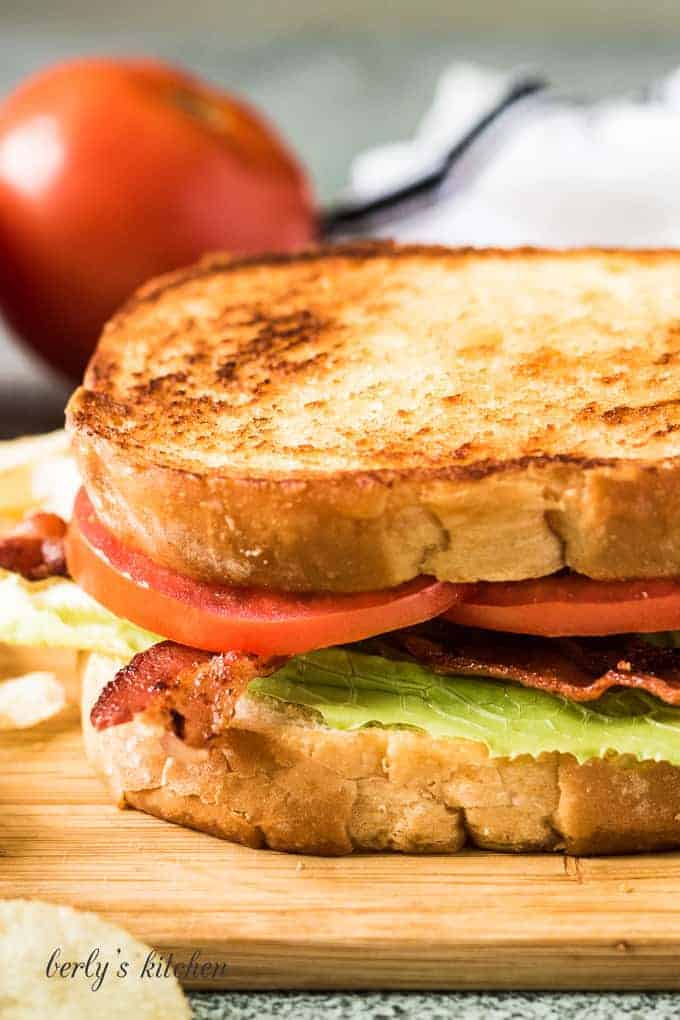 If you look at the photo above, you'll see that we separate the greasy bacon from the toast with a layer of lettuce on the bottom and tomatoes on top.
Doing so keeps the bacon grease from soaking into the bread and causing it to fall apart.
What do you put on a BLT?
That's a great question. Obviously, bacon, lettuce, and tomato. However, the following items also add a ton of flavor to this classic sandwich.
Sliced Avocado
Pimento Cheese Spread
Purple, Red, or White Onions
Ranch Dressing
Italian Dressing (try our homemade Italian dressing!)
Pepperoncinis
Mayonnaise
Mustard
Fry Sauce
Grilled Chicken Breast
How to make our sandwich recipe?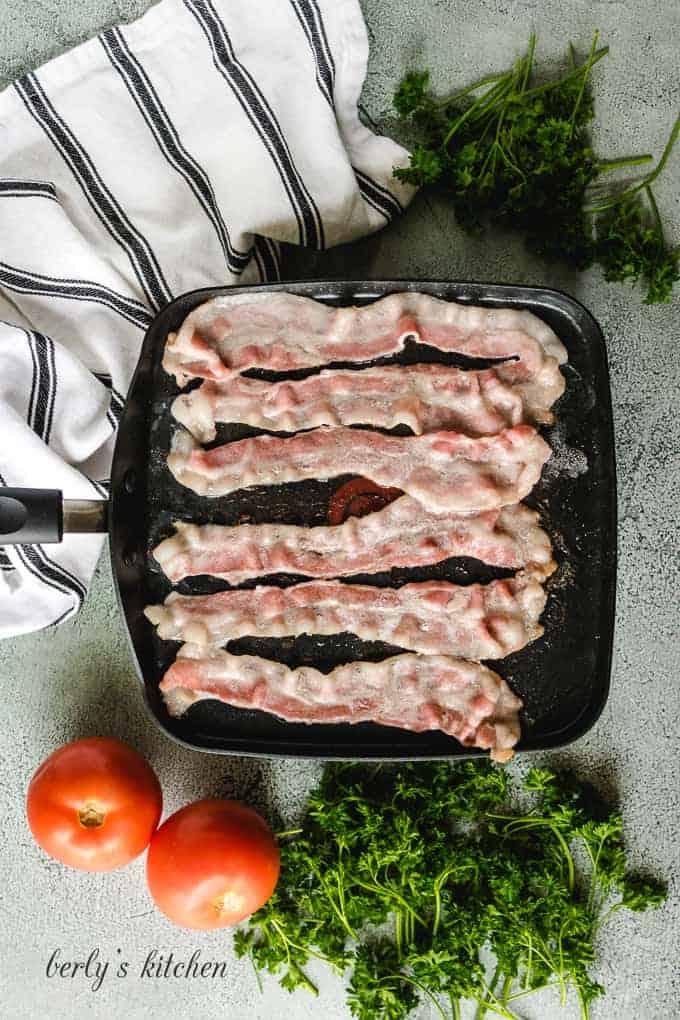 First, start by placing a large skillet over low to medium heat. Place the bacon into the pan.
Let it cook for 7-10 minutes on each side until it's done to your liking. Remove it from the pan and set it aside to drain.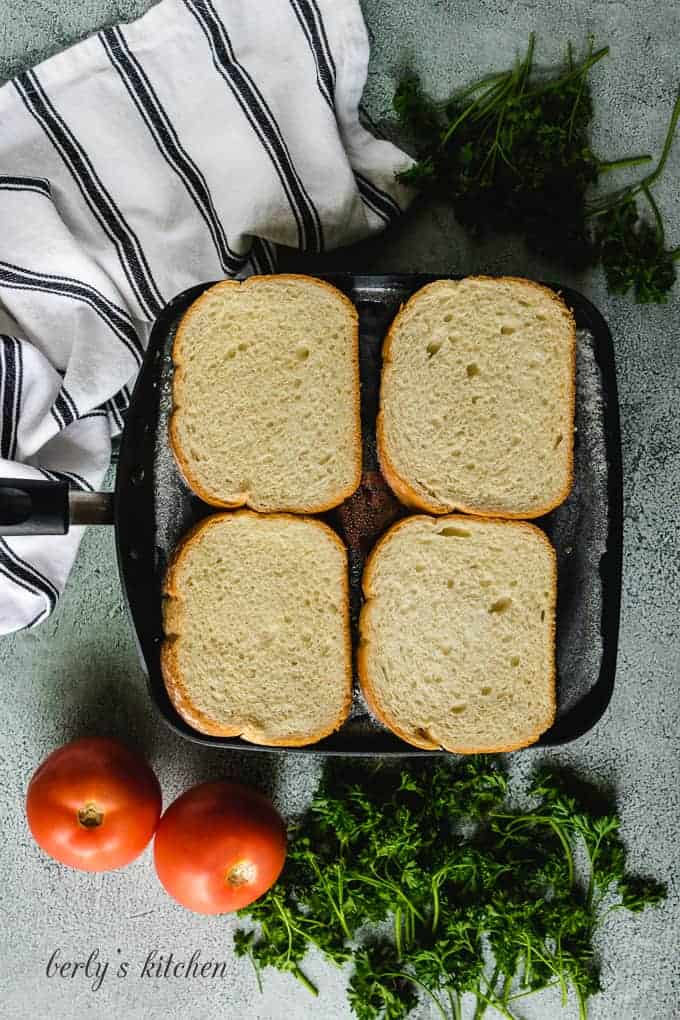 Next, wipe out the pan and place it back over the heat. Add the butter to pan. Once it melts, put the bread into the skillet.
After that, let it toast on one side, flip it and let it toast on the other side. At this point, you can add any mayo, mustard, or sauces to the toasted bread.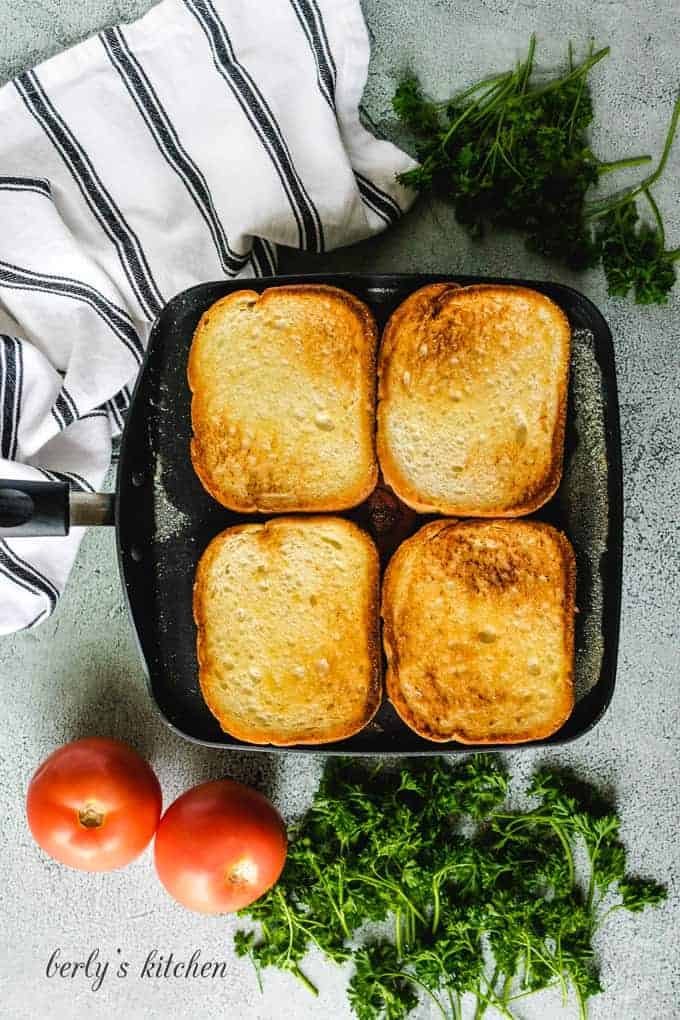 Last, build the BLT sandwich. Start with lettuce, then bacon, and finally the tomato slices.
Our seasoned air fryer potatoes, baked sweet potato fries or home fries recipe make awesome sides for this sandwich!
That's it, your BLT sandwich recipe is done! Kim and I hope you enjoy it and wish you all the best 🙂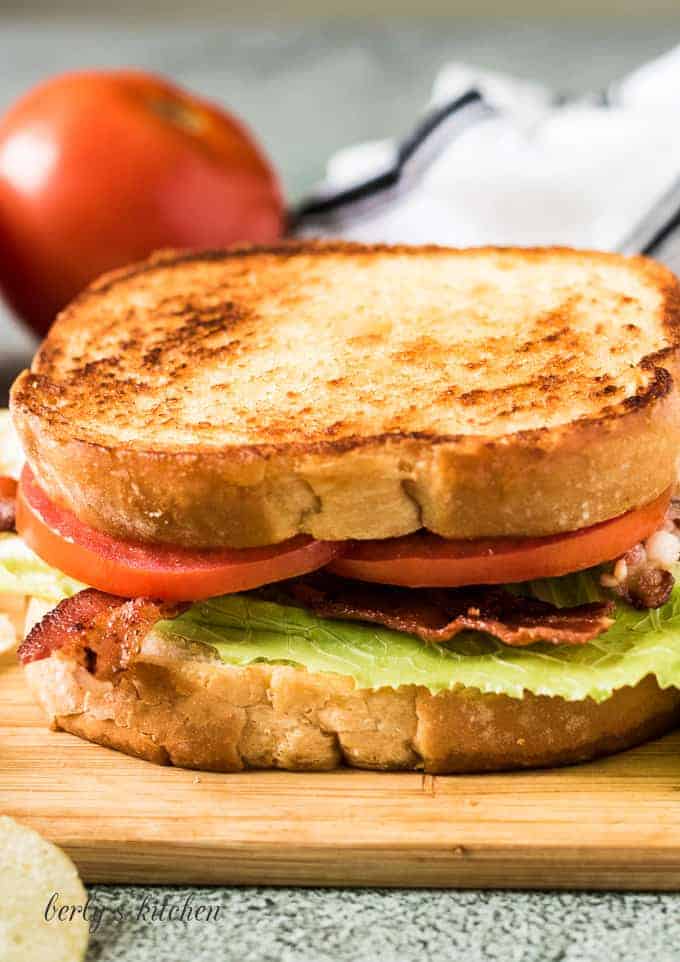 If you like this recipe, please leave us a comment and rate the recipe card. You can also find us on Facebook, Pinterest, Twitter and Instagram searching for Berly's Kitchen!
Join our Facebook group for more recipes from Berly's Kitchen, our new site More Than Meat and Potatoes, and some of our blogger friends!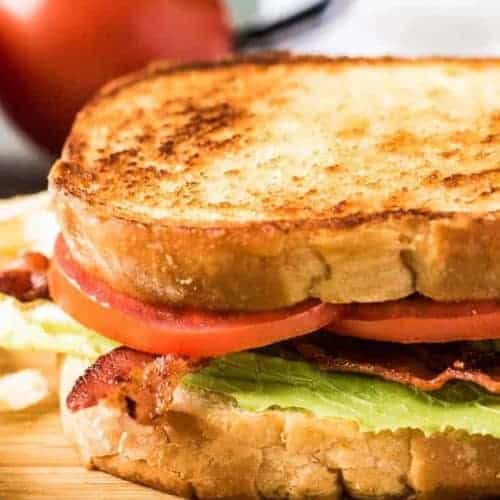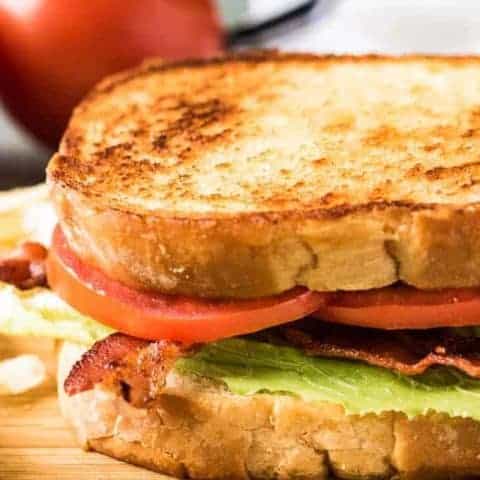 BLT Sandwich Recipe
A classic BLT sandwich recipe featuring crunchy bacon, crispy fresh lettuce and juicy ripe tomatoes sandwiched between two slices of buttery toasted bread!
Ingredients
6 Slices Bacon
4 Slices Bread
2 Tablespoons Unsalted Butter
4 Slices Tomato
4 Pieces Lettuce
Instructions
Heat a large skillet over low to medium heat. Once the skillet is hot, add the bacon slices in an even layer. Cook the bacon to the desired doneness, flipping as needed. Remove to a waiting paper towel lined plate.
Carefully drain the grease from the pan and wipe the skillet clean with paper towels. Heat the skillet again over low to medium heat then add the butter to the pan. Allow the butter to melt and spread out over the pan. Add the bread slices and toast until lightly browned then flip and toast the second side. Remove the bread and skillet from heat and set aside.
Place your favorite condiments on the bread. This could be mayonnaise, mustard, ketchup, etc. Then add 2 pieces of lettuce, followed by 3 slices of bacon and finally 2 tomato slices. Add any additional condiments and place the second slice of bread on top. Enjoy immediately with your favorite side.
Notes
The calories listed are an approximation based on the ingredients and a serving size of 1 BLT sandwich. Additionally, it does NOT include the potato chips seen in the photos or any condiments added. Actual calories will vary.
Recommended Products
As an Amazon Associate and member of other affiliate programs, I earn from qualifying purchases.
Nutrition Information:
Yield:

2
Serving Size:

1 Sandwich
Amount Per Serving:
Calories:

552
Total Fat:

40g
Saturated Fat:

16g
Unsaturated Fat:

0g
Cholesterol:

74mg
Sodium:

842mg
Carbohydrates:

34g
Fiber:

4g
Sugar:

7g
Protein:

16g
Looking for more sandwich recipes?