Bring the flavors of the coast to your kitchen with our crab roll. A mouthwatering crab salad made with celery, onions, and our favorite seafood seasonings!
As you may know, Kim and I lived in Florida for a number of years. The East coast of the state was our favorite area.
The mix of cultures, food, and scenery were amazing. It was a culinary wonderland.
Then we moved to the Gulf side and while it had a certain charm, the food was not the same. In fact, there was a disturbing lack of fresh seafood.
Well, if you enjoyed Grouper and shrimp, you were in heaven. As result, I learned how to make a lot of my coastal favorites at home.
Which brings us to today's crab roll. It's rich, creamy, and loaded with jumbo lump crab. Furthermore, this crab sandwich comes together in less than 10 minutes.
I don't know how much easier it can get. So, let's start cooking!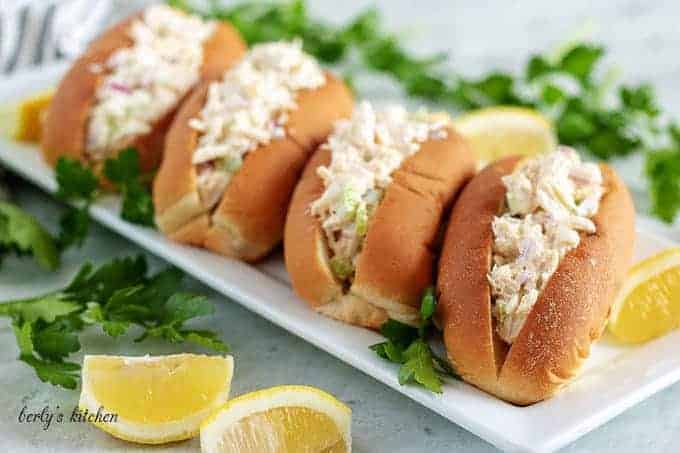 How to make a crab roll:
Alright, so I used canned crab and I recommend you do the same. Especially, if it's your first time making a crab roll.
Mainly, because nobody wants to spend hours steaming and cracking open crab shells. With that being said, if you have access to fresh, steamed crab meat, then chill it and use it instead. For now, start prepping your ingredients.
Grab your crab, dice your celery and onions, and measure out the mayo and lemon juice.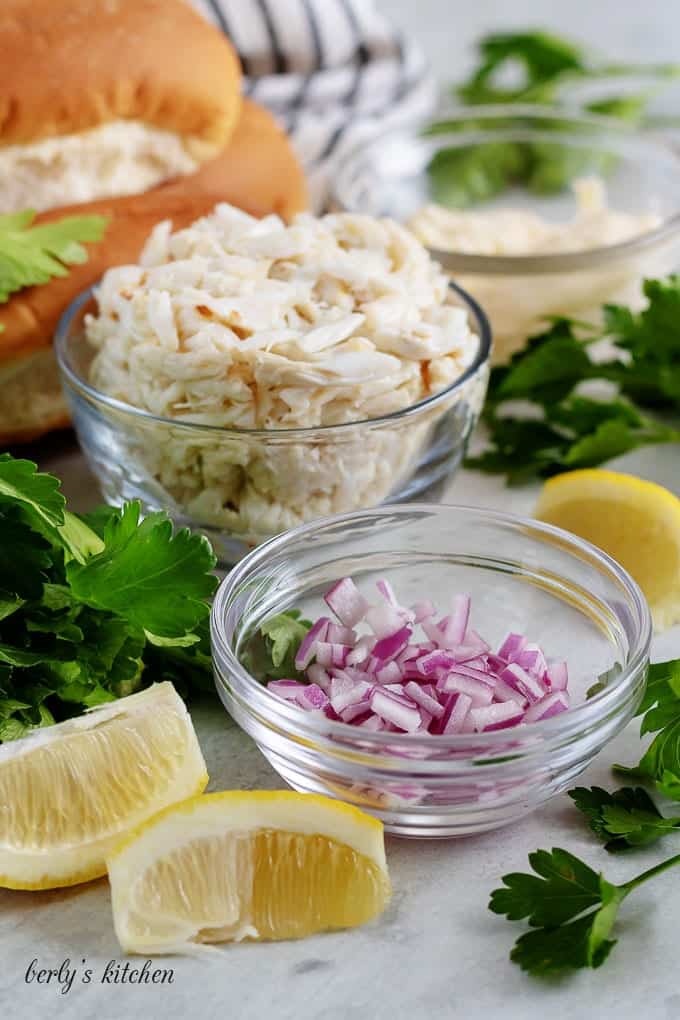 After that, begin adding your ingredients to a large mixing bowl. Start with the crab, then add the diced red onion, celery, seafood seasonings, mayonnaise, and finally the lemon juice.
Two things to note. For the lemon juice, we used fresh squeezed.
Also, Kim and I prefer to use Old Bay seafood seasoning. But, that's just a flavor preference. If you have a favorite brand, then substitute it instead.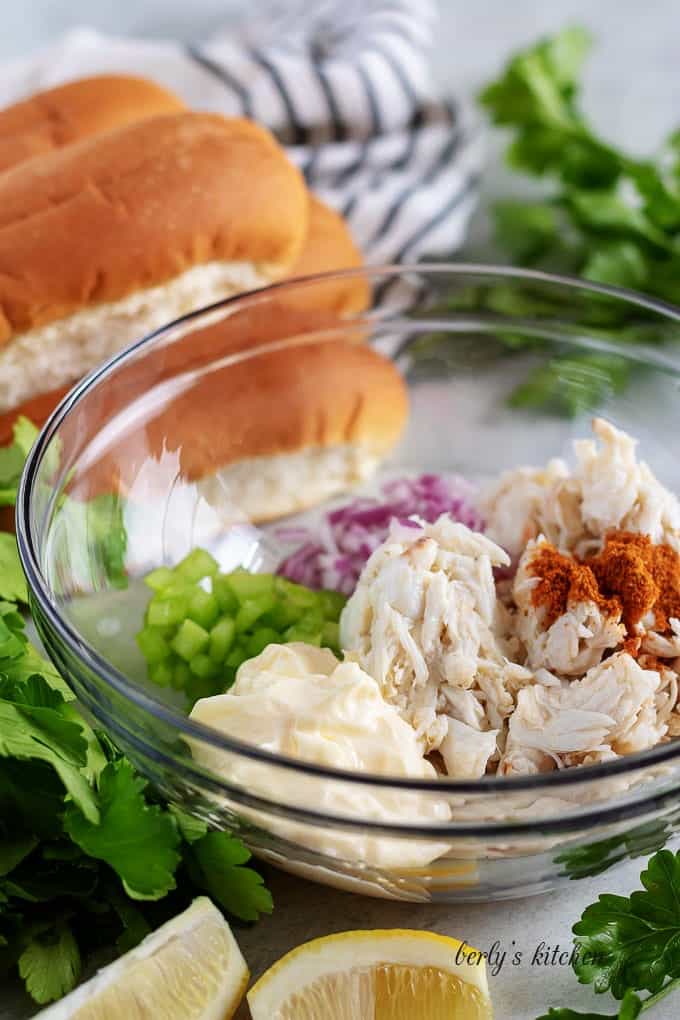 Once you have everything in a bowl, get a rubber spatula or large spoon and start stirring. Make sure you evenly coat the crab meat with the mayo and seasonings; otherwise, it will effect the taste of your crab roll.
For example, some bites will have too much seasoning, while other bites will be bland. Now that you have the crab salad or filling prepared, there's only one last step.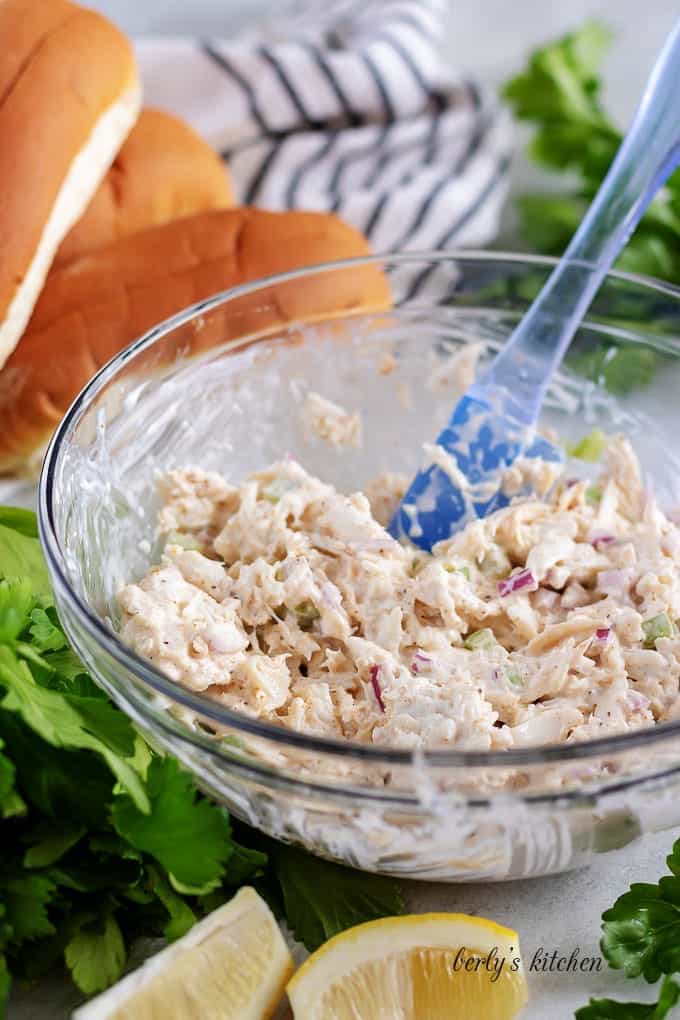 The final step involves putting the crab roll filling into the buns. For our recipe, we simply divided the filling equally between four (4) buns.
The nutritional facts below are based on that, as well. You could use deli or hamburger rolls, it's up to you.
Just keep in mind that any changes from the recipe will change the nutritional information. Well, that's it, your crab roll recipe is done.
Kim and I hope you enjoy this offering from us at Berly's Kitchen!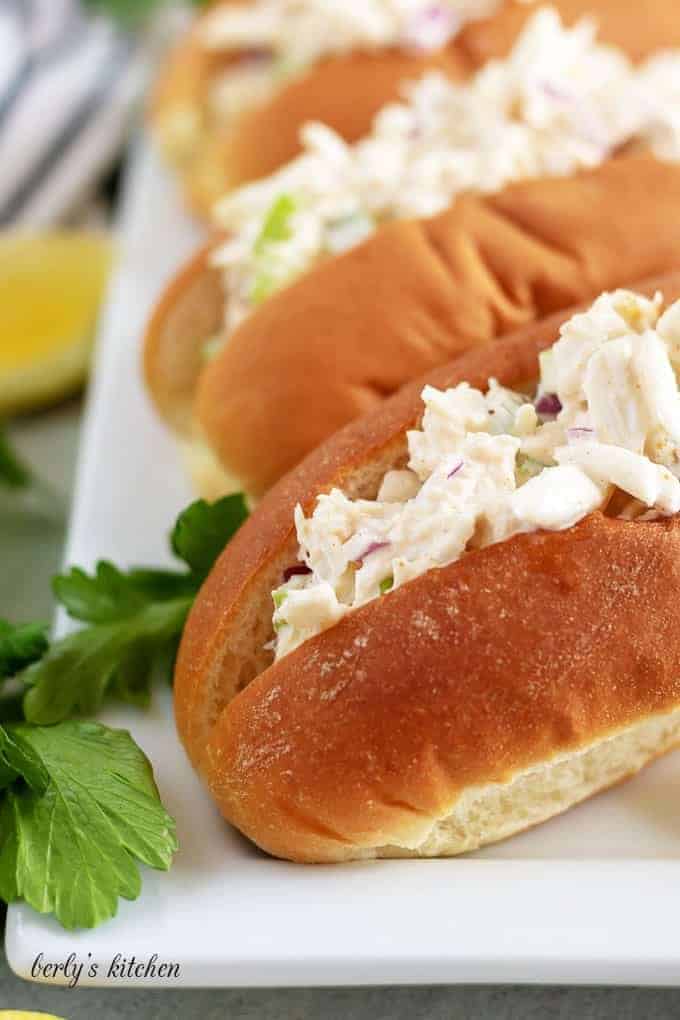 Crab Roll Tips:
One of the best tips I can give you is to be gentle during the mixing process. Try folding the ingredients together. Because, if you're too rough, you'll break up all that luscious crab meat and that would be a real shame.
Some people don't have access to fresh crab meat, but don't fret, the base recipe can be used on other types of seafood. In fact, this works for shrimp as well. Also, be sure to check the canned meats section of your local grocery store. I know for a fact that Chicken of Sea offers canned jumbo lump crab meat.
The last tip involves lemon juice. I know it's a pain to buy 1 lemon and juice it for this recipe. Trust me though, it's worth it. The refrigerated concentrates are too strong for the delicate meat and will overpower a lot of the flavor. What do I recommend? Try buying a bag of lemons and making homemade lemonade with the extras.
Other crab recipes you may love:
Don't forget to check out our Crab Roll Recipe web story!
If you enjoyed our quick crab roll recipe, please leave us a comment and rate the recipe card. You can also find us on Facebook, Pinterest, Twitter, and Instagram by searching for Berly's Kitchen!
Yield: 4 Servings
Quick Crab Roll Recipe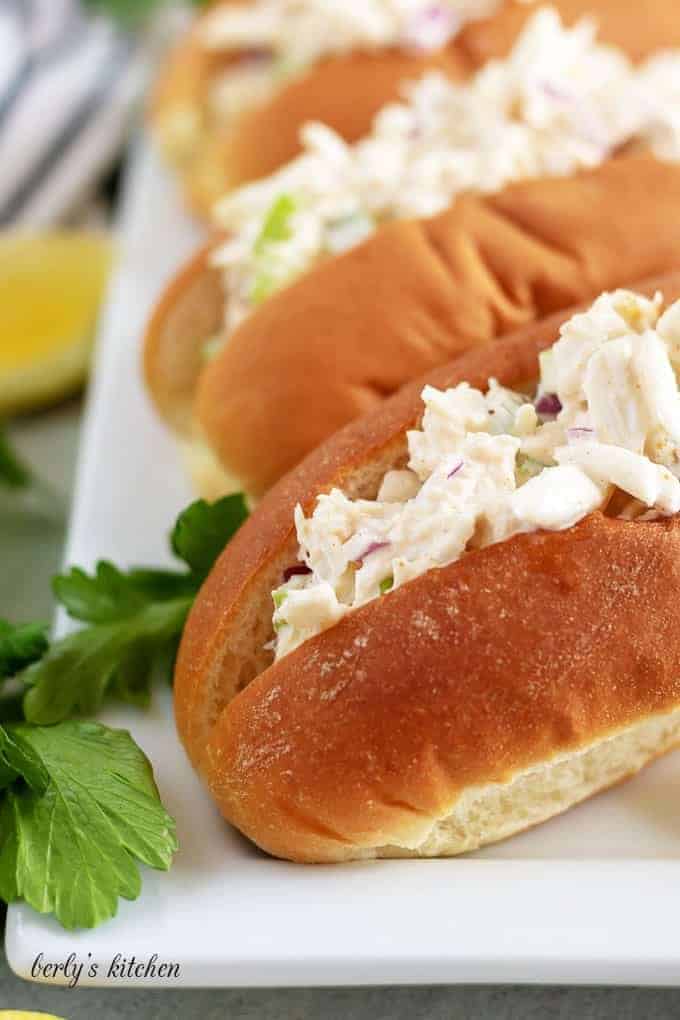 Bring the flavors of the coast to your kitchen with our quick crab roll recipe. A mouthwatering crab salad made with celery, onions, and our favorite seafood seasonings!
Ingredients
4 Large Buns, (lobster roll buns or hot dog buns)
8 Ounces Jumbo Lump Crab Meat
1/4 Cup Red Onion, (diced)
1/4 Cup Celery, (washed, diced)
1 Teaspoon Seafood Seasoning, (we use Old Bay)
1/3 Cup Mayonnaise
1 Teaspoon Lemon Juice, (fresh squeezed)
Instructions
First, add the crab meat, onion, celery, seafood seasoning, mayo, and lemon juice to a large mixing bowl.
Next, use a rubber spatula or spoon, to gently combine all the ingredients.
Last, equally divide the crab roll filling between the four (4) buns and serve.
Notes
The calories listed are an approximation based on the ingredients and a serving size of 1 crab roll. Proper serving sizes are determined by equally dividing the crab roll filling between 4 buns. Actual calories will vary.
The filling can be stored in your fridge in a sealed container for up to 2 days.
Recommended Products
As an Amazon Associate and member of other affiliate programs, I earn from qualifying purchases.
Nutrition Information:
Yield:
4
Serving Size:
1 Roll
Amount Per Serving:
Calories:

354
Total Fat:

16g
Saturated Fat:

2g
Unsaturated Fat:

0g
Cholesterol:

31mg
Sodium:

890mg
Carbohydrates:

34g
Fiber:

1g
Sugar:

5g
Protein:

16g