A warm and comforting homemade Salisbury steak recipe featuring ground beef flavored with a mouth watering blend of spices and slow cooked in brown gravy.
It's finally the weekend, you can rest and relax. Since you have a little time on your hands, why not make a delicious meal for the family?
For today's post, we're sharing our homemade Salisbury steak. Ground beef flavored with things like Worcestershire sauce and diced onions.
Then, slow simmered in a tasty mushroom gravy. Serve it with twice baked potatoes or onion soup potatoes for the perfect dinner. So, shall we get started?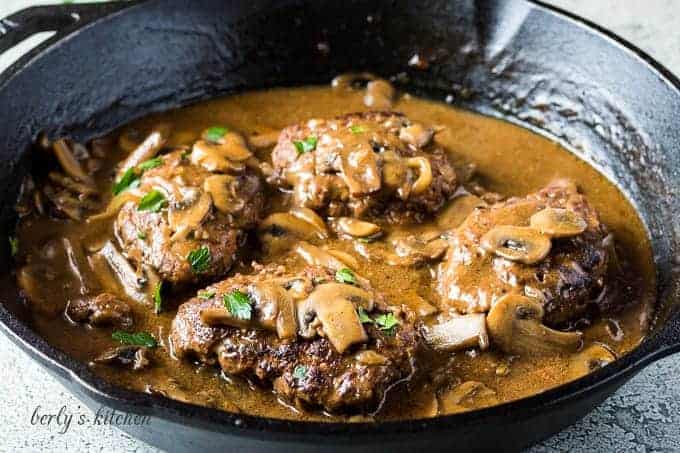 How to make homemade Salisbury steak?
First, start by dicing and slicing the onions and mushrooms.
You know, do a little prep work, that way you can focus on the meal while it cooks.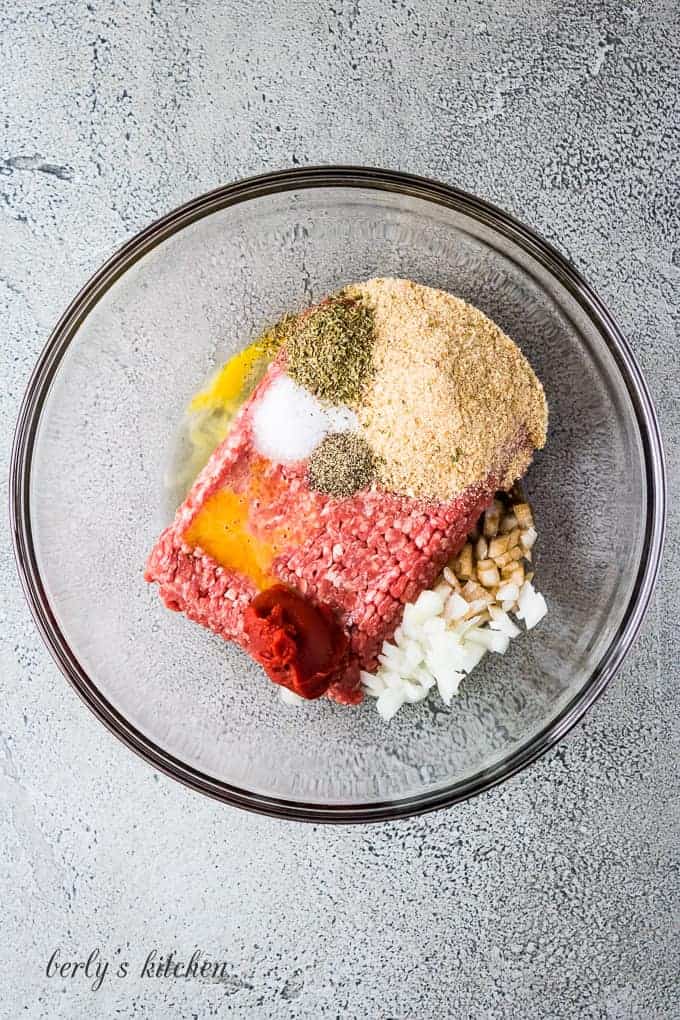 Next, grab a large bowl and toss in the ground beef. Crack the egg and add it too.
After that, add the breadcrumbs, chopped onion, tomato paste, Worcestershire sauce, Italian seasonings, salt, and pepper.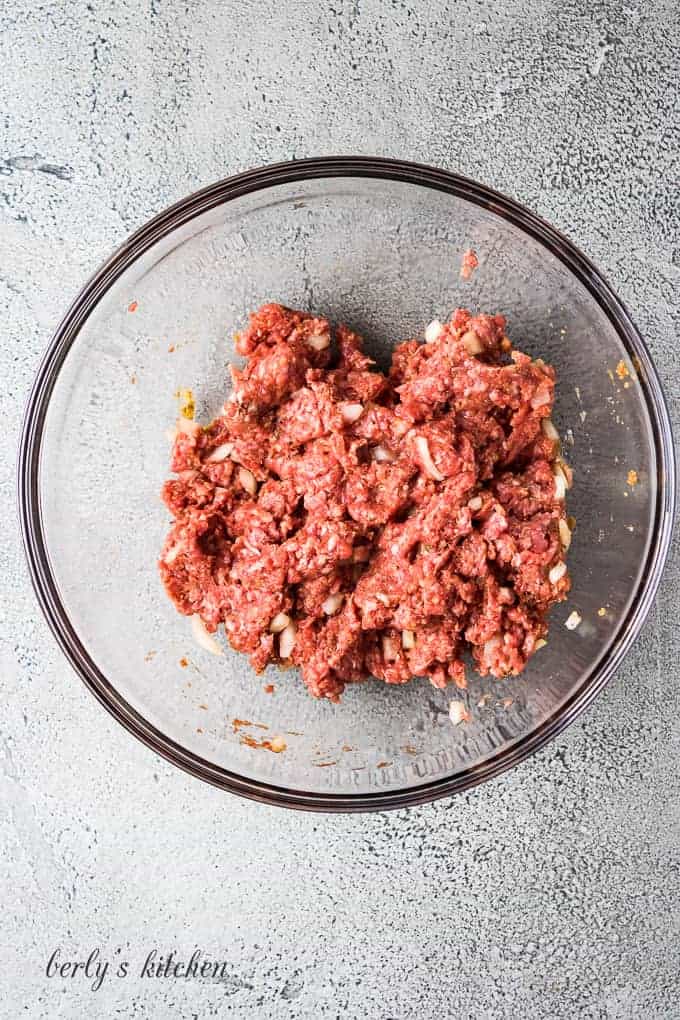 Mix everything together using your wooden spoon or hands. Form the ground beef into little patties.
Then, place the skillet over medium heat. Give the oil a minute or two (2) to heat up before adding the Salisbury steaks.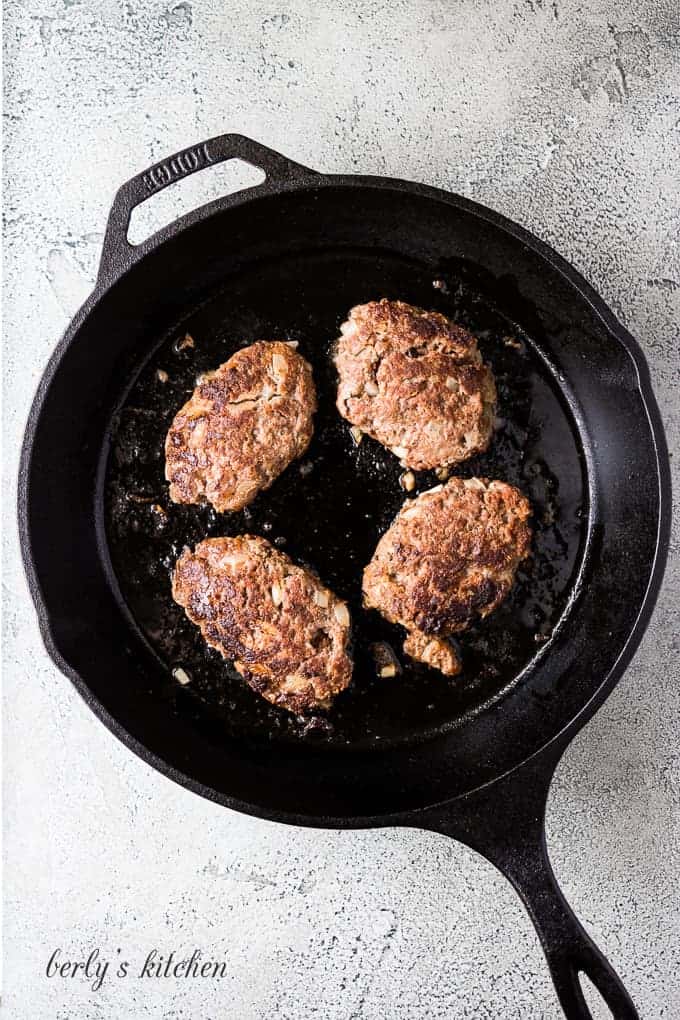 Let them cook for about five to seven minutes (5-7) on each side, then remove them from the pan. It's time to make the gravy.
To begin the mushroom gravy, combine the beef broth, more Worcestershire sauce, flour, and Dijon mustard. Set the mixture aside.
Afterward, using the same pan you cooked the steaks in, melt the butter over low heat.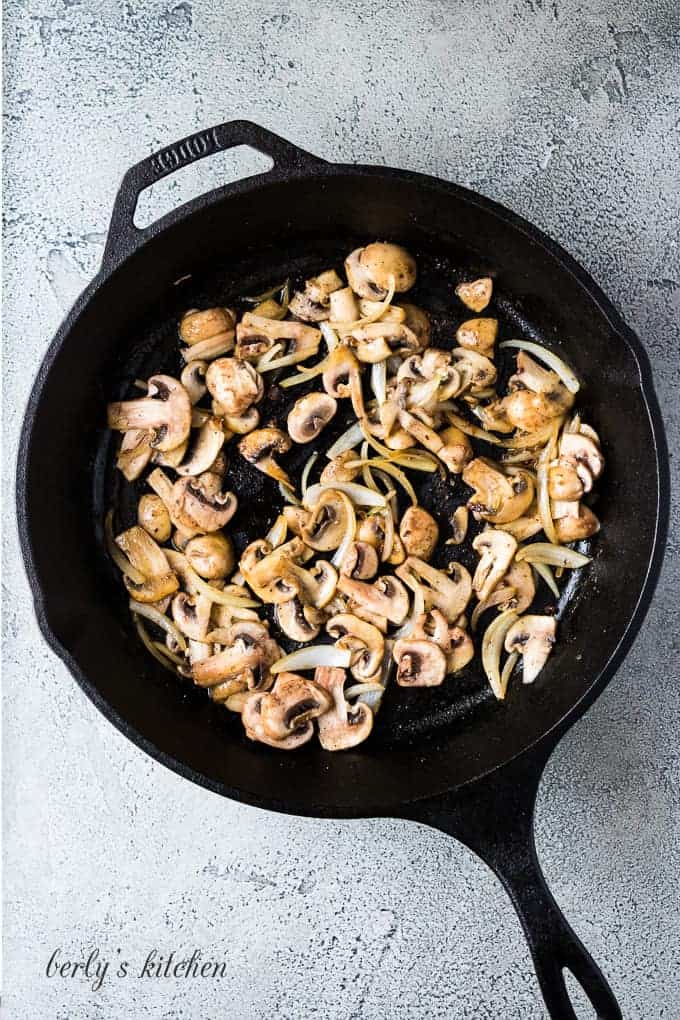 Now, add the sliced onions, mushrooms, salt, and pepper. You'll want to let everything cook for about five (5) minutes.
That process will soften the veggies. Once they've cooked, carefully pour in the broth and mustard mixture.
Use your whisk to blend everything. Last, place the Salisbury steaks back into the pan and let them simmer for about twelve (12) minutes.
Be sure to stir the gravy as it cooks and thickens.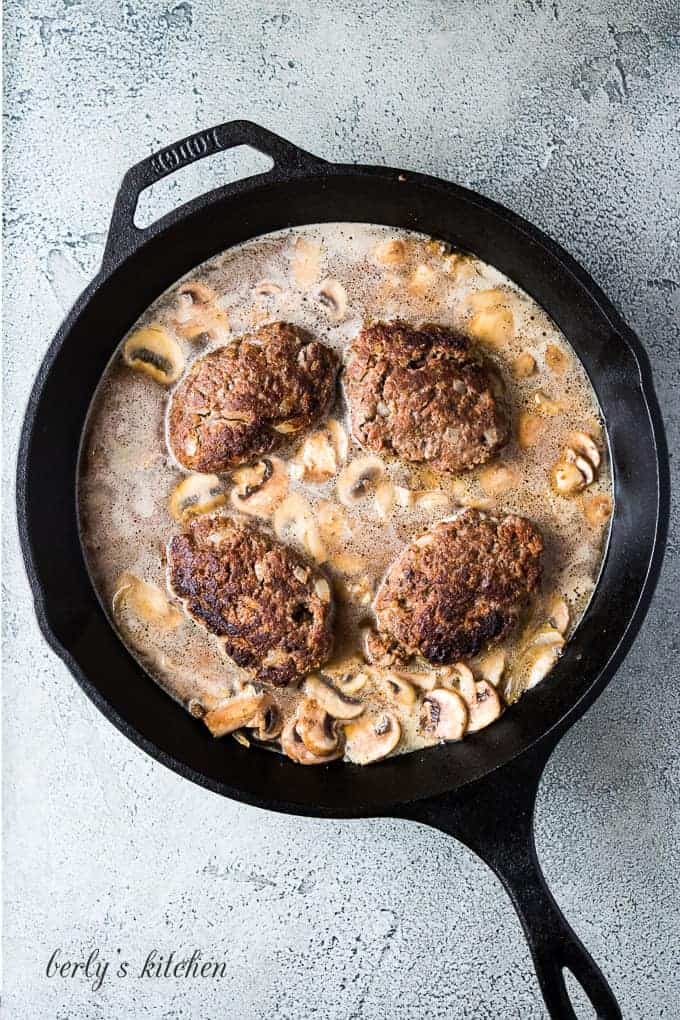 That's it, your homemade Salisbury steak recipe is done! Remove them from the heat and serve.
Kim and I hope you enjoy this comforting meal and wish you all the best 🙂
What to serve with Salisbury steak?
Mashed Potatoes
Roasted Potatoes
Macaroni and Cheese
Cole Slaw
White Rice
Sauteed Asparagus
Anything your like!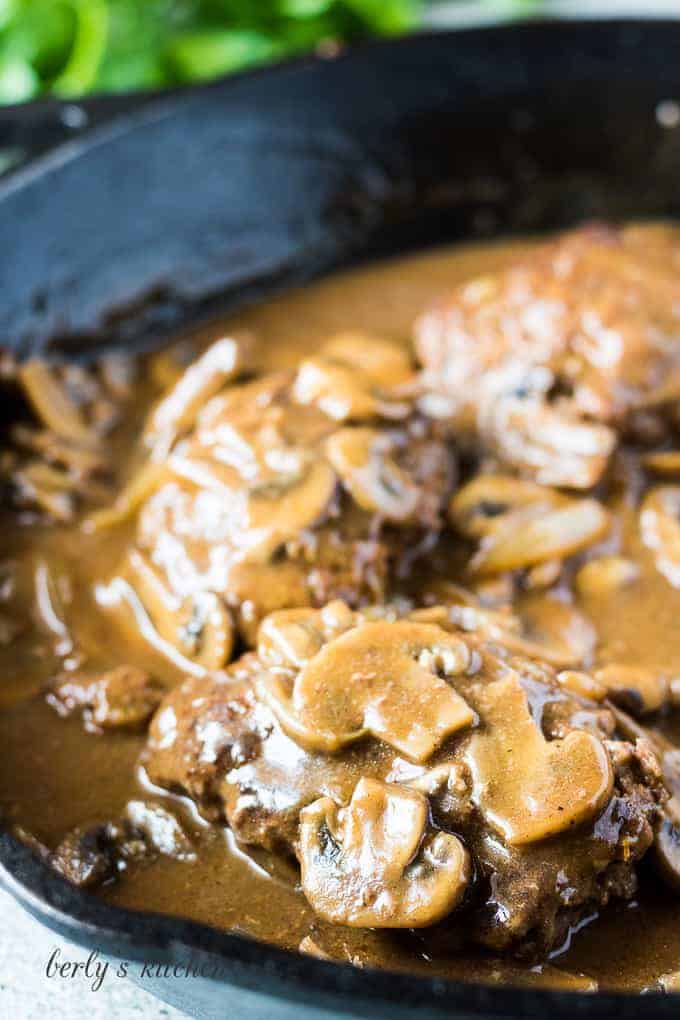 Recipe Tips:
I can't emphasize how important it is to stir the gravy while it cooks. Otherwise, it could stick and burn.
We used ground beef with a fat ratio of 93/7. However, you don't have to use that ratio. Just keep in mind, the higher the fat, the more the patties will shrink.
Don't like mushrooms, then leave them out. An onion gravy is still really tasty.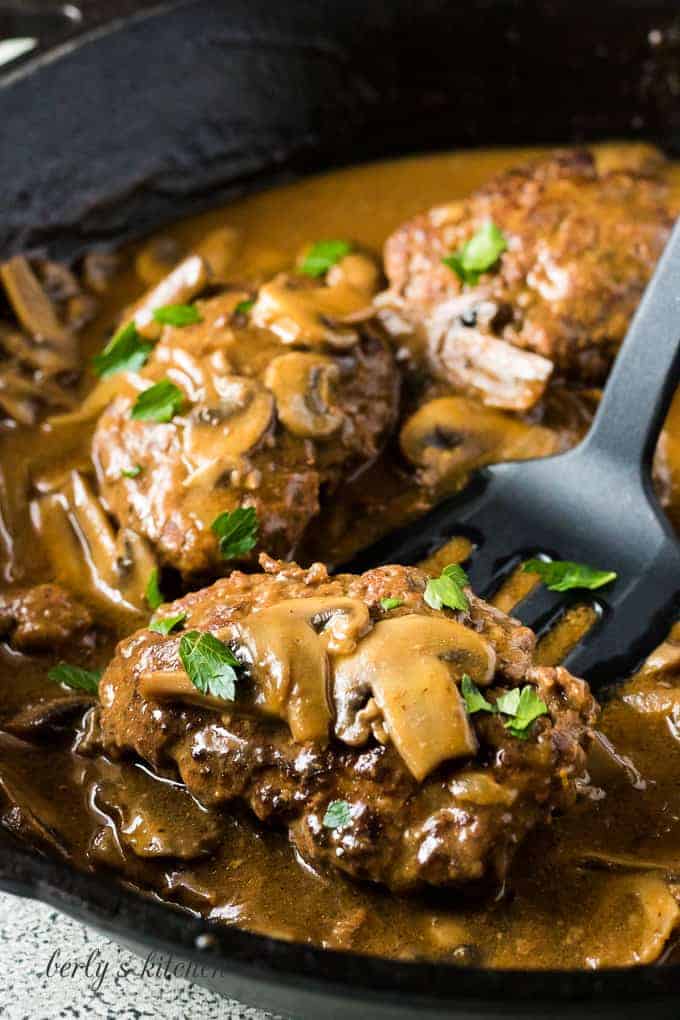 If you like our Salisbury steak recipe, please leave us a comment and rate the recipe card. You can also find us on Facebook, Pinterest, Twitter and Instagram searching for Berly's Kitchen!
Yield: 4 Servings
Homemade Salisbury Steak Recipe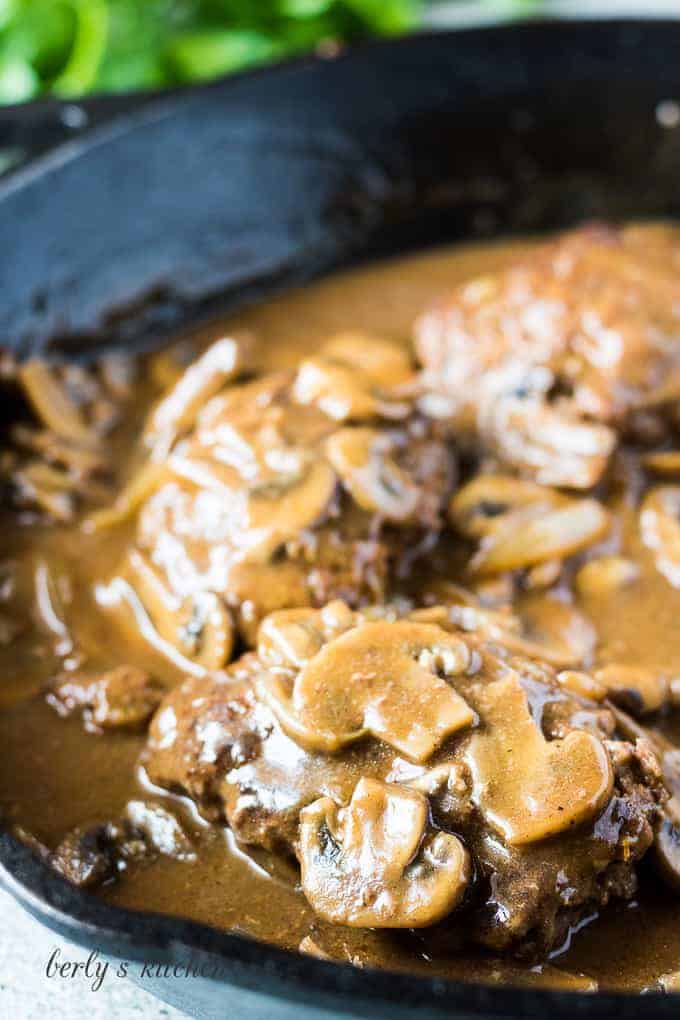 A warm and comforting homemade Salisbury steak recipe featuring ground beef flavored with a mouth watering blend of spices and slow cooked in brown gravy.
Ingredients
Salisbury Steaks
1 Lb. Ground Beef, (we used 93/7)
1 Large Egg, (cracked, lightly beaten)
1/3 Cup Breadcrumbs
1/4 Cup White Onion, (finely diced or dried onion)
1 Tablespoon Tomato Paste
1 Tablespoon Worcestershire sauce
1 Teaspoon Italian Seasonings
1 Teaspoon Salt, (or less to taste, see notes)
1/2 Teaspoon Black Pepper, (or less to taste)
1 Tablespoon Cooking Oil, (olive, canola, vegetable, etc.)
Gravy
2 1/2 Cups Beef Broth
2 Tablespoons All-Purpose Flour
2 Tablespoons Unsalted Butter
1/2 Cup White Onion, (sliced)
8 Ounces Mushrooms, (we used white mushrooms, one (1) pint)
Salt and Pepper to Taste, (see notes)
1 Tablespoon Worcestershire sauce
1 Teaspoon Dijon Mustard
Instructions
Salisbury Steaks
In a large bowl, combine the ground beef, egg, breadcrumbs, onion, tomato paste, Worcestershire sauce, Italian seasoning, salt, and pepper. Form the mixture into 4 equal sized, oval shaped patties.
Heat the cooking oil in a large pan over medium heat. Cook the patties for 5 to 6 minutes on each side. Remove the steaks to a waiting plate. Set aside.
Gravy
In a measuring cup or small bowl, whisk together the beef broth, flour, and Worcestershire sauce and Dijon Mustard. Set aside.
Using the same pan you used to cook the patties, melt the butter over low-medium heat, then add the onion, mushrooms, salt, and pepper. Cook for 4 to 5 minutes until the onions and mushrooms begin to soften. Slowly pour in the beef broth mixture. Stir to combine.
Add the patties back to the pan, and simmer over medium heat for an additional 10 to 12 minutes until the gravy begins to thicken. Stir the gravy as needed to ensure it doesn't stick and burn. Let the gravy reduce by about half then remove it from heat. It will thicken more as it cools.
Serve the patties with the gravy over mashed potatoes.
Notes
The calories listed are an approximation based on the ingredients and a serving size of one (1), four (4) ounce Salisbury steak with about two (2) tablespoons of the mushroom gravy. Actual calories will vary. The leftovers can be stored in a sealed container, in your fridge, for up to three (3) days.
**Additional Notes**
This dish can become over salted. Be sure to do taste tests with the gravy and only add salt to taste.
Recommended Products
As an Amazon Associate and member of other affiliate programs, I earn from qualifying purchases.
Nutrition Information:
Yield:
4
Serving Size:
4 Ounces
Amount Per Serving:
Calories:

486
Total Fat:

34g
Saturated Fat:

13g
Unsaturated Fat:

0g
Cholesterol:

148mg
Sodium:

1485mg
Carbohydrates:

17g
Fiber:

2g
Sugar:

4g
Protein:

27g