*This post may contain affiliate links. As Amazon Associates we earn from qualifying purchases.
Want to make your own croutons this holiday season? Then try our buttery homemade croutons recipe. Crunchy toasted bread flavored with butter and spices!
Thanksgiving is just around the corner. I'm getting excited! So many tasty treats to eat.
From pull-apart breads to pumpkin pies. I don't think there's any part of the meal I don't enjoy.
For today's post, we're sharing one of our favorite salad toppers; homemade croutons. Simple, delicious, and perfect for any salad.
Let's get started!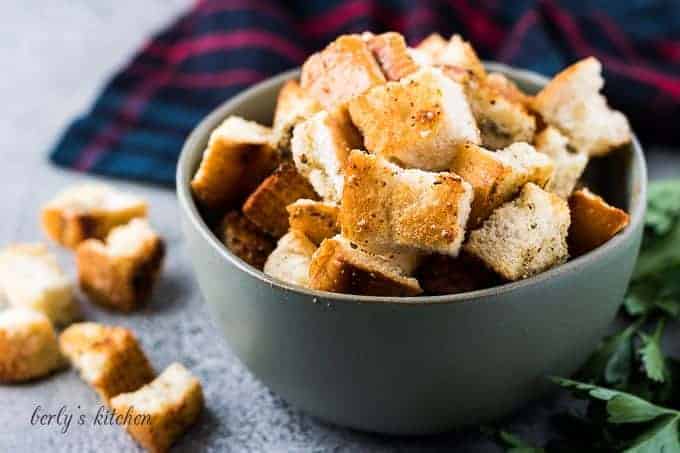 How to make croutons?
First, make your bread is stale. If not, Kim provided some notes in the recipe card for drying out your bread.
Go ahead and preheat your oven to 350 degrees F.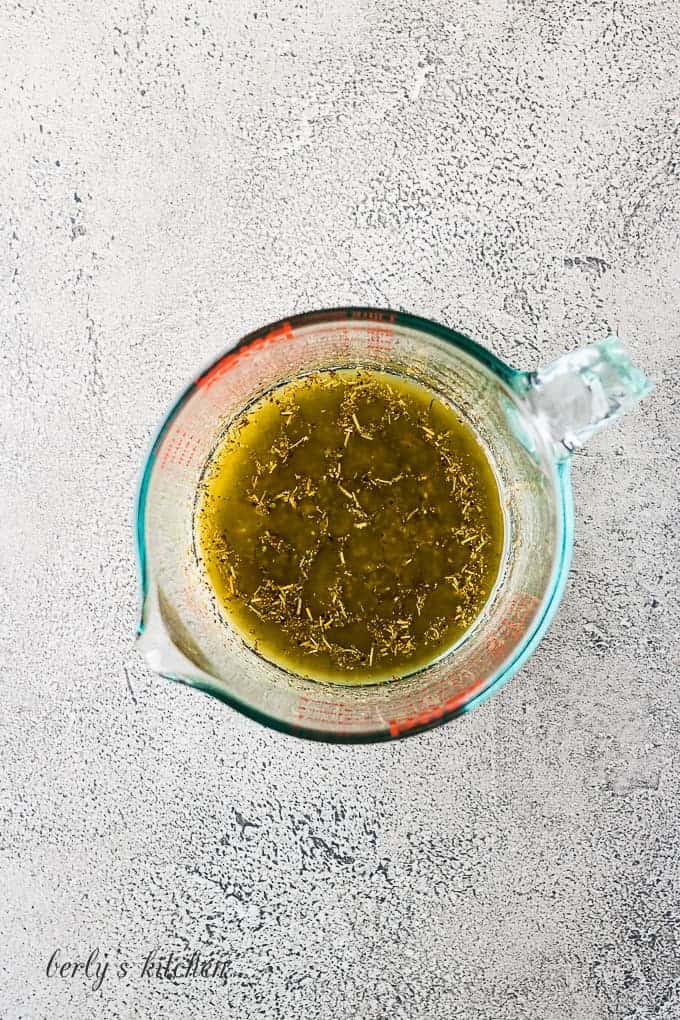 Next, grab a measuring cup or mixing bowl and combine the melted butter, Italian spices, garlic powder, onion powder, and salt.
Give everything a quick stir and set it aside.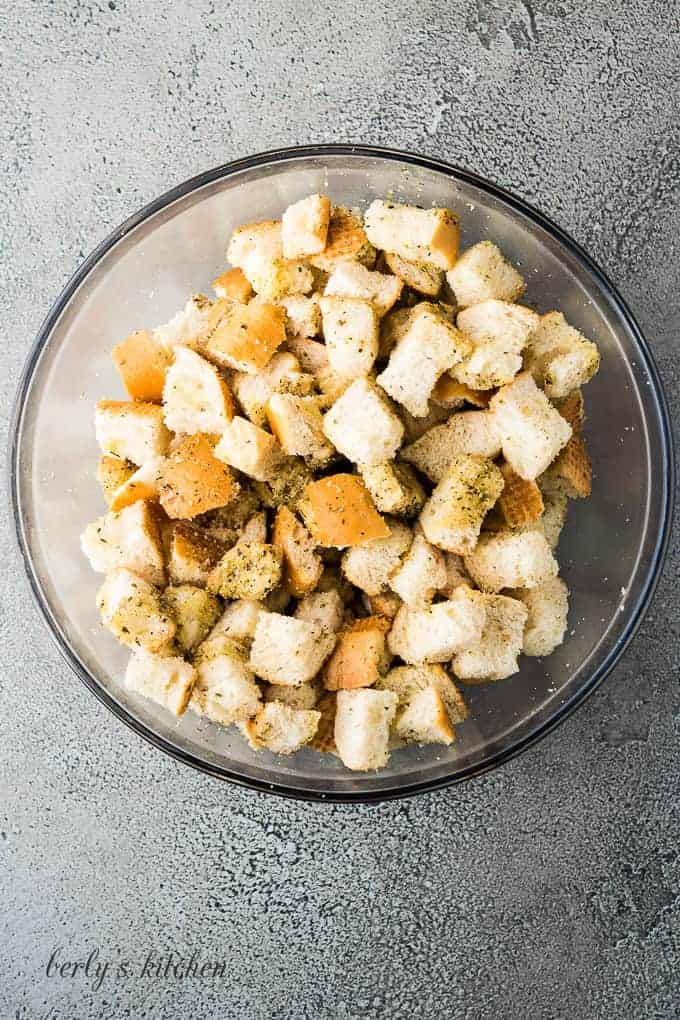 After that, cut your bread into one (1) inch cubes. Try to make them the same size; otherwise, they won't evenly toast.
Then grab a large mixing bowl and toss the bread cubes with the butter and spice mixture.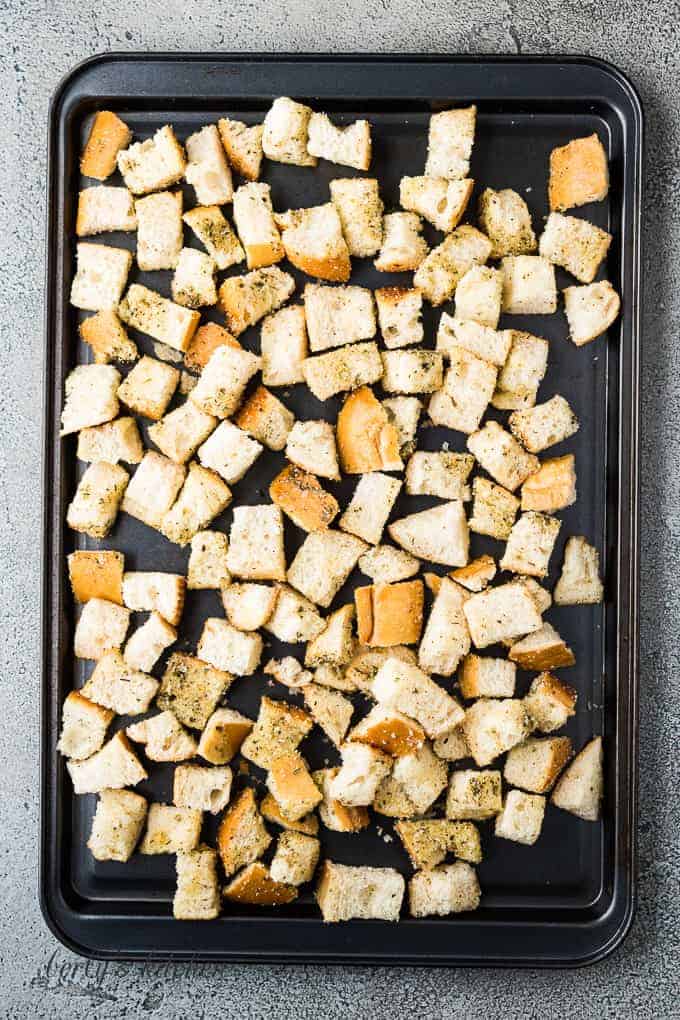 Afterward, spread the croutons out onto two (2) large sheet pans. Place them into the oven to bake for ten (10) minutes. Make sure to stir them halfway through.
Last, remove the homemade croutons from the oven and let them cool for ten (10) minutes before serving.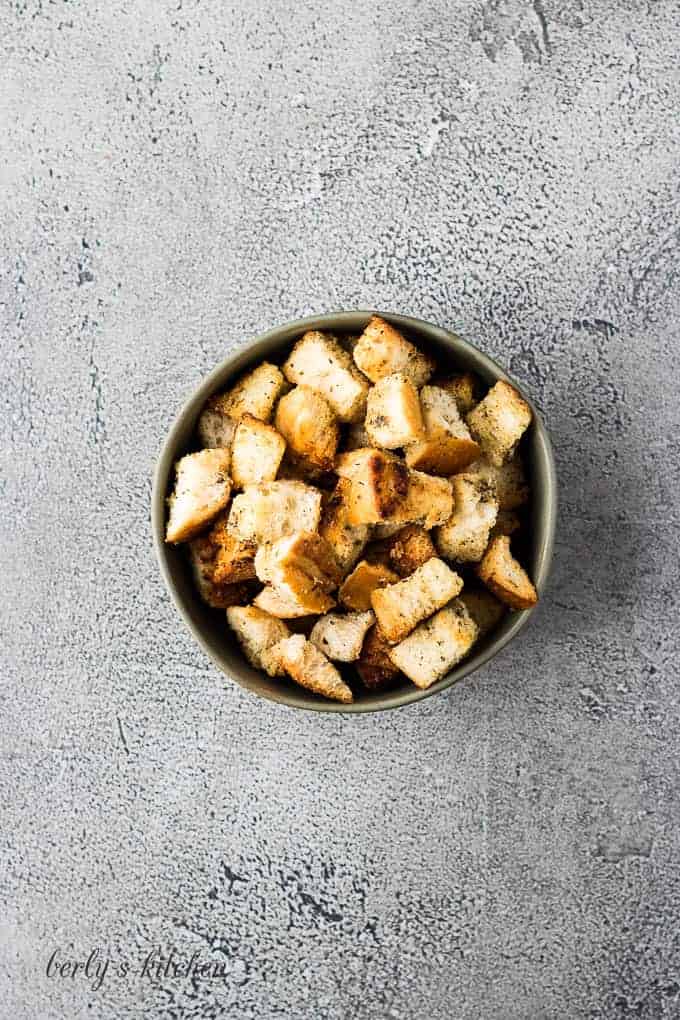 That's it, your croutons recipe is done! Kim and I hope you enjoy this salad topper and wish you all the best 🙂
Tips:
So, you don't have stale bread or the time to dry out a fresh loaf. No worries, you can still use fresh bread. Just keep in mind the cook time will need to increase and the condiment may not be as crunchy.
Want to take your Thanksgiving stuffing to the next level? Use these croutons instead of bread in your dressing for a decadent twist on your Grandmothers stuffing.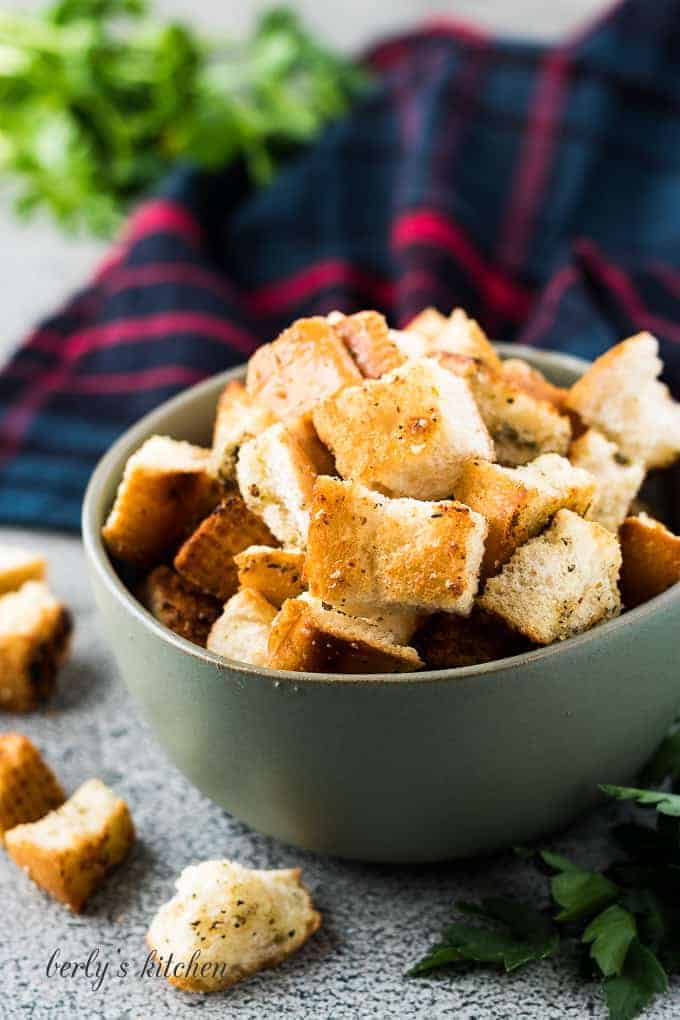 If you like our buttery homemade croutons recipe, please leave us a comment and rate the recipe card. You can also find us on Facebook, Pinterest, Twitter and Instagram searching for Berly's Kitchen!
Join our Facebook group for more recipes from Berly's Kitchen, our new site More Than Meat and Potatoes, and some of our blogger friends!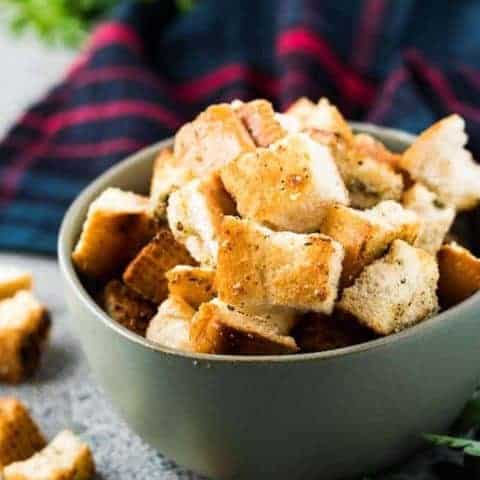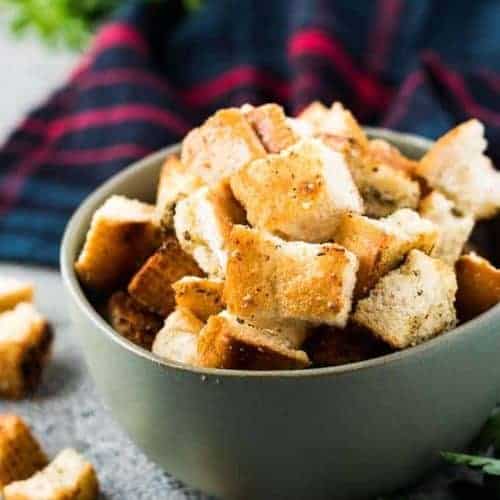 Homemade Croutons Recipe
Want to make your own croutons this holiday season? Then try our buttery homemade croutons recipe. Crunchy toasted bread flavored with butter and spices!
Ingredients
14 Ounces Italian Bread, (or French, stale, cut into one ((1)) inch cubes)
8 Tablespoons Unsalted Butter, (melted)
1 Tablespoon Italian Seasonings
1/2 Teaspoon Garlic Powder
1/2 Teaspoon Onion Powder
1/2 Teaspoon Salt, (optional or to taste)
Instructions
Preheat the oven to 350 degrees F. and cut the bread into 1 inch cubes.
In a small bowl, combine butter, Italian seasonings, garlic powder, onion powder, and salt. Set aside.
Place stale, cubed bread in a large bowl, and drizzle the butter mixture a little a time onto the bread. Toss the bread as the butter is being drizzled to ensure even coating. After the butter is completely used, continue to toss the bread until all the seasonings are evenly distributed.
Transfer the bread onto 2 baking sheets, and bake for 10 minutes stirring at 5 minute intervals. If the croutons aren't crispy enough at 10 minutes, add an additional 3-5 minutes of bake time.
Remove from the oven, and allow the croutons to cool on the baking sheet before transferring to a large plastic zip bag or an airtight container for storage. Can be stored on your counter for up to 5 days.
Notes
The calories listed are an approximation based on the ingredients and a serving size of approximately two (2) tablespoons. Actual calories will vary.
*If the bread is fresh, cut it into cubes and place it onto baking sheets. Bake at 250 degrees for 30-45 minutes, stirring at 15 minute intervals. This will dry out the bread. Continue with the recipe as written.
Recommended Products
As an Amazon Associate and member of other affiliate programs, I earn from qualifying purchases.
Nutrition Information:
Yield:

20
Serving Size:

2 Tablespoons
Amount Per Serving:
Calories:

152
Total Fat:

12g
Saturated Fat:

7g
Unsaturated Fat:

0g
Cholesterol:

12mg
Sodium:

172mg
Carbohydrates:

11g
Fiber:

1g
Sugar:

6g
Protein:

2g
Looking for salad dressing ideas?