These homemade oatmeal whoopie pies feature sweet, fluffy, vanilla buttercream sandwiched between two thick and chewy oatmeal cookies!
Every now and then, we all need a little treat. Whether it's a birthday or just your weekly cheat day, something sweet goes a long way.
Personally, I'm a huge fan of oatmeal chocolate chip cookies. With that being said, these homemade oatmeal whoopie pies are a close second.
Cookie sandwiches, oatmeal cream pies, no matter what you call them, it all comes down to the same thing.
Creamy, decadent buttercream filling sandwiched between two sweet and chewy oatmeal cookies.
Now, as far as the recipe goes, it may look complicated but the whole process takes less than 90 minutes.
Not bad, right? If that sounds like a little too much for you, then check out our cranberry dark chocolate oatmeal cookies instead.
How to make oatmeal whoopie pies?
To begin, you'll want to make the cookies first. You know what that means, right, softened butter.
Similar to our chocolate chip loaf cake, I recommend removing the butter, for both the oatmeal cookies and the frosting, at least 1-2 hours before getting started.
Once the butter has softened, then you can get started on these tasty oatmeal cookie sandwiches!
How to make oatmeal cookies from scratch?
First, grab a medium mixing bowl and combine the softened butter, brown sugar, and granulated sugar.
After that, use a stand or hand mixer to beat the 3 ingredients together until the mixture is light and fluffy.
Next, add the cracked eggs and vanilla extract to the butter and sugar mixture. Again, use your mixer to combine everything. Set the bowl aside.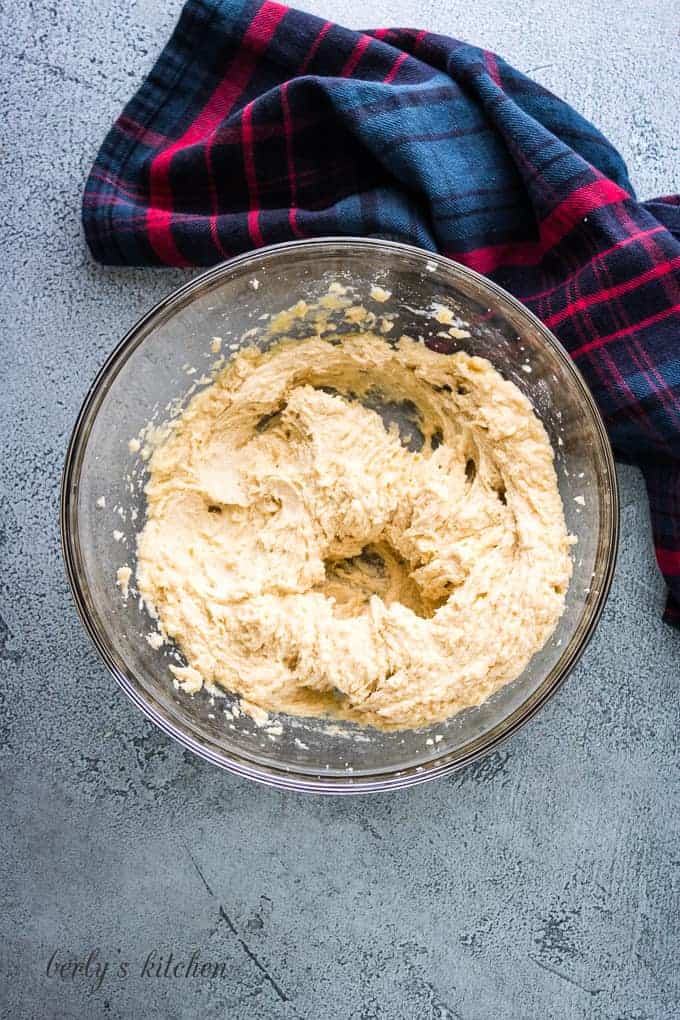 Then, grab a separate mixing bowl and combine the flour, ground cinnamon, baking soda, and salt.
Usually, I use a whisk to combine my dry ingredients. But, a kitchen fork will work in a pinch.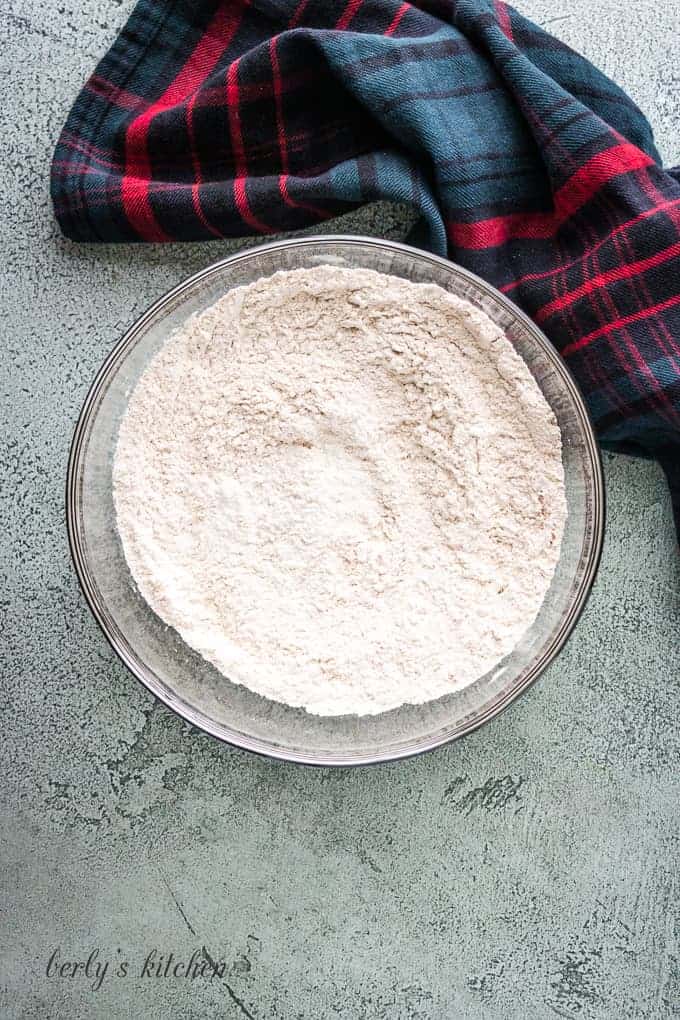 At this point, you can now combine the flour mixture with the butter and sugar mixture.
Kim usually adds the dry ingredients to wet ingredients. Not the other way around.
Using the low speed setting on your mixer, combine the ingredients. Only mix the dough until the flour has been incoporated.
We've provided a photo below so you can use it as a reference. Notice how there are no streaks of flour in the bowl?
Once the oatmeal cookie dough is combined, add the quick oats to the bowl. Go ahead and use your mixer on the lowest setting to mix in the oats.
On the other hand, you could use a rubber spatula to fold the oats into the whoopie pie cookie dough.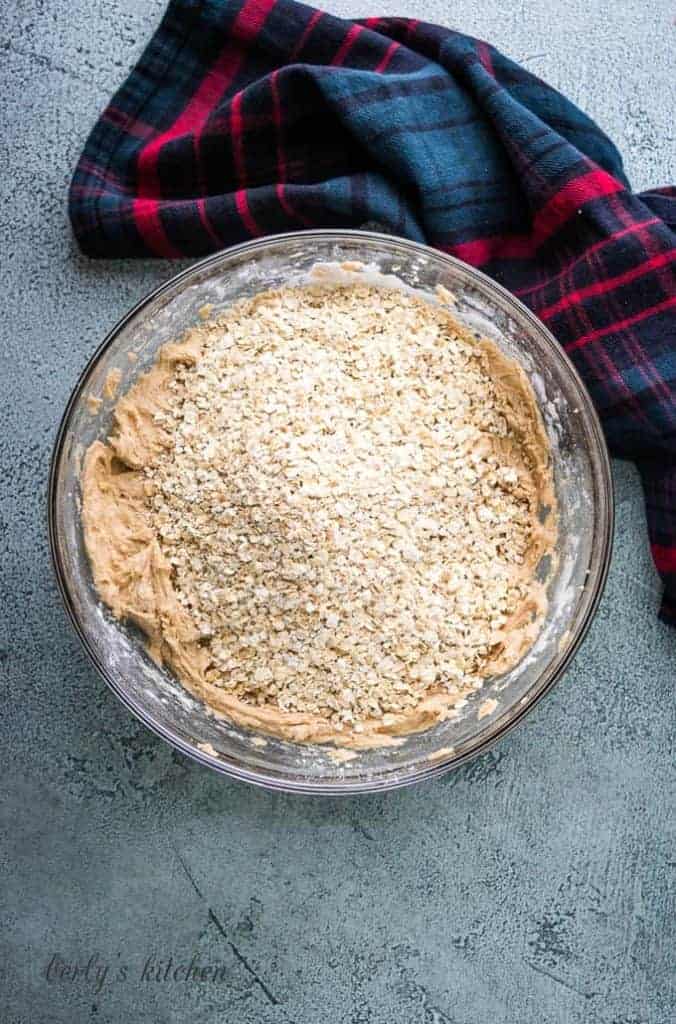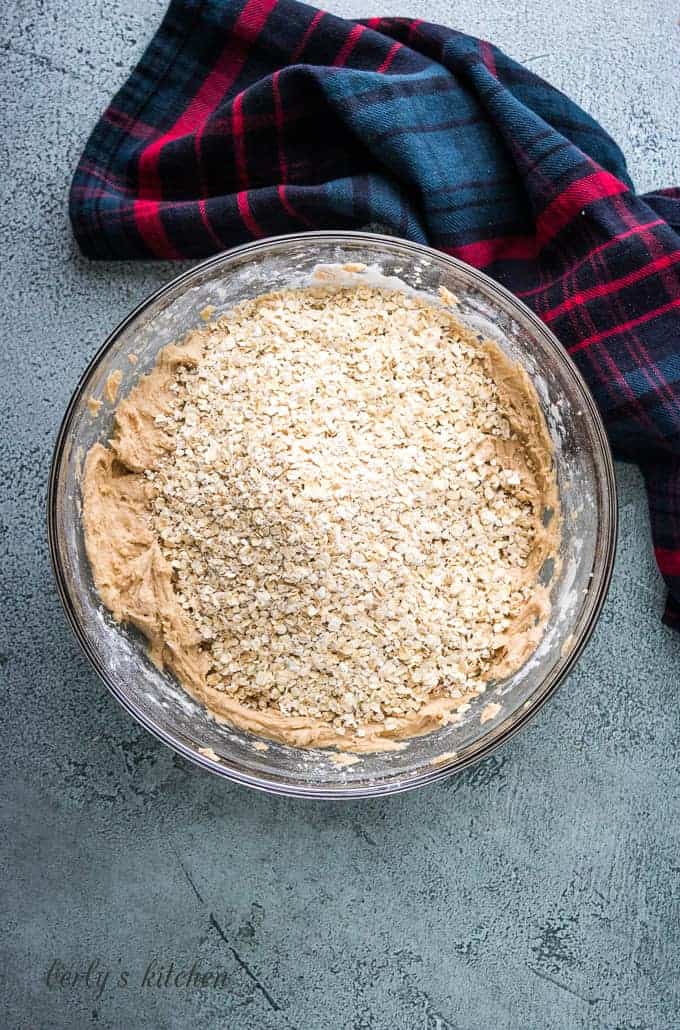 Now, cover the dough with plastic wrap and place it into your fridge to chill for about 30 minutes. Why, you ask?
Because, the butter needs to firm up a little before baking. Otherwise, you're going to end up with flat cookies.
In the meantime, prepare a cookie sheet with parchment paper or use a silicone baking mat. Also, preheat your oven to 350 degrees F.
When the dough has chilled, remove it from your fridge. Roll the dough into balls and place them on the baking sheet.
Gently press down on each ping-pong sized ball to flatten them out a little just before baking.
Last, place them into the oven to bake for 10-12 minutes. Remove them from the oven and let them cool.
How to make filling for oatmeal whoopie pies?
While the cookies cool, you can make the buttercream filling for the oatmeal whoopie pies.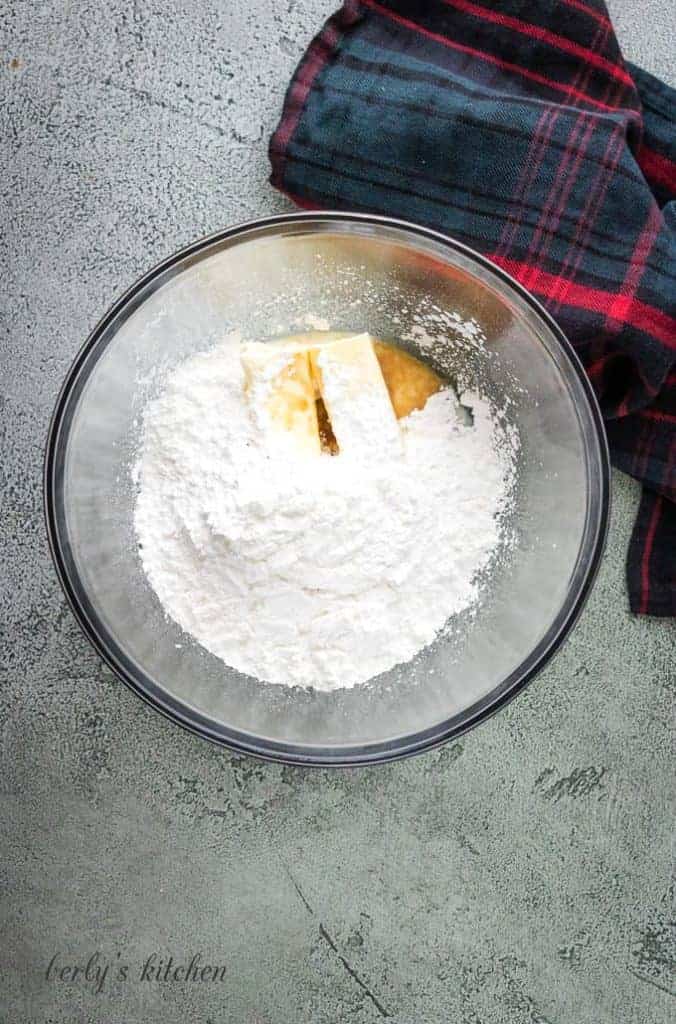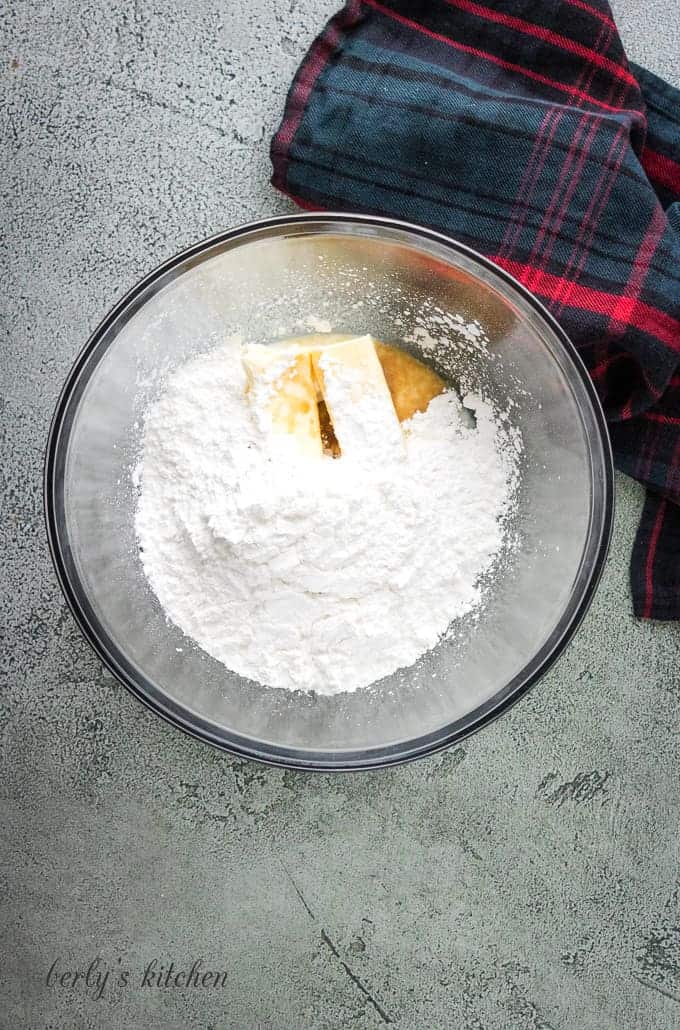 First, grab a large bowl and toss in the powdered sugar, vanilla extract, butter, and milk.
Next, use your hand mixer on low to medium speed to combine all the ingredients into a smooth and creamy filling.
Last, if needed, add a little more milk to thin out the filling. Some people prefer a thinner frosting and we understand.
How to assemble a cookie sandwich?
It's pretty easy. Simply take one oatmeal cookie and apply the filling to bottom of the cookie.
Afterward, grab the second oatmeal cookie and place it on top of the filling. That's it, your cookie sandwich recipe is complete!
Kim and I hope you enjoy these little treats and we wish you all the best 🙂
If you like this dessert, then checkout our homemade strawberry marshmallows!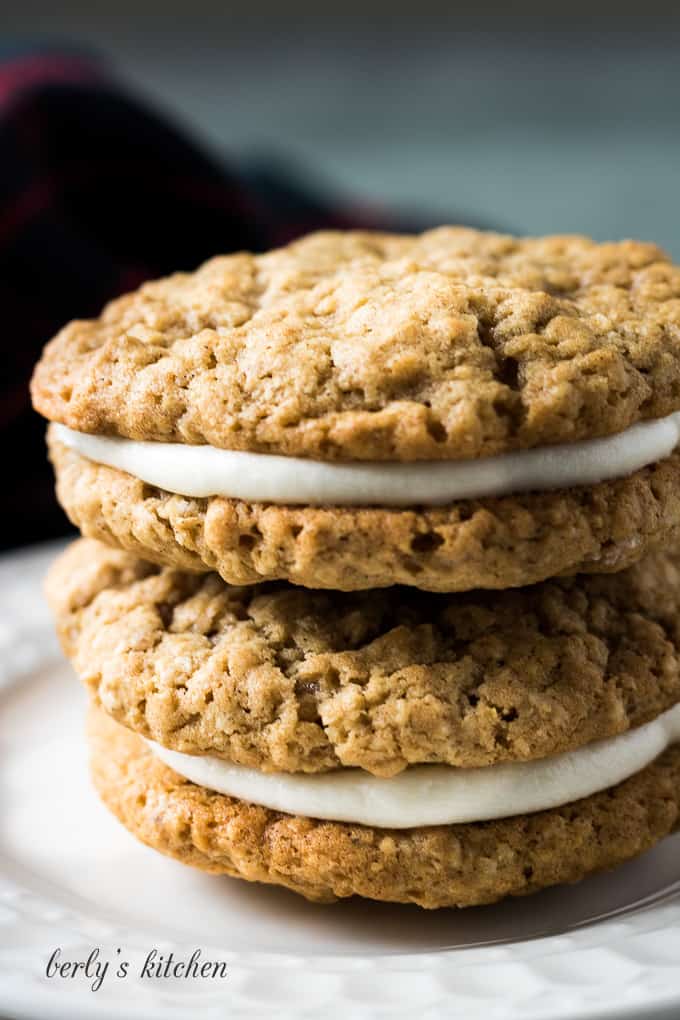 Don't forget to follow us on FACEBOOK and PINTEREST to see our newest recipes! You can also find us on Facebook, Pinterest, Twitter, and Instagram searching for Berly's Kitchen!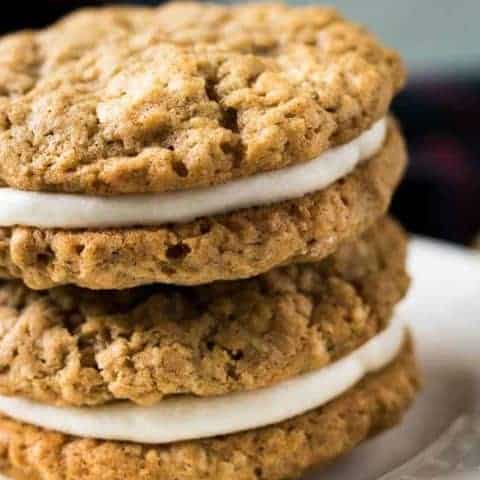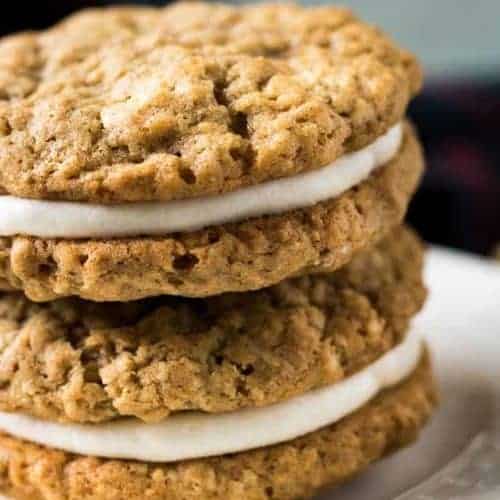 Homemade Oatmeal Whoopie Pies
Chilling and Cooling Times:
40 minutes
Total Time:
1 hour
7 minutes
These homemade oatmeal whoopie pies feature sweet, fluffy, vanilla buttercream sandwiched between two thick and chewy oatmeal cookies!
Ingredients
Oatmeal Cookies
1 Cup Unsalted Butter, (softened)
1 Cup Brown Sugar, (packed)
1 Cup Granulated Sugar
2 Large Eggs
2 Teaspoons Vanilla Extract
2 Cups All-Purpose Flour
2 Teaspoons Cinnamon, (ground)
1 Teaspoon Baking Soda
1/2 Teaspoon Salt
3 Cups Quick Oats
Buttercream Filling
2 1/2 Cups Powdered Sugar
3/4 Cup Unsalted Butter, (softened)
1 Tablespoon Milk
1 Teaspoon Vanilla Extract
Instructions
Make the Cookies
In a large bowl, use a hand mixer to beat together the butter, brown sugar, and granulated sugar until light and fluffy. Add the eggs and vanilla, and beat until combined. Set aside.
In a separate medium bowl, whisk together the flour, cinnamon, baking soda, and salt. Add the dry ingredients to the butter mixture and mix on low speed just until no flour streaks remain. Pour in the oats and mix on low until combined. Cover the bowl with plastic wrap and refrigerate for at least 30 minutes. Meanwhile, line two baking sheets with parchment and preheat the oven to 350° degrees.
After the dough chills, roll the dough into tablespoon-sized balls (ping pong-sized ball) and gently press it down, so it's no longer rounded on the top. Place the dough on the baking sheets 2-inches apart.
Bake for 10 to 12 minutes or until the edges are very light brown. The centers will still be soft. Remove from the oven and allow the cookies to cool on the baking sheets before transferring to a wire rack to cool completely. While the cookies cool, make the filling.
Whoopie Pie Filling
In a medium bowl, use a hand mixer combine the powdered sugar, butter, milk, and vanilla. Mix until the filling is smooth and creamy. Add a teaspoon or two extra milk if necessary to thin out the filling. The filling should be spreadable but not too thin.
After the cookies cool, use a piping bag with a large, circular tip to place filling on the bottom of the cookie. Add a second cookie on top of the filling to form a sandwich.
Store the finished oatmeal cream pies in the refrigerator for up to 4 to 5 days.
Notes
The calories listed are an approximation based on the ingredients and a serving size of 1 whoopie pie. Actual calories will vary. The cookie sandwiches can be stored in a sealed container, in your fridge, for up to 4 days.
Recommended Products
As an Amazon Associate and member of other affiliate programs, I earn from qualifying purchases.
Nutrition Information:
Yield:

18
Serving Size:

1 Whoopie Pie
Amount Per Serving:
Calories:

423
Total Fat:

20g
Saturated Fat:

12g
Unsaturated Fat:

0g
Cholesterol:

68mg
Sodium:

296mg
Carbohydrates:

60g
Fiber:

2g
Sugar:

40g
Protein:

4g