*This post may contain affiliate links. As Amazon Associates we earn from qualifying purchases.
Enjoy all the flavors of ranch dressing anytime you want with our homemade ranch dressing mix. Made in less than 5 minutes and lasts up to 3 months!
From dipping sauces to salads and dry rubs, ranch dressing adds a unique flavor to almost any dish.
However, some of the store bought mixes and dressings contain a lot of salt (sodium) or sugar. So, why not make a dry mix at home?
That way you can create your own special dressings and sauces anytime you want and control what goes into them.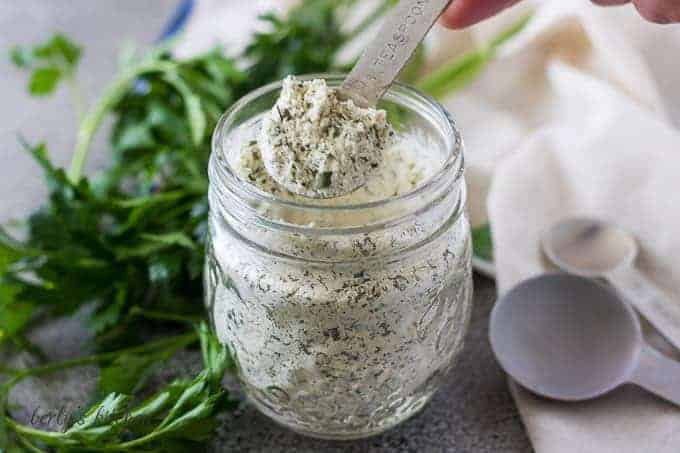 How to make a Dry Ranch Dressing Mix:
Look, I'll be honest here, it's not a tough a recipe.
Simply stir together the all the ingredients and store the mixture in a resealable container.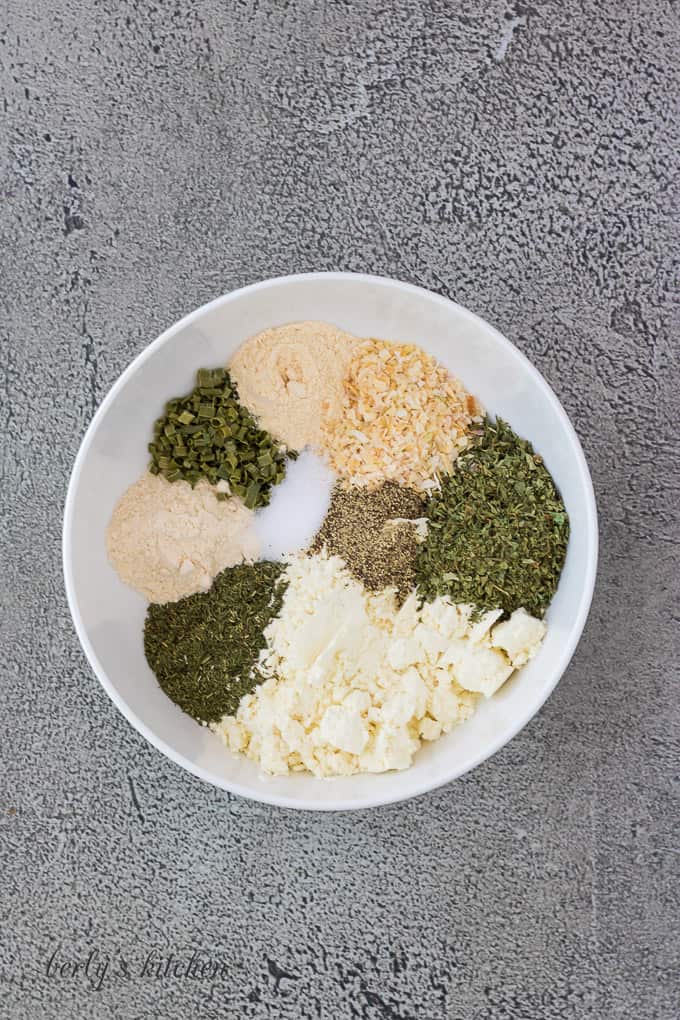 Try to remove as much air as possible from the container. If you don't have mason jars, then a resealable plastic sandwich bag (Zip Lock) works too.
That's it, your homemade ranch dressing mix is done! Kim and I hope you enjoy the recipe and wish you all the best 🙂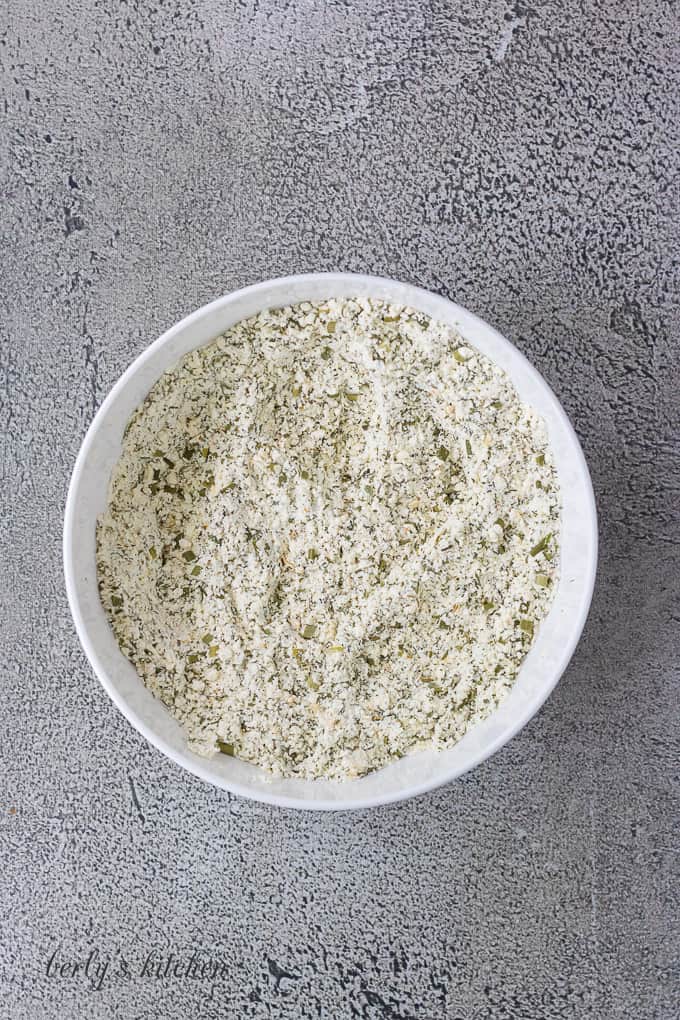 How to Make Homemade Ranch Dressing:
In case you're wondering, we use this spice blend to make regular ranch dressing as well.
For homemade ranch dressing simply combine three (3) tablespoons of the dry mix with one (1) cup of mayonnaise and one (1) cup of milk.
Whisk together the ingredients and store it in your fridge. If it's too thin for you, place it into the fridge for fifteen (15) minutes, it will thicken.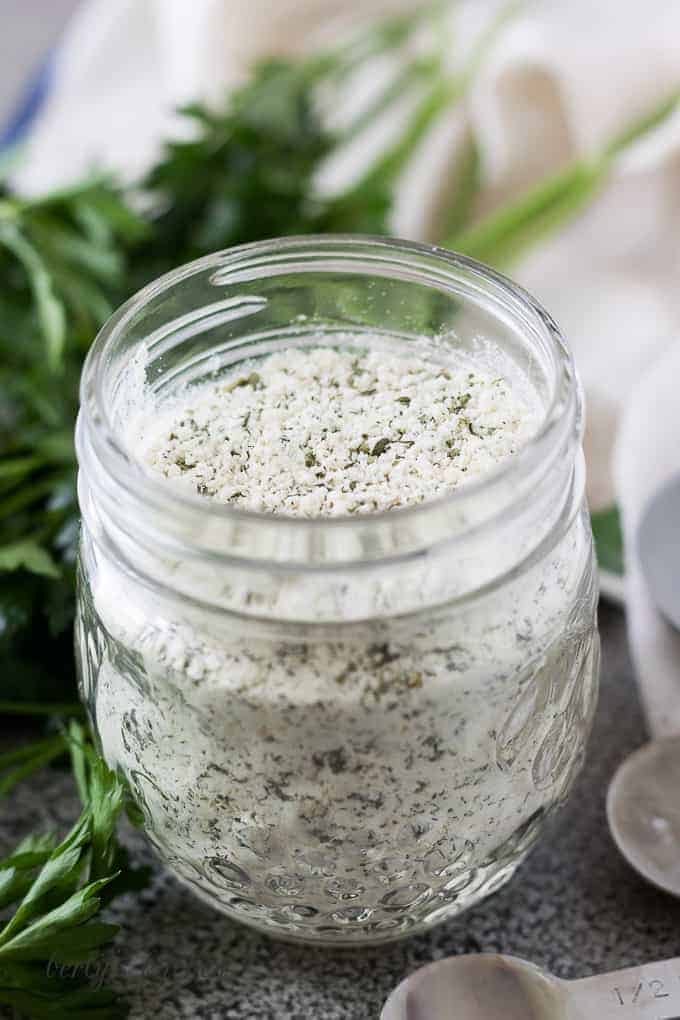 If you like our dry ranch dressing mix, please leave us a comment and rate the recipe card. You can also find us on Facebook, Pinterest, Twitter and Instagram searching for Berly's Kitchen!
Join our Facebook group for more recipes from Berly's Kitchen, our new site More Than Meat and Potatoes, and some of our blogger friends!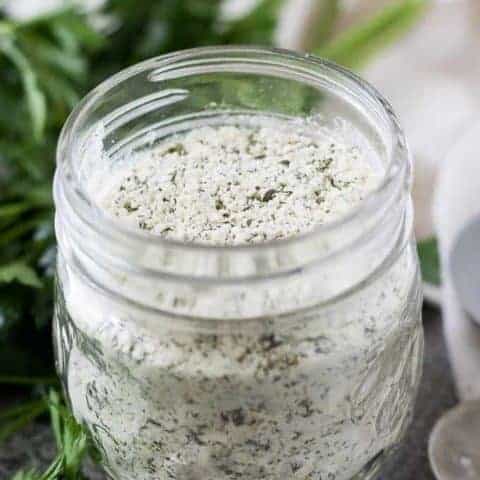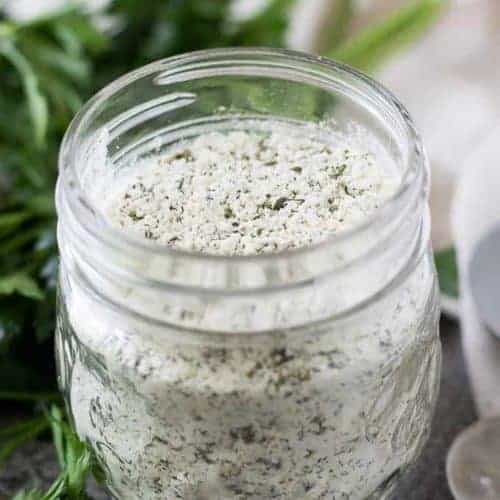 Homemade Ranch Dressing Mix
Enjoy all the flavors of ranch dressing anytime you want with our homemade ranch dressing mix. Made in less than 5 minutes and lasts up to 3 months!
Ingredients
2 Tablespoons Dried Parsley
2 Teaspoons Dried Dill
2 Teaspoons Onion Powder
2 Teaspoons Garlic Powder
2 Teaspoons Dry Minced Onion
2 Teaspoons Dried Chives
1/2 Teaspoon Salt, (or to taste)
1/2 Teaspoon Black Pepper
Instructions
Combine ingredients in a small bowl, and store in an airtight container for up to 3 months.
Notes
The calories listed are an approximation based on the ingredients and a serving size of 1/5 of a cup of the seasoning mix. Actual calories will vary. The spice blend can be stored in a sealed container for up to three (3) months.
Recommended Products
As an Amazon Associate and member of other affiliate programs, I earn from qualifying purchases.
Nutrition Information:
Yield:

5
Serving Size:

2 Ounces
Amount Per Serving:
Calories:

69
Total Fat:

1g
Saturated Fat:

1g
Unsaturated Fat:

0g
Cholesterol:

8mg
Sodium:

460mg
Carbohydrates:

11g
Fiber:

1g
Sugar:

6g
Protein:

5g
Want another homemade spice blend?
This homemade taco seasoning is a savory blend of spices featuring all your Tex-Mex favorites like chili powder, garlic and onion powders, and many more!