*This post may contain affiliate links. As Amazon Associates we earn from qualifying purchases.
Individual mini meatloaves of savory hamburger meat, seasonings, and zesty ketchup. They're easy to prepare and perfectly pre-portioned.
Meatloaf is one of those classic dishes that a lot of households enjoy on a regular basis. While we could have done a traditional loaf, Kim and I decided to change things up a bit and create mini meatloaves.
Not only are they filling and delicious, but they're also adorable. Furthermore, a full meatloaf has been perfectly portioned into four-ounce servings.
The same amount of beef you would get from a restaurant burger. Instead of using ground chuck for our mini meatloaves, we chose ground sirloin.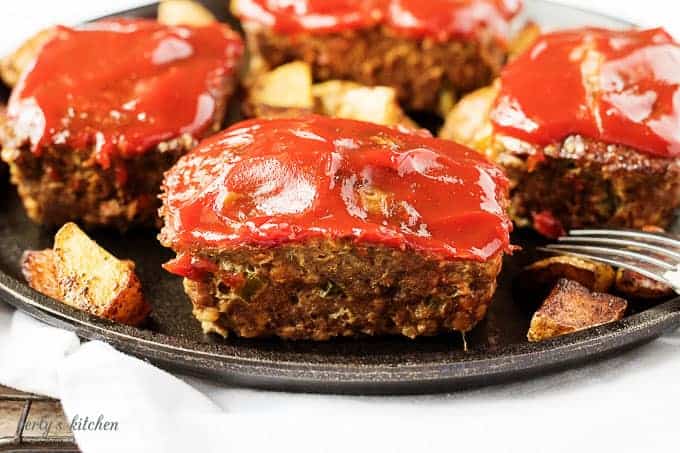 I felt with all the extra ingredients a meatloaf requires; we wouldn't lose a lot of flavors.
On the bright side, you do cut out some of the unhealthy fat that you'd usually find in a meal like this.
I'm also of the opinion using sirloin gives the mini meatloaf a heartier texture. Something akin to a steak, which is really nice with all those seasonings.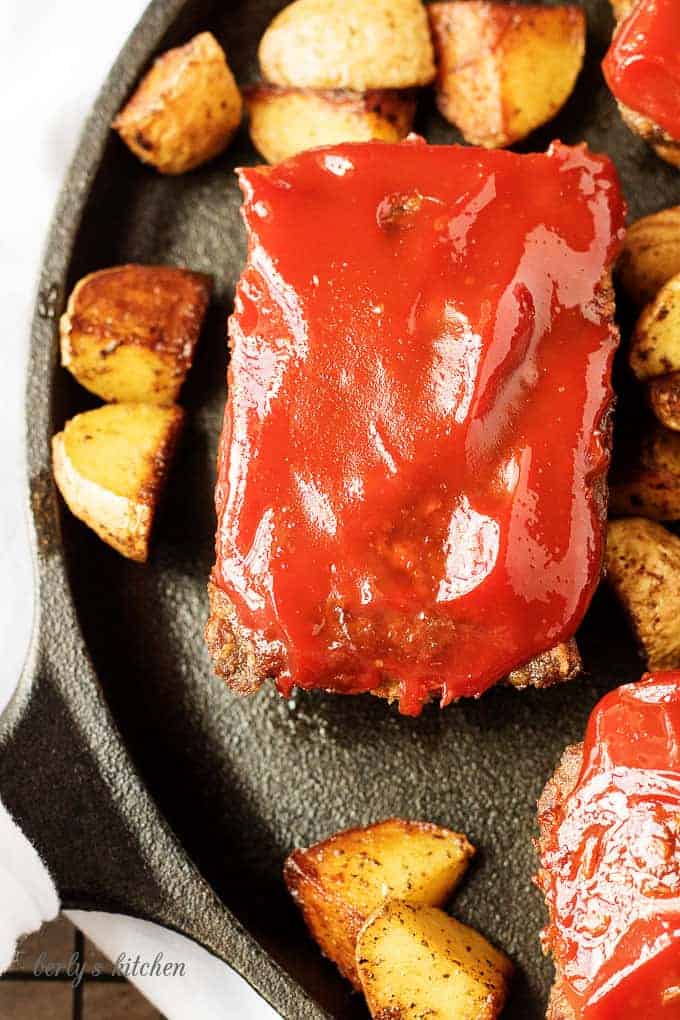 As you can see from the photos, we paired our mini meatloaves with oven roasted potatoes.
Which, happens to be one of our favorite side dishes.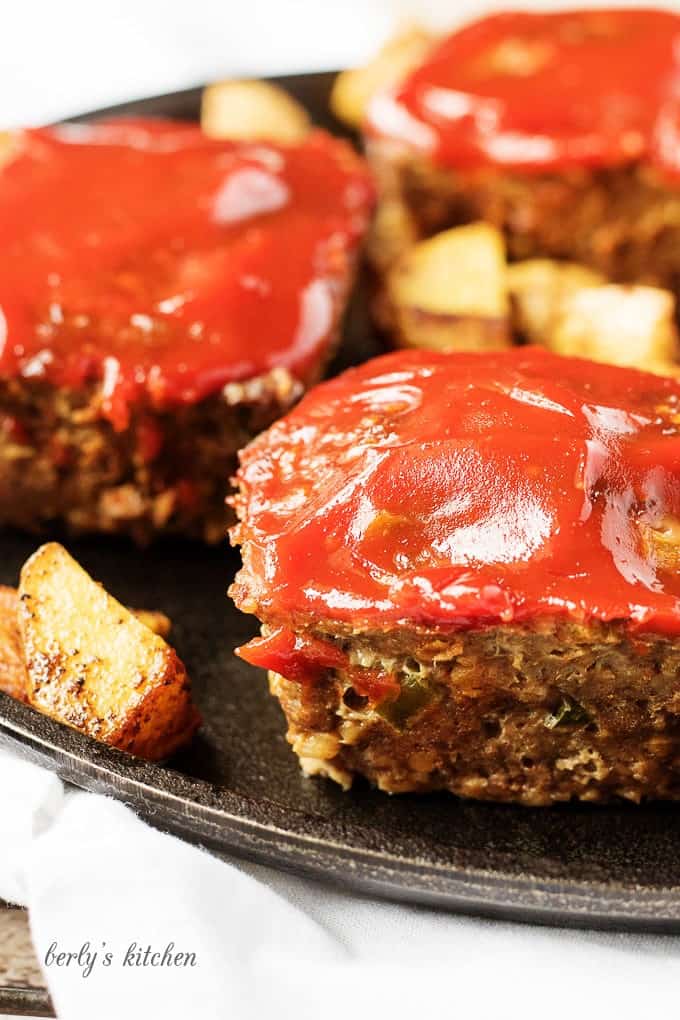 The ketchup is optional; however, I grew up with meatloaf being slathered in that zesty tomato condiment.
But, I can understand why you might choose to leave it off for yourself.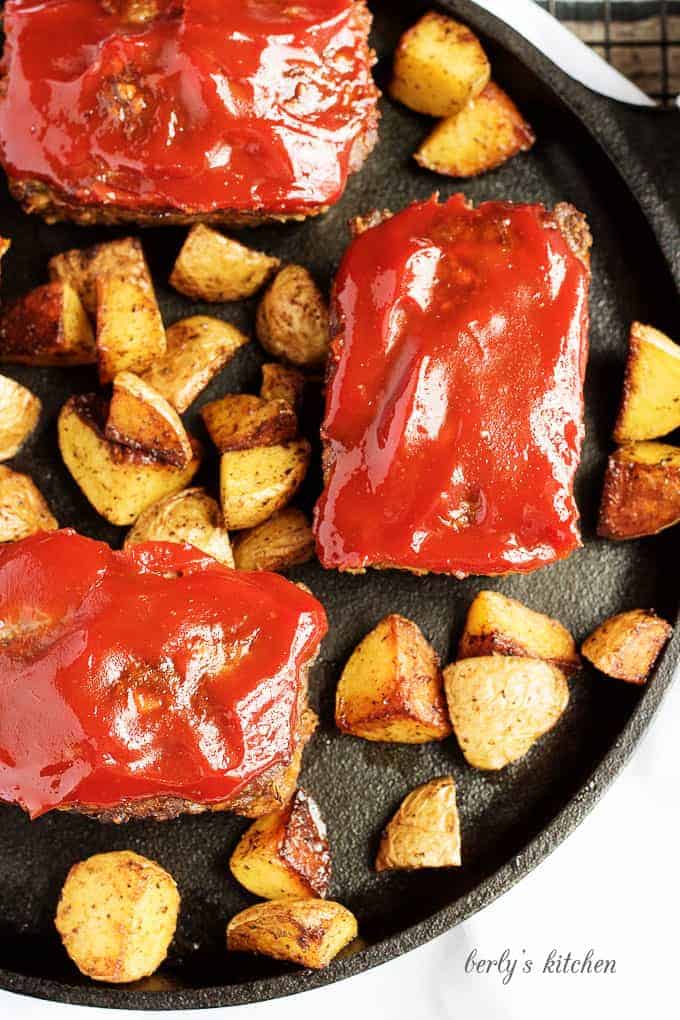 In closing, I invite you to try this mini meatloaf recipe and compare it to your family recipe.
You might find it to be a pleasant change of pace. As always, I wish you a long life, love everlasting, and a tummy full of homemade meatloaf!
If you like this recipe, please leave us a comment and rate the recipe card. You can also find us on Facebook, Pinterest, Twitter and Instagram searching for Berly's Kitchen!
Join our Facebook group for more recipes from Berly's Kitchen, our new site More Than Meat and Potatoes, and some of our blogger friends!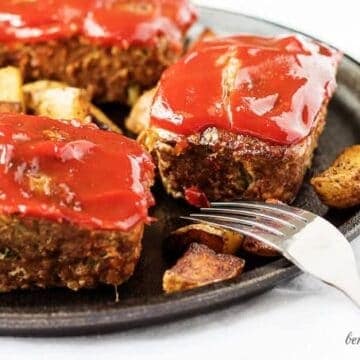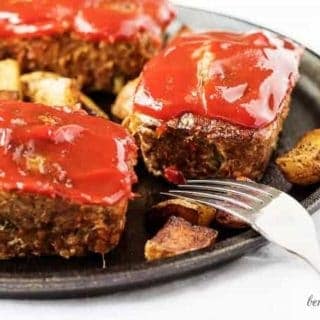 Individual Mini Meatloaves
Total Time:
1 hour
5 minutes
Individual mini meatloaves of savory hamburger meat, seasonings, and zesty ketchup. They're easy to prepare and perfectly pre-portioned.
Ingredients
16 Ounces Ground Sirloin, (90/20 Fat)
1.5 Ounce Package of Meatloaf Seasoning
1 Large Egg
1/2 Cup Seasoned Bread Crumbs
1/4 Cup Diced Green Pepper
1/4 Cup Diced Spanish or White Onion
1/2 Cup Ketchup, (set aside)
Instructions
First, preheat your oven to 350 degrees F. and spray a mini meatloaf pan with non-stick cooking spray.
Next, in a large bowl, whisk the egg and combine the meat, seasonings, breadcrumbs, peppers, and onions. I used my hands to mix everything.
Then, separate the mixture into four equal sized portions and shape each portion into an individual meatloaf. Put the meatloaves in the pan to cook.
Last, let the mini meatloaves bake for 30 minutes, then remove them from the oven and bast them with ketchup. Now, put them back in the oven to cook for an additional 10 to 15 minutes. Afterward, they should be done and are ready to serve with sides.
Notes
The calories listed are an approximation based on the ingredients. Actual calories may vary. Ketchup is optional. The dish can be stored in a sealed container in your fridge for up to three days.
Recommended Products
As an Amazon Associate and member of other affiliate programs, I earn from qualifying purchases.
Nutrition Information:
Yield:

4
Serving Size:

1 grams
Amount Per Serving:
Calories:

380
Total Fat:

20g
Saturated Fat:

7g
Unsaturated Fat:

0g
Cholesterol:

131mg
Sodium:

573mg
Carbohydrates:

19g
Fiber:

1g
Sugar:

8g
Protein:

27g
Want more recipes using ground beef?
Try our easy meatloaf recipe with breadcrumbs, peppers, and onions. Nothing beats a homemade meatloaf loaded with spices and topped with ketchup.
Homemade Hamburgers are flavorful, beef burgers, and have pieces of caramelized onion in each bite. We think this is the best homemade beef hamburger recipe out there!
A no-fuss Instant Pot meat sauce prepared in your favorite pressure cooker. Enjoy all the flavors of a slow cooked pasta sauce in less than 20 minutes!