*This post may contain affiliate links. As Amazon Associates we earn from qualifying purchases.
This Instant Pot chili mac is sure to be a household favorite. Seasoned beef and tender macaroni noodles combined to create a tasty dish everyone will love!
Kim and I were going over our pressure cooker recipes and realized we don't have a chili mac recipe. Sure, we have plenty of mac and cheese recipes and one Instant Pot chili recipe, but very few recipes featuring meat and pasta.
Well, we had to fix that issue right away. So, for today's post we're sharing Kim's Instant Pot chili mac.
She decided to go with a homemade version, but you can always use a seasoning packet if you wish. The dish only takes about thirty (30) minutes to prepare from start to finish.
It serves twelve so it's great for large families or pot lucks. Shall we get started?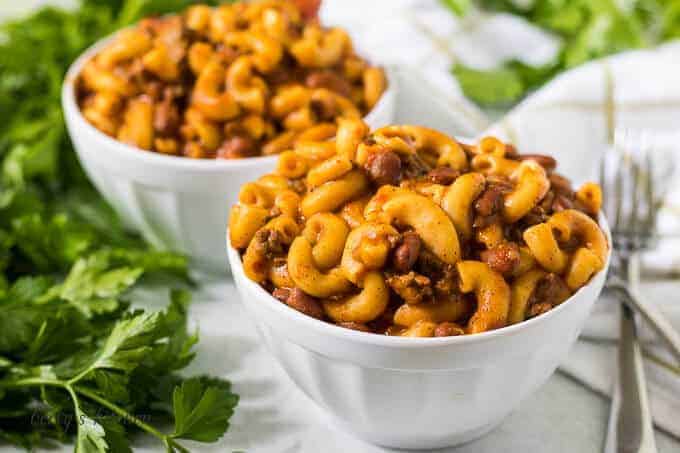 How to make chili mac:
To begin, put in the liner, turn on your pressure cooker, and set it to the saute function. Once it's hot, toss in the beef, onions, garlic, and seasonings.
Use a wooden spoon to break up the meat and stir the ingredients as they cook. When the beef is no longer pink, turn off the appliance.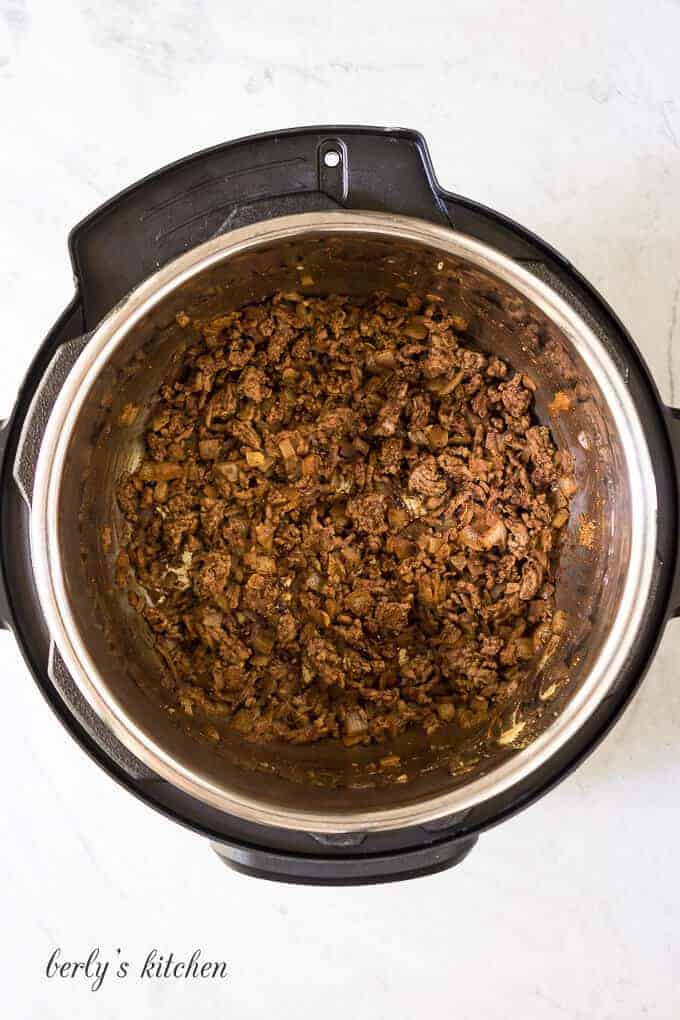 After that, pour in the broth and add the pasta noodles. Using your spoon, push the noodles under the liquid. The next part involves layering the ingredients.
Please put them into the machine in the order that's provided. Also, once added, don't stir anything; otherwise, the dish may burn!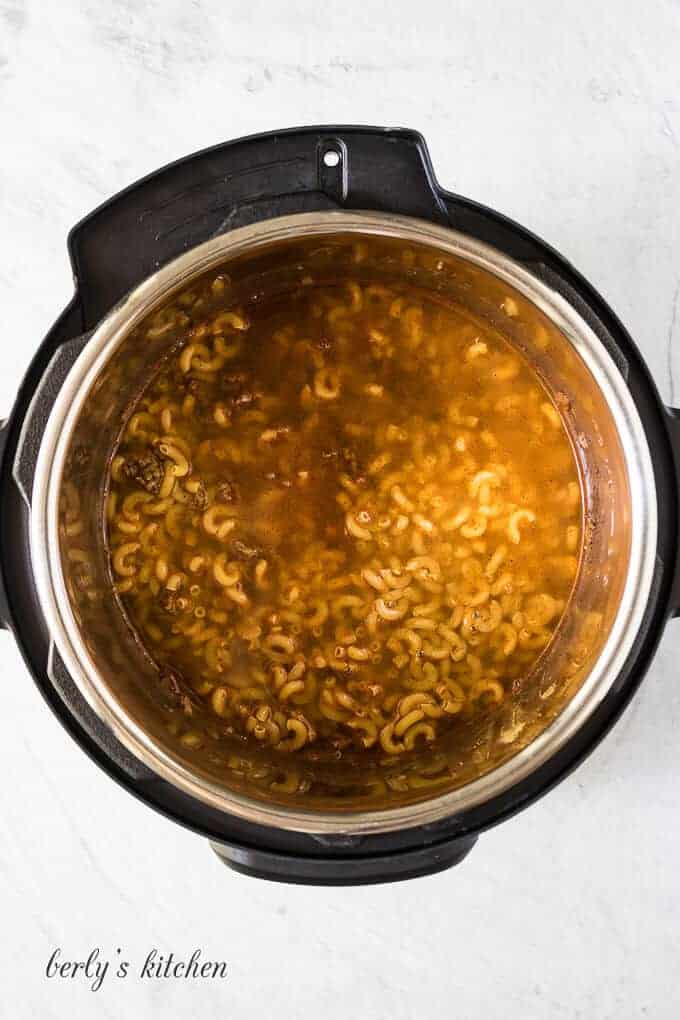 Open the can of tomatoes and add it to the Instant Pot. Afterward, open the beans and pour them in on top of the tomatoes.
As always, take a look at the photos and let them guide you through the process.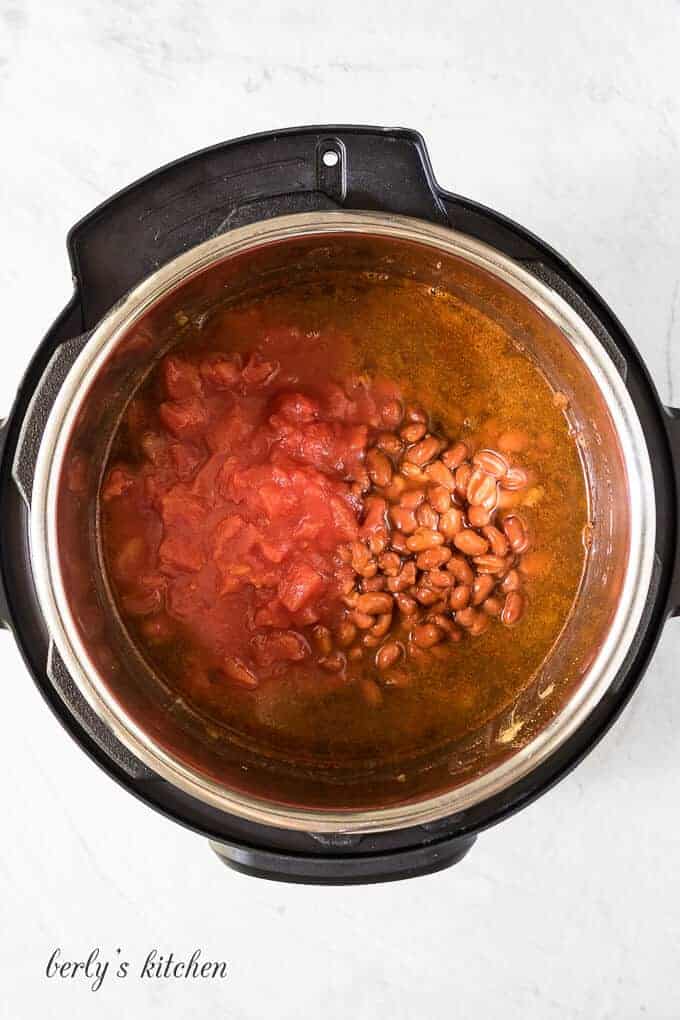 We're at the point at which we can place the lid onto the cooker. Seal the valve and set it to pressure cook for four (4) minutes. Then, when timer goes off, preform a controlled release.
What's a controlled release, you ask? Well, that's when you cover the valve with a thick towel and gently open and close the valve in short bursts.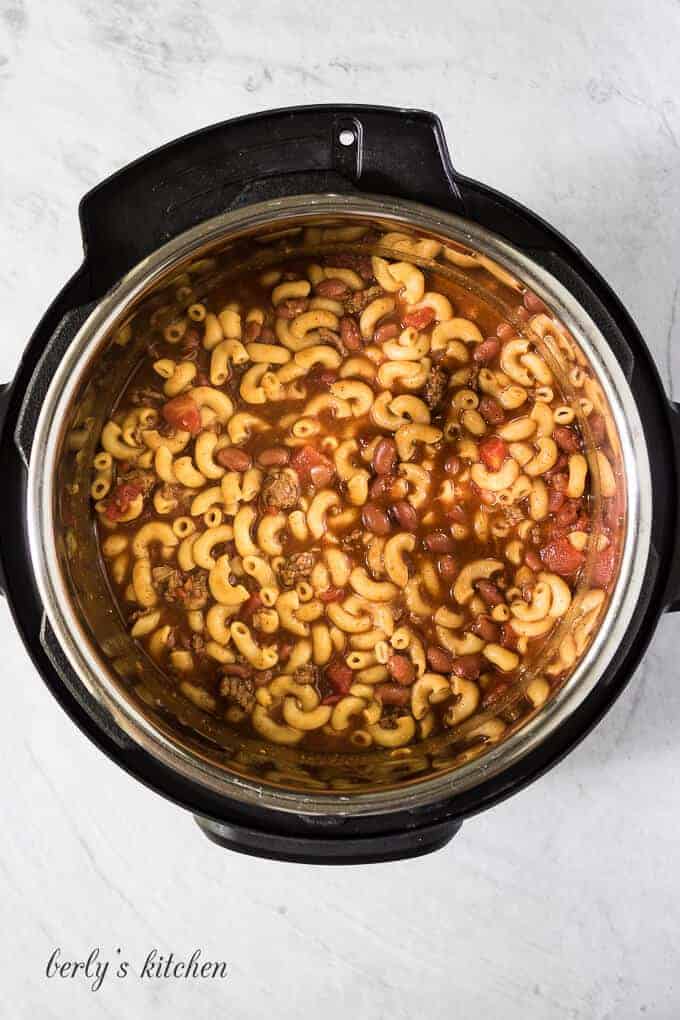 Now, when all the pressure has been released you can remove the lid and sprinkle in the cheese. Stir the chili mac and serve it while it's hot.
That's it, your Instant pot chili mac recipe is done. Kim and I hope you enjoy our dish and we wish you all the best 🙂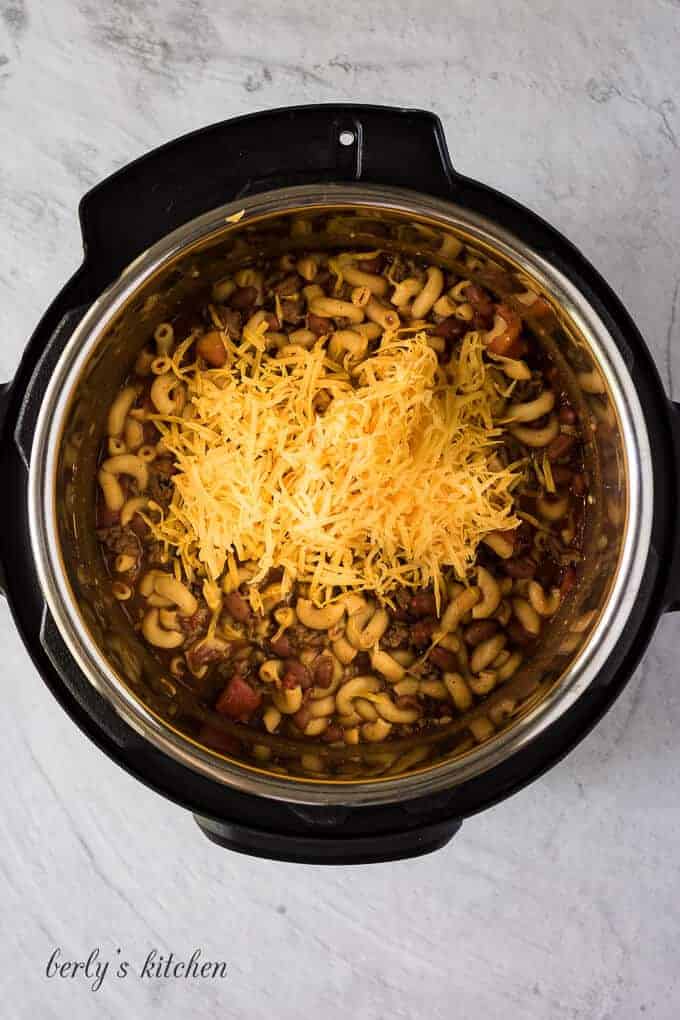 How do I keep my chili mac from burning?
There are two things you can do to help prevent the dish from burning. First, if the beef and onions start to stick, use a little extra chicken broth to de-glaze the liner.
Take your spoon and scrape off all the bits of meat that have stuck to the bottom of the pan.
The next thing you can do is make sure all the noodles are submerged (underneath) beneath the broth.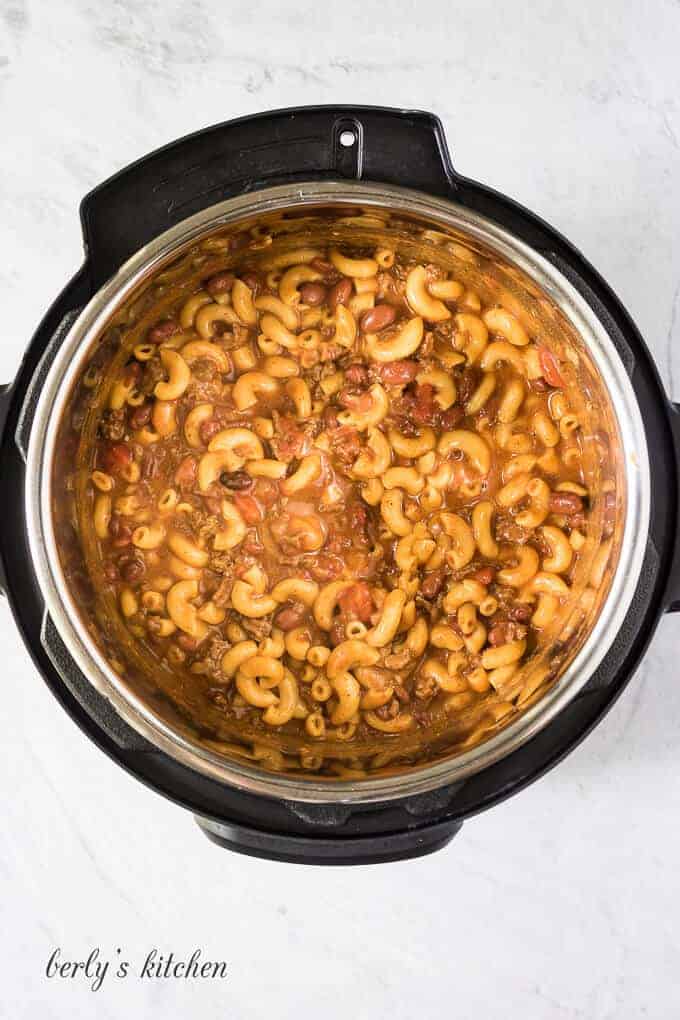 Where did chili mac come from?
Based on what I've read, chili mac is a variation of a famous dish from Cincinnati. Basically, this pasta dish resulted from chili and cheese being served atop spaghetti noodles.
With that being said, I make no claims to this being truthful. Authenticity in American cooking is debatable due to cultural and regional influences.
My chili mac is too spicy.
If that happens, feel free to add a teaspoon of sugar to the recipe. Sugar has a, "cooling," effect on spicy foods.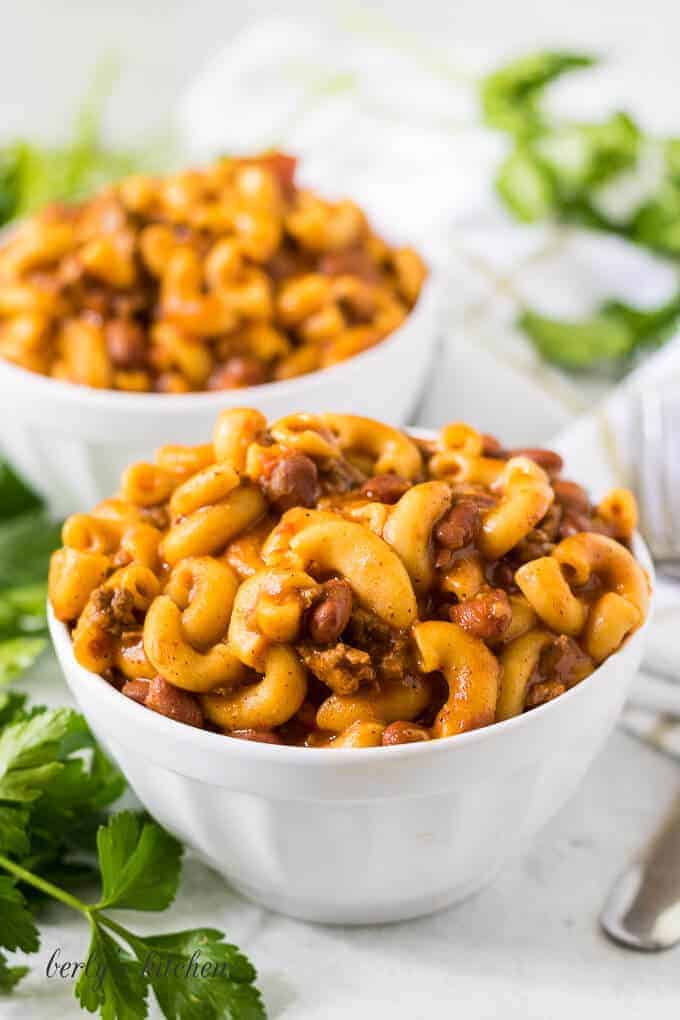 If you like our chili mac recipe, please leave us a comment and rate the recipe card. You can also find us on Facebook, Pinterest, Twitter and Instagram searching for Berly's Kitchen!
Join our Facebook group for more recipes from Berly's Kitchen, our new site More Than Meat and Potatoes, and some of our blogger friends!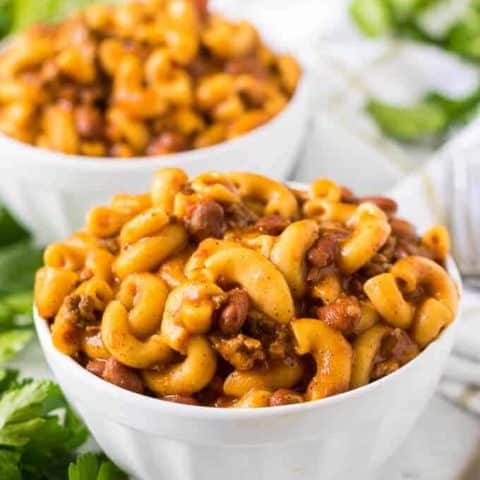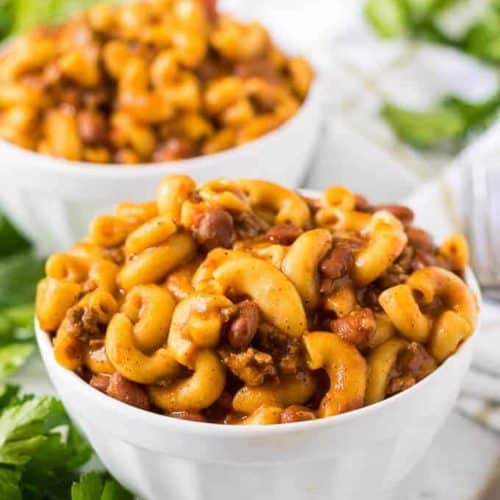 Instant Pot Chili Mac
Come to Pressure:
15 minutes
This Instant Pot chili mac is sure to be a household favorite. Seasoned beef and tender macaroni noodles combined to create a tasty dish everyone will love!
Ingredients
8 Ounces Ground Beef, (lean, we used 96/4)
1 Cup White Onion, (diced)
2 Large Garlic Cloves, (minced)
1 Tablespoon Chili Powder
1 Teaspoon Cumin
Salt and Pepper to taste
2 Cups Chicken Broth, (or beef broth)
8 Ounces Elbow Macaroni
14.5 Ounces Diced Tomatoes, (one ((1)) large can, undrained)
15.5 Ounces Chili Ready Beans, (one ((1)) large can, undrained or Kidney beans drained, rinsed)
1 Cup Cheddar Cheese, (shredded, optional)
Instructions
Turn on the Instant Pot using the "saute" function. Wait until the indicator reads "hot" then add the ground beef, onion, garlic, chili powder, cumin, salt, and pepper. Break up the meat into small pieces and cook until it's no longer pink. Turn off the Instant Pot.
Add the broth and macaroni noodles. Use a wooden spoon to push the noodles below the broth.
Layer the following ingredients, an DO NOT STIR! Add the tomatoes next and then the beans. Close the lid and set the valve to sealing. Use the manual (pressure cook) button and adjust the time to 4 minutes. After the 4 minutes is up, complete a controlled quick release (open and close the valve multiple times to allow the pressure to release in short bursts).
Once all the pressure is released, open the lid and add the cheese if using. Stir until the cheese is completely melted.
Serve hot with your favorite toppings.
Notes
The calories listed are an approximation based on the ingredients and a serving size of about one (1) cup. Actual calories will vary. The chili mac can be stored in your fridge in a sealed container for up to three (3) days.
Recommended Products
As an Amazon Associate and member of other affiliate programs, I earn from qualifying purchases.
Nutrition Information:
Yield:

12
Serving Size:

1 Cup
Amount Per Serving:
Calories:

202
Total Fat:

8g
Saturated Fat:

4g
Unsaturated Fat:

0g
Cholesterol:

23mg
Sodium:

370mg
Carbohydrates:

23g
Fiber:

3g
Sugar:

3g
Protein:

11g
Want more dinner options?