*This post may contain affiliate links. As Amazon Associates we earn from qualifying purchases.
A cheesy, spicy Instant Pot chicken spaghetti recipe featuring tender chicken breast, crunchy onions and peppers, and shredded Monterrey Jack cheese.
Man, is it really Wednesday already? Once again, we're halfway through the week and the weekend is really close.
With that being said, there's still a lot that needs to be done and the last thing you want to do is spend all evening in the kitchen. Fortunately, we're sharing a quick Instant Pot chicken spaghetti recipe that's done in less than thirty (30) minutes.
Meaning, you and your family can enjoy a home cooked meal in less time than it takes to wait for delivery. Now, just to be clear, this dish is spicy.
At least, I feel it's a spicy dish due to the chilies. I've added a few tips at the bottom just in case you want to tone down the heat for your first attempt.
Shall we get started?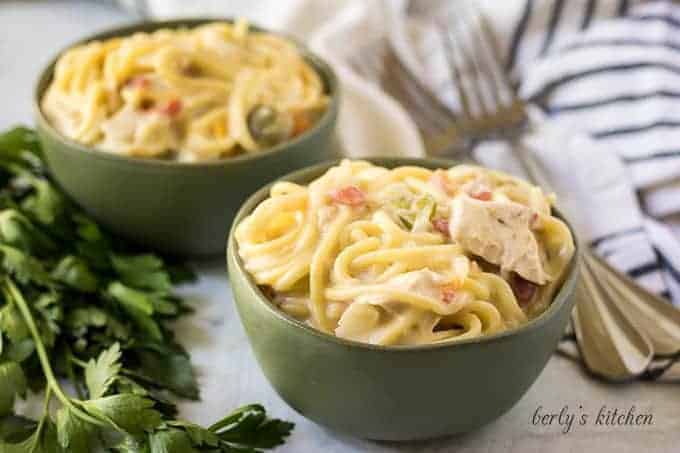 Chicken Spaghetti Instructions:
First, grab your Instant Pot and place the liner into the machine. After that, break the dry spaghetti into halves or thirds.
That way, it can all stay below the liquid. Next, drop the dry pasta into the liner long with the chicken broth.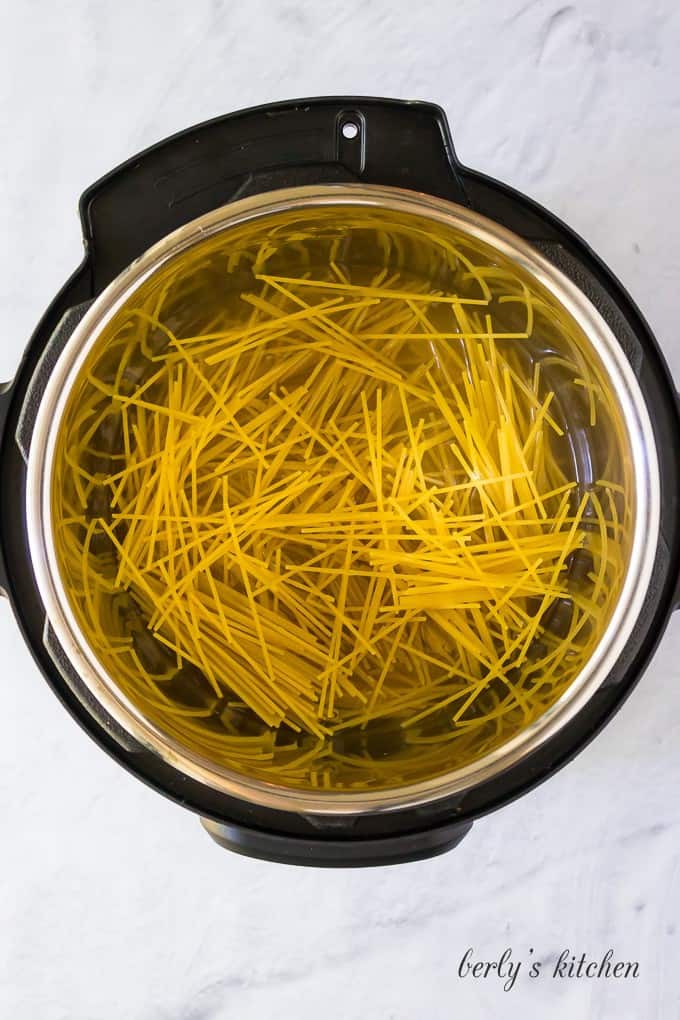 Then, lay the raw chicken tenders on top of the uncooked pasta.
Once that's done, dump in the chilies, onions, peppers, and tomatoes and green chilies combination.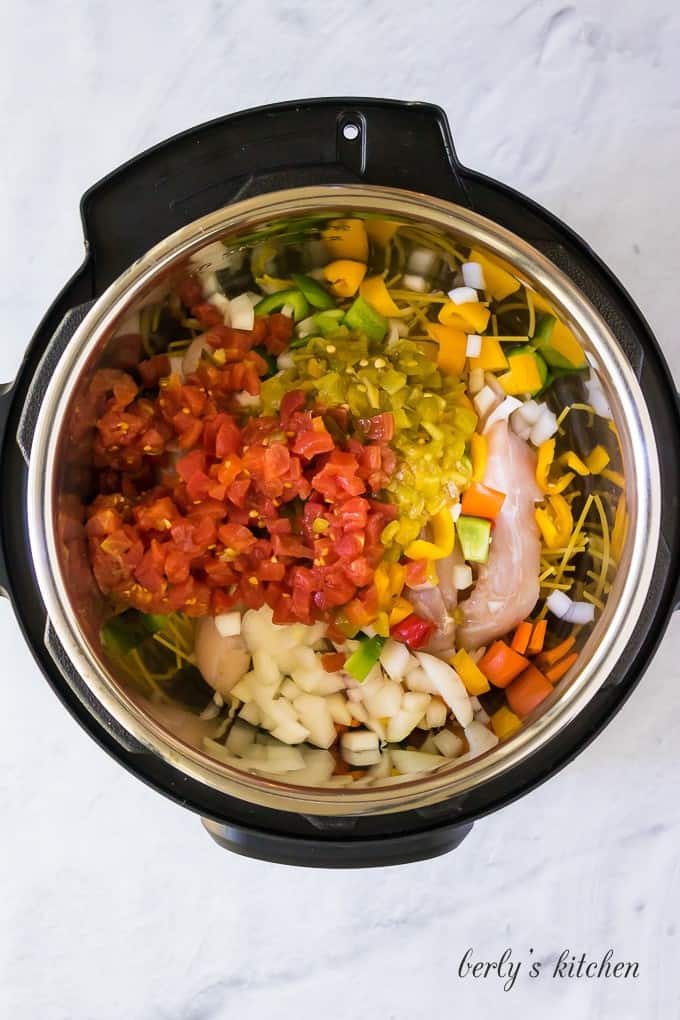 At this point, you can place the lid on the cooker and set the valve to, "sealed."
Go ahead and press the, "manual or high pressure cook," button for a five (5) minute cook time.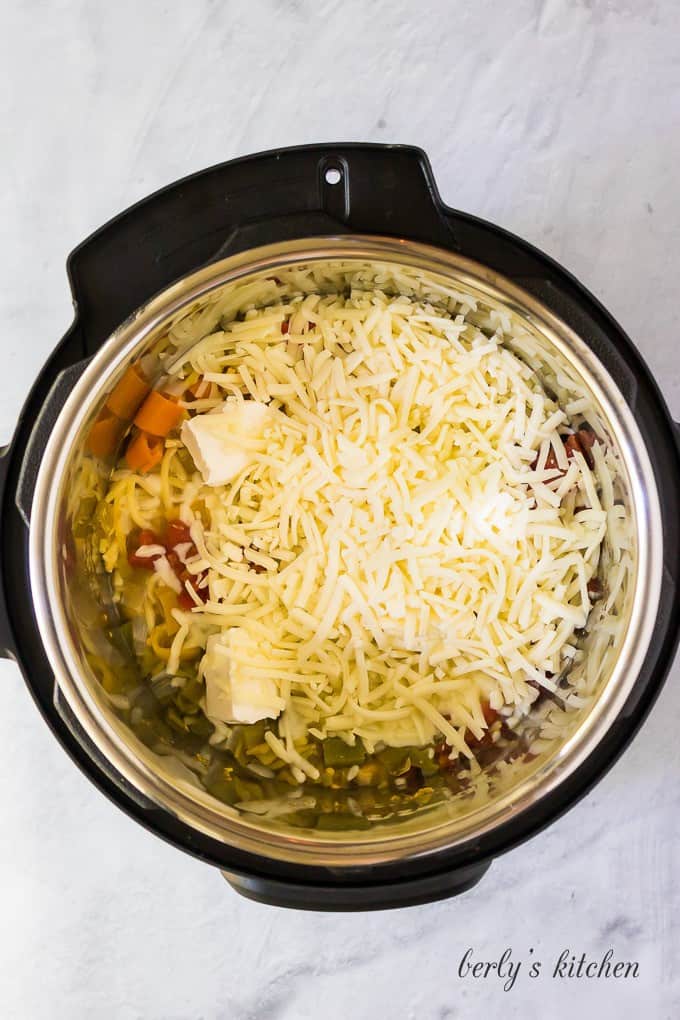 When the timer goes off, let the appliance complete a five (5) minute natural release before opening the valve.
With the steam fully vented you can remove the lid and take out the chicken. Carefully, shred or chop the chicken and place it back into the liner.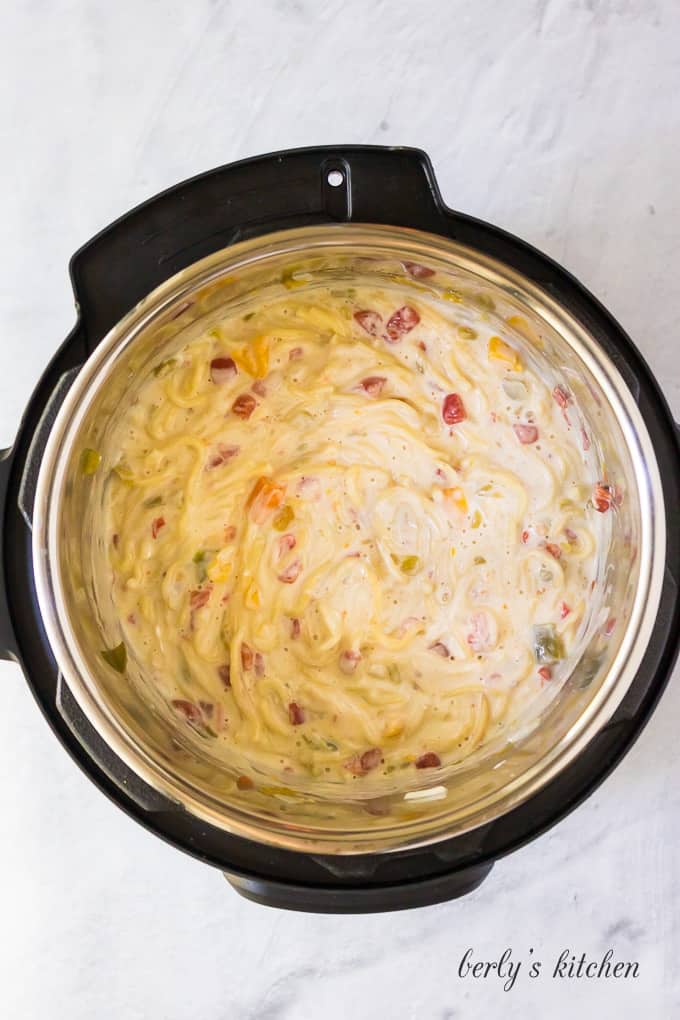 Last, toss in the shredded Monterrey Jack cheese and cream cheese. Stir the ingredients to create a cheesy, creamy sauce for the pasta.
That's it, you Instant Pot chicken spaghetti recipe is done and ready to serve!
Kim and I hope you enjoy this meal and wish you all the best 🙂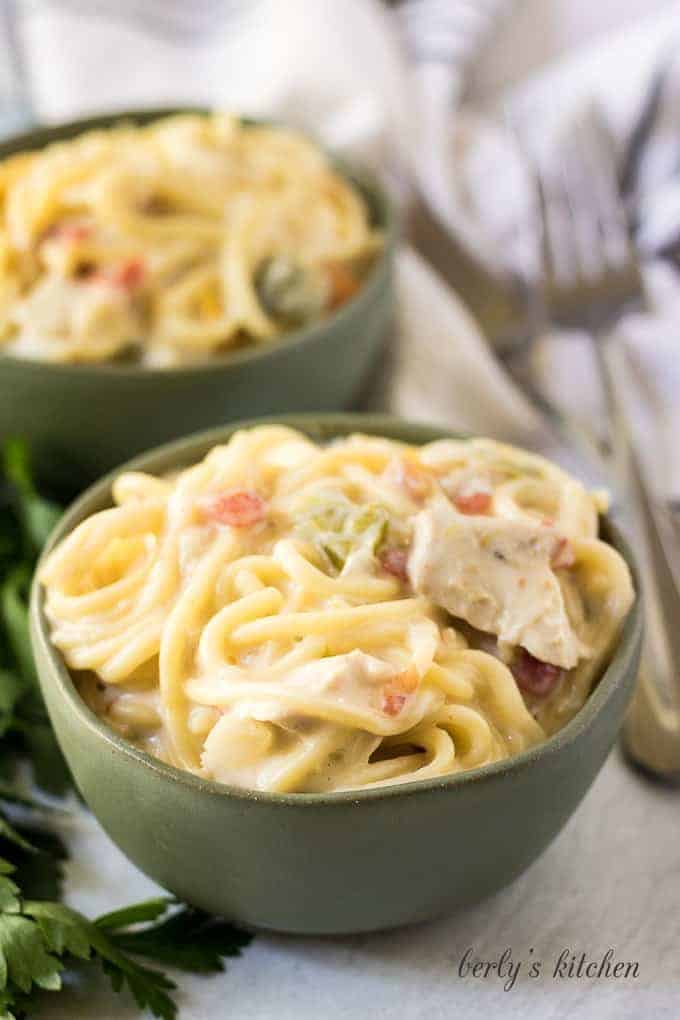 Instant Pot Chicken Spaghetti Tips:
After the dish pressure cooks, there might be a lot of liquid in the liner. However, you don't have to worry about it; because, the liquid will get soaked up as the pasta cools.
This dish can be made with a variety of spice levels. For example, if you prepare the recipe as it's written, it would be considered spicy (for people who aren't used to eating spicier dishes).
On the other hand, you can tone down the spiciness by either draining the liquid from the chilies and tomatoes OR doubling the Monterrey Jack cheese. For the mildest version, drain the liquid AND double the shredded cheese.
You might be wondering how we were able to fully cook chicken breast in five (5) minutes. Well, the answer is that we used chicken that has been cut into tenders.
Should you decide to use full breasts for the recipe, then you would need to cut them into small pieces before the cooking process. Otherwise, they may not be fully cooked in time frame we used for our recipe.
If you like this recipe, please leave us a comment and rate the recipe card. You can also find us on Facebook, Pinterest, Twitter and Instagram searching for Berly's Kitchen!
Join our Facebook group for more recipes from Berly's Kitchen, our new site More Than Meat and Potatoes, and some of our blogger friends!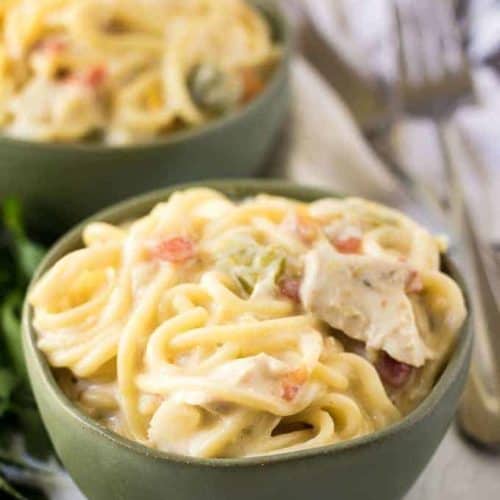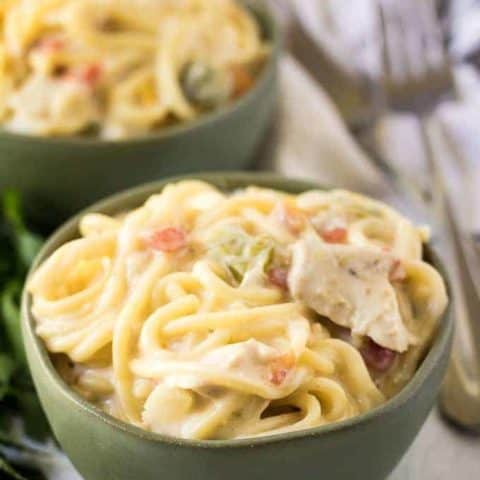 Instant Pot Chicken Spaghetti
Come to Pressure and Natural Release:
12 minutes
A cheesy, spicy Instant Pot chicken spaghetti recipe featuring tender chicken breast, crunchy onions and peppers, and shredded Monterrey Jack cheese.
Ingredients
8 Ounces Dry Spaghetti, (broken into halves or thirds or other short dry pasta)
2 Cups Chicken Broth
1/2 Lb Chicken Breast, (boneless, skinless, cut into tenders)
1 Cup White Onion, (diced)
1 Cup Bell Peppers, (green, red, yellow varieties, diced)
10 Ounces Tomatoes and Green Chilies, (undrained, one ((1)) can, we used off-brand Rotel)
7 Ounces Green Chilies, (undrained, in addition to above)
4 Ounces Cream Cheese
4 Ounces Monterrey Jack Cheese, (shredded)
Instructions
Break the spaghetti noodles into halves or thirds and lay them crisscross over each other in the liner of the Instant Pot. Pour the chicken broth over the noodles.
Next, place the chicken tenders onto the noodles, then top with onions, peppers, tomatoes and green chilies, and extra green chilies.
Close the lid, and make sure the valve is set to sealing. Use the manual (pressure cook) button to adjust the time to 5 minutes. After the time is up, allow a 5 minute natural release before opening the valve to release any remaining pressure.
Remove the chicken and cut into cubes or shred. Return the chicken to the liner along with the cream cheese and Monterrey Jack cheese. Stir until the cream cheese and Monterrey Jack cheese are both combined. Serve hot!
Notes
The calories listed are an approximation based on the ingredients and a serving size of about one-fourth (1/4) the total recipe when divided equally into four (4) portions. Actual calories will vary. The pressure cooker chicken spaghetti can be stored in a sealed container, in your fridge, for up to three (3) days.
Recommended Products
As an Amazon Associate and member of other affiliate programs, I earn from qualifying purchases.
Nutrition Information:
Yield:

4
Serving Size:

1 Cup
Amount Per Serving:
Calories:

537
Total Fat:

21g
Saturated Fat:

11g
Unsaturated Fat:

0g
Cholesterol:

93mg
Sodium:

918mg
Carbohydrates:

56g
Fiber:

6g
Sugar:

9g
Protein:

30g
Want more dinner options?