*This post may contain affiliate links. We may receive a small commission from the sale if you purchase from the affiliate link.
Another quick and easy pressure cooker rice recipe combined with steamed vegetables to create a one pot dish you're whole family will enjoy.
We're back again with another simple recipe. For today, Kim and I are sharing her one minute pressure cooker rice and vegetables.
I'm sure there are a lot of similar recipes; however, we rarely see people use one minute rice. Which, is strange, considering how often we've seen people ask, "Can you cook minute rice in the Instant Pot?"
Well, now you know, yes, you can do that. Best of all, you also can add veggies to mix and create a tasty meal.
In the tips section, I've added a few suggestions on how to add extra flavor to the finished product or re-purpose the leftovers. Take a peek when you get the chance.
In the meantime, let's get cooking!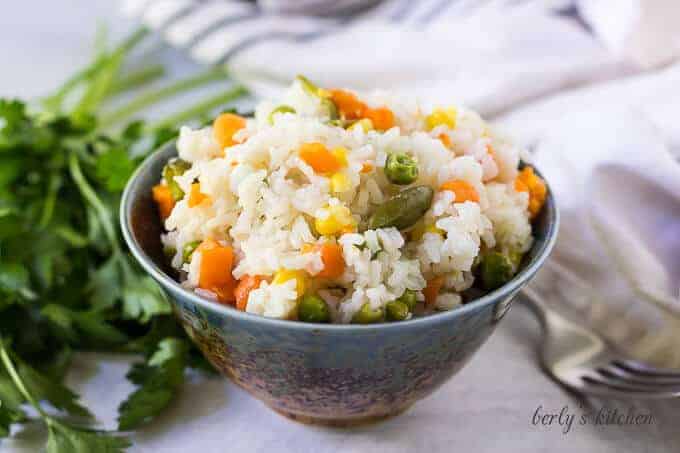 One Minute Pressure Cooker Rice with Vegetables Instructions:
Okay, who's ready for another simple recipe?
To get started, go ahead and grab all your ingredients and measure out the rice, water, oil, and vegetables.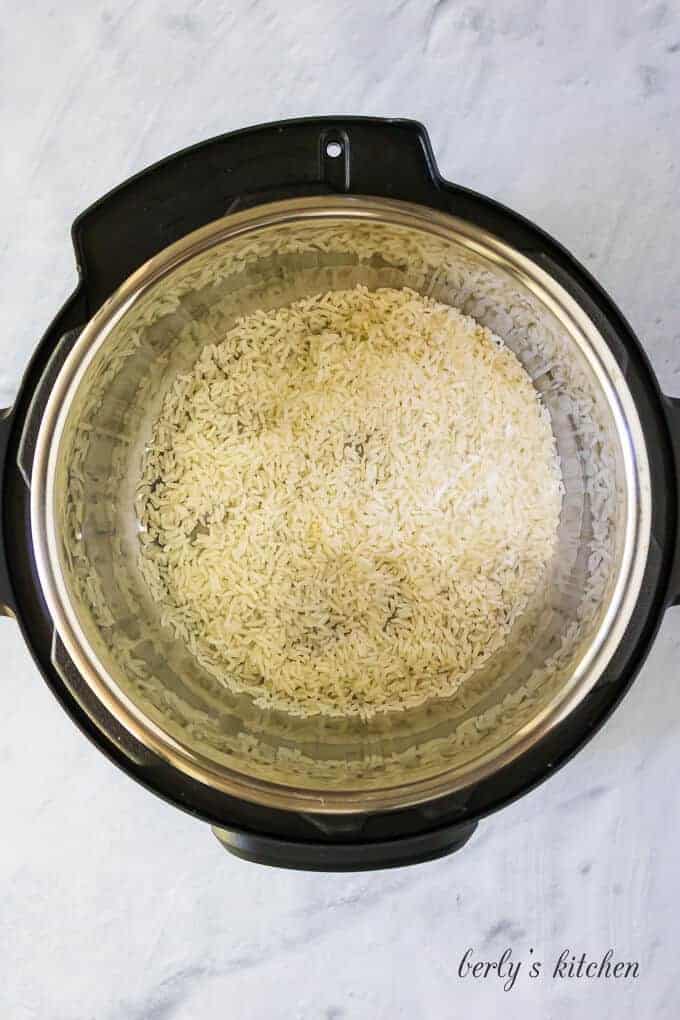 It's important to note that you'll want to use the same measuring cup for both the rice and the water. Otherwise, your pressure cooker rice may not turn out as expected.
Once you have everything prepped and ready to go, dump it all into the pressure cooker. That right, toss in the oil, rice, veggies, and water.
Seal the machine and set it to cook for one minute. After that, once the timer goes off, allow for a ten (10) minute natural release.
Open the valve to let out the rest of the steam before unsealing the pressure cooker.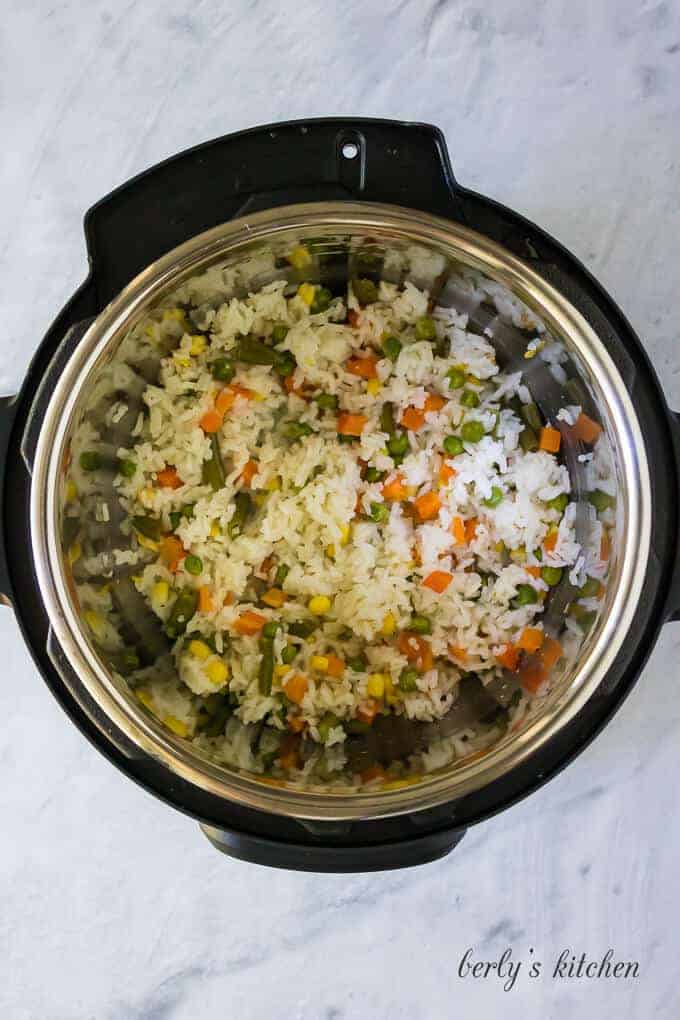 Add some salt and pepper, then give it a quick stir before serving the dish. That's it, your Instant Pot rice and vegetables are done.
Kim and I hope you like this quick recipe and wish you all the best 🙂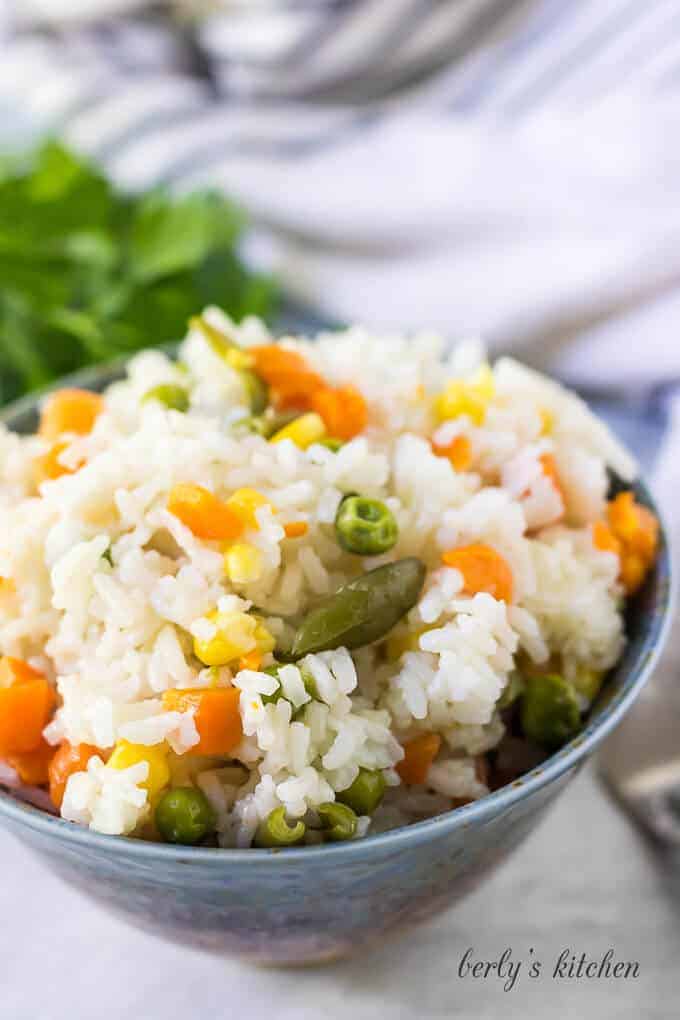 Pressure Cooker Rice with Vegetables Tips:
Leftovers can be boring, so, here's a few suggestions to spice up your leftover rice and vegetables. Try turning it into stir-fry by dumping the extras into a large skillet over medium heat.
Use sesame oil and soy sauce to create a quick and simple vegetable stir-fry. Or, you can create Spanish rice by adding a little taco sauce to the leftovers (or canned tomatoes and taco seasoning).
Sounds crazy, I know, but it works. Sometimes people have trouble making rice in their pressure cooker.
For some reason, certain models tend to burn rice more easily than others. If your Instant Pot normally has problems with burning rice, try making this with one (1) cup of rice and one and one-fourth (1 ¼) cups water.
For the sake of simplicity, don't about rinsing the rice. Go ahead and place it in the pot dry and unrinsed.
It shouldn't have any effect on the final product. We use this same method for our Instant Pot minute brown rice too!
If you liked our pressure cooker rice with vegetables recipe, please leave us a comment and rate the recipe card. You can also find on my Facebook, Pinterest, Twitter, and Instagram by searching for Berly's Kitchen!
Yield: 4 Servings
One Minute Pressure Cooker Rice with Vegetables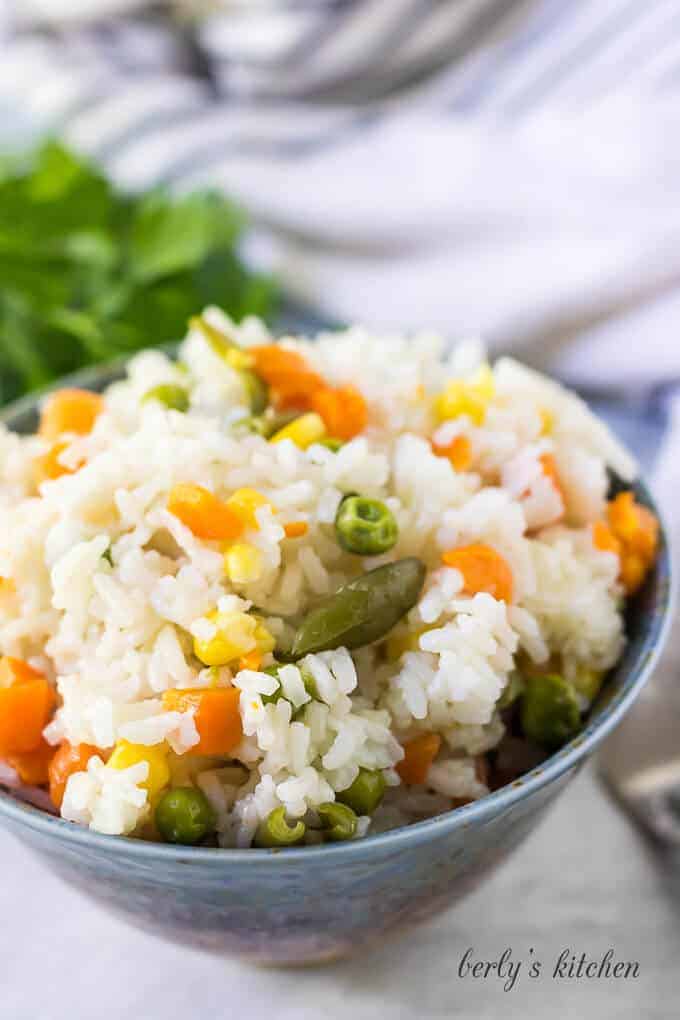 Another quick and easy pressure cooker rice recipe combined with steamed vegetables to create a one pot dish you're whole family will enjoy.
Come to Pressure and Natural Release
15 minutes
Ingredients
1 Cup Minute Rice
1 Cup Water, (by volume, using the same measuring cup as rice)
1 Cup Frozen Vegetables, (mixed varieties)
1 Teaspoon Olive Oil
Salt and Pepper to Taste
Instructions
Pour the rice, olive oil, vegetables, and water into the liner of the Instant Pot. Stir to ensure all the rice is covered and evenly distributed in the water.
Close the lid, and use the manual (pressure cook) button to adjust the time to 1 minute.
After the time is up, turn off the Instant Pot and allow a 10 minute natural release before opening the valve to release any remaining pressure.
Carefully open the lid, stir, and serve hot.
Notes
The calories listed are an approximation based on the ingredients and a serving size of half a cup (1/2) cup of the pressure cooker rice and vegetables. Actual calories will vary. The leftovers can be stored in a sealed container in your fridge for up to three (3) days.
Recommended Products
As an Amazon Associate and member of other affiliate programs, I earn from qualifying purchases.
Nutrition Information:
Yield:
4
Serving Size:
0.5 Cup
Amount Per Serving:
Calories:

120
Total Fat:

1g
Saturated Fat:

1g
Unsaturated Fat:

0g
Sodium:

27mg
Carbohydrates:

24g
Fiber:

2g
Sugar:

1g
Protein:

3g