A hearty, filling make ahead breakfast burritos recipe with bacon, eggs, potatoes, and cheese wrapped in a warm tortilla are the perfect weekend breakfast.
As we all know, breakfast is the most important meal of the day. However, very few people get the chance to start their day off with a warm and hearty meal.
Fortunately, we have a breakfast burritos recipe here that you can make over the weekend and enjoy it all week long.
In less than an hour, you can prepare our recipe on Saturday or Sunday and store it in your fridge for later on in the week.
This breakfast burritos recipe has all the staples including scrambled eggs, seasoned oven fries, and smoky bacon. Best of all, it doesn't become stale or flavorless when frozen.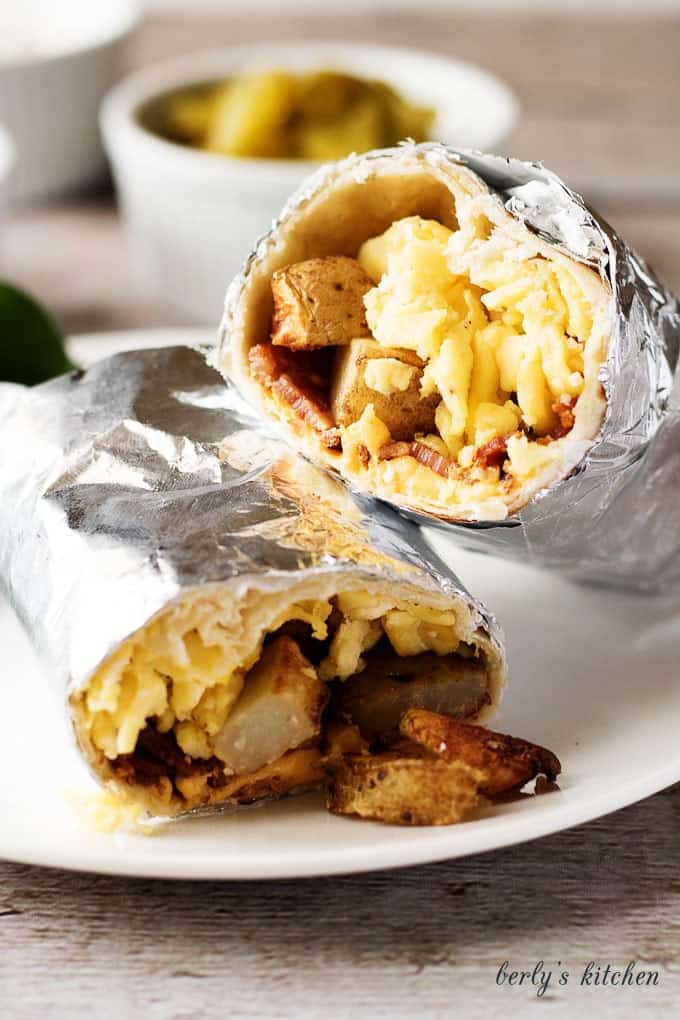 To get started, go ahead and cook the bacon. A tip for cooking bacon is to use a little non-stick cooking spray, some aluminum foil, a sheet pan, and a cooling rack.
It allows the bacon to cook while draining the grease at the same time.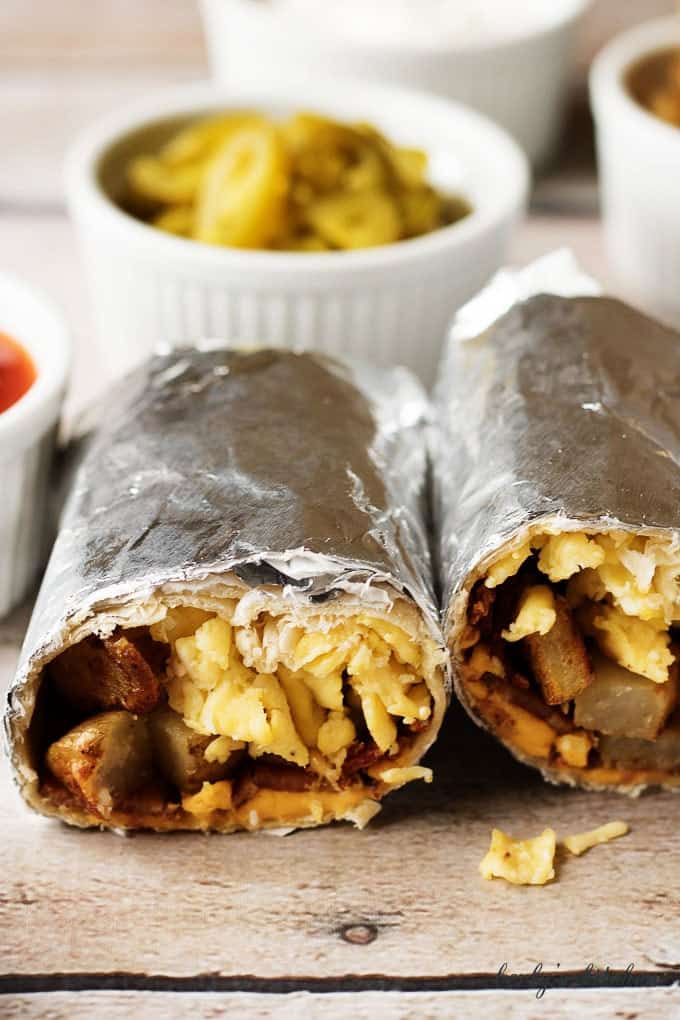 Simply, lay a sheet of aluminum foil on a sheet pan, then, spray the cooling rack with non-stick spray.
Afterward, place the rack on the sheet pan and the bacon on the rack. Pop everything in the oven for crispy bacon with hardly any clean-up involved.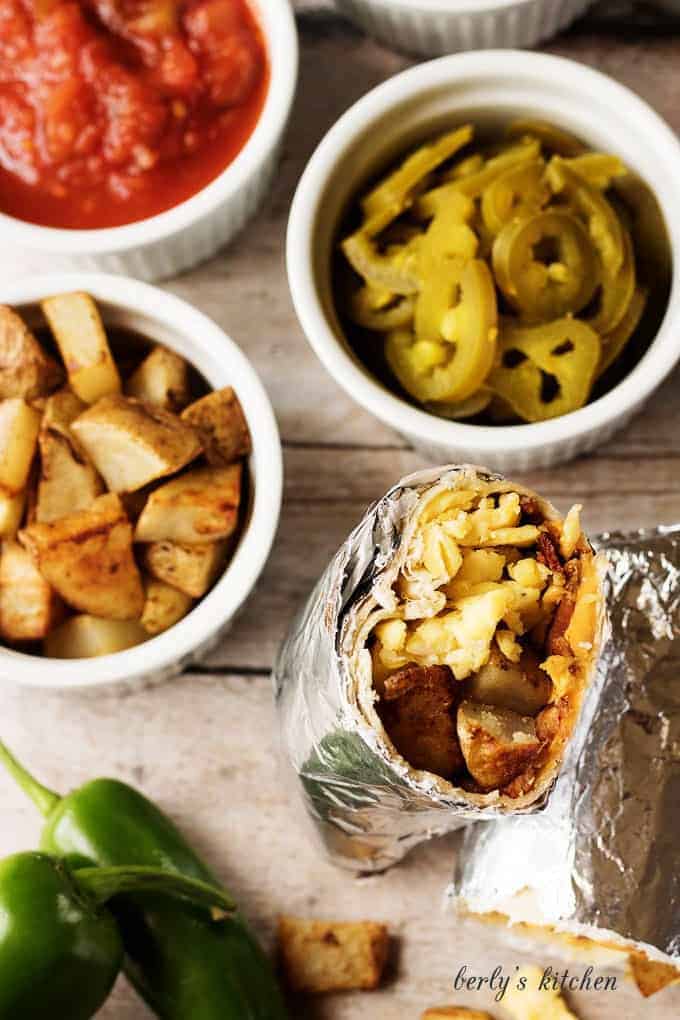 While the bacon cooks, you can prepare the oven potatoes for our breakfast burritos recipe. Here's something I noticed when it comes to cooking diced potatoes.
While cutting the potatoes try to cut every piece of the vegetable the same size.
Because, different sized cuts take different times to cook in the oven, while similar sized pieces will cook evenly in the same amount of time.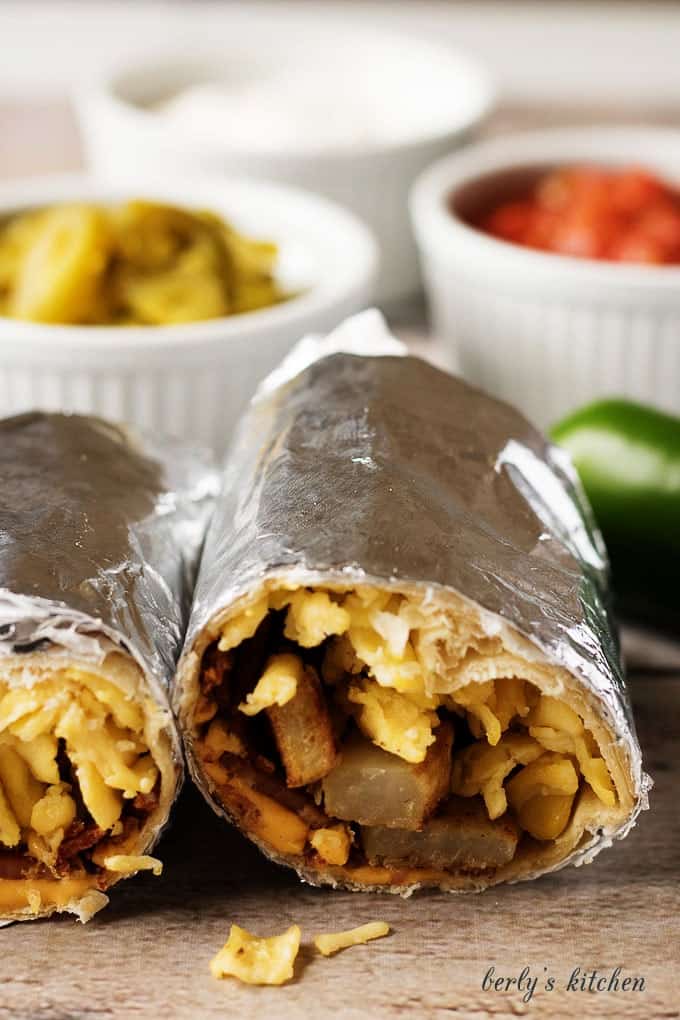 The last small tip I will add to our breakfast burrito recipe involves the storage of the dish. Before you freeze them, let the burritos cool for 10 minutes.
After that, wrap them in saran wrap before packing everything in aluminum foil. The plastic wrap will provide an additional layer of protection and helps to retain the freshness of the meal.
In closing, I invite you to give this recipe a try. Thank you for dropping by, and I wish you a long life, love everlasting, and full belly!
Don't miss out on our other breakfast recipes, like our eggnog French toast or our cheesy breakfast casserole with hash browns!
If you like this recipe, please leave us a comment and rate the recipe card. You can also find us on Facebook, Pinterest, Twitter and Instagram searching for Berly's Kitchen!
Yield: 2 Servings
Make Ahead Breakfast Burritos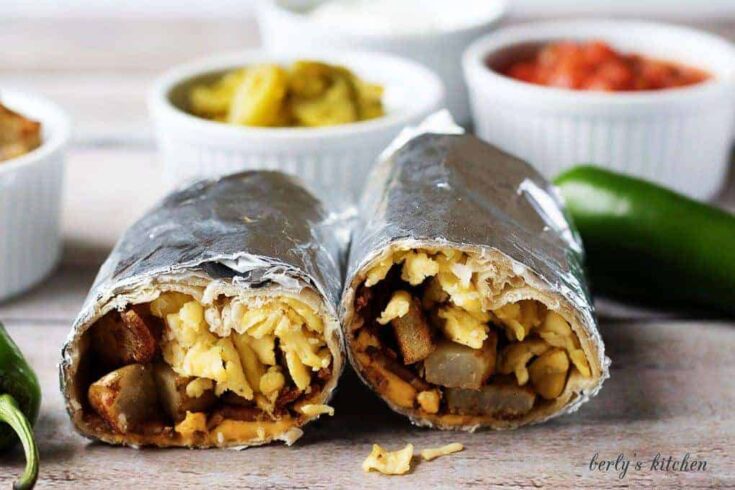 A hearty and filling make ahead breakfast burrito recipe with bacon, eggs, potatoes, and cheese wrapped in a warm tortilla.
Ingredients
Oven Baked Home Fries
2 Medium Idaho Potatoes, (diced)
1 1/4 Teaspoon Seasoned Salt
3/4 Teaspoon Dried Rosemary
Make Ahead Burrito
2 Large Flour Tortillas
4 Grade A Eggs, (scrambled)
1 Ounce Sharp Cheddar Cheese, (shredded)
6 Slices Bacon, (fully cooked)
Instructions
Oven Baked Home Fries
The recipe is available here.
Make Ahead Burrito
First, start by cooking the bacon according to the package instructions and set the cooked bacon aside.
Then, in a large bowl crack your eggs and whisk them together, so they are ready to scramble.
Next, preheat a large skillet over medium-high heat and spray it with non-stick cooking spray. While the pan heats, go ahead and shred your cheese.
After that, scramble the eggs and then set them aside. You can salt and pepper the eggs to taste.
Now, place the tortillas in the microwave for 10 to 15 seconds on high so they warm.
Last, build your burritos by layering the bacon, eggs, potatoes, and cheese. You can serve them while they are hot or wrap them in aluminum foil for later. The burritos can be stored in your fridge for up to three days or in your freezer for about a week.
Notes
The calorie count listed is an approximation based on the ingredients listed, and it does not include any additional condiments. The dish can be served immediately or stored in your freezer for later. To reheat the burritos, remove any aluminum foil or saran wrap, then place them in your microwave for one to three minutes on high heat. Additionally, condiments such as salsa, peppers, sour cream, or any hot sauce can be served with this dish.
Recommended Products
As an Amazon Associate and member of other affiliate programs, I earn from qualifying purchases.
Nutrition Information:
Yield:
2
Serving Size:
1 grams
Amount Per Serving:
Calories:

506
Total Fat:

31g
Saturated Fat:

11g
Unsaturated Fat:

0g
Cholesterol:

65mg
Sodium:

1998mg
Carbohydrates:

40g
Fiber:

2g
Sugar:

1g
Protein:

16g