A brisk and refreshing raspberry flavored Italian soda. Craving a cream soda, we got you covered. Nothing quenches your thirst better than a bubbly drink!
As I stated in the description, there's nothing quite like a bubbly drink to wet your whistle. That's especially true on days like today.
It's definitely a warm Saturday in Northwest Arkansas. Fortunately, we have just the recipe to cool us off.
For today's post, we're sharing our raspberry Italian soda. Kim's love of this drink goes all the way back to her childhood and she's super excited to share this beverage with everyone.
You won't believe how easy it is to make. Oh, we've also included the ingredients and directions to turn this soda into an Italian cream soda.
So, you get two options with this one. Now, how about we get mixing?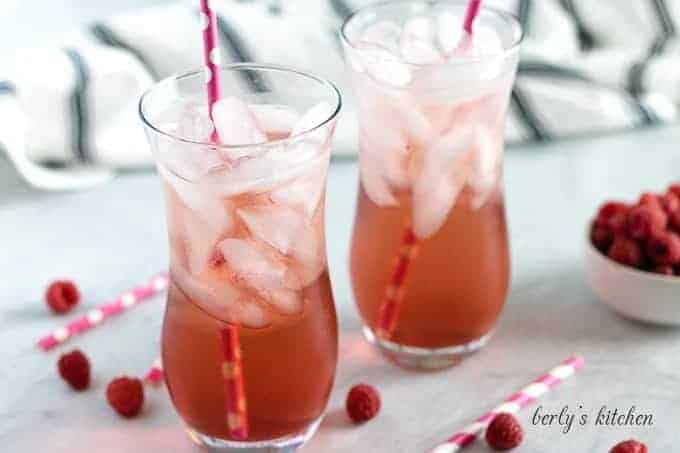 Raspberry Italian Soda Instructions:
To begin, grab the ingredients you need. Measure out the club soda, the raspberry simple syrup, and the ice.
Should you decide to make a cream soda, then snag the heavy cream as well.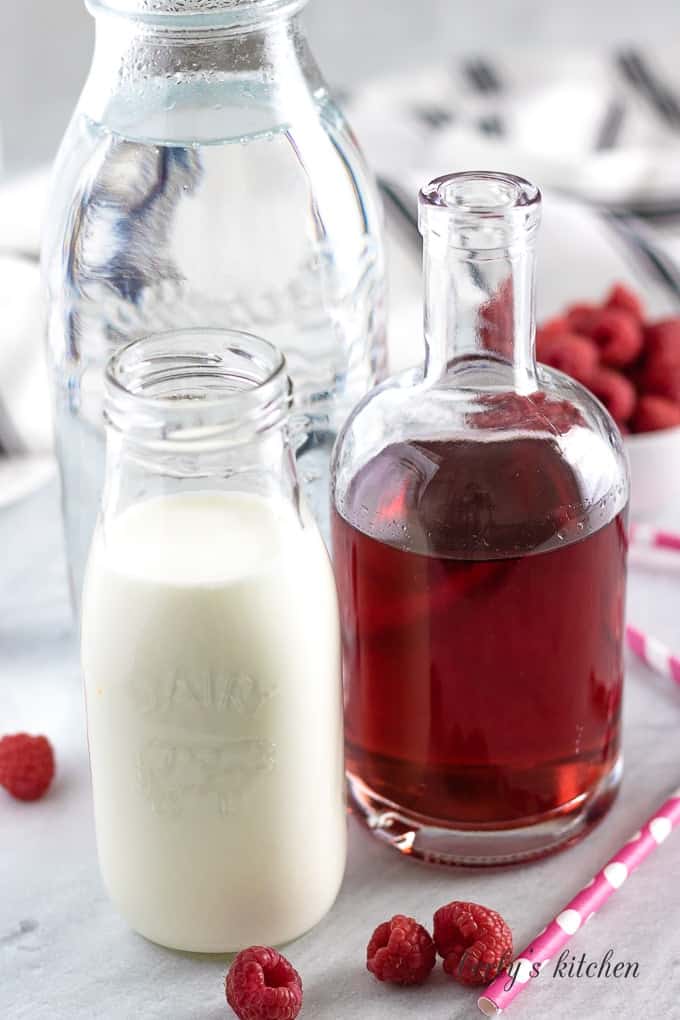 Once you have everything you need, it's time to start mixing the drink. I'll go over the regular version first.
There's not much of difference, but one thing a time, as they say.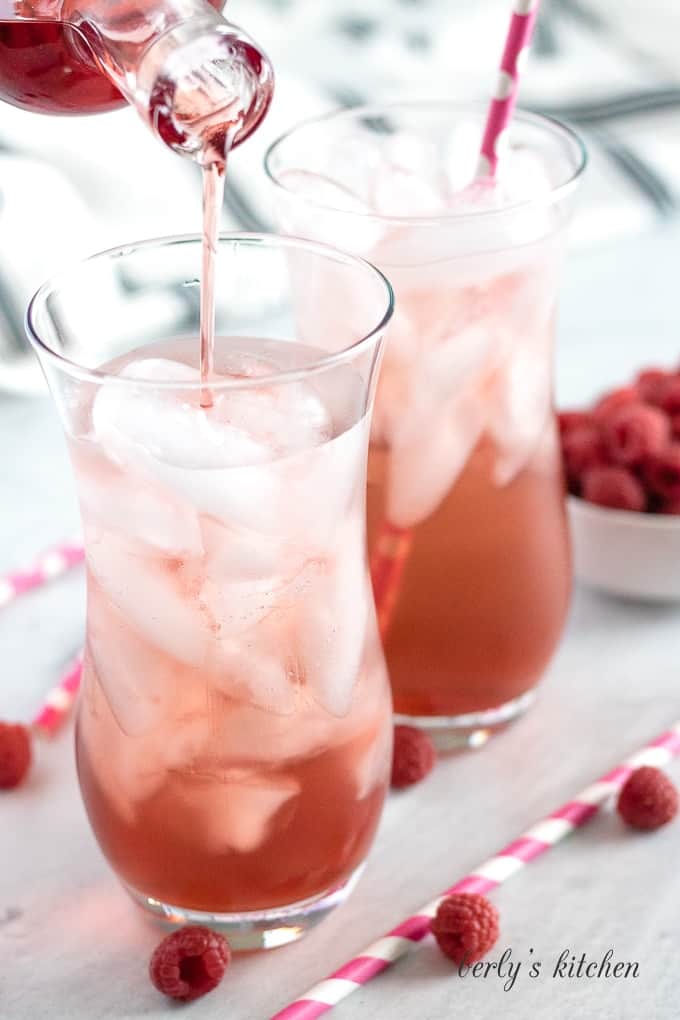 Begin by adding the ice, then the club soda and raspberry syrup.
Stir it all up and your beverage is ready to drink.
Just remember to go slow; otherwise, the soda will bubble over and make a mess.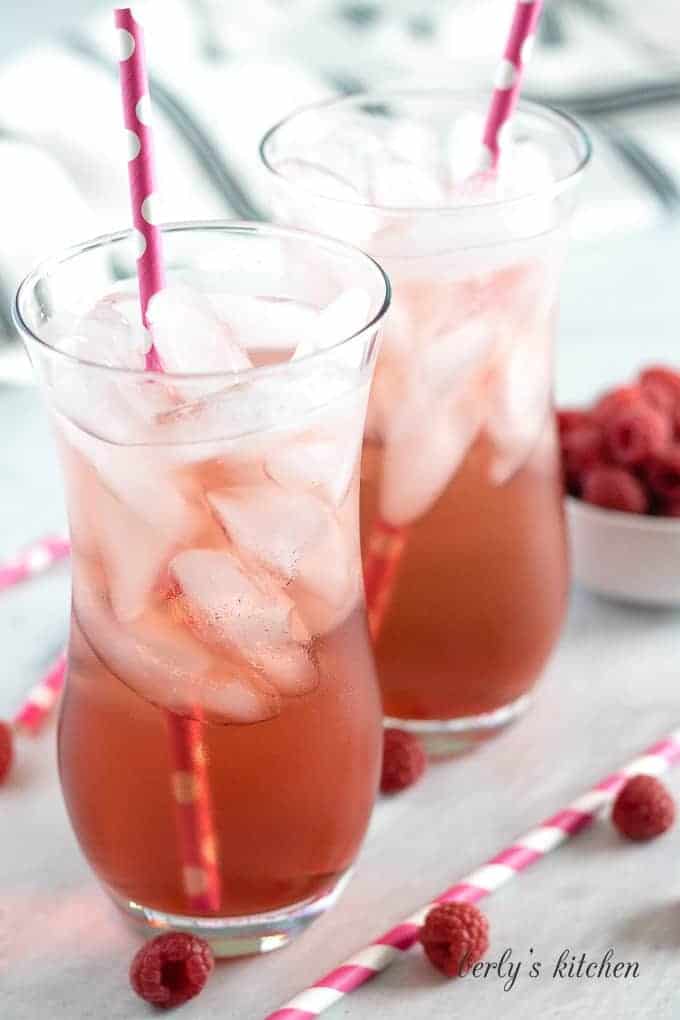 For the cream soda, you need to do things a little differently. First, add the club soda and syrup to the glass.
Stir them together, then add the heavy cream and stir again. The last step is to add the ice. That's it, this drink is done too.
Kim and I hope you like these simple Italian soda recipes. We wish you all the best 🙂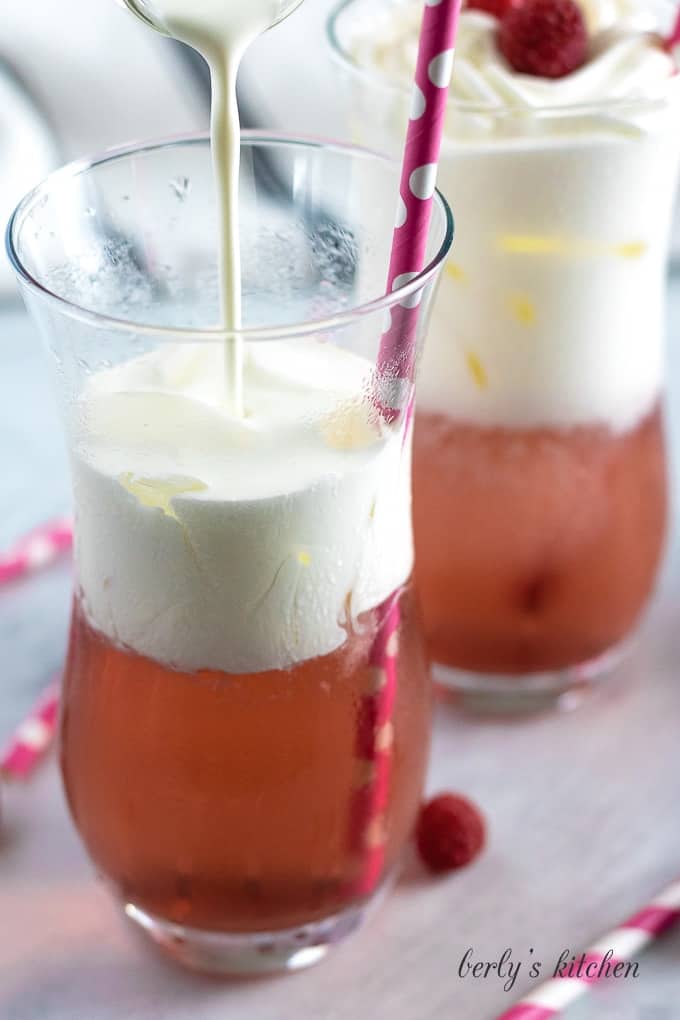 Italian Soda Tips:
Just because our drink is made with raspberry syrup doesn't mean it can't be modified. For example, you can use cherry or blueberry syrup.
Basically, use whatever flavor of syrup you want. Additionally, play with the amounts as much as you want to create your own version.
Okay, say you want to turn this into an adult beverage. Raspberry and vodka work well together.
I would recommend one and a half (1.5) ounces of vodka per drink. Another option is add Chambord to the beverage, using the same amount as the vodka.
If you decide on a different flavor of soda, then you may want to rethink which liquor or liqueur to use. But, that's what we have Google for, right?
One last thing, you don't have to use heavy cream for the cream soda. Half and half or whole milk should suffice. With that being said, we've never done it, so let us know if it's a viable substitution.
If you enjoyed our raspberry Italian soda recipe, please leave us a comment and rate the recipe card. You can also find us on Facebook, Pinterest, Twitter, and Instagram by searching for Berly's Kitchen!
Yield: 1 Serving
Raspberry Italian Soda Recipe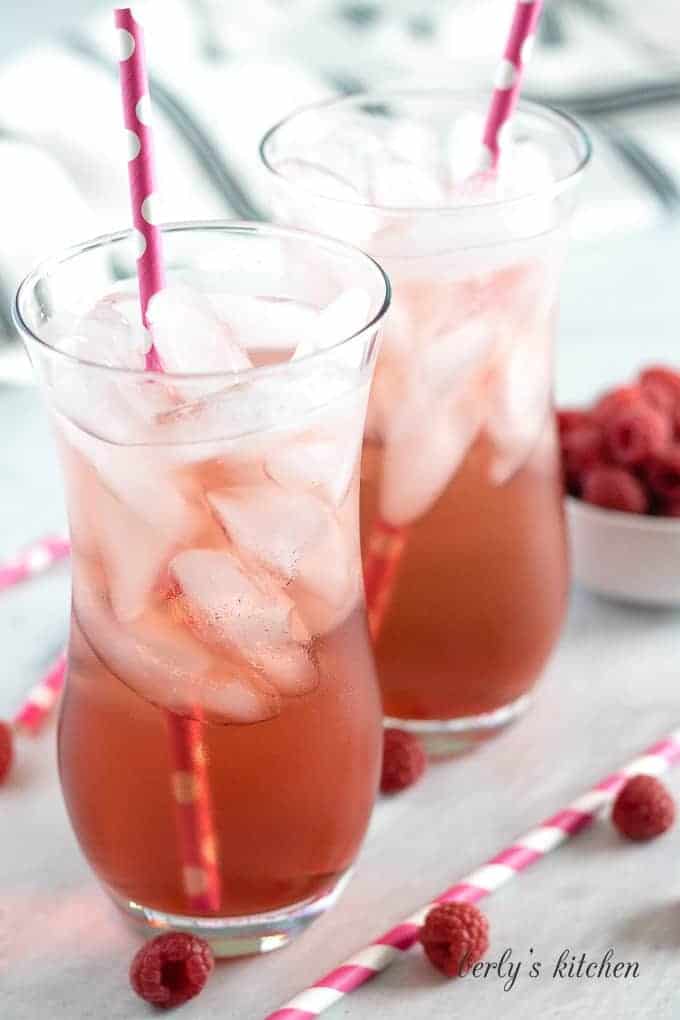 A brisk and refreshing raspberry flavored Italian soda. Craving a cream soda, we got you covered. Nothing quenches your thirst better than a bubbly drink!
Ingredients
Italian Soda
8 Ounces Club Soda
3 Ounces Raspberry Syrup
2/3 Cup Ice, (approximate, by volume)
2 Ounces Heavy Cream, (optional)
Instructions
Italian Soda
In a large glass with ice, combine the club soda and raspberry syrup. Mix to combine.
Italian Cream Soda
In a large glass, combine the club soda and raspberry syrup. Stir to combine. Add the heavy cream and stir again. Add the ice last to avoid having the fats in the heavy cream stick to the ice. Garnish with whipped cream and fresh raspberries if desired.
Notes
The calories listed are an approximation based on the ingredients for a raspberry Italian soda and a serving size of one (1) finished beverage. Furthermore, the reported calorie count does NOT include the heavy cream listed in the ingredients, as it is labeled OPTIONAL. Otherwise, the calorie count and fat count would be significantly higher. Actual calories will vary. Storage of the Italian soda is not recommended.
Recommended Products
As an Amazon Associate and member of other affiliate programs, I earn from qualifying purchases.
Nutrition Information:
Yield:
1
Serving Size:
11 Ounces
Amount Per Serving:
Calories:

255
Unsaturated Fat:

0g
Sodium:

48mg
Carbohydrates:

65g
Sugar:

65g