A meaty, spicy Italian sausage and tomato linguine recipe that's perfect for a quick weeknight dinner. Proving good food doesn't have to take all day!
As you probably already know, pasta is a mainstay in our household. Whether it be a quick pan sauce or cheesy pasta casserole, we love our carbs.
Well, this week we decided to share a new entry into our pasta repertoire. The star of this dish is Italian sausage, of course.
The flavor the sausage gives to the sauce is amazing. One of the best things about the Italian sausage pasta is that you don't have to use a lot of seasonings.
All you really need to do is add a touch of Italian seasoning mix with some garlic and onion powders, and you're ready to go.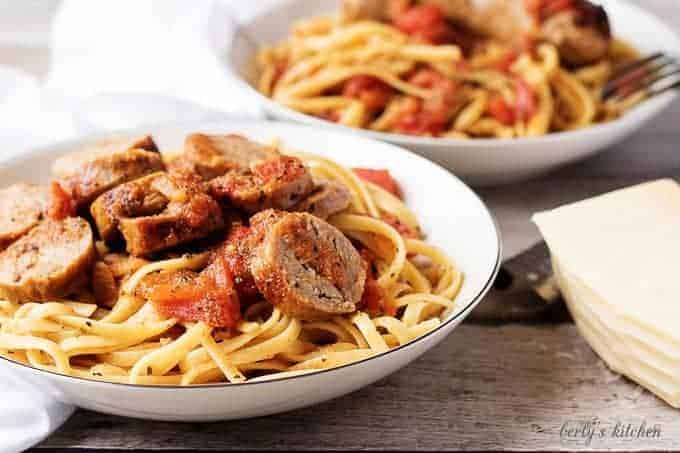 Salt and pepper are optional as the spices within the meat are sufficient to flavor everything.
With that being said, I would still salt my pasta noodles, but it's up to you. Another advantage this Italian sausage pasta has over others is ease.
It takes less than an hour to prepare a delicious, filling meal.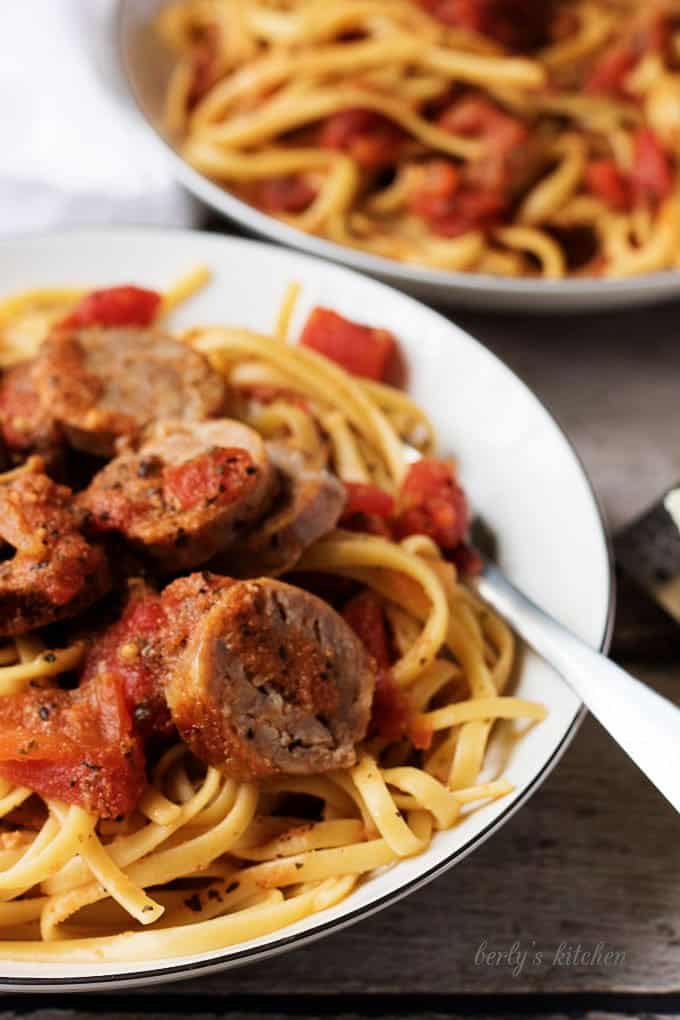 After a long day on the clock, you'll be thankful to be in and out of your kitchen in under 60 minutes.
Of course, you will have to cook the pasta while the Italian sausage and tomato sauce reduces on the stove.
For an easier one-pot sausage dinner idea, check out our creamy kielbasa pasta recipe.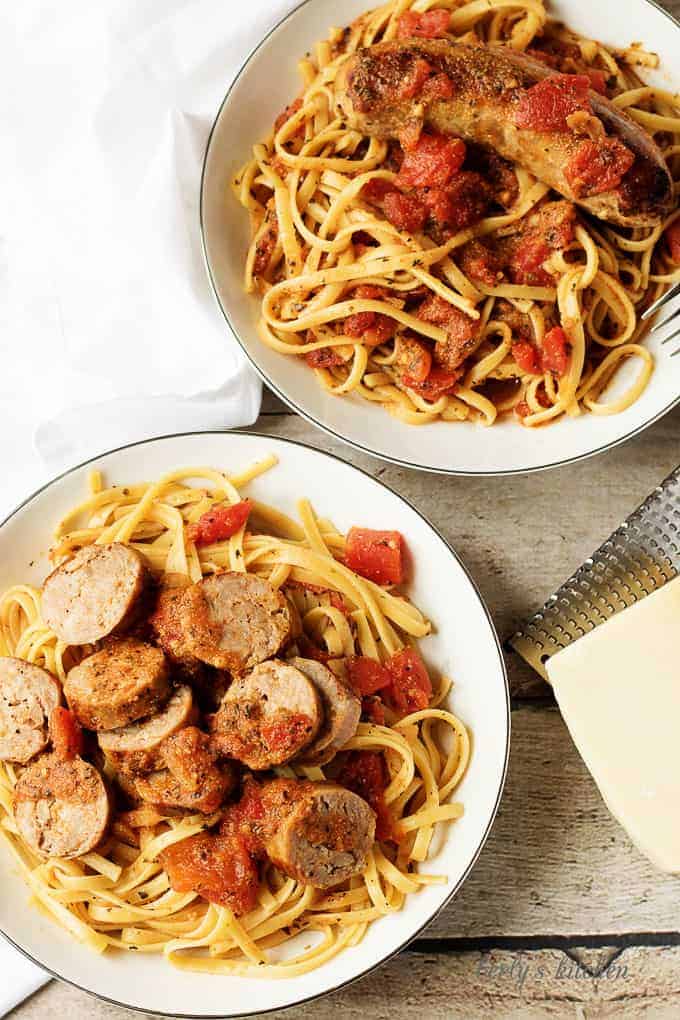 Before I go, I would like to mention one last thing. Please be careful when you add the tomatoes and the stock to the hot pan.
There's a lot of steam when this process takes place, and it's easy to get burned. Use pot holders and don't put your face over the pan.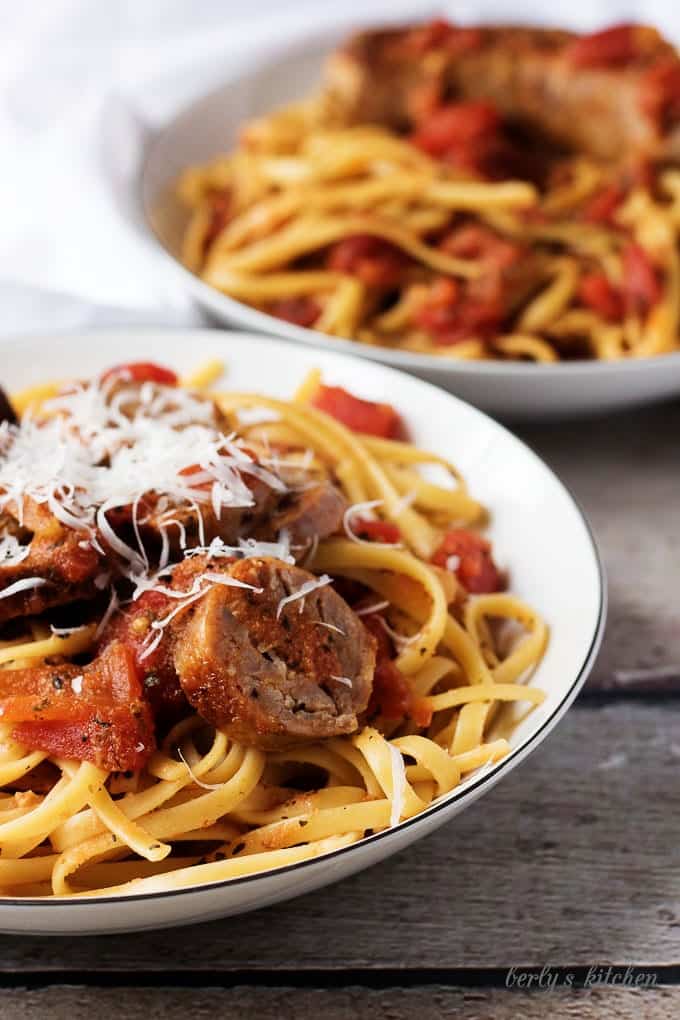 In closing, I invite you to put this Italian sausage pasta dish on your menu. It's filling, savory, and best of all, easy to make.
As always, I wish everyone a long life, love everlasting, a tummy full of Italian grub!
If you like this recipe, please leave us a comment and rate the recipe card. You can also find us on Facebook, Pinterest, Twitter and Instagram searching for Berly's Kitchen!
Yield: 4 Servings
Italian Sausage and Tomato Linguine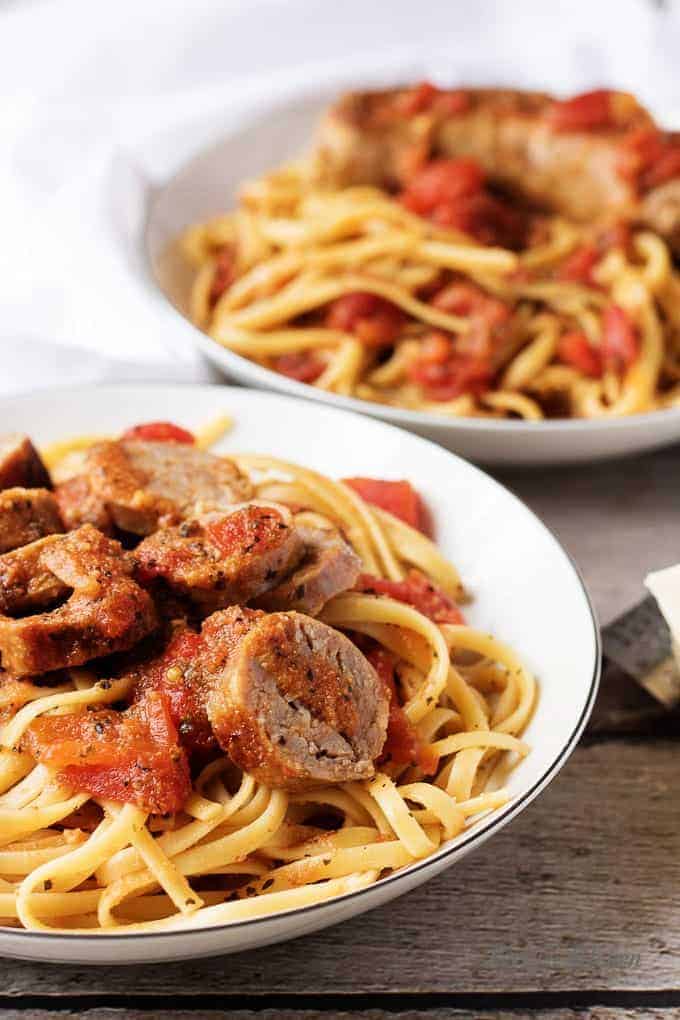 A meaty, spicy Italian sausage and tomato linguine recipe that's perfect for a quick weeknight dinner. Proving good food doesn't have to take all day!
Ingredients
1 Lb. Italian Sausage, (links)
8 Ounces Dry Linguine Pasta
1 14.5 Ounce Can of Diced Tomatoes, (with roasted garlic and onions)
1 1/2 Cups Chicken Stock
1 Tablespoon Italian Seasoning Mix
2 Teaspoons Garlic Powder
2 Teaspoons Onion Powder
Instructions
First, in a large saute pan, over medium heat, cook the sausage links. I cooked them for 7-10 minutes on each side. Once they are done, remove them from the pan and set them aside.
Next, remove the pan from the heat and then add the tomatoes, chicken stock, Italian seasonings, garlic powder, and onion powder. Be careful not get burned from the steam when you add the liquid to the hot pan.
Afterward, scrape the pan with your wooden spoon and stir the ingredients to get all that flavors mixed into the broth. Replace the pan over the heat and put the sausages back into the saute pan to finish cooking.
Then, let the links and the sauce cook, uncovered, for 15-20 minutes. While the sauce is reducing, cook the linguine per the pasta box instructions.
Last, once the pasta is done, drain the noodles and put them back into the pasta pot. By that point, the sauce should be finished. Remove the sausages and set them aside again. Now, toss the noodles with the sauce and portion out the meal onto plates. Top each dish with a link of sausage, whole or cut, and serve.
Notes
The calorie count listed is an approximation based on the ingredients. Actual calories may vary. Parmesan cheese is not included in the recipe, so the calories were not added to the total. The dish can be stored in a sealed container in your fridge for up to three days.
Recommended Products
As an Amazon Associate and member of other affiliate programs, I earn from qualifying purchases.
Nutrition Information:
Yield:
4
Serving Size:
1 grams
Amount Per Serving:
Calories:

583
Unsaturated Fat:

0g